Why Jenny From Someone Great Looks So Familiar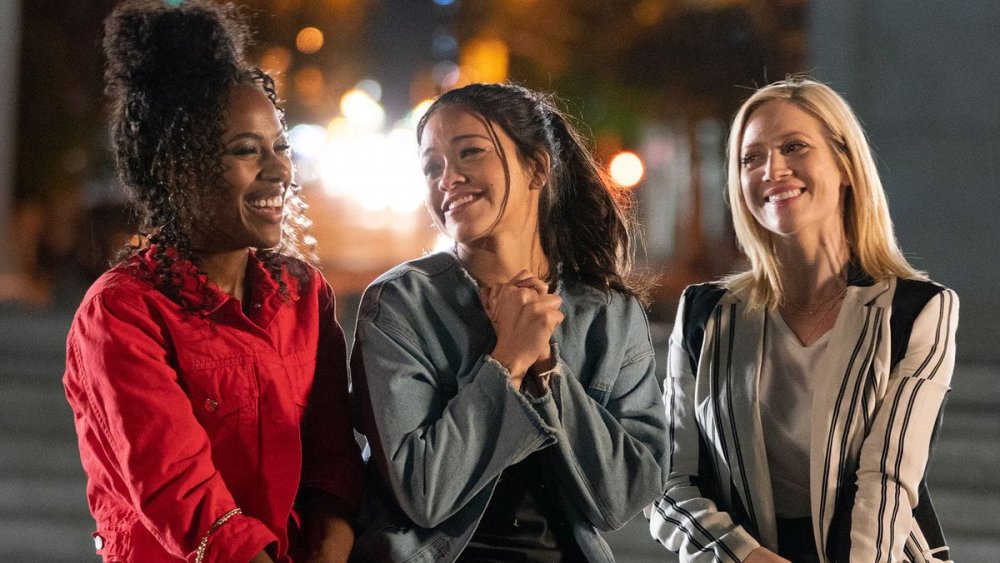 Netflix
Whether you're going through a move, a breakup, or just a Saturday movie night, sometimes you just need a feel-good story about friendship, ambition, and new opportunities to make you feel better. Enter Someone Great, a Netflix original romantic comedy written and directed by Jennifer Kaytin Robinson, which tells the story of three girls living in New York who struggle with love, life, and their futures.
Released in the spring of 2019, Someone Great stars Gina Rodriguez as Jenny Young, Brittany Snow as Blair Helms, and DeWanda Wise as Erin Kennedy, three best friends facing impossible choices as Jenny considers an amazing opportunity on the other side of the country. After Jenny and her boyfriend Nate (Lakeith Stanfield) break up as she prepares to move to California for a new job, Blair and Erin (despite their own problems) are the only ones who can help her forget her troubles. A night out for the trio ends up revealing more about each of them than they ever expected.
If you spent your viewing of Someone Great scratching your head about where you've seen Jenny before, look no further. From a game-changing satirical sitcom to nostalgia-tinged voice work, Gina Rodriguez has quickly become one of Hollywood's most recognizable young faces, and if you loved her in Someone Great, you'll definitely want to check out her pioneering television and film appearances. Here's where you've seen Jenny from Someone Great before.
Gina Rodriguez starred in a super-popular TV comedy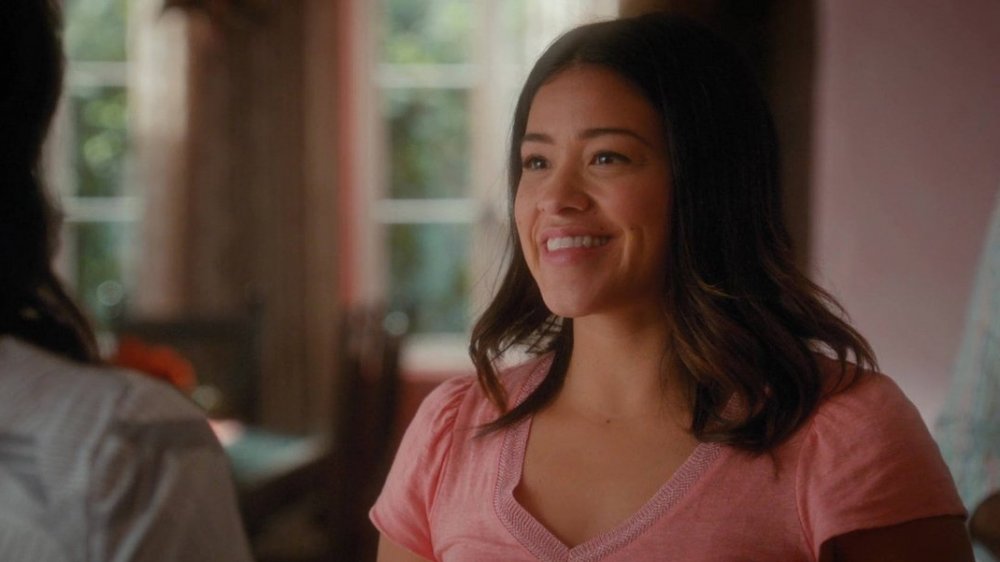 The CW
Over the course of five seasons between 2014 and 2019, Gina Rodriguez played the starring role in the CW series Jane the Virgin, which was created by Jennie Snyder Urman and based on a Venezuelan telenovela. As the series opens, Jane Gloriana Villañueva, an ambitious 23-year-old virgin who lives with her mother Xiomara (Andrea Navedo) and grandmother Alba (Ivonne Coll), gets some incredibly surprising news: she's pregnant, somehow. Apparently, during a routine visit to her OB-GYN, her doctor, Dr. Luisa Alver (Yara Martinez), accidentally artificially inseminated Jane instead of Petra (Yael Grobglas), the wife of a wealthy hotel magnate named Rafael Solano (Justin Baldoni), who just so happens to be Luisa's brother. Just to make matters worse, Jane already has a boyfriend, a devoted police officer named Michael (Brett Dier).
Throughout this heartfelt, extremely meta series — the entire story is narrated by an unseen, omniscient narrator voiced by Anthony Mendez — Jane struggles to find success as an author while juggling her career, a love triangle between Rafael and Michael, and the unexpected responsibilities of her newfound motherhood. In a series rife with telenovela conventions like amnesia, secret twins, and twists aplenty, Rodriguez centers the absurdity with her grounded, layered performance as Jane, creating an unforgettable character who defined a show regarded as one of the best in recent memory.
Critics took notice of Rodriguez thanks to Jane the Virgin as well. Among other accolades earned by the series, Rodriguez won a Golden Globe for her performance in 2014, and the show received a Peabody Award that same year. Having taken the lead in an epic story of three generations of Latina women, Rodriguez had certainly made a serious splash on the small screen.
Rodriguez is ready to take Hollywood by storm
Rich Polk/Getty Images
Someone Great marked Gina Rodriguez's first headlining role in a film in the aftermath of Jane the Virgin, but throughout her already illustrious young career, she's appeared in plenty of other projects as well.
In 2017, Rodriguez played a supporting role in Alex Garland's science fiction epic Annihilation alongside Natalie Portman, and took on the starring role in 2019's action thriller Miss Bala. In 2018, it was announced that she would star in two different Carmen Sandiego projects for Netflix — currently, the streamer's animated reboot finds Rodriguez voicing the crimson-hatted spy-turned-villainess from the computer games and television shows that ran throughout the 1990s, and she's also slated to star in a live-action feature film adaptation. Rodriguez will also appear in Netflix's upcoming science fiction film Awake, and she recently voiced Velma in Scoob!
Rodriguez also works behind the camera. In addition to directing a few episodes of Jane the Virgin, the actress runs her own production company, I Can and I Will Productions, which actually produced Someone Great alongside Netflix. Clearly, the future is bright for this talented, relatable young actress who is committed to bringing diverse stories to both the big and small screens. You can stream Jane the Virgin (in its entirety) and Someone Great on Netflix now.