Topher Grace Compares That '90s Show To A Holiday Reunion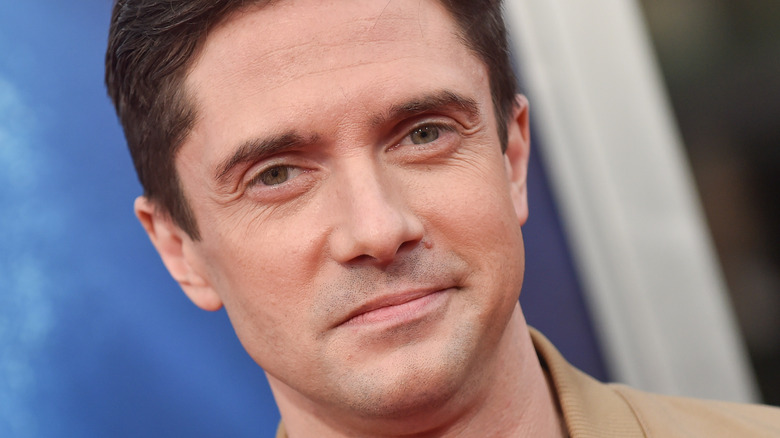 DFree/Shutterstock
Anxious fans have yet to see a trailer for, or even a single frame of footage from Netflix's upcoming spinoff series "That '90s Show." And we still don't know when the followup to "That '70s Show" will make its streaming debut. But for a certain sect of the population, "That '90s Show" is undoubtedly the most hotly-anticipated program on any streamer's or network's release slate. 
And that despite the fact that the new series will not be centered entirely around the original cast, which fronted then rising stars Topher Grace, Laura Prepon, Ashton Kutcher, Mila Kunis, and Wilmer Valderama. Thankfully, original players Debra Jo Rupp and Kurtwood Smith are expected to be regular presences in the 10-episode spinoff. According to Deadline, the show will be set in 1995 and follow Leia Forman (Callie Haverda) — the teenage daughter of Grace's and Prepon's characters Eric and Donna Forman — during a summer stay in Point Place, Wisconsin with her grandparents, Kitty and Red Forman (Rupp and Smith).
The return of Kitty and Red Forman would likely be enough to thrill any diehard fan of "That '70s Show." But fans are no doubt even more excited by the returns of Grace, Prepon, Kutcher, Kunis, and Valderama, who are all expected to reprise the roles that first made them famous in the spinoff. And according to Topher Grace himself, getting the "That '70s Show" gang back together was like hanging out with old friends during the holidays.
Grace had a blast reuniting with his old co-stars on That '90s Show
Topher Grace, of course, broke the hearts of "That '70s Show" faithful during its original run when he exited the series at the end of Season 7 to focus on his movie career. Grace's movie career has been an up-and-down-and-up-again affair, but it seems the actor doesn't regret leaving the show behind. Still, Grace admitted in a 2018 interview with The Hollywood Reporter that his years on "That '70s Show" were pretty great, and he'd be game to return if there were a reboot. Grace stayed true to his word when the call came for "That '90s Show." Though it's unclear how much Eric Forman will be around in the series, he doesn't regret coming back.
In fact, Grace spoke glowingly about getting to work with his old "That '70s Show" family in a recent interview with Entertainment Tonight. "It was like going home for Christmas to see your whole family," he said. "It was a gift." Grace said that working with his old cast mates again after so many years was truly special — adding that he can't wait for fans to see what Eric and his old Point Place pals are up to in the 1990s. 
And yes, it should be an absolute hoot to see the gang navigating the world of computers, compact discs, and the internet. The only question now is when we'll actually get to see it.