Why Laura Prepon Cried The First Day Of That '90s Show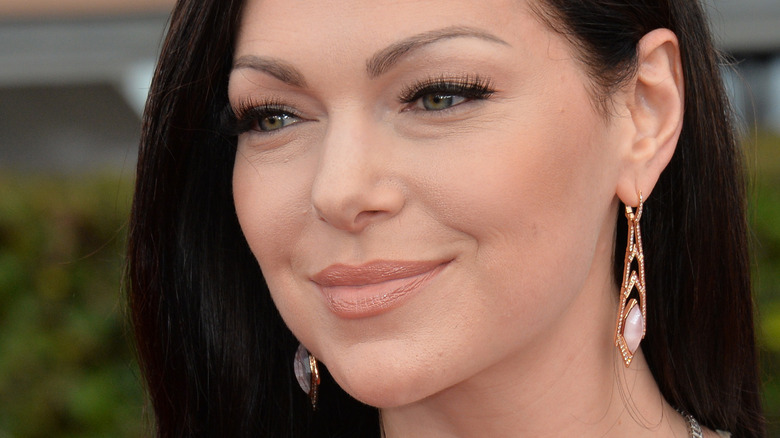 Featureflash Photo Agency/Shutterstock
Once again we will be able to shout "We're all alright" at our TV screens as the gang is heading back to Point Place, Wisconsin. Following more than a decade after the finale of "That '70s Show," the story of the Forman clan will continue in Netflix's upcoming sequel aptly titled "That '90s Show."
There are many things that fans are most excited about for "That '90s Show," but perhaps the most important is the main returning characters. With Donna (Laura Prepon) and Eric's (Topher Grace) relationship left in an ambiguous state at the end of "That '70s Show," many wondered if the two would reappear together for the new iteration. Thankfully, Grace and Prepon are confirmed to not only be returning, but their characters will indeed be fully reconciled. Eric and Donna are married with a daughter — named Leia, of course — who will be visiting grandparents Red (Kurtwood Smith) and Kitty (Debra Jo Rupp) for summer vacation (via Deadline). Further details are being kept under wraps, but we do know that fans are not the only ones who may be getting emotional about the new series. The first day on set led Prepon to get teary-eyed for an understandable reason.
Nostalgia was all abound on the set of That '90s Show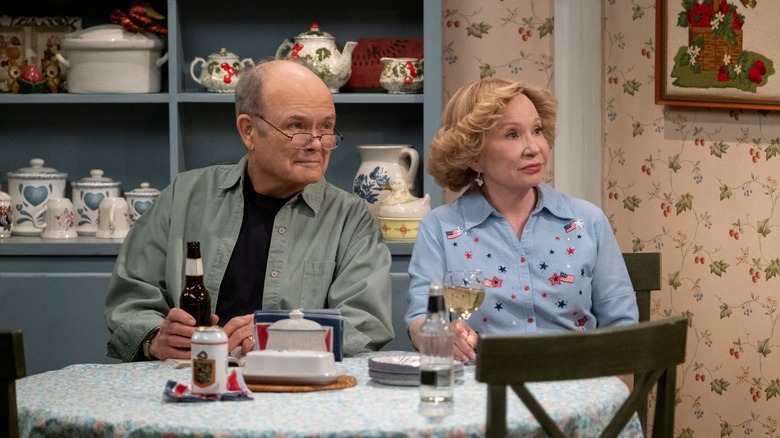 Patrick Wymore/ Netflix
Many of the original cast members of "That '70s Show" have expressed their excitement about returning to the set. Kurtwood Smith even shared his feelings about "That '90s Show" in a recent interview. Returning to the familiar sets has filled actors with nostalgia, and none more so than Laura Prepon.
"When I first went there, I cried," Prepon admitted to Us Weekly. "I'm just like, 'The nostalgia is so strong and it was such an incredible time in my life.' I can't wait for people to see it." Prepon has certainly not been wanting for work in recent years. It was hard to miss her as the groundbreaking character Alex in "Orange Is the New Black" which concluded in 2019. She has also made way with her line of kitchenware called PrepOn Kitchen while raising a family with her husband, Ben Foster.
But there is nothing like your first. Prepon recalled the strong memories that bring her back to the pilot of "That '70s Show" and one of the most integral relationships of the series — Eric and Donna. The pilot episode explores the awkwardness of first love as the two next-door neighbors realize their feelings for each other. This is all encapsulated with the Todd Rundgren song which became a familiar touchstone for the relationship.
"You don't realize like, it's still, like, if I hear Todd Rundgren's 'Hello, It's Me,' I burst into tears 'cause that's the pilot song ..." Prepon shared with Us Weekly. 
Returning to Point Place touched Topher Grace, too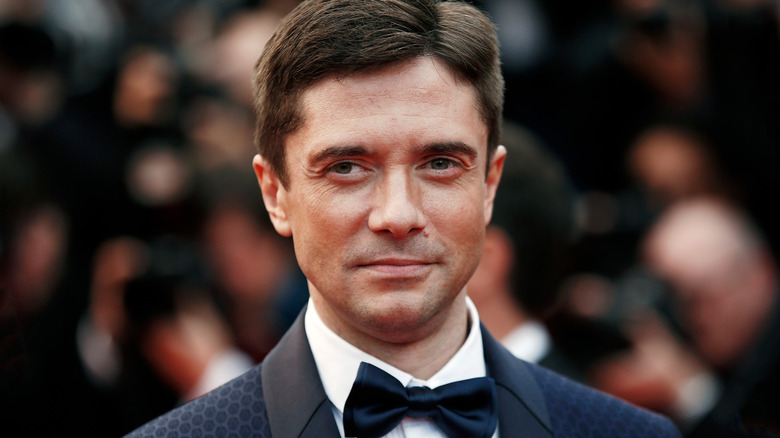 Andrea Raffin/Shutterstock
The big question on every fan's mind was if the star of "That '70s Show" would return for the sequel series. Topher Grace played the lead role of Eric Forman for most of the series, but left before the eighth and final season. There has been some conjecture about the real reason that Grace left "That '70s Show." Thankfully, Grace is on board to make an appearance, at the very least.
"Mostly just to hang out with everyone 'cause it's such a great group of people and I miss them so much," Grace previously told People. "I love that group. I thought I was lucky to get the part but I now realize I was really lucky to get a part that was with that group of people." Grace currently stars in "Home Economics," which is going into its third season. But just like Prepon, he also gets a dose of nostalgia when he thinks about revisiting "That '70s Show."
"It's hard for me to watch that show in reruns," Grace said on The Jess Cagle Show. "It makes you so nostalgic. It'd be like if they were rerunning your high school yearbook all the time." But not so long after playing coy on the Sirius XM show, Grace confirmed to everyone that he would return to the show in his own way. On the actor's Twitter account, he posted a picture of a Class of '77 Point Place Vikings t-shirt. "Yup, still fits," Grace wrote.