Black Panther: Wakanda Forever's Cast Visited Chadwick Boseman's Resting Place Before Doing Anything Else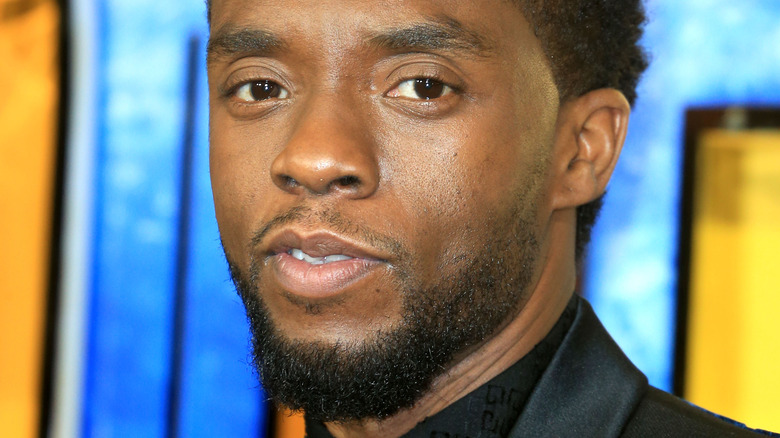 Fred Duval/Shutterstock
"Black Panther: Wakanda Forever" is a film thoroughly soaked in tragedy. While it juggles more than a few distinct plot threads, including the battle between Wakanda and the seafaring mutant Namor (Tenoch Huerta), Dominique Thorne's debut as the tech wiz hero Ironheart, and the rise of the new Black Panther, the core of the movie is all about mourning the loss of "Black Panther" star Chadwick Boseman and his character of T'Challa. The beloved actor died in August 2020 following a private and lengthy battle with colon cancer, shocking both fans and colleagues (via The Associated Press).
Boseman's legacy looms large over "Black Panther: Wakanda Forever." Not only was the sequel's original screenplay heavily focused on T'Challa, but the finished version centers around the impact he and his character left on his peers. As such, it was important to the cast and crew that they do one particular thing to honor the late actor. While filming for "Black Panther: Wakanda Forever" began in June 2021 (via Variety), the cast took the time to pay a visit to Boseman's resting place before even a single snippet of the movie was shot.
The Wakanda Forever cast paid their respects to Boseman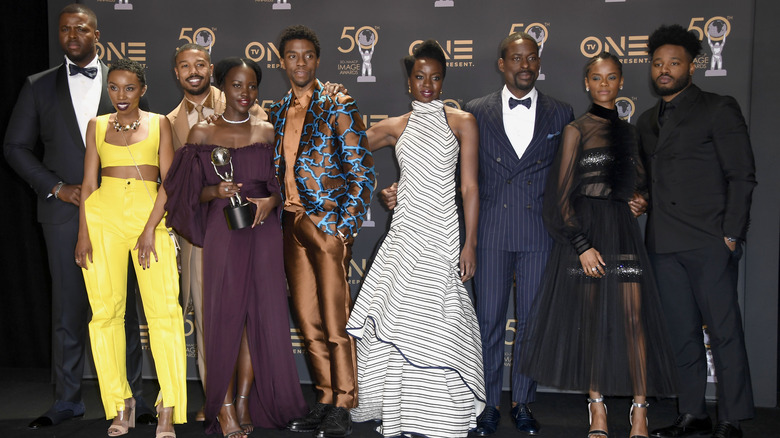 Frazer Harrison/Getty Images
In an interview with The Hollywood Reporter, "Black Panther: Wakanda Forever" star Angela Bassett revealed that the film's producer Nate Moore and director Ryan Coogler arranged a flight for the cast to visit Chadwick Boseman's resting place before filming commenced. "We were able to do that to give love and feel his spirit and stand there with him before we did one frame of anything," Bassett said. "That was such an important grounding for us because, as you can imagine, emotion was all over the place. People are on the verge — his [onscreen] sister, his love, his general, all of us. I'm getting goosebumps now. We were on the verge of tears, of 'How are we going to do this, go on without him?'"
It's no secret that Boseman's death impacted his Marvel peers. Coogler almost made a huge life-changing decision by nearly quitting the entertainment business in the wake of the tragedy (via Entertainment Weekly). Members of the sequel's cast also discussed the on-set atmosphere of "Black Panther: Wakanda Forever" without Boseman, noting that the production process felt less lighthearted than 2018's "Black Panther." "The joy was at times very easy to find because you're also with people who are full of joy," cast member Winston Duke told People. "And it just happens that we're dealing with a tragedy. We're dealing with immense loss of a person that we really loved and we knew as a person."
Wakanda Forever's team wanted to honor Boseman
The "Black Panther: Wakanda Forever" cast's visit to Chadwick Boseman's resting place is just one way that those involved in the production sought to honor the late "Black Panther" star.
Rihanna's "Lift Me Up," the premiere single for the film, was developed as a tribute to Boseman himself (via IGN). Boseman's death also affected "Black Panther: Wakanda Forever's" visual style, as Ryan Coogler revealed to Entertainment Weekly. "I think this film has the fog of loss over it, and anamorphic lenses warp the image a little bit," Coogler said. "Sometimes when you go through profound loss, it can warp how you look at the world."
Marvel Studios head Kevin Feige noted that T'Challa wasn't recast in "Black Panther: Wakanda Forever" out of respect for Boseman. "It just felt like it was much too soon to recast," the executive told Empire. "The world is still processing the loss of Chad. And Ryan poured that into the story."
Though Boseman and his character of T'Challa may not be a part of any future Marvel Cinematic Universe productions, his colleagues were devoted to carrying on his legacy in "Black Panther: Wakanda Forever." "We did with our full hearts, our full effort and really seeking to honor our brother," cast member Danai Gurira told The Hollywood Reporter. "We can just hope and pray that it's received that way and that people have an experience with it as a result of that."