Black Panther: Wakanda Forever's Cast Discusses The On-Set Atmosphere Without Chadwick Boseman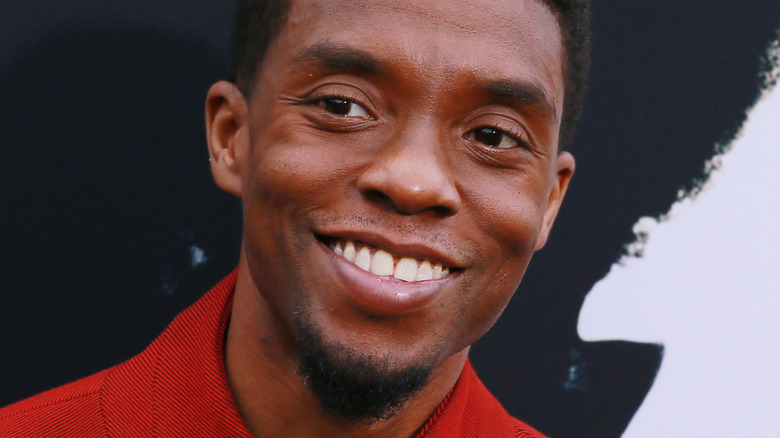 Leon Bennett/Getty Images
The fourth phase of the Marvel Cinematic Universe kicked off in January of 2021 with "WandaVision" on Disney+, and what a phase it has been. From big-screen triumphs like "Shang-Chi and the Legend of the Ten Rings" to small-screen hits such as "Moon Knight," it's brought with it some exciting, funny, and shocking productions. As it creeps toward its end, MCU fans will have the opportunity to go to the movies one last time for an exciting yet highly emotional adventure before the launch of Phase Five in 2023: "Black Panther: Wakanda Forever" from director Ryan Coogler.
Set to release on November 11, 2022, "Wakanda Forever" will take moviegoers back to the titular nation during a tragic time. The former king, T'Challa (Chadwick Boseman), is dead, resulting in an invasion from outside forces who seek to take advantage of the chaos. It should come as no surprise that the story has taken this direction due to the real-life death of Boseman, who passed away on August 28, 2020, of colon cancer at the age of 43. It also shouldn't surprise anyone that, given his status as the heart and soul of the "Black Panther" franchise, his absence affected the on-set atmosphere.
According to members of the cast, here's what it was like working on "Black Panther: Wakanda Forever" without Chadwick Boseman.
The Wakanda Forever cast felt Boseman's absence in different ways
At the 2022 D23 Expo, Winston Duke, Letitia Wright, and Tenoch Huerta — who play M'Baku, T'Challa's sister Shuri, and MCU newcomer Namor, respectively — spoke to People about "Black Panther: Wakanda Forever." Since Duke and Wright worked extensively with Boseman on "Black Panther," "Avengers: Infinity War," and "Avengers: Endgame," they touched on what it was like filming "Wakanda Forever" without Boseman there. "You don't realize that this movie wasn't as playful in between takes as the first one. When Chadwick was around, we were rapping and laughing. It just wasn't the same dynamic," explained Duke.
As for Wright, she agreed that Boseman not being on the "Wakanda Forever" set shifted the atmosphere considerably, but in her mind, he wasn't totally gone. "I could just hear [Boseman] be like, 'Sister, you're great. You got this. I'm proud of you.' That really just kept me moving forward," she said, revealing that she felt his presence during her most detrimental moments of self-doubt. Meanwhile, even with Boseman gone, Queen Ramonda herself, Angela Bassett, is confident that "Wakanda Forever" will deliver. She told Entertainment Tonight, "It will be satisfying, I think, for the fans, and it will be honorable of our Chad. We love our king."
"Black Panther: Wakanda Forever" will likely prove quite the emotional rollercoaster throughout its runtime. Chadwick Boseman, King T'Challa, may be gone, but he's certainly not forgotten.