Former MCU Designer Anthony Francisco On His Personal History With An Ant-Man And The Wasp: Quantumania Character - Exclusive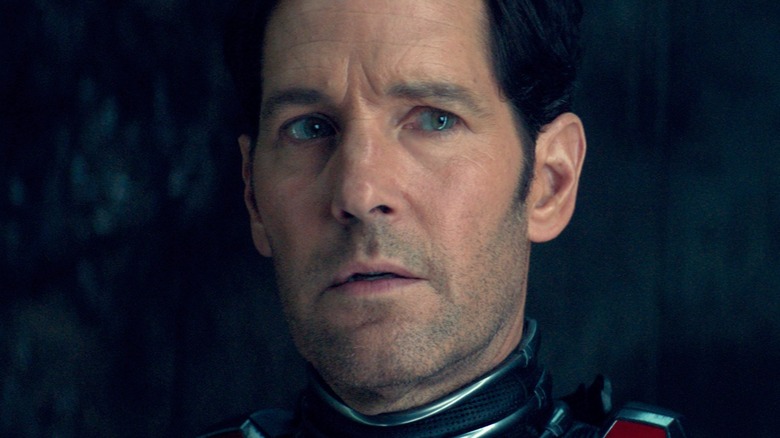 Marvel Studios/Disney
While former Marvel Studios senior visual development artist Anthony Francisco is hard at work on his new project "Creature Chronicles," he is still able to enjoy the projects he completed on some upcoming Marvel Cinematic Universe films before he left the company. Among them is the character design for the debut of legendary Marvel Comics character Namor in "Black Panther: Wakanda Forever" and Teen Groot in "Guardians of the Galaxy: Vol. 3," the growing version of his design of Baby Groot — modeled after his son — in "Vol. 2."
In between the November release of "Black Panther: Wakanda Forever" and the tentative May 2023 release of "Guardians of the Galaxy: Vol. 3" is "Ant-Man and the Wasp: Quantumania," the hotly anticipated third chapter in the "Ant-Man" movie trilogy, starring Paul Rudd and Evangeline Lilly. Fans finally got a look at what the film — pegged for a February 17, 2023, release — has in store for the future of the MCU with the release of the film's first teaser trailer. Among the reveals is the big-screen introduction of the villainous Kang the Conqueror (Jonathan Majors), the alternate-universe version of He Who Remains, who made his debut in the Marvel Studios-Disney+ series "Loki" in 2021.
As a visual development artist on all three "Ant-Man" films during his tenure at Marvel Studios, Anthony Francisco discussed with Looper his work on "Ant-Man and the Wasp: Quantumania," which also includes the design of another Marvel Comics legend making his debut in the MCU.
Francisco helped on the design of Kang and designed M.O.D.O.K.
Since Anthony Francisco was there at the very beginning of every MCU film or series he worked on, he's privy to some very sensitive information that he can't talk about for long stretches of time. Discussing with Looper his designs for "Ant-Man and the Wasp: Quantumania," Francisco said his work on the film was "definitely something really big."
Francisco said since Kang the Conqueror was announced for the third "Ant-Man" film at San Diego Comic-Con in July, he was able to offer some details. "They had the actor [Jonathan Majors] come to the presentation. I got to work on him, design some of him," Francisco recalled. "I didn't get the final design, but it was so much fun working on him and his other looks, and it is going to be more epic than a normal 'Ant-Man' movie is going to be."
Since another famed Marvel villain was announced at Comic-Con — attendees got a quick peek of him in footage, but he's not in the new teaser trailer — Francisco was able to acknowledge his work on the character. "I could probably say this: I designed M.O.D.O.K. for this ... It's a huge, and I know they said this during Comic Con, right? I designed him and oh, my God, that's one of the best experiences," Francisco enthused. "It was so fun because he's one of my favorite characters that I would draw when I was younger, with him fighting Incredible Hulk. That's what I used to draw ... They knew I was going to do justice with the [way the character was presented in the] comic book. Kevin Feige really liked the takes I had on him, and I can't wait to show it."
"Ant-Man and the Wasp: Quantumania" is set for a February 17, 2023, release. In addition to his work on "Creature Chronicles," you can follow Anthony Francisco's work at his website, as well as his Twitter and Instagram accounts.