Why Haikyuu!!'s Kenma Kozume Sounds So Familiar
Created by Haruichi Furudate and reaching peak popularity when animation studio Production I.G. brought it to life on screen, "Haikyuu!!" is likely the most popular and well-known sports anime of the last decade. One of the reasons for the series' remarkable success is its cast of curious, quirky, and intriguing main and side characters that are well-developed throughout the seasons. Even when the characters are not under the spotlight of the court, and are instead sitting on the bench, the connection viewers feel with the characters never wavers.
One such character who is endowed with a captivating personality — even if they're not the most excitable — is quiet "pudding-head" Kenma Kozume. This strategic thinker is widely recognized for his distinct dyed blonde hair and natural black roots. Not only that, but his original Japanese dubbed voice is also one that anyone fairly well-versed in anime and its industry must certainly know — or at least have heard before, even without realizing it.
With an impressive number of protagonist roles and other popular side-characters under his belt and a total of over 250 separate voice acting credits across TV, film, and video games, Yûki Kaji is one of the most prominent Japanese voice actors (also known as a seiyuu) of his generation. Here are some of the roles you might've heard him in.
The faithful gardener of the Phantomhive household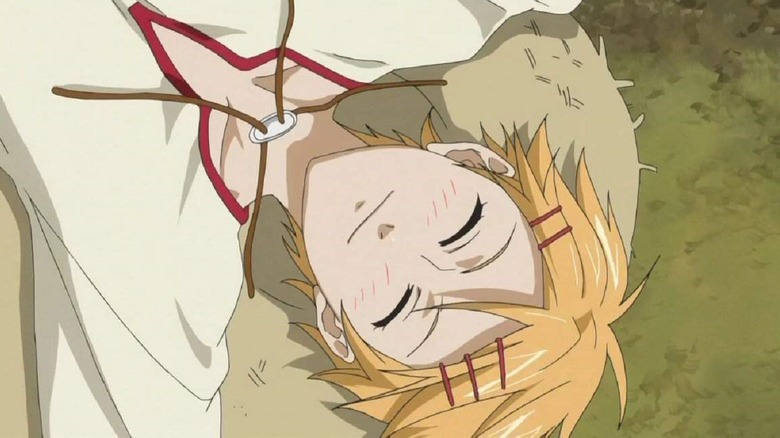 A-1 Pictures/Aniplex
The first season of "Black Butler" — or "Kuroshitsuji" in the original Japanese — premiered in 2008 and quickly garnered a loyal fanbase of anime fans. Based on the popular manga series by Yana Toboso, the series is set in Victorian England, if Victorian England had demons, mutants, and grim reapers roaming about.
Although he's not a protagonist in the series — that honor goes to the devilish duo Earl Ciel (Maaya Sakamoto) and his demonic butler Sebastian (Daisuke Ono) — Yûki Kaji's character Finnian, affectionately known by those closest to him as "Finny," is nevertheless a fan-favorite and a recurring presence in the beloved Black Butler franchise. The Phantomhive household's bubbly young gardener may seem like an innocent sweetheart on the surface, and he is, but he also hides an obscure superhuman side that is connected with his tragic past as a test subject. 
Even though Finny might not be the first role that comes to mind when one thinks of Kaji's prolific career, it is one of his oldest recurring anime roles in a TV series and certainly one of the most lovable as well.
The Wondrous Dungeon Capturer Alibaba
Another of the multiple blond male characters played by Yûki Kaji is Alibaba Saluja in Shinobu Ohtaka's series "Magi: The Labyrinth of Magic." Alibaba makes up the trio of main characters in the series alongside the young Magi Aladdin (Kaori Ishihara) and the former slave Morgiana (Haruka Tomatsu).
Alibaba is a cheerful and generous Dungeon Capturer whose luck was not on his side at the beginning of the series before he met Aladdin. He became a King Candidate to Aladdin upon meeting. After Alibaba conquers Amon, with Aladdin and Morgiana's help, he becomes the owner of the fire Djinn.
In a live voice-acting performance at a seiyuu event – a place where magical moments tend to happen — Kaji, along with other members of the "Magi" voice cast, showed off his talent and sense of humor, first by performing a scene from the series, and later by purposefully and hilariously messing up that same scene with some insanely funny improvisation. It's worth it just to listen to Kaji and fellow seiyuu Ryōhei Kimura calling each other's names in over-exaggerated American accents.
A Hero living long enough to see themselves become the villain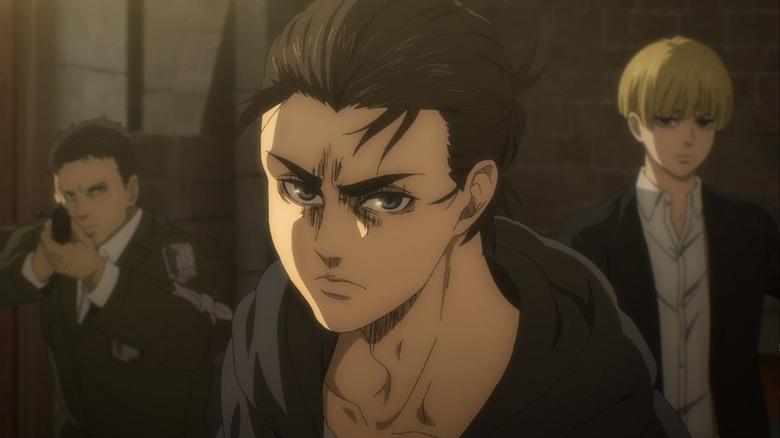 Hulu
Even if one is not a fan of anime, chances are they still have heard about "Attack on Titan," one of the most popular — if not the most popular — mature-rated anime of the last decade. Eren Jaeger, the do-or-die hot-headed protagonist of the series, is probably Yûki Kaji's best known role and also one for which he deservedly earned the most awards, including at the 2014 8th Seiyu Awards and the 36th Anime Grand Prix.
Eren, as he is in the latest aired season finale, may very well be one of the most complex anime protagonists to have ever been created, which should speak further to Kaji's incredible versatility and emotional range. An example of the undeniably crushing emotion Kaji is capable of imbuing into his voice when he acts can be found in a mind-blowing live performance that he and castmate Yui Ishikawa did of a highly emotional scene between their characters that occurred in the ending episode of the show's second season.
A god of calamity's divine vessel is also a teenager with overflowing cuteness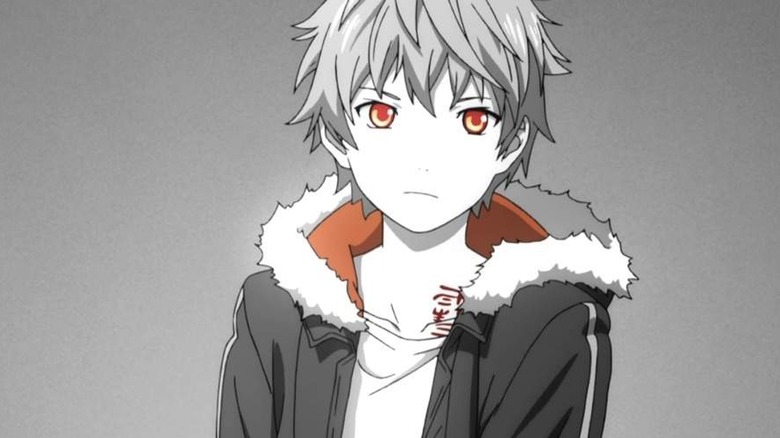 Crunchyroll
The fifth character — and fourth blondie — on this list is Yukine from "Noragami." Like Alibaba, Yukine is one of the three main characters in the series. Based on a manga series by the creative duo Adachitoka, Noragami tells the story of a God of Calamity commonly known by others as Yato, who is played by Hiroshi Kamiya, another famous seiyuu with whom Yûki Kaji has worked and collaborated quite a bit. In fact, Kamiya and Kaji are known for not only having worked on a few of the same projects but also for having hilarious antics whenever they can be seen together. 
As Yukine, Kaji portrays a 14-year-old spirit who Yato has adopted as his regalia, which, after transforming, takes the form of a katana. When asked if he paid special attention to portraying Yukine's "cuteness," Kaji answered, thoughtful and bemused, "I don't pay particular attention to sounding cute." (per an interview at a Noragami Event) – however, whatever he was about to say next, was cut off when Kamiya butted in and decided to offer his two cents. "It just overflows, doesn't it?" After taking a moment to chuckle and exchanging some teasing quips with Kamiya, Kaji humorously replied, "Yeah, well ... It does overflow, I guess. I can't help it at all, seriously."
The perfect balance between hot and cold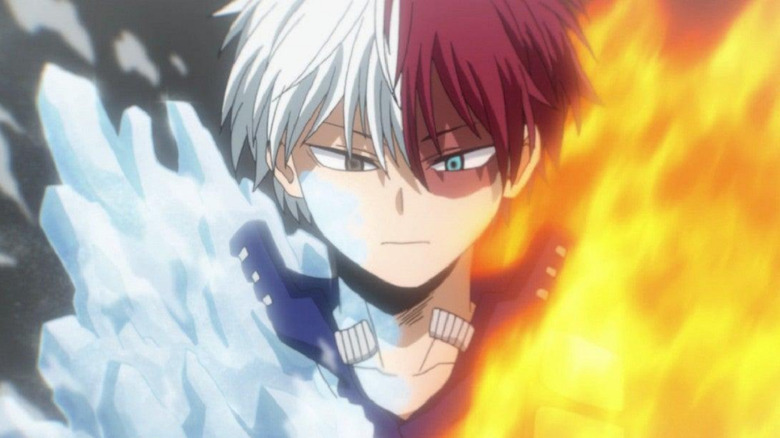 Adult Swim
For the last entry on this list, let's turn up the heat and give the floor to Yûki Kaji's "My Hero Academia" character Shoto Todoroki – without a doubt another of his most famous roles. However, unlike Eren Jaeger, for most of this series, Todoroki does not wear his heart on his sleeve. Instead, he is quite a reserved individual who, slowly but surely, starts coming out of his shell with the help of his classmates, Daiki Yamashita's Izuku Midoriya in particular.
In the franchise created by Kōhei Horikoshi, Shoto is an aspiring hero blessed with two quirks, one of ice and one of fire. He is one of the most popular characters, as one can note by the results of the popularity polls. It is not difficult to see why. First, he falls under the popular character archetype of the calm, collected, and highly-capable individual with a relatively tragic backstory. In addition, the low and even tone Kaji uses for this character, which contrasts starkly with some of the others on this list, adds to Shoto's undeniably cool aura.