This Is Where You Can Watch Haikyuu!!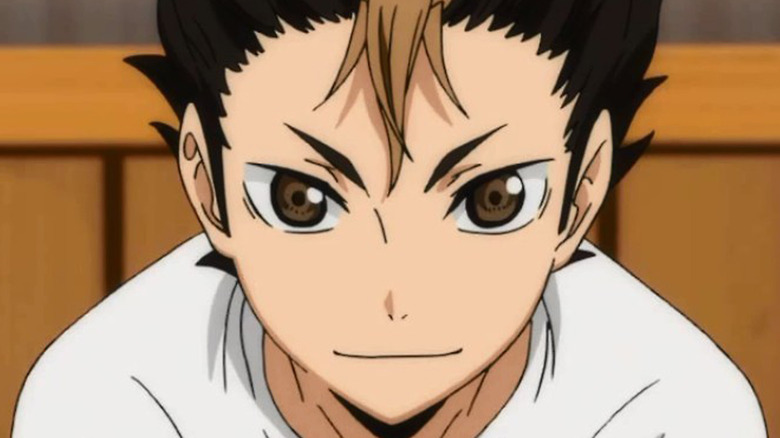 Crunchyroll
The shonen genre of anime and manga, referring to series broadly aimed at audiences of young boys, is a veritable sports subgenre entirely separate from widely-known combat-oriented series like "Naruto" or "One Piece." Historically, sports-oriented shonen series have included everything from the likes of traditional sports stories like the American football-based "Eyeshield 21" and basketball serial "Slam Dunk" to board game drama "Hikaru no Go" and the recent battle royale soccer manga "Blue Lock."
"Haikyuu!!" may be a recent addition to the ranks of sports anime, but it is arguably in early contention for status as an all-time classic. The most recent season of the "Haikyuu!!" anime, subtitled "To the Top," was among the best anime series released in 2020. Sports-wise, "Haikyuu!!" is all about volleyball. While the actual volleyball scenes on the show aren't necessarily realistic in terms of mimicking actual gameplay, its representation of the overall dynamic of a volleyball team has resonated with none other than professional volleyball player Yuji Nishida, among countless others.
Fortunately, for those looking to start "Haikyuu!!" due to the growing hype around the series or even just a general interest in the sport of volleyball, the show is available to watch on multiple streaming platforms.
How to cheer on Karasuno High from the comfort of your own home
Crunchyroll
The best place to watch "Haikyuu!!" is the anime streaming service Crunchyroll. That's primarily due to the fact that Crunchyroll is the only streaming platform to host all four seasons of "Haikyuu!!" thus far. Furthermore, the service allows users to stream many of its shows for free (albeit with ads), meaning that prospective viewers can watch every episode of "Haikyuu!!" released to date without having to spend a dollar or even create an account. Furthermore, since Crunchyroll is the only streaming site currently up to date on the show, it will likely remain the only service to air its inevitable fifth season upon its release.
That said, the first two seasons of "Haikyuu!!" are also available on both Netflix and Hulu. Those with a subscription to either service and not Crunchyroll can thus watch the first 50 episodes of "Haikyuu!!" without ads and in higher quality than the free versions of those episodes. Finally, the third season — and only the third season — of "Haikyuu!!" is available on anime streaming service HiDive, though it does require a paid subscription.
In short, Crunchyroll, possibly in conjunction with Netflix or Hulu, is the best way to stream "Haikyuu!!" based on its current availability.