House Of The Dragon Fans Are In Tears Over That Heartbreaking Death In Season 1's Finale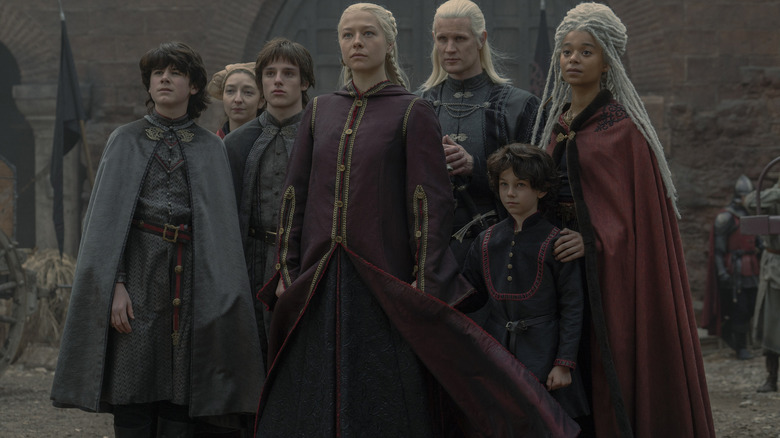 Liam Daniel/HBO
Contains spoilers for the "House of the Dragon" Season 1 finale.
The first season of "House of the Dragon" came to a ceremonious end on Sunday night, proving that HBO still has the goods when it comes to "Game of Thrones." The episode finally kicked off the fall of the House Targaryen, pitting two sets of the family — and by extension, the entire realm — against one another. As the dominoes begin to fall, there's one heartbreaking death that's responsible for the utter madness to come.
Delivering both spectacle and narrative, the finale is one for the history books thanks to its bold choices. Fans now wait with bated breath to see the next chess piece move from King's Landing and Dragonstone. Luckily, audiences won't have to wait with bated breath for a Season 2 announcement — HBO has already ordered a sophomore outing for Rhaenyra's (Emma D'Arcy) upcoming war. Series creator Ryan Condal has teased "Game of Thrones" level of chaos for the show's sophomore outing, which should begin filming in 2023, per Variety.
The year-long wait should give audiences plenty of time to rewatch the debut season, dissecting the complicated world of Westeros and its even more complicated residents. Beyond that, extra time should be given to understand the magnitude of the emotional death that wrapped up the finale. Though it's unclear how just how rationally the Targareyns will respond to the pivotal passing, fans have made it very clear how they feel about the death of a certain someone.
Fans can't believe Luke was eaten alive
In a bid to rally allies following Prince Aegon's (Tom Glynn-Carney) usurpation, the new Queen sends her son Prince Lucerys (lovingly referred to as "Luke") to remind Lord Borros Baratheon (Roger Evans) that his father swore allegiance to Rhaenyra. Luke arrives on his dragon Arryx, only to find that Prince Aemond (Ewan Mitchell) has already offered the Storm's End leader a promising alliance. Luke flees, only to be taunted by his uncle, who follows on the monstrous Vhagar. Hoping to toy with the boy, Aemond's dragon ignores his commands and kills Luke and Arryx, leaving the Prince in a prickly position.
Fans were naturally taken aback by Luke's devastating death, especially after Rhaenyra motivated him to fly to Storm's End. "ALL LUKE WANTED WAS TO SEND A MESSAGE FROM HIS MOMMY. HE DIDNT DESERVE TO DIE," lamented Twitter user @dragnstnes. User @Ni4344 noted how Rhaenyra sent Luke to Storm's Ends because it was the closest, and she "thought nothing would happen to him." @ErinEvert frustratedly tweeted, "being a 'Game of Thrones' fan is not for the weak, justice for Luke y'all," while others joked that Aemond's ride home must have been spent in utter silence and awkwardness.
The heartbreaking fan reaction extended over to Reddit, with r/HouseOfTheDragon follower u/SerDire saying, "My poor sweet Luke. So out of his element. You know it was over as soon as you saw Vhagar and Aemond already there." u/sillystriing, meanwhile, defeatedly asked fellow fans if they "really just watch[ed] Lucerys get eaten?" While Luke's death will kick off the fall of the House of the Dragon, it remains to be seen how Aemond deals with the fallout. Users like u/wistfulnasty were particularly pleased with how the HBO series painted the Prince's actions as a misstep.