12 TV Shows With Women Showrunners You Should Be Watching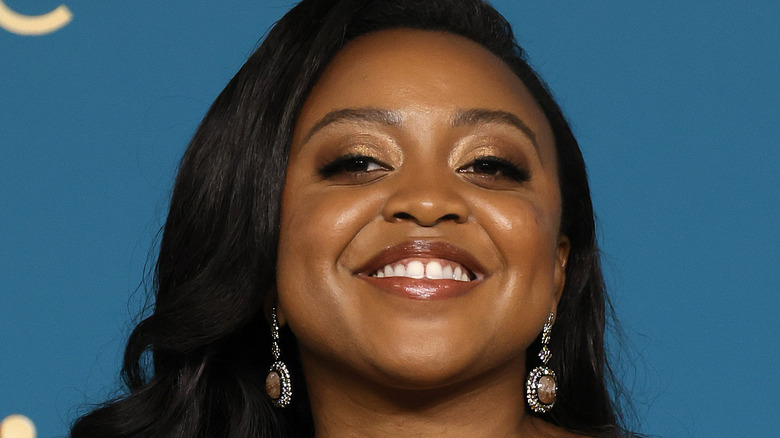 Frazer Harrison/Getty Images
TV showrunners have complete creative control of a series, overseeing everything from the writing of the script to the last say on the final cut. Even today, this leadership role is predominantly held by men, with women only making up 27.6% of showrunners in 2020 — a number that further dwindles when it comes to women of color (via Women and Hollywood). It wasn't until 1977 that the first woman showrunner made history in the industry. Ever since Charlotte Brown's work on "The Mary Tyler Moore Show" spin-off "Rhoda," women have been making their mark in television and paving the way for more diverse voices to be heard (via Hollywood Reporter).
It's not often we hear about the unsung talent of these women, but there's a good chance they may be responsible for some of your favorite TV shows. If you're curious to know the names and stories behind today's best television, here are 12 TV shows with women showrunners you should be watching.
Sex Education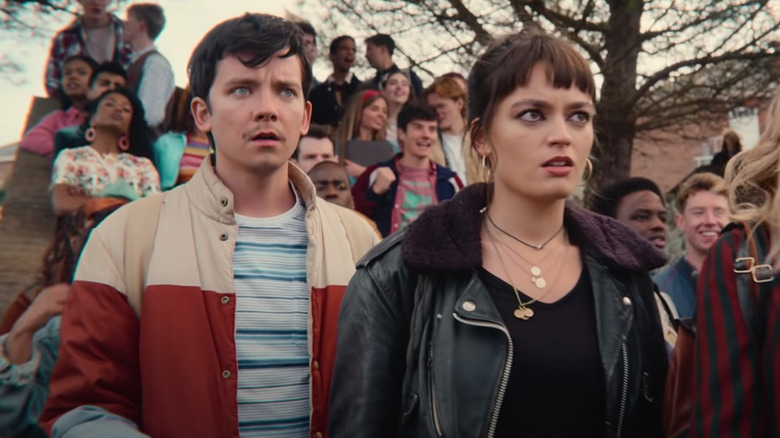 Netflix
Remember how painfully awkward it was to learn about the birds and the bees? Whether it's an unqualified gym teacher forced to give a lesson or it's overlooked altogether, sex education fills many young people with shame and leaves them unprepared to navigate sexual experiences. Laurie Nunn can relate. An unknown name at the time, Nunn had her big break when Netflix picked up her debut series "Sex Education." "There was never any mention of LGBTQI+ education. There was no focus on female desire, female pleasure. We weren't taught about how our anatomy really worked. It was very full of shame and fear. It was, don't get pregnant. Don't get an STI ... So with the show, I really wanted to try and right some of those wrongs," Nunn told NPR. 
And thank goodness she did. Otherwise, we wouldn't have the insanely funny and heartwarming teen comedy-drama series, in which a socially awkward and sexually inept teenager Otis teams up with fellow student Maeve to provide an underground sex therapy clinic for other students using the knowledge he's picked up from his professionally licensed sex therapist mother. Luckily, there's still time to catch up before Season 4 drops.
A Black Lady Sketch Show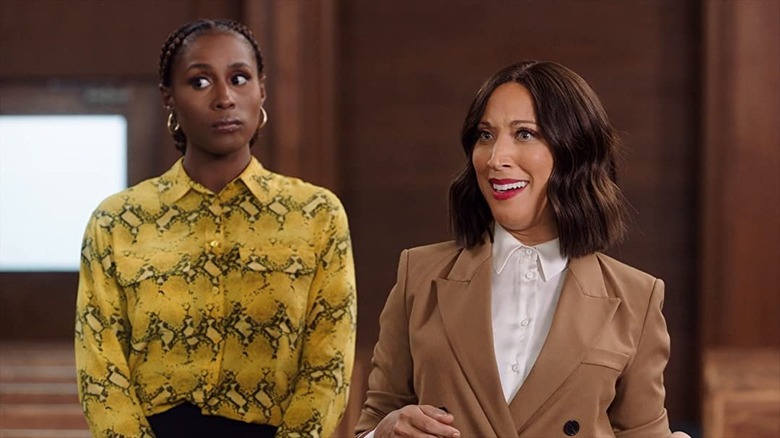 HBO
Comedian, actor, and writer Robin Thede is an unstoppable force who's been redefining industry norms since her time writing for "The Nightly Show," earning her the title of the first Black woman head writer in late-night history. Later, in 2016, she became the first Black woman to be the head joke writer for the White House Correspondents' Dinner. She then became the fourth Black woman to headline her own late-night show with "The Rundown" on BET (via The Washington Post).
It was only natural for her to create the first-of-its-kind sketch comedy show where Black women are the writers, directors, producers, and stars. "I knew I wanted to make a cinematic narrative sketch show for Black women with grounded experiences in a magical reality," Thede explained to The Washington Post. And that's exactly what she did with the 13-time Emmy-nominated and awarded "A Black Lady Sketch Show." Every sketch, from the catchy Black lady courtroom in "Courtroom Kiki" to the parent-child competition show in "Get the Belt," is known for being universally funny and relatable with a whimsical twist.
"I think it's evident in my comedy that I have a different perspective and, I would argue, a more relatable perspective. I definitely don't come from a place of trying to punch down or talk down to people in any way, and it's really important for me that I have a sense of fairness in what I do," Thede tells The Washington Post. Before Season 4 streams on HBO, it's essential to go back and catch up on some laughs while watching history being made.
The Morning Show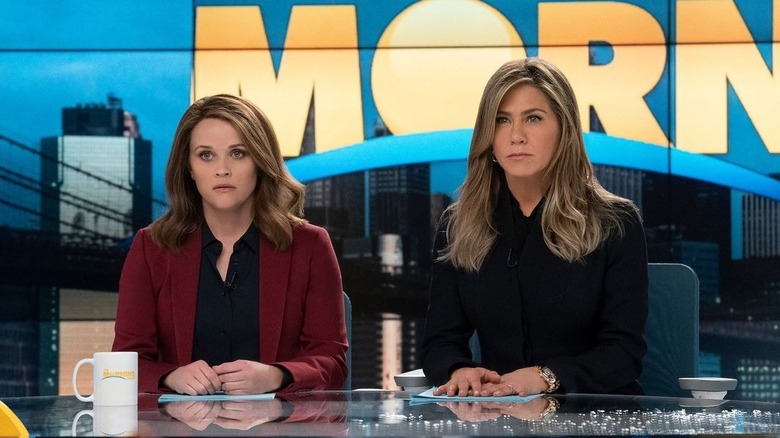 Apple TV+
Award-winning writer Kerry Ehrin has worked on hit after hit throughout her impressive career as a writer, showrunner, and producer. Before developing and serving as showrunner and executive producer on Apple TV's workplace drama "The Morning Show," Ehrin worked for shows such as "The Wonder Years, "Friday Night Lights," and "Parenthood." She then went on to co-create the critically acclaimed A&E drama series "Bates Motel." With Ehrin's genius behind this project, "The Morning Show" was destined for success. Seasons 1 and 2 received a total of 11 Emmy nominations and awards.
Not many shows can pull off topical issues or current events without dating themselves, but "The Morning Show" defies the odds. Season 1 introduces us to the cutthroat world of early morning TV and the lives of people in front of and behind the camera during the #MeToo movement, while Season 2 explores the COVID-19 pandemic and the political climate. With the show renewed for a third season, the excitement about where the show will go next grows. There's also the anticipation of Charlotte Stoudt taking over as showrunner while Ehrin serves as a consultant and continues to develop new series for Apple TV+ (via The Hollywood Reporter).
Pachinko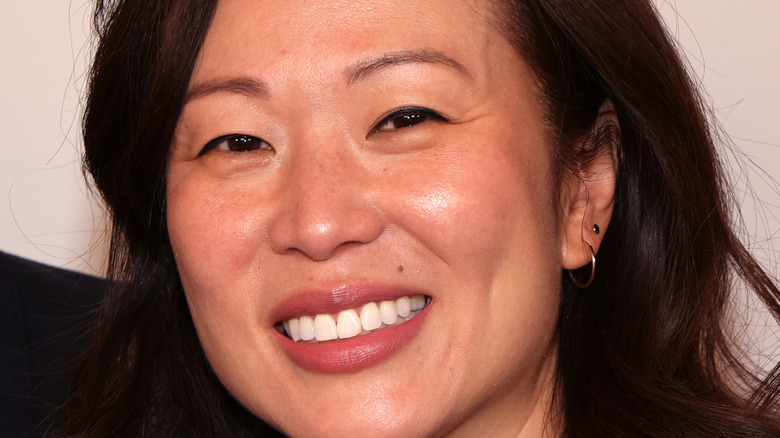 David Livingston/Getty Images
Based on the novel by Min Jin Lee, Apple TV's "Pachinko" tells the story of a Korean family over multiple generations under the guidance of creator, showrunner, writer, and executive producer Soo Hugh. Previously a showrunner for ABC's "The Whispers" and AMC's "The Terror," Hugh captures the immigrant experience as we follow a Korean woman, Kim Sunja, through the years 1915 to 1989. A family saga and history lesson beautifully packaged into eight one-hour episodes, "Pachinko" inspires profound questions surrounding generational differences and the American Dream. What makes the show so powerful is its insistence on pulling from real-life experiences. In the Season 1 finale, the fictional show switches to a documentary style as Hugh interviews Zainichi Korean elders who moved to Japan after colonization and stayed. "[Pachinko] was built on the backs of real people who lived. These lives really did have this kind of trajectory and we really wanted to make that as powerful as possible. These women, for so long they didn't think their stories were at all worthy to be told, and the lives of all those women are anything but boring. They're extraordinary," Hugh tells Deadline. With Season 2 renewed earlier this year (via Deadline), we can celebrate by rewatching Season 1 on repeat.
Harlem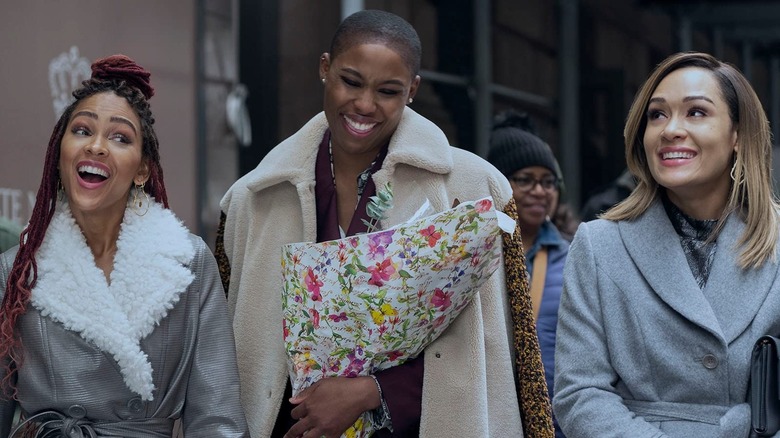 Amazon Prime Video
No one does Black female friendship like writer-producer Tracy Oliver. If that wasn't already clear from her breakout film "Girls Trip" — the first movie written by a Black woman to make $100 million at the box office (via The New York Times) — then you'll fully understand when you check out her new series with Amazon Prime Video about four ambitious best friends navigating life in a non-gentrified version of New York City. The first season of "Harlem" premiered in December 2021 and was such a success that it was picked up for a second season earlier this year. 
"I just really write what I experience. I am painfully self-aware, and intuitive, and vulnerable and I think you have to be all of those things to really write stuff that resonates," Oliver explained in an appearance with Today. In between the writing and premiere of "Girls Trip," Oliver wrote "Harlem," and it became her personal passion project. Pulling from real-life experiences proved to be the right move, with many women in their 20s and 30s relating to the series. Nothing screams female empowerment like a show about Black female friendship.
We Are Lady Parts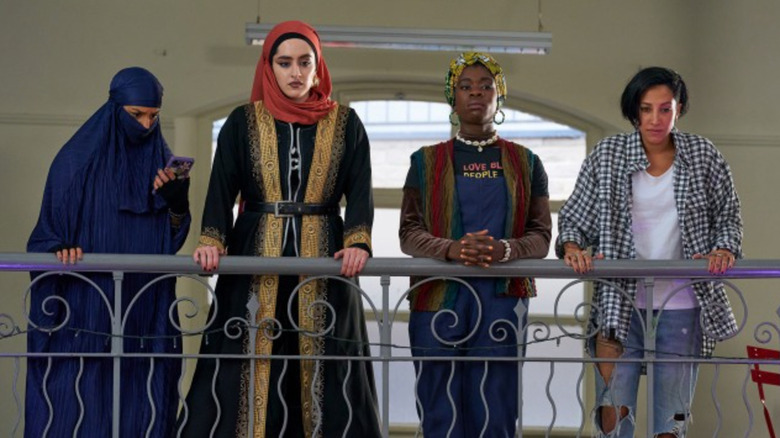 Peacock
Themes of female empowerment and representation are also ever-present in Nida Manzoor's "We Are Lady Parts," a music-infused comedy following a Muslim female punk band. The project began on Channel 4 in the UK as a pilot in 2018. It later premiered its first season on Channel 4 and Peacock in the US in 2021. Manzoor's idea for the show came from a growing frustration with the scarce representation of Muslim women and their lack of agency in television (via The Hollywood Reporter). 
She also took inspiration from her and her sibling's love for music, which led to the three of them — plus her brother-in-law — creating original music from the show. "One of the things I realized when I was going into making the show was that I can only speak from my truth and represent the women I know ... I couldn't possibly represent everyone, and what I have found so much joy in doing is speaking my own truth and connecting with the people who this does speak to," Manzoor said in an interview with Variety. Her truth speaks volumes and has awarded "We Are Lady Parts" a second season, according to The Hollywood Reporter.
Abbott Elementary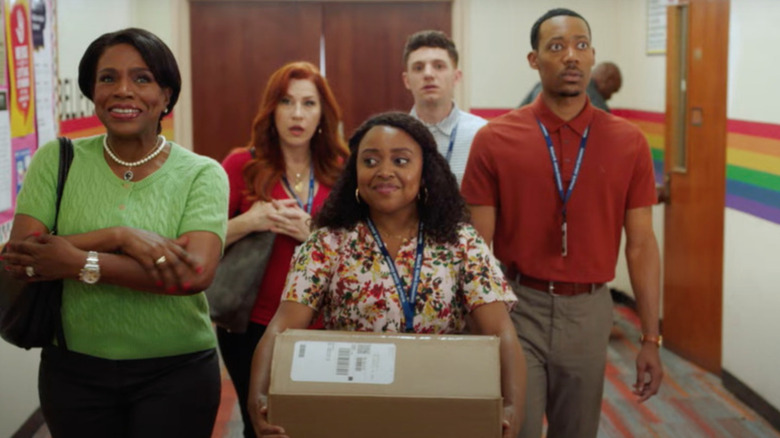 ABC
School's back in session with ABC's mockumentary sitcom "Abbott Elementary," where a group of dedicated teachers are determined to help their students succeed in life despite the hardships of their understaffed and underfunded school district. Through the power of comedy, creator and star Quinta Brunson spotlights America's education problems and the challenges teachers face every day inside and outside the classroom. According to TIME, Brunson pulled from her personal experiences when creating the show by using her middle-school teacher's name, Ms. Abbott, for the title and also drawing inspiration from her mother, a kindergarten teacher who worked in Philadelphia public schools for about 40 years before retiring. 
The show continues to make history in almost every department, from having the strongest comedy ratings for ABC since the April 8, 2020 series finale of "Modern Family" to the most-tweeted comedy series of 2022 as of March. The breakout show even received 7 Emmy nominations, with Brunson scoring 3 for herself: Outstanding Lead Actress in a Comedy Series, Outstanding Writing for a Comedy Series, and Outstanding Comedy Series. Not only does this make Brunson the youngest Black woman to ever be nominated in a comedy acting category, but she's also the first Black woman to earn 3 nominations across comedy categories in the same year (via Today). If you're not already watching this show, you're in the minority. Do yourself a favor and start binging.
Twenties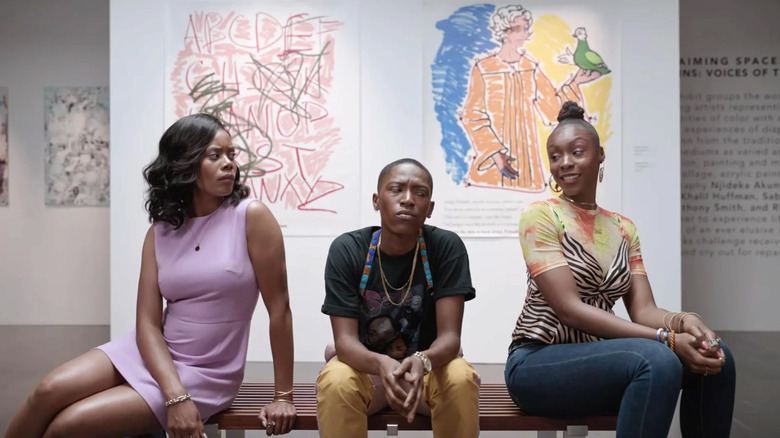 BET
BET's "Twenties" captures the main character Hattie's struggles to break into the entertainment industry as a screenwriter with unmatched comedy and accuracy, and that might be because creator Lena Waithe knows exactly what it's like. Although the show is semi-autobiographical, Waithe explains, "It's not that close to my life anymore. When I was in my 20s, it was a very different Hollywood than now. People really are into diverse stories a little bit more than when I was in my 20s, living out here." (via The Hollywood Reporter). 
Waithe has come a long way since then. In 2017, she became the first Black woman to win the Emmy Award for Outstanding Writing for a Comedy Series for her "Master of None" episode "Thanksgiving." She then went on to create the Showtime drama series "The Chi" and the BET comedy series "Boomerang," two other shows you should probably be watching. She also made her mark in the film industry by writing and producing the crime film "Queen & Slim."
If you're not watching "Twenties" for the comedy or relatability, watch it for the representation. The "trying to make it in Hollywood" story arc is nothing new to TV, but what you see in front and behind the camera is. A queer Black woman is the lead, but that's not even the most interesting thing about her. Actor Jojo T. Gibbs brings the character to life. She's warm, funny, determined, and will never fit into a stereotypical mold. What you get from "Twenties" is the reality of a changing Hollywood.
Never Have I Ever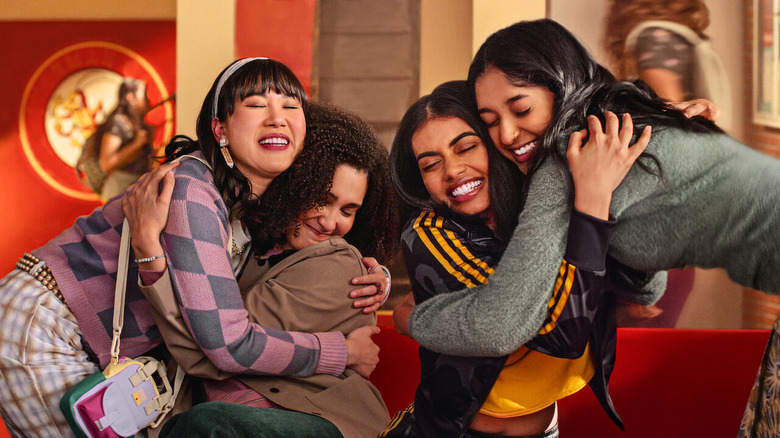 Netflix
Sophomore year of high school is the perfect time for a rebrand, and nerdy friends Devi, Eleanor, and Fabiola are seizing the moment. The three are now navigating sex and popularity after a terrible freshman year. "Never Have I Ever" is so much more than a run-of-the-mill teen romcom with similar plot devices: Devi is dealing with the fallout from her father's recent death, Eleanor is dealing with an absentee mother, and Fabiola struggles to come out as gay. All these issues that real teens face today may seem like downers, but despite these darker moments, the show is, first and foremost, a comedy. In the trailer, innocent-looking Devi, played by Maitreyi Ramakrishnan, responds in a matter-of-fact tone to a fellow student's doubts about Devi's endeavors to pop her cherry. "Oh, yeah? I won't be able to walk again tomorrow because I'm about to go get railed. Peace out, virgin." That kind of brassy line delivery in the middle of the school hallway is absurdly funny. 
If you don't know co-creators Mindy Kaling and Lang Fisher by now, "Never Have I Ever" is a great introduction, but it's doubtful this is the first time you've seen the two's work. After joining "30 Rock" as a staff writer with Kaling, Fisher went on to write, direct, and co-executive produce Kaling's romantic comedy series "The Mindy Project." She was also a writer and co-executive producer on the police procedural comedy "Brooklyn Nine-Nine." Then there's the well-known Kaling, whose long list of credits began with her work on the NBC sitcom "The Office." There's a reason you've seen these women everywhere. It's about time you caught up on "Never Have I Ever" before the fourth and final season.
Roar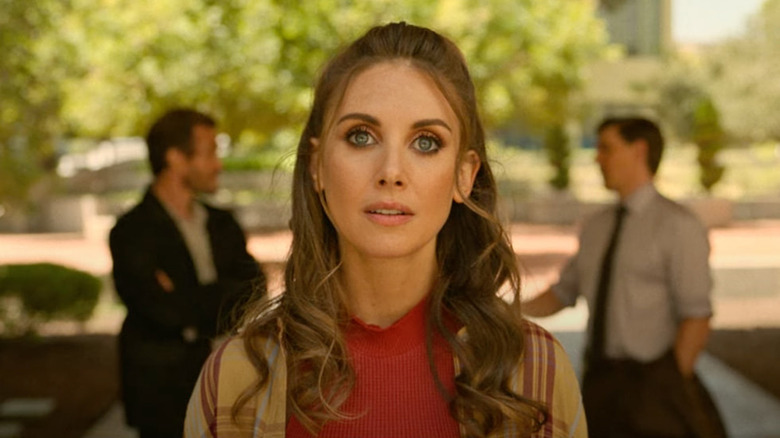 Apple TV+
Mainstream anthology series are few and far between, but Apple TV's "Roar" may change that. These eight genre-bending, darkly comedic feminist fables explore themes such as gender roles, autonomy, and identity. After missing out on their fourth and final season of their comedy-drama series, "GLOW," co-creators Liz Flahive and Carly Mensch made the right move when venturing into their next project. Adapted from Cecelia Ahern's short story collection of the same name, "Roar" features magical realism and metaphors on a scale that's rare for television. The stories are groundbreaking, and the cast is star-studded. There's Issa Rae in "The Woman Who Disappeared," Nicole Kidman in "The Woman Who Ate Photographs," Cynthia Erivo in "The Woman Who Found Bite Marks on Her Skin," Merritt Wever in "The Woman Who Was Fed by a Duck," and many more talented figures.
Only great minds can pull a show like this off. "We were really focused on making sure to leave the characters and the stories complicated and open-ended when we could. And to rely on our writers for different perspectives than Liz and I could bring and to let them express stories that felt true to them without over-imposing anything about what the show should be or what the message should be," Mensch tells The Los Angeles Times. With that, viewers get unique glimpses into the female experience.
Rap Sh!t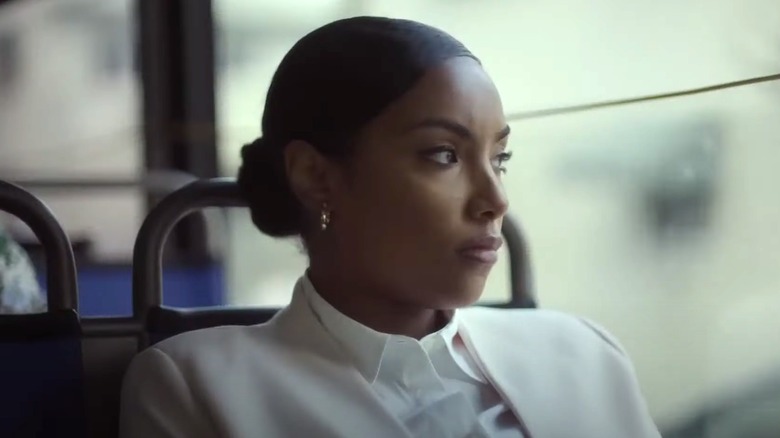 HBO
So many fell in love with Issa Rae's critically acclaimed comedy-drama series "Insecure." When the show wrapped, fans were left with an empty void with only one way to fill it — a new half-hour comedy series by Rae. "Rap Sh!t" doesn't take any sh*t when it comes to double standards. The unapologetic series follows two estranged high school friends from outside Miami who reunite to form an unlikely rap group, hoping to make it big in the music industry. Creator Rae serves as executive producer and brought on "Insecure" alumn Syreeta Singleton as showrunner.
Rising star Aida Osman, who writes for and stars in the series, explains to The Hollywood Reporter the mindset that goes into a story like this. "All of us wanted to talk about the fact that our bodies get politicized so much and policed; women's bodies in rap become intellectualized before they become celebrated. Any young woman trying to make it in the rap game is not going to be free of those critiques ... So we wanted to show all the different sides of the come-up journey." Now it's time for you to take control of your own narrative and get to watching this show.
Surface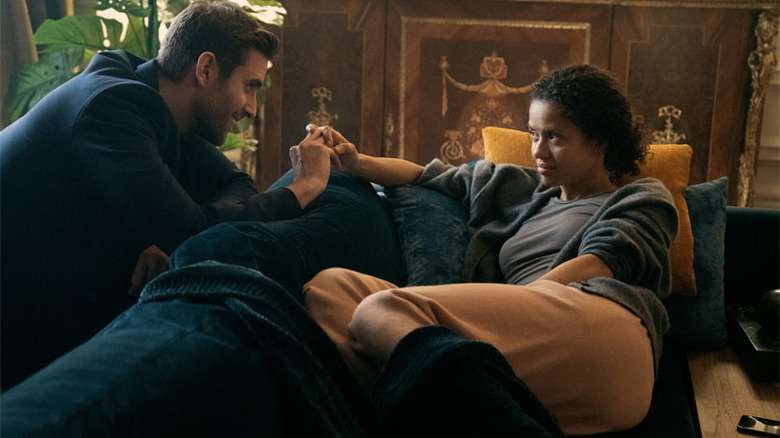 Apple TV+
Apple TV's psychological thriller series "Surface" must've slipped your mind, because why else haven't you watched it yet? After suffering a traumatic head injury that leaves her with memory loss, Sophia attempts to piece back together her life before the accident. Along the way, she starts to realize the people trying to help her are not who they seem. It's not often we see female leads in thriller-type shows like "Surface," but this isn't an anomaly for creator Veronica West, who co-created the romantic comedy television series "High Fidelity," starring Zoë Kravitz. "I think as female storytellers, it's a responsibility and a privilege to be able to put women at the forefront of our stories ... And what I loved about this idea for 'Surface' is that Sophie is unapologetically feminine from the beginning," West explains in an interview with Slashfilm. "I thought it was really interesting to just go forth and make a girly show that still played with really dark themes." A renewal for a second season is still up in the air, but with its shocking Season 1 finale, it'd be a crime not to continue the series.