12 Best Sketches From A Black Lady Sketch Show Ranked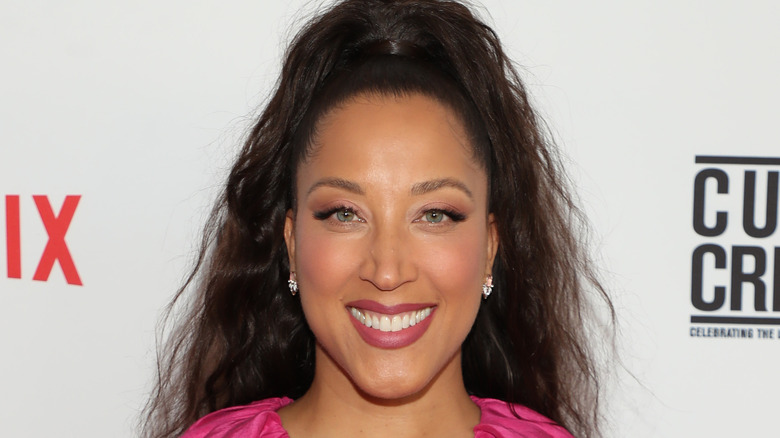 Jerritt Clark/Getty Images
Gone are the days when "Saturday Night Live" creator Lorne Michaels monopolized TV sketch comedy. On August 2, 2019, HBO premiered a first-of-its-kind sketch comedy show written and directed by — and starring — entirely Black women. 
"A Black Lady Sketch Show" was created by comedian, actor, and writer Robin Thede, and this isn't the first time she's made history — earlier in her career, she was the first Black woman to be named a head writer of a late-night show for "The Nightly Show With Larry Wilmore." She then went on to host her own talk show on BET, titled "The Rundown with Robin Thede" (via NPR).
Whatever Thede is creating, it's guaranteed to get a laugh. There's also her team of writers and cast whose work makes "A Black Lady Sketch Show" a 13-time Emmy-nominated hit. Thede stars alongside comedians Ashley Nicole Black, Gabrielle Dennis, and Quinta Brunson in Season 1. Laci Mosley and Skye Townsend join the cast in Season 2, while all three seasons feature star-studded guest appearances throughout.
Lucky for us, "A Black Lady Sketch Show" was renewed for a fourth season in June 2022 (via The Hollywood Reporter). While we wait for more hilariously iconic sketches, let's look back at some standout sketches from the past three seasons.
12. Ashy Sunday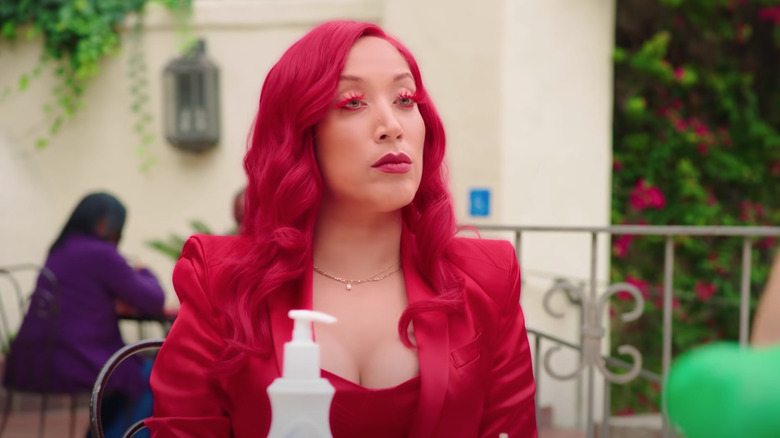 HBO/YouTube
Season 3, Episode 4, "Bounce Them Coochies, Y'all!" starts off hot with a sketch featuring the devil, played by Thede. Jamila, played by Black, is feeling like her best self, from her butterfly-braided head to her frightening ashy toes. Too caught up in the rest of her look — like the fact that her eyebrows have grown back — Jamila forgot to give her feet some love. Her dilemma begins as she goes on a rampant search for lotion. She cannot risk showing up to a party and facing scrutiny from her friends.
Like any good "A Black Lady Sketch Show" sketch, the quotable one-liners stand out among the absurdity. With each new encounter with a stranger, Jamila becomes the target of a foot-centric roast battle. "You know you can't wear those feet after Labor Day" and "They're so white they look like they need to speak to a manager" are some of the clever insults that are sure to make their way into real-life roasts.
Her final interaction is with a questionable woman dressed in a red pantsuit. But she isn't affiliated with a gang like Jamila initially believes; rather, she's the devil. Jamila is given the ultimatum of choosing between being ashy or greasy forever. Additionally, she's required to hand over her soul. No problem, she's already sold her soul previously for Megan Thee Stallion tickets, and the devil has a new soul refinance program. The sketch ends in an absurd twist, being an ad for DocuSign with the slogan "the devil is in the details."
11. What Up I'm Three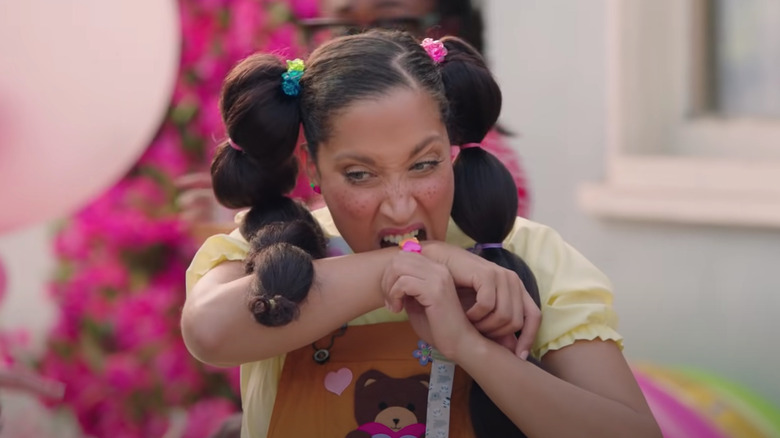 HBO/YouTube
In Season 3, Episode 5, "Peaches and Eggplants for Errbody!," Townsend plays an oblivious adoptive mother in a hilariously silly sketch titled "What Up I'm Three." During a get-together, Townsend is ready to introduce her adoptive three-year-old daughter to her friends for the first time. Her partner Black reluctantly fetches her, and we see why when a very adult-looking Thede dressed in toddler's clothing appears. Everyone sees the obvious truth of her age despite Thede's repeated catchphrase, "what up I'm three." But the only one brave enough to speak up is Dennis. She's not afraid to call out what she sees: "That is not a baby, that is a voter." If her age wasn't clear enough, Thede pulls out a cigarette and starts smoking.
The ending takes a darker turn when Thede admits to Dennis that she's getting ready to rob her adoptive mother's house. Upset with her friend, Dennis agrees to take a 30% cut. The perfect balance of silliness and derangement comes from the sketch's initial inspiration. "Robin had been thinking of this sketch for a while and referenced this film 'Orphan' about a young girl who gets adopted, but it turns out she's not so young — she's a maniacal adult who kills people," editor Stephanie Filo told Variety. Each "what up I'm three" is the perfect setup for the big punchline at the end.
10. Funeral Ball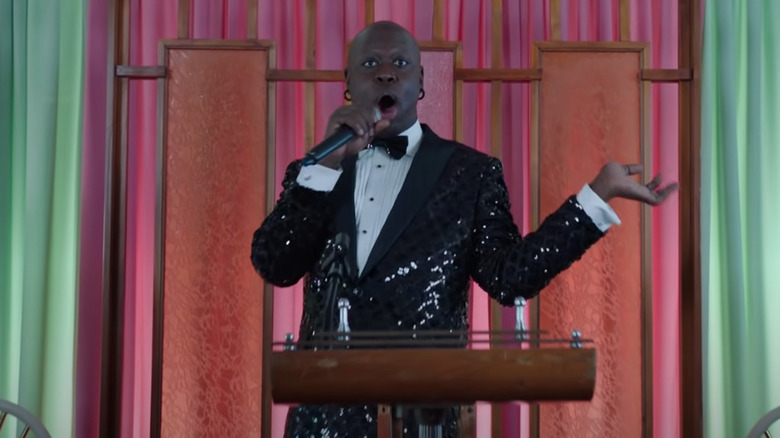 HBO/YouTube
Season 3, Episode 2's "Funeral Ball" sketch is a follow-up to the popular "Basic Ball" sketch of Season 1. Bob the Drag Queen returns as an emcee at a funeral turned ball where archetypes from Black funerals strut their stuff in remembrance of their loved one. The sketch turns what is usually a morbidly depressing event into a lively celebration. "Black people, we don't call funerals 'funerals.' We say a 'homegoing service' or a 'celebration of life' because from deep in our traditions — not only from Africa, but Creole traditions in Louisiana — we have a rich history of celebrating life when someone passes on ... So I think in our own way, in our own comedic way, that's what we kind of wanted to celebrate," Thede told Entertainment Weekly.
In addition to celebrating Black culture, "Funeral Ball" celebrates the LGBTQ+ community. Dancers who come from the ball scene were cast as well as dancers from the voguing reality competition series "Legendary." Rather than seeing the ballroom community and the Black community as separate, Thede presents them as all part of the same culture (via Entertainment Weekly). When inclusion is just as important as the comedy, you get something as memorable as the ball sketches.
9. Reunited & It Feels So Weird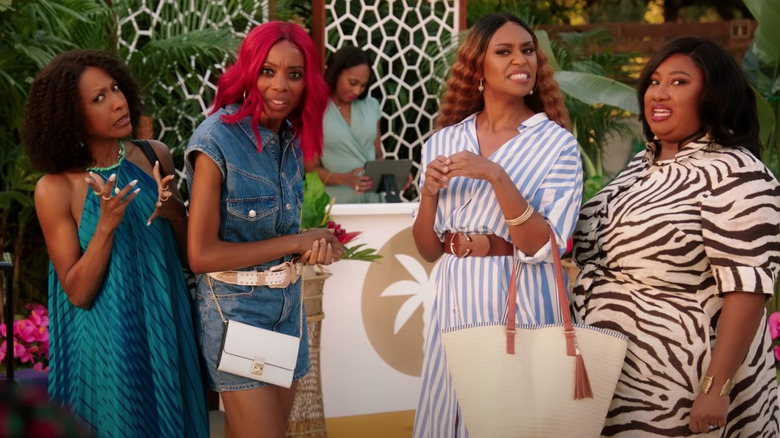 HBO/YouTube
The girls take a much-needed vacation to Fiji in the Season 2, Episode 2 sketch "Reunited & It Feels So Weird." The longtime friends greet each other with escalating surprises, from the irritating question of "can I touch your hair?" to aiming a loaded gun at the back of the head. Dennis, Black, Townsend, and Brunson are overjoyed to see each other, until a mysterious woman named Messica shows up chloroforming Brunson and claiming to be part of the Cut Up Crew. This is when the reunion turns "weird" because none of the women remember Messica, yet she knows everyone's business. Just when things couldn't get weirder, an identical group of women appear, claiming to be the real Cut Up Crew. They can't believe their friend Messica is out here chloroforming a different group of friends. Could it all be a doppelgänger coincidence or a parallel universe? Either way, the women are relieved to not have Messica joining their girl's trip.
8. Rude Poisoning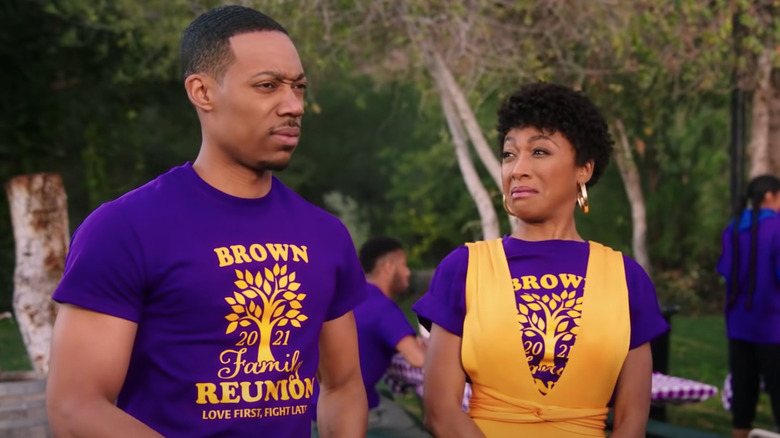 HBO/YouTube
Actors Tyler James Williams from "Everybody Hates Chris" and Kim Wayans from "In Living Color" make guest appearances in the sketch "Rude Poisoning" from Season 2, Episode 6, "Way to Ruin the Party, Soya!" Williams accompanies Dennis to a family reunion where all-too-familiar family arguments ensue. There are two sides to a reunion — the loving excitement of seeing distant relatives and the generational disagreements that remind you why you don't see said relatives more often. Williams takes matters into his own hands and defaults to playing Bell Biv DeVoe's "Poison" whenever things start to get heated. It works like a charm. Everyone can't help but instantly dance along to the timeless tune. Even as Williams and Dennis get into their own argument, the music puts their back-and-forth on hold, proving that music is the medicine that can bring us all together in times of distress.
7. Purgatory Soul Food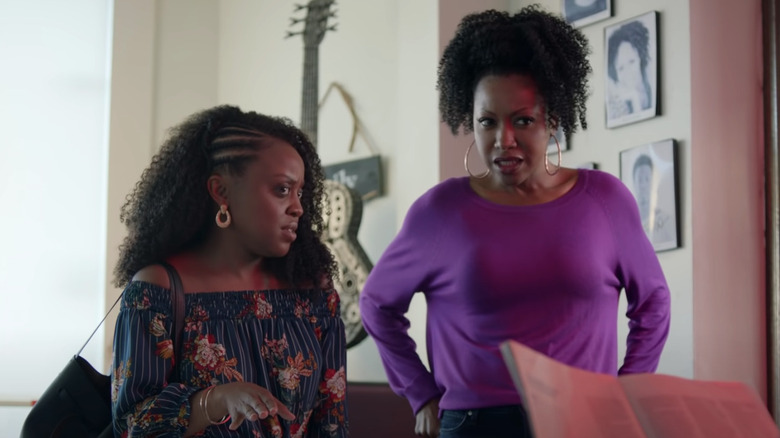 HBO/YouTube
Dennis and Brunson decide to spend their Saturday getting lunch at a local Black business called "Eat All-nite," a restaurant famous for their biscuits — when they're not all out. In fact, limited biscuits are only one of this restaurant's many shortcomings. The restaurant is short-staffed, half the menu is unavailable, and you have to pay 50 cents to use the restroom. None of this will ruin Dennis and Brunson's experience, though. They're determined to show their support. However, the problems escalate. The restaurant has a bring-your-own silverware policy, there's a $65 minimum, and a random man comes in to steal leftovers. Not even the delicious meals and the sweet-talking waitress can save this joint, so Dennis and Brunson step up to prove they can do a better job running the place. As they head to the back of the kitchen, the meaning behind the sketch's title is revealed as Dennis and Brunson keep ending up at the restaurant's entrance no matter where they try to escape. At least the oxtails are to die for.
6. Product Purge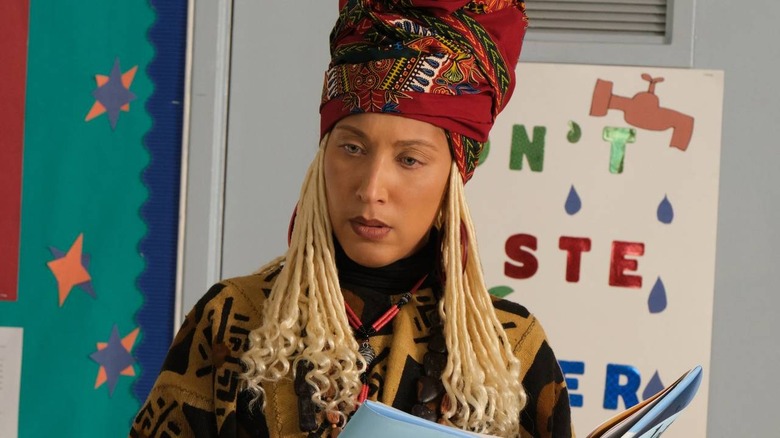 HBO
In the premiere episode of Season 3, "A Black Lady Sketch Show" comes back with a bang with "Save My Edges, I'm a Donor!," which won two Emmys for Outstanding Directing For A Variety Series and Outstanding Picture Editing For Variety Programming. The episode got its title from one of the most memorable sketches, "Product Purge," where a neighborhood gets together to go through their long lists of used products. In this universe, there's an annual purge that lasts 12 minutes, where everyone is allowed to return their products that didn't give desired results. No receipts, no restrictions. It's a dream come true, but this is serious business. A large ensemble cast keeps the energy up with stunts and battle cries. 
Emmy-winning director Bridget Stokes told Essence how important this sketch was for her. "I think playing with this, and making sure all the stunts went off and that the core cast, our background actors, and all of our guest actors felt supported even though they're more than 100 people in the frame, and [making sure that] everyone felt that we were doing this together was the most memorable I think for me." The sketch ends on a relatable note where the women take their cash from the returns and spend it on more products.
5. Get the Belt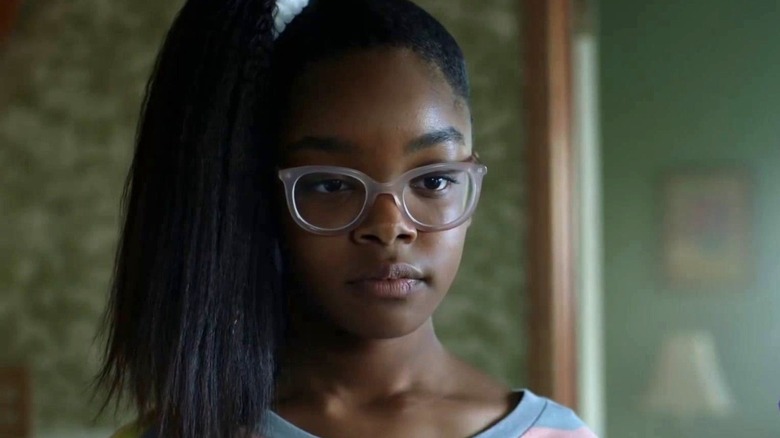 HBO
"A Black Lady Sketch Show" constantly pushes boundaries by using comedy to laugh at the taboo. In Season 1, Episode 6, "Born at Night, But Not Last Night," there's no holding back in the sketch "Get the Belt." Despite the controversial discussion around disciplining children, the sketch delivers big laughs. 
The dreaded words "get the belt" are all too relatable for many Black children growing up. The sketch takes it one step further by turning this moment into a mother-versus-daughter competition show. Will 13-year-old Reniece be able to avoid her mother's wrath with her undefeated obedience? Reniece must resist any urge to show attitude. Otherwise, she'll have the same fate as her brother, who previously got the belt. The suspense is palpable. After completing her mother's trivial demands, Reniece is in the clear for the win, but her cartoon weakness takes over. As her mother falls asleep, she takes her chance to watch her own show. It's a risk she's willing to take, and it looks as though she's going to get away with it until her brother runs in without closing the door. The blame falls on Reniece, but she lucks out when one of the announcers, played by Thede, learns the hard way that you're never too old for a whoopin'.
4. Courtroom Kiki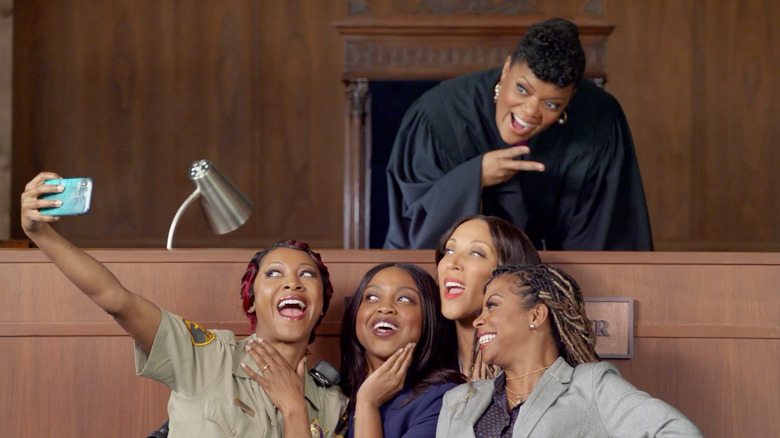 HBO
"Courtroom Kiki" made its unforgettable mark in the Season 1 finale — so much so that it earned itself a sequel in Season 2. Thede credits the sketch as being one of the most talked-about moments on the show (via NPR). "I think the one sketch that people always quote to us is the Black lady courtroom sketch ... They'll be like, "Hey! Black Lady Courtroom! Clap Clap!" And so people at the gas station who don't know me just think that I'm a fugitive or something."
The sketch features standout guest appearances from Issa Rae and Yvette Nicole Brown — Rae plays a defendant and Brown plays a judge. In a courtroom full of all Black women, everyone is excited to see so much representation in one place. In her 20 years of serving as a judge, Brown claims to have never seen melanin this poppin'. The women are getting along great, but Rae doesn't appreciate all the unprofessional behavior during her trial. Still, when she wins the case, she's happy to join in the celebration with the insanely catchy chant of "Black lady courtroom, clap clap!"
3. Chris and Lachel: Exit Row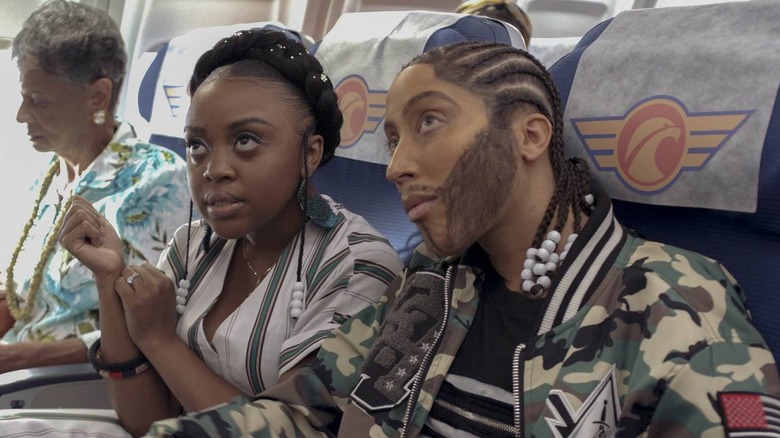 HBO
After the beloved characters Chris and Lachel have their wedding in Season 1, Episode 2, the newlywed couple returns in Episode 5 on their way to their honeymoon. Yvonne Orji guest stars as a flight attendant desperately trying to get a verbal yes from Chris and Lachel, who are sitting in the exit row. But viewers already know from Chris' debacle in the previous sketch that he has a hard time getting his words right. Orji needs to know if they are able and willing to assist in the case of an emergency. As viewers anticipate a simple yes, Chris and Lachel dance their way around the question in creatively funny ways. Chris responds with a "bet," "yerp," "ya mon," "yet," and other sounds that come close but do not qualify as a verbal yes.
Lachel tries to compromise by requesting free pretzels and a blanket. Chris has the genius idea of a pretzel blanket. The problem is finally resolved when a handsome Broderick Hunter catches Lachel's eye, and she convinces Chris to switch seats. Probably not the healthiest start to their marriage, but they'll find a way to work it out on their honeymoon.
2. Bad B*tch Support Group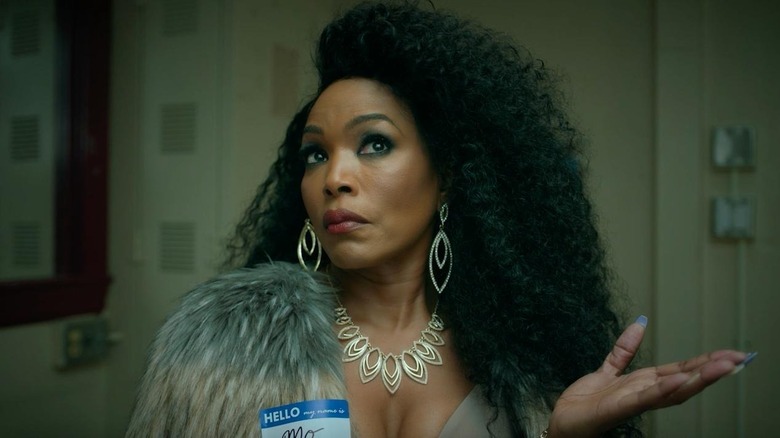 HBO
"Bad B*tch Support Group" probably has the best cameos of all the sketches on the show. Actors Angela Bassett and Laverne Cox make appearances and land some of the funniest lines. While an actor like Bassett isn't known for comedy, Thede shared Bassett's response to her request to be in the sketch in an interview with Elle: "You asked. You saw that I could do it when no one else in Hollywood asked." Her performance as Mo is not only hilarious, but it's also impacted the entirety of Hollywood.
Listen, it's hard being a bad b*tch full-time, but the bad b*tch support group is here to help. The bad b*tches talk through their problems — like constantly having to be done up for their man, wearing highlighter, lashes, and 3-inch heels. Maya uses this opportunity to confess her wishes for being an "ok" b*tch — only sometimes. The ladies can't believe their ears. But Bassett makes it clear that it's okay to be an "ok" b*tch, as long as you're not a "basic" b*tch.
Then, the twist everyone's been waiting for begins with the rise of sinister music. Behind a two-way mirror, a pair supposedly working for the fast fashion retail company Fashion Nova appear to be watching over their test subjects who are unaware of their participation in a trial for a drug meant to make women believe in impossible beauty standards. How else is Fashion Nova supposed to sell their clothes without the notion of bad b*tches?
1. No Makeup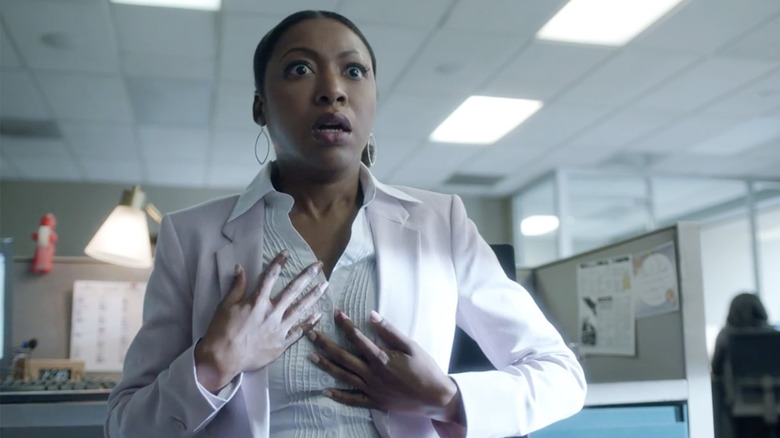 HBO
"No Makeup" might be the sketch that cemented "A Black Lady Sketch Show's" place in TV history — and the hearts of audiences. With nearly 4 million views on YouTube, it's a fan favorite for many, and also argued to be one of the most universally relatable sketches of the show. When Thede shows up an hour late to work every day because of the long process of beating one's face, her coworkers suggest she skip the makeup routine to keep her job.
Every woman has heard it before. After having a regularly made-up look, the one time they show a bare face, comments like "are you sick?" and "you look tired" flood in. So when Thede agrees and shows up to work with no makeup, an absurd version of this relatable situation takes place. Not only does Thede look sickly, but she's on the verge of dying. Remember that next time you dare skip out on concealer.