Aubrey Plaza Landed Her Parks And Recreation Role By Staring At Mike Schur For An Hour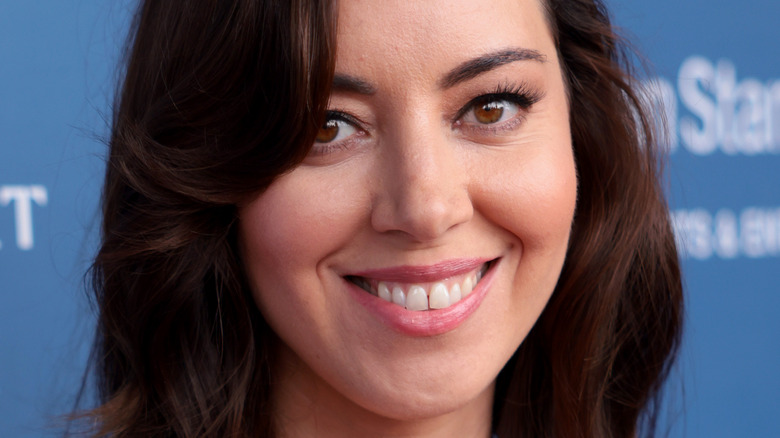 Tiffany Rose/Getty Images
Aubrey Plaza's whirlwind success came early, while she was still waiting tables in New York City and doing improv comedy at the famous Upright Citizens' Brigade in Midtown. In 2008, she flew out to Los Angeles for an audition that would end up changing her life beyond measure (via Conan O'Brien Needs a Friend). After meeting with the casting director for Judd Apatow's "Funny People," she landed a meeting with Mike Schur and "The Office" alum Greg Daniels, who were in the process of writing the pilot for "Parks and Recreation." Of course, Plaza landed the gig as office intern April Ludgate, and the rest is history.
Plaza went on to star in a bevy of projects, including TV shows such as "Legion" and "The White Lotus" and movies such as "Ingrid Goes West" and "Emily the Criminal." In 2022, Time Magazine dubbed her "the low-key movie star for our times," with critic Stephanie Zacharek writing, "Even if you were to argue that there's a typical Plaza character — let's call her an offbeat, loopy loner with zero patience for idiots — when you look closely, no two Plaza performances are alike."
In the years following her initial fame, Plaza delighted in the typecast she'd pigeonholed herself into, causing more than a few interviewers to grasp for words, visibly unnerved by her icy, unpredictable public persona. But in recent years, Plaza has settled into a more natural mode in the public eye, offering more reflection on her now-celebrated career. She's also set the record straight on her early days, even clearing up the story of how she actually secured that iconic "Parks and Recreation" role.
Aubrey Plaza pitched April Ludgate to Greg Daniels and made Mike Schur uncomfortable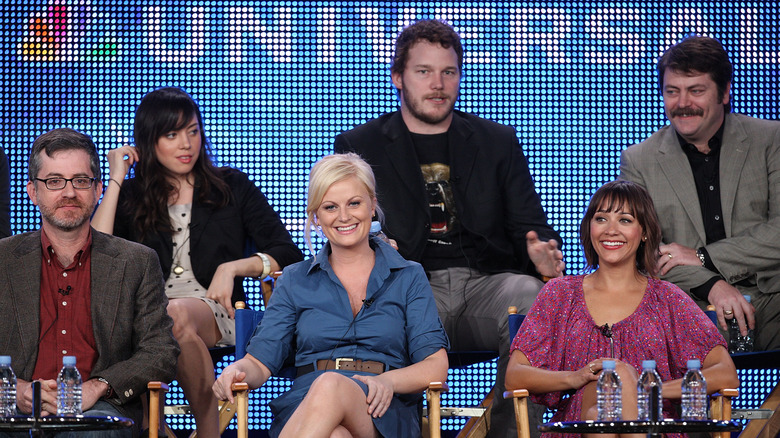 Frederick M. Brown/Getty Images
In a 2012 panel discussion at The Paley Center for Media, "Parks and Recreation" co-creator Mike Schur revealed that his first encounter with Aubrey Plaza was so uncomfortable that he decided to rebuild the entire character of April Ludgate around the actress — a feat prompted mostly by staring at him judgmentally. "Aubrey Plaza showed up in my office, and for an hour made me more uncomfortable than I've ever been," Schur recalled. "Like, mostly just by not saying anything, by like kind of staring at me with a look that was ... simultaneously like 'you're old' and like 'I don't like you that much.'" But Plaza made such an impression on the showrunner that he claims he wrote a scene around her that same night, saying, "I just wrote a scene where ... the college-age intern made Leslie [Knope, played by Amy Poehler] feel the way Aubrey had just made me feel."
However, in an August 2022 interview with Conan O'Brien on the former late-night host's podcast, Plaza revealed her own, slightly different perspective. According to the "Legion" star, she was acting weird because of Greg Daniels, who she says was knitting during their meeting and which struck her as unusual. "Mike was just watching it like, 'What am I watching here?'" Plaza said. Additionally, during that meeting Plaza suggested a key change to the character she was auditioning for — turning the unnamed assistant character into an apathetic college student. A few weeks and another audition later, Plaza secured the part. "I was like, 'Great, I don't even want to be on TV.' I was trying to be in movies, bro!"
Aubrey Plaza secured roles in Funny People, Scott Pilgrim, and Parks and Recreation in a single week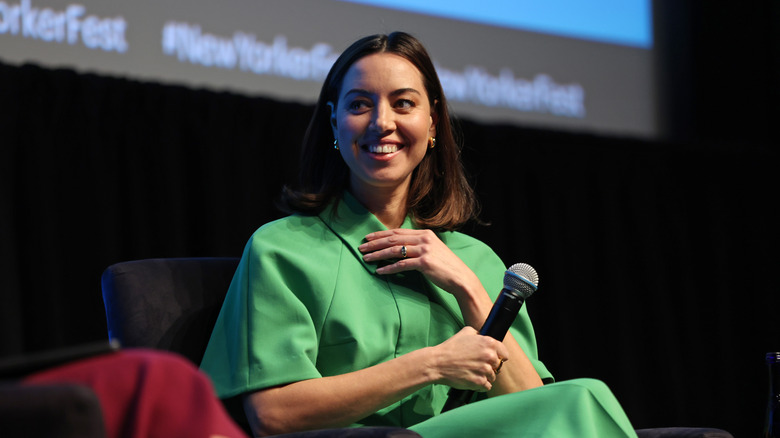 Monica Schipper/Getty Images
As she was securing her big "Parks and Recreation" role, Aubrey Plaza also landed parts in Judd Apatow's "Funny People" and Edgar Wright's comic book adaptation "Scott Pilgrim vs. The World." In fact, Plaza got all three offers in the span of a week. As she explained to Conan O'Brien, she had flown in from New York to audition for "Funny People." There, she met powerhouse casting director Allison Jones, who set her up for meetings on the other two projects. "I had nothing going on for me in New York," Plaza said. "I was doing comedy stuff. But I was like, 'Sure, I'll go to whatever meeting you want, lady. I don't give a s***.'"
Plaza went on to note that she'd underestimated the weight of that meeting and had dressed casually in jean shorts. In the end, although she had few acting credits to her name, Plaza landed all three roles. "I got ["Parks and Recreation"], I got "Funny People, and I got "Scott Pilgrim vs. The World" ... in one week," Plaza said. "When does that happen? I was in the right place at the right time in the right jean shorts."
Plaza's uniquely sly mode of acting continues to be in high demand, with even more illustrious roles sure to be found in the future. Unsettling staring matches, one imagines, are no longer a part of her process.