The White Lotus Season 2 - Everything You Need To Know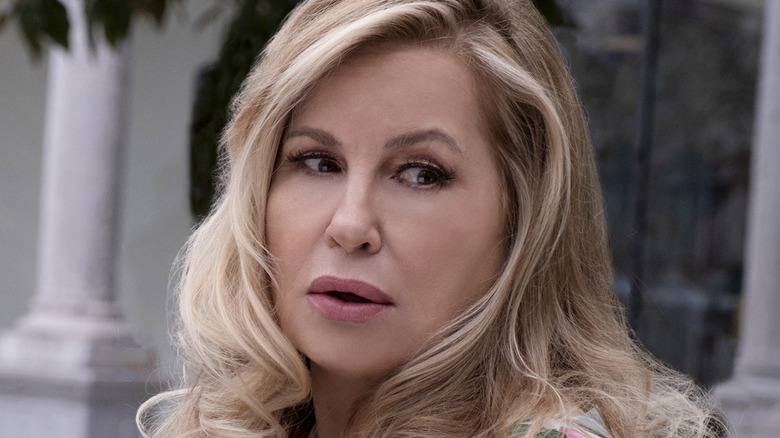 Fabio Lovino/HBO
We may receive a commission on purchases made from links.
After paying a visit to Hawaii, "The White Lotus" decided to spend some time at a high-end resort in Italy, heading over to Europe on October 30, 2022. Season 1 was the most-watched show on HBO Max while it was airing (according to Warner Media), and the dramatic finale of Season 2 also did incredibly impressive numbers. According to Variety, the second season's final episode attracted 4.1 million U.S. viewers — an all-time high for the series.
And it's easy to see why Mike White's satirical dramedy draws in so many eyeballs. It features gorgeous stars, beautiful costumes, exotic locales, seductive schemes, and murderous drama. It's hilarious and heartbreaking, with money, sex, and violence to spare. It's both escapism and a savage takedown of the elite. Now that Season 2 has wrapped up its tale of dysfunctional vacationers, we're here to tell you everything you need to know about the show — from its talented cast to what critics thought about all that Italian intrigue.
What is the plot of The White Lotus Season 2?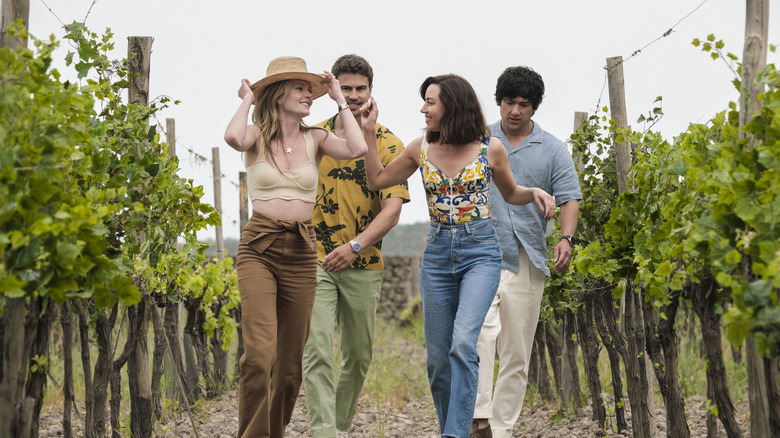 HBO
Season 2 of "The White Lotus" takes place at the hotel's Sicilian branch. Mostly functioning as a standalone season, Season 2 does see the return of Tanya McQuoid-Hunt and her now-husband, Greg. Bringing along her exasperated assistant, Portia, Tanya finds herself swept off her feet by a group of gregarious gay men as her marriage seems headed straight for the rocks. However, Tanya and Portia quickly come to suspect there might be something dark simmering under the hedonistic Palermo party scene.
The series also focuses on two couples vacationing together at the White Lotus — newly rich Harper and Ethan Spiller and their "friends," the seemingly perfect but obviously not Cameron and Daphne Sullivan. This foursome finds themselves wrapped in a web of secrets, jealousy, and old rivalries as their White Lotus trip turns into something sinister, watched over by the spiteful eyes of the Testa di Moro.
At the same time, three generations of the Di Grasso family — grandfather Bert, father Dominic, and son Albie — have arrived to find their Sicilian relatives. But whenever there's a family on "The White Lotus," you can expect plenty of family drama, especially as Dominic and Albie are both drawn to sex worker Lucia, whose friend, Mia, finds herself crossing paths with the hotel's uptight concierge, Valentina. All these storylines weave in and out with each other, leading up to a final episode full of blood, betrayal, and "Madame Butterfly."
Who stars in The White Lotus Season 2?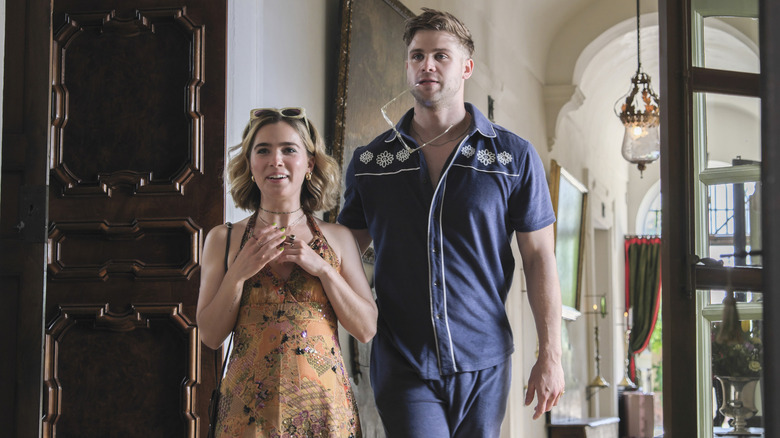 HBO
"The White Lotus" Season 1 featured a pretty stellar cast, including the likes of Alexandra Daddario, Sydney Sweeney, Steve Zahn, and Jake Lacy. However, Season 2 features even bigger names — including the return of the beloved Jennifer Coolidge as her fan-favorite character, Tanya. 
The series finds Academy Award winner F. Murray Abraham, "Sopranos" star Michael Imperioli, and Adam DiMarco as the DiGrasso men — all three with their own, uh, unique opinions about how to interact with women. Harper and Ethan Spiller, the newly rich couple who are no longer sexually attracted to each other, are respectively played by "Parks and Recreation" star Aubrey Plaza and Will Sharpe of "Flowers" and "Giri/Haji."
Their fellow vacationers/potential rivals/forced best friends, Daphne and Cameron Sullivan, are portrayed by Meghann Fahy ("One Life to Live") and Theo James (the "Divergent" series). Jon Gries (that's Uncle Rico of "Napoleon Dynamite" to you) returns as Tanya's none-too-loving husband, Greg, and Haley Lu Richardson of "Split" and "Columbus" stars as Tanya's assistant, Portia, a young woman who just can't seem to catch a break, no matter where she ends up.
Ambitious sex worker Lucia and her musical friend Mia are portrayed, respectively, by Italian actresses Simona Tabasco and Beatrice Grannò. Sabrina Impacciatore stars as the repressed concierge Valentina, and of course, we'd be amiss if we didn't shine the spotlight on "Pirates of the Caribbean's" Tom Hollander and "One Day's" Leo Woodall, who respectively star as the deceptively charming Quentin and the seemingly good-time-guy Jack.
Who is the showrunner of The White Lotus Season 2?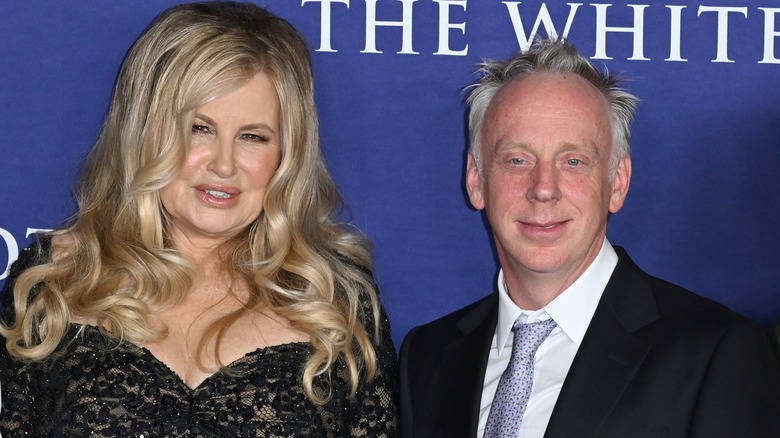 Featureflash Photo Agency/Shutterstock
Both twisted yet hilarious seasons of "The White Lotus" have come from the brain of Mike White. And yes, White is the man who played Ned Schneebly in "School of Rock." In fact, he wrote the script. White is pretty prodigious when it comes to screenplays, as he also wrote projects such as "Chuck & Buck" and "Nacho Libre." Previously, he was the showrunner on "Enlightened," which starred Laura Dern, and he also wrote and directed "Brad's Status," a dramedy starring Ben Stiller. You also might recognize White from his runs on "The Amazing Race" and "Survivor: David vs. Goliath," where — spoiler alert — the "White Lotus" showrunner actually came in second place.
How are critics and audiences responding to The White Lotus Season 2?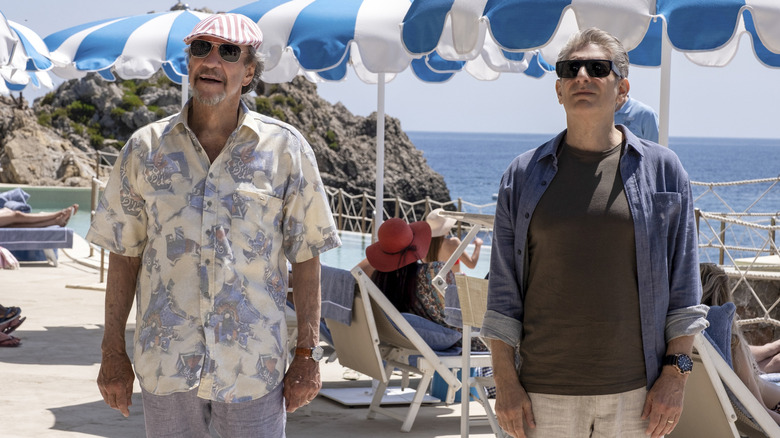 HBO
With over 4 million people viewing the "Season 2" finale, people were definitely intrigued by what was happening in Sicily. The ratings on IMDb reflect that, with the final episode of the second season receiving 9.2 stars from over 2,500 fans. However, on Rotten Tomatoes, it seems folks were a tad picker, as the audience approval rating is just 59%.
Critics, on the other hand, enjoyed the series like Tanya enjoyed riding a Vespa through Sicily (minus any annoying bugs). The critical approval score on Rotten Tomatoes sits at 93%, based on 93 reviews at the time of this writing. As Shirley Li of The Atlantic put it, "For the most part, the pivot from observing class and racial politics to sexual politics works in 'The White Lotus's' favor. Season 2 is as juicy as Season 1, but it's not as caustic in its approach."
Rachel Cooke of New Statesman also gave the series high marks, adding, "The writing is exquisite. White's dialogue reminds us at every turn that hotels are stage sets: Staff and guests alike are always acting until they arrive backstage, at which point their masks slip and crash to the floor."
What is The White Lotus Season 2 rated?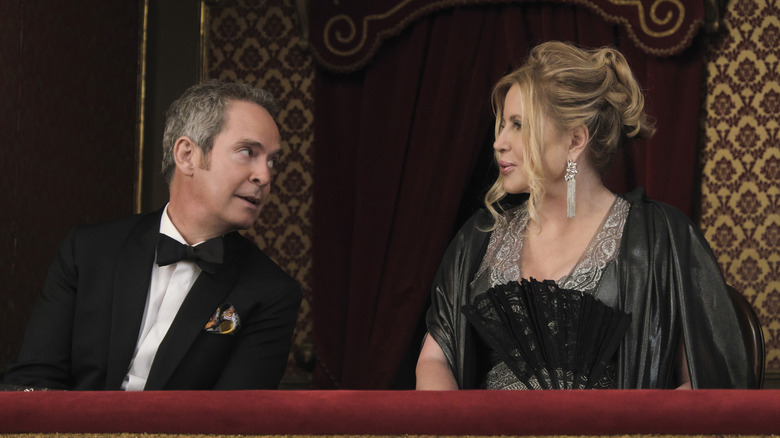 If you're looking for a family friendly show to watch with the kids, you shouldn't be checking into "The White Lotus." That's especially true for Season 2. The Sicily trip focuses way more on sex — be it romantic, transactional, or vengeful — and the various way it impacts people, so there are quite a few steamy scenes, incredibly revealing shots, and sexually shocking moments — far more than Season 1. The series also opens with a dead body floating off the shore of the hotel, and in the finale, we get to see how that corpse washed up to the beach. So yeah, there's sex and violence on full display in Italy, which means that "The White Lotus" Season 2 is rated TV-MA.
Where to watch The White Lotus Season 2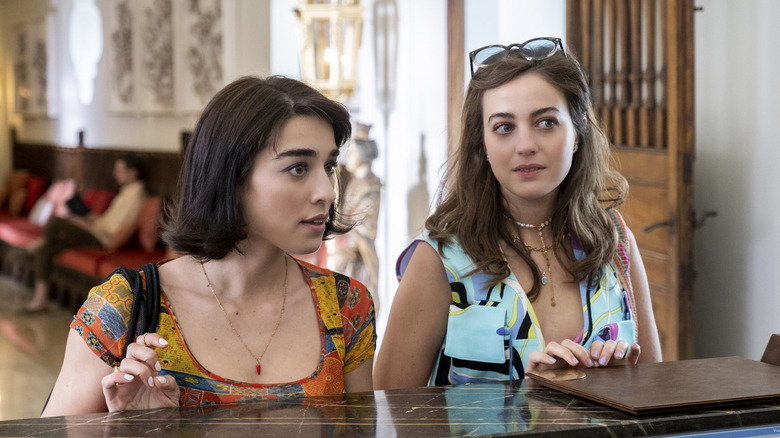 Fabio Lovino/HBO
Did you miss out on "The White Lotus" Season 2 and want to see what all the online buzz is about? Do you want to check back in to the Sicilian hotel and see all the high-stakes drama play out again? Or perhaps do you want to head over to Hawaii and check out Season 1 of the highly acclaimed show? Well, whatever the reason, if you want to watch Season 1 or Season 2 of "The White Lotus," you can find them streaming on HBO Max. Season 2 is also available to watch on DIRECTV, or you can buy it for $19.99 on Vudu, $21.99 on Amazon Video, or $22.99 on Apple iTunes.