Devilishly Good Little Nicky Facts That Fans Will Love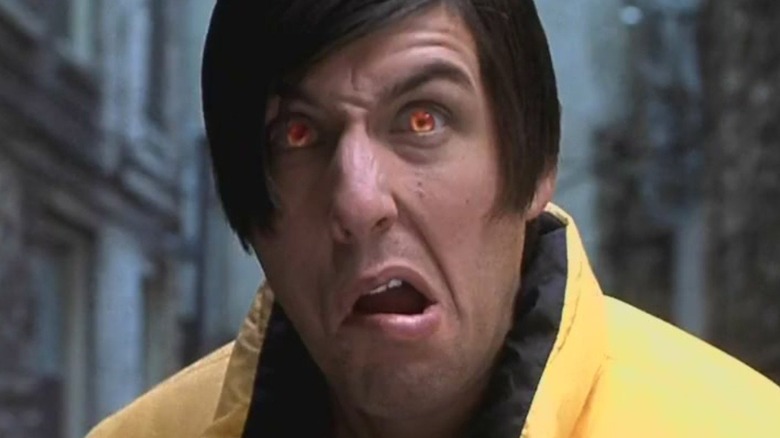 New Line Cinema
Adam Sandler has had a thriving comedy career for over three decades. Following in the footsteps of Eddie Murphy and Jerry Seinfeld, Sandler made the triumphant jump from New York's stand-up comedy scene to A-list stardom in film and television (Via Rolling Stone). The Brooklyn native boasts over 80 acting credits, built on a success that was almost unrivaled through the late '90s and early 2000s. After a rise that built from his star-making stint on "Saturday Night Live" to the creation of his own production company, Happy Madison, it seemed like he could do no wrong. But following the release of hits like "The Wedding Singer" and "Billy Madison," Sandler would produce and star in what many consider one of the strangest blips in his filmography (via Buffalo News).
"Little Nicky" was Sandler's first box office bomb, bringing in only $58 million on a budget of $85 million. The film follows mild-mannered Nicky (Sandler), the youngest son of the Devil, on a quest to stop his two older brothers from ravaging Earth. Nominated for a slew of "awards" — namely Razzies and Stinkers — "Little Nicky" was deemed one of the worst films of 2000. Despite its notorious reputation, there are a lot of little details that Sandler fans (and haters) might be delighted to learn about the production. 
Adam Sandler really connected with the dog that played Mr. Beefy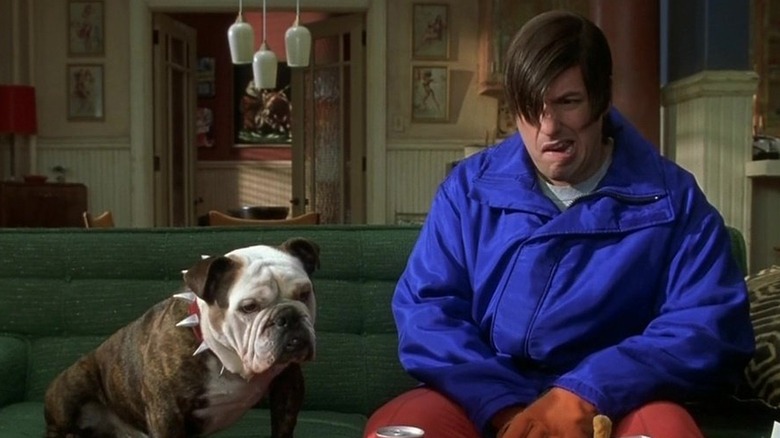 New Line Cinema
While the thought of a CGI-fueled talking bulldog with an appetite for strippers, alcohol, and Popeyes Chicken might not seem like everyone's dream cuddly companion, Adam Sandler took a liking to it. In fact, he enjoyed working with the dog actor that played Mr. Beefy (voiced by Robert Smigel) so much that he approached the bulldog's owner about adopting a bulldog puppy.
The film actually features three different bulldog actors -– Roo, Harley, and Harvey -– because each could perform different commands. But Roo, owned by the set's onsite dog trainer, Steve Baren, was the standout to Sandler. Before they had finished shooting, Baren helped to arrange the adoption of a bulldog puppy that was the descendant of his own dog. Sandler adopted the puppy immediately and named him Meatball (via Humane Hollywood). The pair instantly became inseparable, and three years later, Meatball would be the best man at Sandler's wedding to Jackie Titone in June of 2003 (via Lad Bible). Unfortunately, Meatball would die a year later at four years old due to a heart attack. Sandler hosted a memorial service for roughly 100 people who were given t-shirts that featured the beloved dog's face (via People).
Two Sandler favorites their roles from previous movies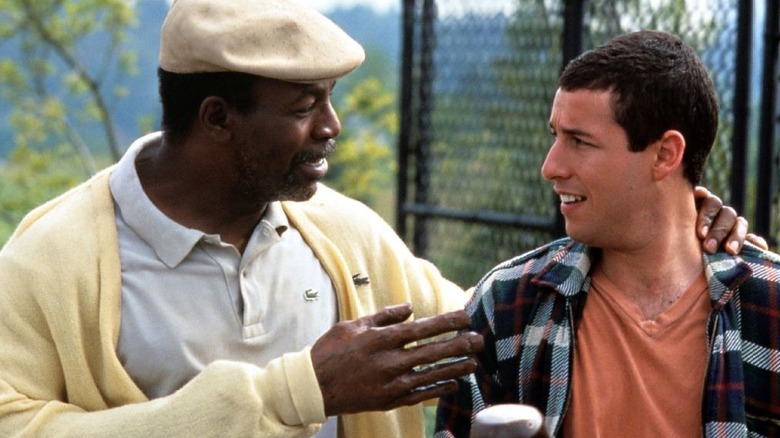 Universal Pictures
It's common knowledge that Sandler likes to cast his Hollywood friends in his films, and a common throughline of Happy Madison Productions is the reprisal of gag roles and cameos. "Little Nicky" is no exception. The first cameo that fans of the Sandler multiverse will definitely recognize is Rob Schneider, one of Sandler's best friends. Schneider's role, informally known as The Townie, first appeared in Sandler's box office sensation "The Waterboy." Although the infamous line "You can do it!" might've been co-opted by frat boys into an early grave, Schneider's character can be found in "Little Nicky," "50 First Dates," "The Longest Yard," and "Bedtime Stories."
The movie also features a notable cameo from "Happy Gilmore" alum Carl Weathers. Weathers plays Chubbs Peterson, a former golf pro who was forced into retirement after an alligator bit his hand off. He helps train Happy (Adam Sandler) for his golf tournament, but later dies after falling out of a window. Chubbs -– now with both hands –- reappears in "Little Nicky" as an angel in Heaven. Nicky's mom (Reese Witherspoon) explains that he used to be a golf pro, but now he's a dance teacher to the angels.
Little Nicky had some serious competition for worst movie of the year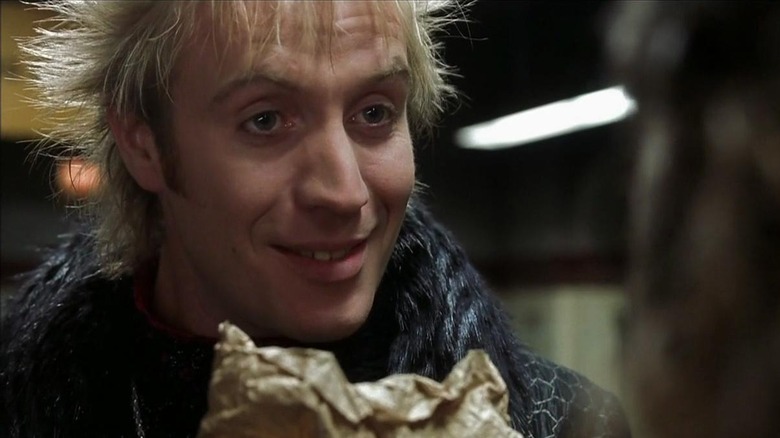 New Line Cinema
For almost as long as there have been accolades for amazing cinema, there have been hoards of people highlighting the very worst of what Hollywood has to offer. From the abomination that was "Cats" to any of the big-budget, CGI-filled action flicks about the end of the world, the Golden Raspberry Awards have continued highlighting bad movies and performances since their conception in 1980 (via Razzies). The satirical award show may have been around for over 40 years, but the competition in 2001 was especially tough. "Little Nicky" was nominated for five Razzies in 2001: Worst Picture, Worst Actor, Worst Supporting Actress, Worst Director, and Worst Screenplay.
But, in a surprising twist, Sandler's satanic tale didn't win a single award. Each nominated category was swept by "Battlefield Earth," the infamously bad sci-fi flop starring John Travolta and based on a book by Scientology founder L. Ron Hubbard. Taken almost directly Hubbard's source material, the film tells the story of the human race uprising against their alien tyrants. The film ended up winning 8 Razzies — Worst Actor, Worst Director, Worst Picture, Worst Screen Couple, Worst Screenplay, Worst Supporting Actor, Worst Supporting Actress — and it would go on to win Worst Picture of the Decade in 2010.
There are references to John Milton's Paradise Lost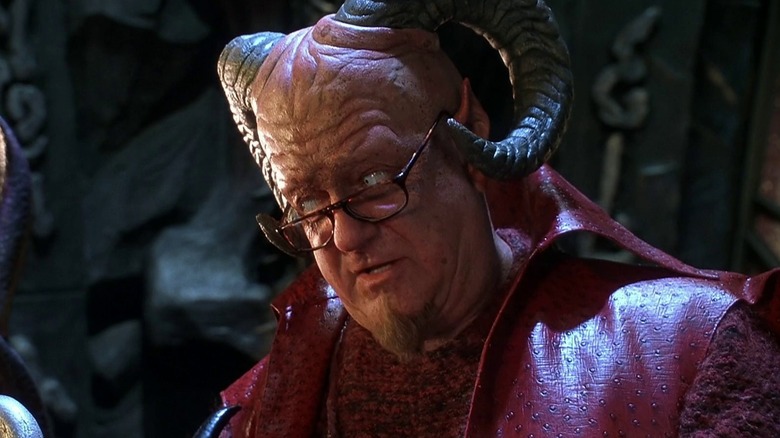 New Line Cinema
In a film headlined by Adam Sandler putting on a speech impediment and facial deformity, you might not expect heady references to one of literature's most influential works. John Milton's epic poem "Paradise Lost" tells the story of Satan's fall from grace. While "Little Nicky" might be a Sandler vehicle first and foremost, referencing a biblical saga about Hell does make sense for a movie about the son of the Devil, as the poem is revered as Milton's masterpiece and has influenced culture for centuries (Via Goodreads).
Following the scene in which the Devil (Harvey Keitel) informs his three sons –- Nicky, Adrian (Rhys Ifans), and Cassius (Tom Lister Jr.) -– that he won't be retiring and relinquishing his crown, the film pulls a line directly from the poem. "Better to reign in Hell than serve in Heaven," Adrian says. The line comes from one of Satan's monologues in Book I of "Paradise Lost," in which he manipulates Beelzebub into believing that it's better that they lost the fight against God as they can now reign over their own kingdom (via Schmoop).
Sandler based Nicky on a kid he knew in high school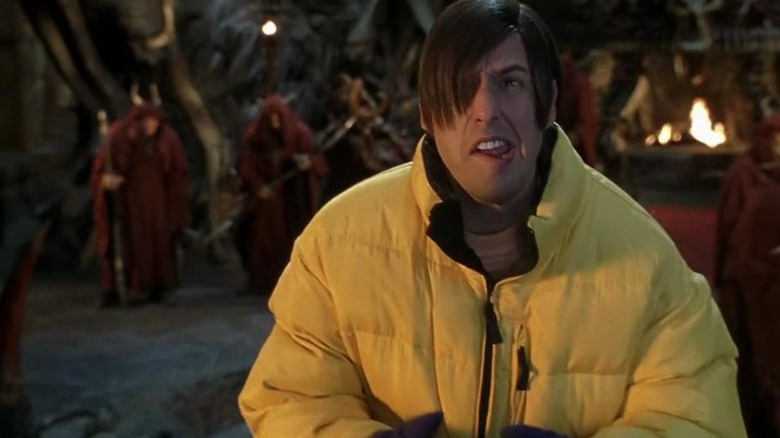 New Line Cinema
It's hard to imagine that the inspiration for an antisocial rock n' roll-obsessed demon like Nicky could be drawn from real life, but according to Sandler, he grew up with someone just like the titular character -– minus the magic devil powers. During a press conference in Boston alongside other cast members, Sandler divulged some facts about the creation of the character. "It wasn't that challenging for me, I just put my mouth to the side and talked goofy," Sandler explained" (via Tufts Daily). "I was doing an impression of a kid I knew growing up who used to talk like that."
But in some ways, Nicky's character hit even closer to home for Sandler, who based aspects of the character's personality on himself. Mild-mannered Nicky is shown to have a temper that eventually boils over into rage, and Sandler claims to have the same anger issues. "In real life, I snap a lot ... It's part of my comedy," he explained. "I like yelling. I've done it my whole life." Of course, many of Sandler's performances showcase easily angered, fragile characters that eventually explode into fits of rage like in "Big Daddy" or "Happy Gilmore."
Little Nicky inspired a Game Boy Color game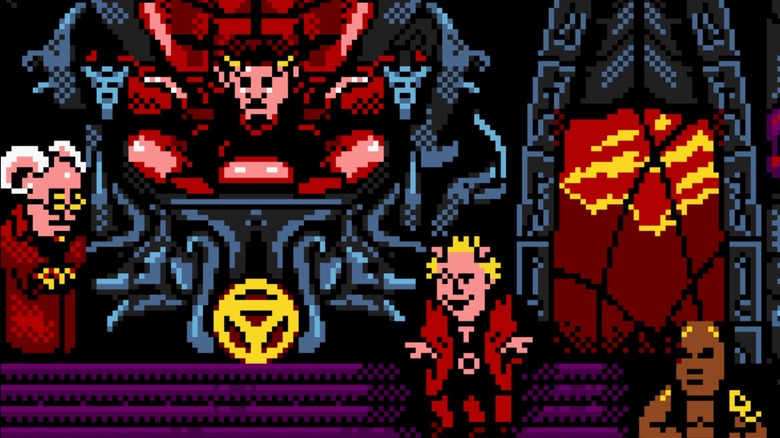 Ubisoft
It wasn't uncommon for films in the early 2000s to have accompanying video games, especially movies geared towards younger audiences. Despite not drawing in crowds upon its release, "Little Nicky" still managed to inspire a game on Nintendo's Game Boy Color. Happy Madison Productions partnered with Ubisoft Entertainment to create the 2D roleplaying game, released alongside the movie.
It was well received among some critics, with Craig Harris of IGN giving it a score of 8 out of 10 and writing that there was a lot to be appreciated in the programming of the game. It follows the same plot as the film, with Nicky trying to defeat his brothers and return them to Hell across 14 platforming levels and five mini-games. The gameplay is similar to other 2D Nintendo adventure titles in the Mario mold, designed largely around solving puzzles and jumping on bad guys (via YouTube). Sandler's first video game outing, it's hard not to notice that "Little Nicky" for Game Boy Color was better received than "Pixels."
Roger Ebert called it the best Adam Sandler film to date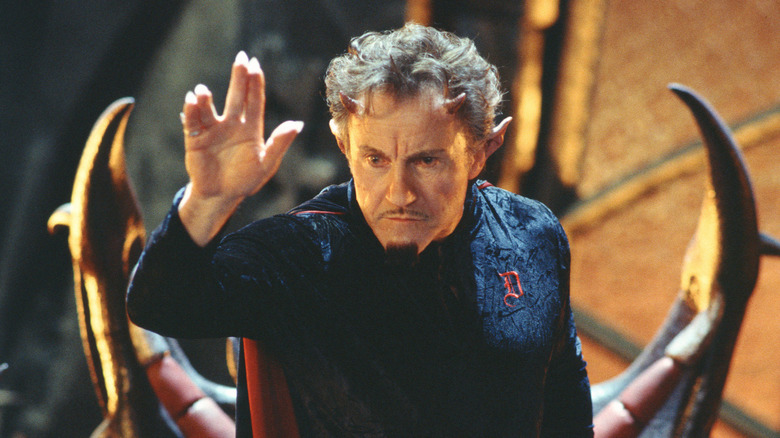 New Line Cinema
Roger Ebert didn't become a famed critic and Pulitzer Prize winner by avoiding brutal honesty when it came to critiquing a film, and the critically panned "Little Nicky" was no exception. Yet, despite his blunt critiques, Ebert didn't seem to loathe this particular Sandler outing as much as others. He opened his review by divulging his distaste for Sandler's use of weird voices and unsightly character tics. And while he didn't feel any affection for the character himself, Ebert wrote, "The movie surrounding Nicky is actually pretty good -– the best Sandler movie to date." The legendary critic went on to say that he understood how the story could work under the right circumstances but with a different, less distracting lead.
Years later, when Sandler would make a surprising dramatic turn in Paul Thomas Anderson's "Punch-Drunk Love," Ebert unveiled a more complicated relationship with Sandler's work. On his website, the critic wrote about a conversation he'd had with director Paul Thomas Anderson. "I said there was something about Sandler that intrigued me," Ebert explained, "because he is obviously someone with a real talent, and it made me mad when he hid inside that goofy persona."
Little Nicky lost a lot of money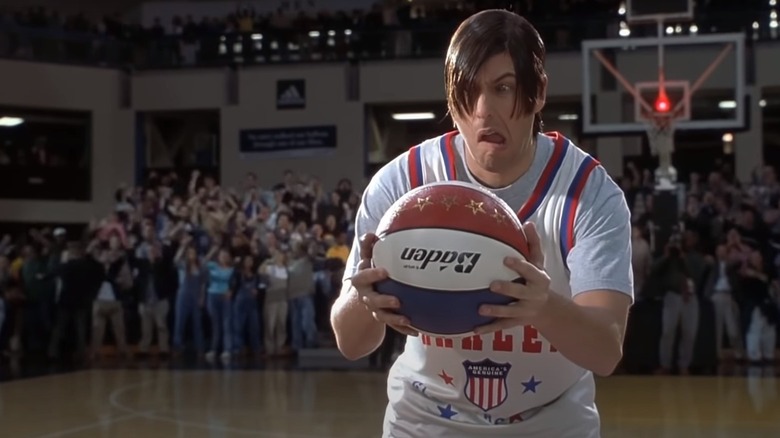 New Line Cinema
While negative reviews certainly didn't help, "Little Nicky" was already facing an uphill battle at the box office. Its rather odd blend of Sandler's sophomoric humor with an effects-heavy high concept meant that the movie couldn't quite sell enough tickets to earn back the massive budget. It's estimated that the Happy Madison film cost $85 million to produce, which makes sense with its abundance of expensive CGI and big cameos attached. 
Unfortunately, "Little Nicky" would only make $16 million on its opening weekend, competing against "Charlie's Angels" and "Men of Honor." During its theatrical run, the film would only make $58 million worldwide, representing a loss of over $20 million (via Box Office Mojo). "Little Nicky" was the first real bomb of Sandler's career (at least while headlining projects under his own production banner). Despite the drawback, it wouldn't stop the momentum at Happy Madison Productions, as the company would continue to prove extremely prolific heading into the new millennium.
Patricia Arquette's Little Nicky character is part of a Sandler tradition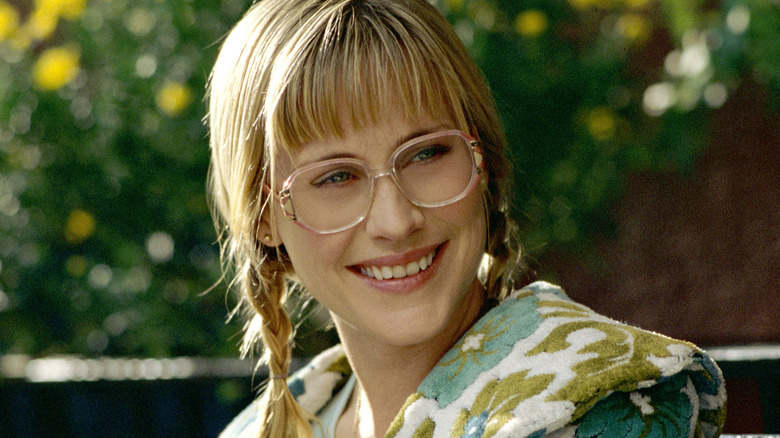 New Line Cinema
Sandler's movies are known for their Easter eggs and running gags, but one that only diehards might catch is the alliterative initials of their leading ladies. The love interest in "Little Nicky," Valerie Veran (Patricia Arquette), is the fourth instance of the a double-V name in a Sandler vehicle. The first appearance occurs in "Billy Madison," with the character of Veronica Vaughn (Bridget Wilson-Sampras). Following in Veronica's footsteps would be Virginia Venit (Julie Bowen) in "Happy Gilmore" and Vicki Vallencourt (Fairuza Balk) in "The Waterboy." 
Though this trend slowed after the release of "Little Nicky" in 2000, it would return in 2015 with Violet VanPatten (Michelle Monaghan) in "Pixels" and continue with Violet Valentine (Julie Bowen again) in 2020's "Hubie Halloween." While we don't know the canonical last name of Vanessa (Kristy Swanson) in "Big Daddy," it's clear that Sandler feels a certain affection for V names, and maybe sees the letter as a sort of good luck charm. Interestingly, "Mr. Deeds" presented a variation on the alliterative tradition with the character of Babe Bennett (Winona Ryder).
An end credit gag features a tribute to Sandler's late friend, Chris Farley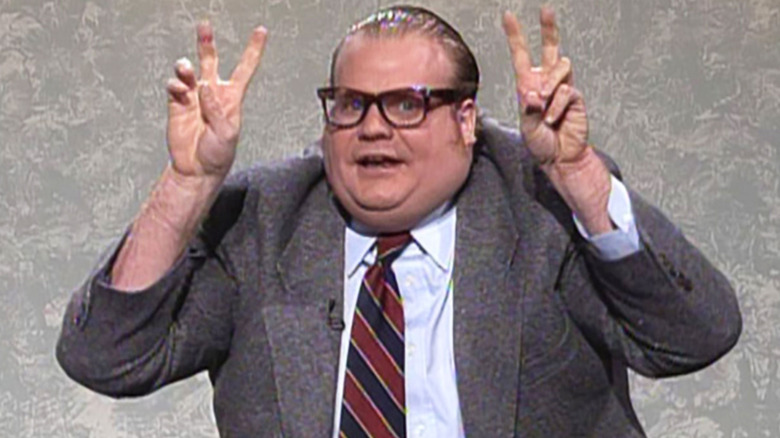 NBC
Looking back at Sandler's relationships with his fellow "Saturday Night Live" alumni, it's obvious that he has a special bond with his former cast members. Unfortunately, the comedian would lose one of his best friends, former "SNL" star Chris Farley, to an overdose in 1997. Sandler would later describe his love for his old friend in a tribute song during the 2018 Netflix comedy special, "100% Fresh." But the touching song wouldn't be the first time Sandler and his comedian friends would acknowledge Farley's legacy.
During the closing credits of "Little Nicky," which premiered three years after Farley's death, the futures and whereabouts of each major character are explored in a series of gags, including the marriage and pregnancy that await Nicky and Valerie in their new family life. We then catch up with Nicky's mom, as the caption card states, "Mom immediately fell in love with her new aerobics instructor, Chris Farley." The gag is likely a reference to one of Farley's most popular recurring "SNL" characters, motivational speaker Matt Foley.
There's a Seinfeld Easter egg in Little Nicky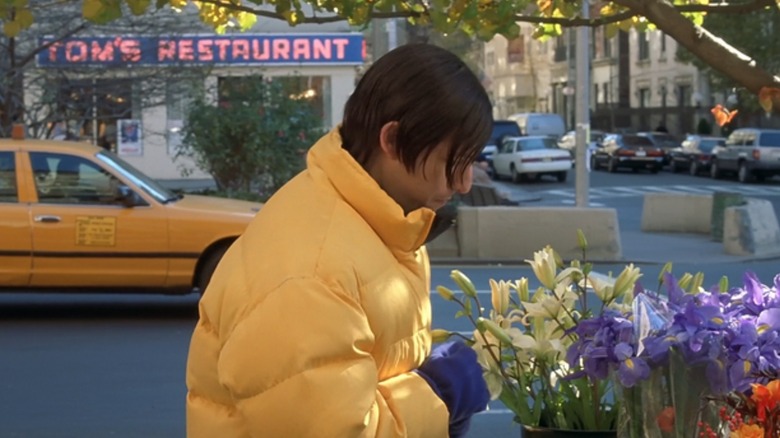 New Line Cinema
With so many famous films based in New York City, there's bound to be some recognizable overlap. While Nicky is on Earth searching for his brothers, he has to traverse the streets of New York while trying and failing to avoid getting hit by buses. Around halfway through the film, Nicky is walking through the city streets after having a wonderful night with Valerie. Unbeknownst to him, his brother has started a smear campaign against him while possessing the NYPD police chief. 
Soon, Nicky finds himself running from an angry mob that believes that he's wanted for murder. The scene begins outside a small deli that's run by an older Asian couple. While the couple discusses about how to apprehend the alleged murderer, Seinfeld fans might notice something familiar in the background: Monk's Diner. The Easter egg might be hard to spot because sign reads "Tom's Restaurant," the actual name of the establishment used for the show's establishing shots.
Located on the Upper West Side, the Greek-American diner doesn't look the same on the inside (the interior seen on the show was a set, but the walls are covered in Seinfeld memorabilia. It's become a popular tourist destination with its signature red and blue neon sign (Via Atlas Obscura).
Little Nicky has a unique Tarantino cameo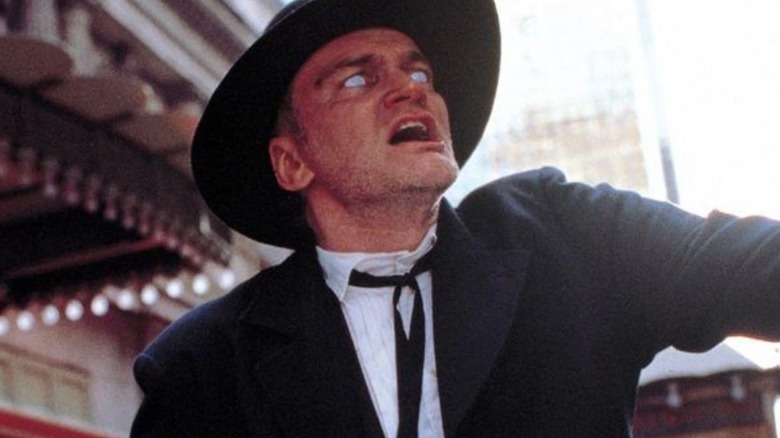 New Line Cinema
It's safe to say that Quentin Tarantino's distinctive personality and maverick directing style have made him a recognizable force both behind the camera and in front of it. But despite his willingness to briefly appear in his own films, he's only had about a dozen cameo roles throughout his career, very few of which have been projects from other directors. These cameos range from dynamic dramas like Spike Lee's "Girl 6" to the irreverent retelling "The Muppets' Wizard of Oz." One of his most prominent cameos, however, can be found in "Little Nicky."
The Sandler vehicle finds Tarantino playing an eccentric, blind, New York City street preacher. He pops up in multiple comedic scenes in which he's able to sense Nicky's presence, which leads to a number of wacky incidents. When Cassius begins to take over New York City, Tarantino appears one more time before joining the crowd as they start to sin. The director tried to repay Sandler for the role by offering him a part in "Inglourious Basterds," which Sandler ended up turning down due to scheduling conflicts.