The 7 Best And 7 Worst Lucy Liu Movies Ranked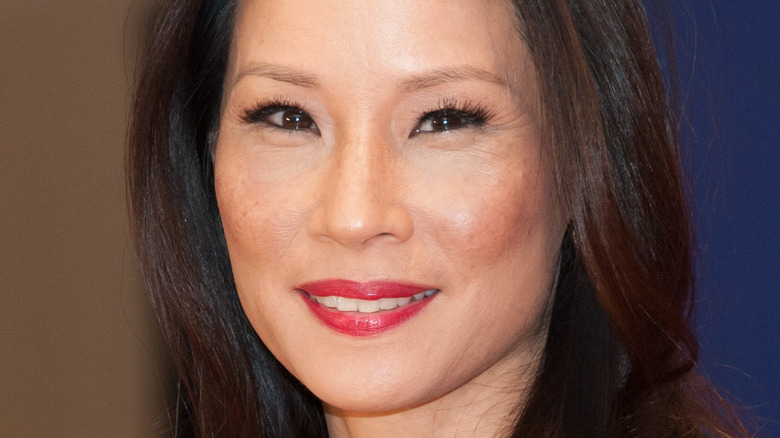 Rena Schild/Shutterstock
Coming up on television in the late 1990s, star Lucy Liu fought a well-chronicled battle (via Variety) against Hollywood's troubling lack of diversity to become a major force in her own right. From her earliest days in the cast of "Pearl" — the sitcom led by "Cheers" star Rhea Perlman — to her starring role as Ling Woo, best friend to Calista Flockhart's eponymous "Ally McBeal," Liu has had to overcome stereotypes and other challenges to become a star. But become one she did, as Liu snagged coveted leading roles in a string of big budget action films into the 2000s, catapulting her to big screen fame.
Today, Lucy Liu is one of a lucky few stars to have more than one signature role in multiple genres, from rom-coms to action movies to indie darlings to critically acclaimed classics. She's even gotten into the world of superheroes, cast as the villain in the upcoming DC Comics sequel "Shazam: Fury of the Gods." Her career has been one of big successes along with some equally large failures, but through it all she's never stopped being one of the industry's most indomitable forces. Counting down her finest films and her famous flops, here are Lucy Liu's seven best and seven worst movies.
Worst - Someday This Pain Will Be Useful to You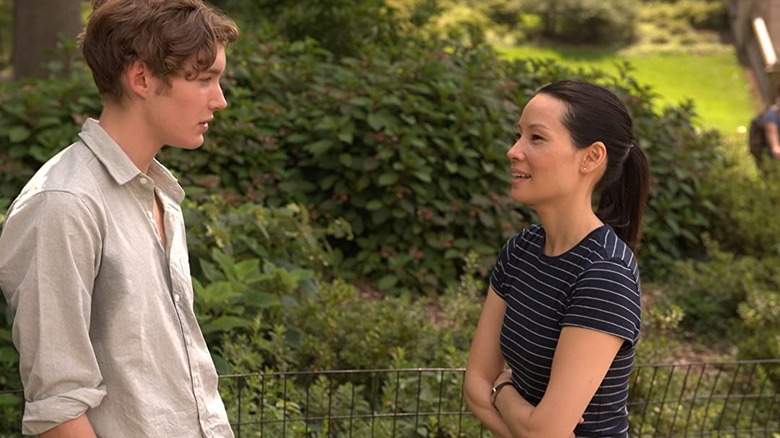 01 Distribution
Actress Lucy Liu starred in no fewer than four big screen features in 2011, and two of them show up on the "worst" side of this list. The second to be released that year, but first up for discussion, is "Someday This Pain Will Be Useful to You." A coming-of-age drama, it features a strong cast that includes Marcia Gay Harden, Deborah Ann Woll, Ellen Burstyn, Stephen Lang, and Aubrey Plaza.
The film follows young actor Toby Regbo as James Sveck, a teenager who's just graduated high school and is spending his final summer at home before his parents force him to go off to college. While Sveck comes from a wealthy home, he's always felt out of place there and never really felt close to his family. His haughty art gallery-owning mother has just gone through yet another breakup, his father is a narcissist, his sister is married to a college professor, and he's facing an early life crisis over it all.
Liu shows up as James' life coach, which could have been a meaty role if James' story was at all relatable. While it's trying to say something about generational ennui, it plays instead as the worst kind of entitlement tripe. The wealthy, privileged Sveck just comes across as annoying and ungrateful, while the obnoxious supporting cast doesn't help matters.
Best - Charlie's Angels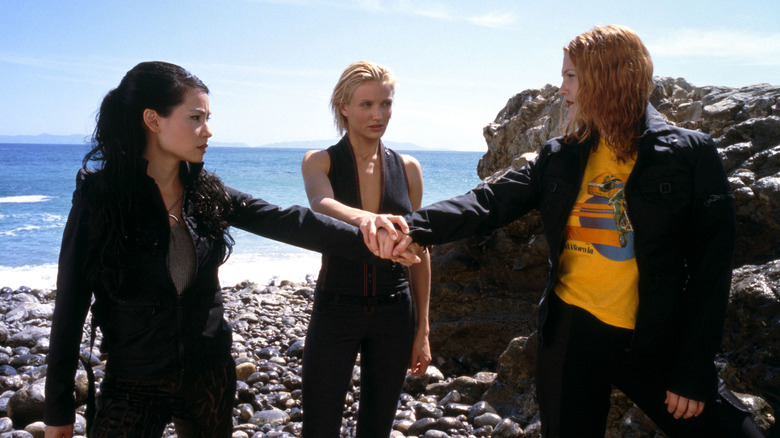 Sony Pictures Releasing
Lucy Liu made small but memorable appearances in some pretty solid films during the late 1990s, including Mel Gibson's crime thriller "Payback" and the boxing drama "Play it to the Bone." But as good as those movies are, they're not really Lucy Liu movies. It wouldn't be until 2000 that she'd star in what we count among her best films: the big screen feature adaptation of "Charlie's Angels."
Carrying over the '90s trend of bringing classic TV shows to the big screen, Liu starred alongside Cameron Diaz and Drew Barrymore in a film that turned a fun, often cheesy little adventure series into a big-budget blockbuster. Like its small screen counterpart, "Charlie's Angels" centers on a group of tough female agents who run a private detective agency of sorts under the direction of the mysterious, unseen Charlie and his assistant Bosley (Bill Murray). Here, they're hired to save a billionaire (Sam Rockwell) who has been abducted by a diabolical villain (Tim Curry).
Smart, sexy, and full of fast-paced thrills and over-the-top action, "Charlie's Angels" gave the '70s classic an ultra-extreme turn-of-the-millennium overhaul, with plenty of high-tech wizardry and top-notch special effects. Though nobody is going to claim it should have won Best Picture, "Charlie's Angels" was a fast, fun, roller-coaster adventure that did justice to its television origins.
Worst - Nomads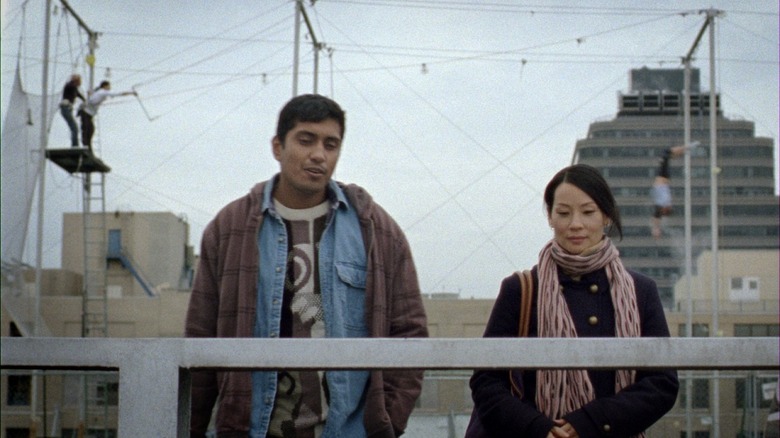 Conaculta
Back on the bad side of the ledger, we have "Nomads," the only live-action film for Lucy Liu in 2010, and not a good one either. A heartfelt story of a pair of mismatched New York City inhabitants, it came from director Ricardo Benet, whose 2005 feature-length debut, "News from Afar," made him a talked-about name on the festival circuit. His follow-up would be five long years later, but it wasn't what anyone was really hoping for.
Set in the dreary streets of Manhattan, the film introduces us to Roberto (Tenoch Huerta), a working-class window washer, and Susan (Liu), an upper-class documentary filmmaker. The two form an unlikely pair, even though Susan has recently lost her father after a tragedy in Mexico City, which is coincidentally where Roberto is from. Unfortunately, what could have been a compelling character study is let down by an overwrought script and less-than-stellar performances (via Screen Daily) from its two leads.
Aside from the presence of Liu, "Nomads" is notable as a Mexican film starring Huerta, who is raising his profile considerably as an updated version of the classic Marvel character Namor, the Sub-Mariner, in 2022's "Black Panther: Wakanda Forever." But if you want to see either actor at their best and see why their talent is so respected, trust us, "Nomads" is not the one you want to watch.
Best - Set it Up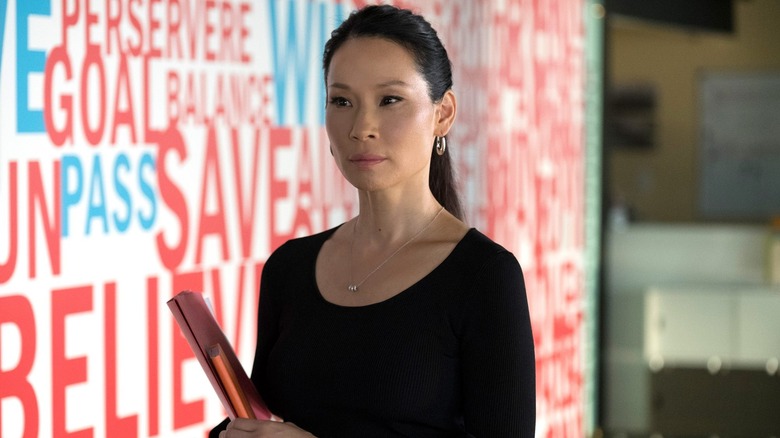 Netflix
From critically acclaimed action thrillers to breezy adventure movies to heartfelt dramas, Lucy Liu can excel at just about anything she sets out to conquer. One genre that gives many stars fits is the dreaded rom-com, but though she'd mostly been known for her hard-nosed hero roles, Liu slipped right into a romantic comedy and soared. The movie in question is "Set it Up," released directly to streaming on Netflix in 2018, and co-starring Zoey Deutch of "Vampire Academy" fame, recent "Top Gun: Maverick" recruit Glen Powell, and Taye Diggs from "Empire."
An offbeat romance about a pair of couples, the film focuses on young lovebirds Harper and Charlie (Dutch and Powell), each of whom are assistants to more powerful superiors. Liu stars as Harper's boss Kirsten, a powerful and well-respected sports reporter, while Diggs is Charlie's overbearing mentor Rick. Charlie and Harper want more time to themselves, so they try to set their bosses up on a date, hoping that they'll fall in love and stop working them to the bone.
In spite of a formulaic story, the film's unique dual-couple angle helped shake up the established tropes and offer something a bit more fresh. The entire cast delivers charming, high-quality performances, and while it will never become a classic, it may well be (via Rotten Tomatoes) one of the best rom-coms of the last 10 years.
Worst - The Trouble With Bliss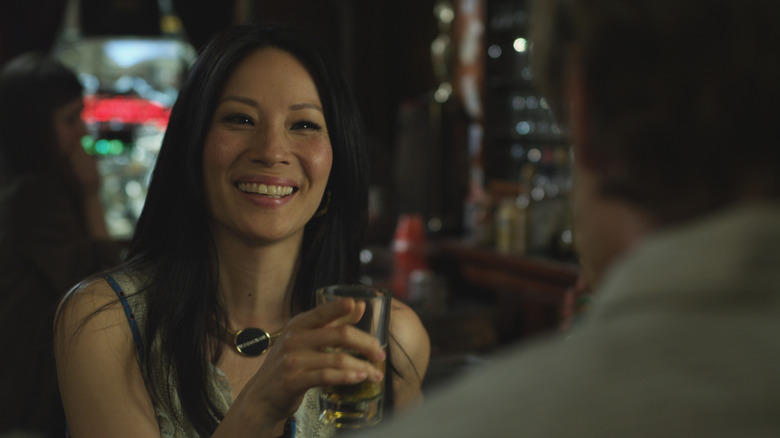 7A Productions
While it goes without saying that any bad movie featuring Lucy Liu is just a waste of good talent, 2012's "The Trouble With Bliss" is an even bigger offender because it squanders more than just Liu. Stars Michael C. Hall, Brie Larson, and Peter Fonda are all well-respected actors who somehow got dragged down with the ship.
Hall plays Morris Bliss, an unemployed 35-year-old slob who lives with his father (Fonda), and who is inexplicably involved with multiple women. The first is his married but flirtatious neighbor Andrea, who can't seem to keep her hands off him. Next is his equally repugnant relationship with a sexy young high schooler named Stephanie (Larson), who claims to be 18. Bliss has his doubts, while the fact that she's a former classmate's daughter doesn't make things any less awkward.
Liu herself, as well as the rest of the cast, received high marks for their performances, but it wasn't enough to save this uncomfortable, cringy rom-com. The Hollywood Reporter made that crystal clear in its review, saying, "Fonda, displaying gravitas and sly humor, and Liu, appealing and funny, both offer sterling support. But despite their efforts, 'The Trouble With Bliss,' as evidenced by its punning title, feels far too pleased with itself."
Best - Shanghai Noon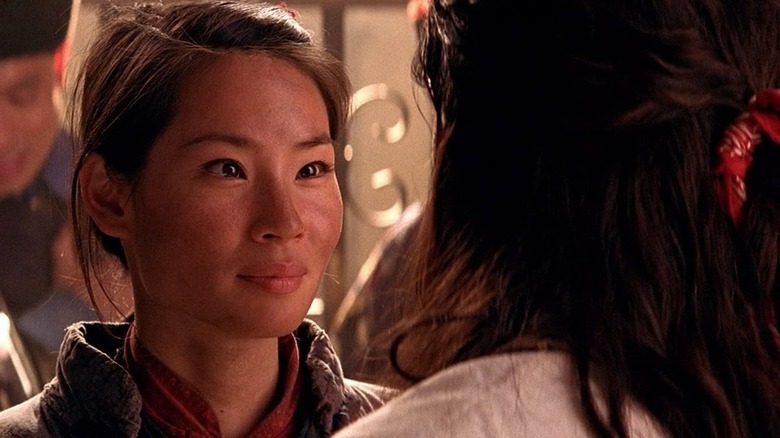 Buena Vista Pictures
Having made a name for herself in a TV comedy, "Ally McBeal," a big-screen laugher probably seemed like a safe bet as Lucy Liu transitioned to larger movie roles. In 2000, just a few months before the release of "Charlie's Angels," the actress made her presence known in a classic action-comedy — perhaps one of the best of the decade — the buddy film "Shanghai Noon." 
Part of the "East Meets West" subgenre of adventure movies that paired Wild West heroes with swordsmen from the Far East, "Shanghai Noon" stars Jackie Chan and Owen Wilson as mismatched partners on a mission. Chan plays Chong Wang, an Imperial Guardsman from 19th century China, sent to the American frontier by the Emperor after his daughter Princess Pei Pei (Liu) flees in the hopes of getting out of a pre-arranged marriage. There, Wang encounters a gunslinger and kind-hearted outlaw named Roy O'Bannon (Wilson), who joins his search for the princess.
A pair of memorable performances from its two stars and some good-natured fun made "Shanghai Noon" one of the best in the genre. Rousing action that combined Wild West gunfights with kung fu clashes helped make it a hit with critics even though it struggled at the box office. Though certainly not a flawless film by any measure, its charm and heart — and tongue-in-cheek goofiness — go a long way toward making its weak spots easy to overlook.
Worst - Charlie's Angels: Full Throttle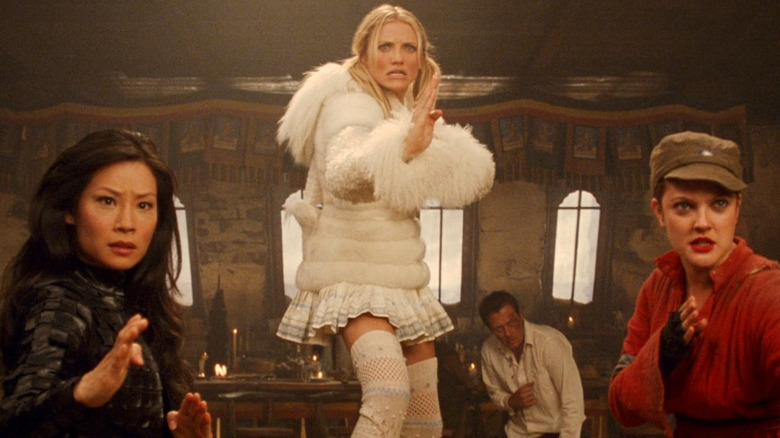 Sony Pictures Releasing
"Charlie's Angels" may have been one of Liu's best, but its sequel, "Charlie's Angels: Full Throttle," fell so hard and so fast from its impressive beginnings that it not only wound up being one of Liu's worst, but it effectively killed the franchise. Despite the entire cast returning, and filmmaker McG back in the director's chair, it was a total dud that — while it managed to bring in some box office bucks thanks to the success of its predecessor — bombed with critics and audiences alike.
This time, the Angels investigate a plot to steal government secrets, and learn that their adversary is Madison Lee (Demi Moore), a former Angel who's broken bad and been working with a notorious criminal organization. Though the story on paper seems like a good start and an appropriate way to top the previous film, it quickly devolves into schlock, possibly proving that the first film was more of a lucky fluke than anything else. 
Nothing about the film works: the plot is paper-thin, the performances weak, and while its predecessor had also been designed as an action spectacle, here the action is cheesy and laughable instead of fun and exciting. Devoid of freshness or fun, the film is a slog with one too many celebrity cameos, apparently in an attempt to distract from how laughably bad the whole thing is.
Best - Lucky Number Slevin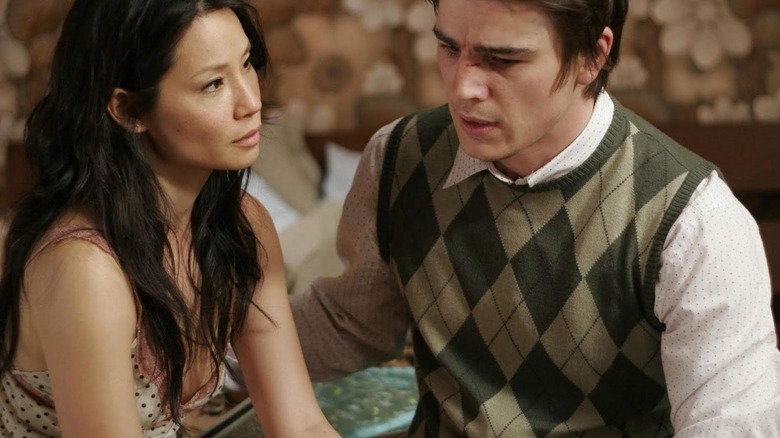 MGM
After appearing in a pair of "Charlie's Angels" films and a Quentin Tarantino classic (but more on that later), Lucy Liu was now a bona fide action star. With such success, it made sense to keep it rolling, and in 2006, she starred in another slick, fast-paced thriller, "Lucky Number Slevin." With a healthy dose of stylish neo-noir action and hard-boiled crime, it was another film in Liu's catalog that boasted a sterling cast of Hollywood greats, including Morgan Freeman, Ben Kingsley, Stanley Tucci, and Bruce Willis.
But the man who starred opposite Liu was one-time leading man Josh Hartnett as Slevin Kelevra, an unwitting New Yorker who is drawn into a mob war between two crime lords. Mistaken for a man in debt to the mafia, he's told by The Boss (Freeman) that he'll get a pass if he can assassinate the son of his chief rival, The Rabbi (Kingsley). But The Rabbi isn't taking this sitting down, and makes Slevin his own competing offer. 
While its harshest critics lamented its convoluted story and overly stylized tone, the film was propped up by gold star performances from its cast, including Liu, and that's really what the movie is all about. Put aside expectations of mind-blowing twists, enjoy some Oscar-winners chewing the scenery, and you'll come away impressed, as were audiences who have long held the film in high regard.
Worst - Rise: Blood Hunter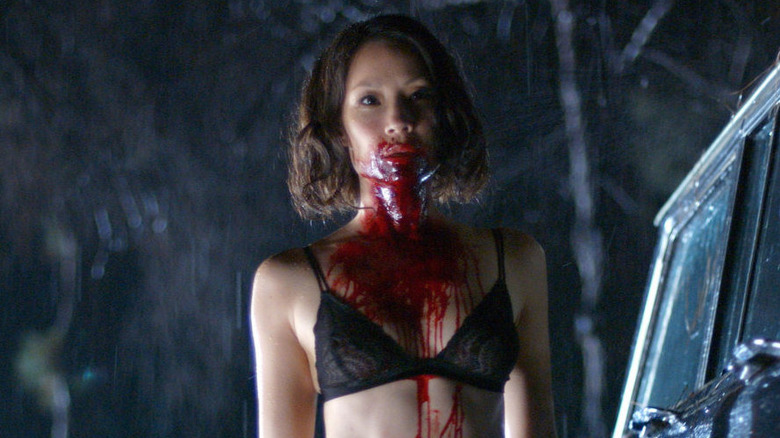 Samuel Goldwyn Films
From a slick crime thriller to a disappointing horror shocker: Lucy Liu starred in the 2007 film "Rise: Blood Hunter," a film that — its strong cast notwithstanding — you might not be surprised is pretty terrible just from its cringe-worthy title. But with James D'Arcy, Robert Forster, Carla Gugino, Michael Chiklis, and Cameron Richardson, it had the talent to succeed. So what exactly went wrong? Well, the basic premise, for starters, as it was a cheap vampire-action copycat that was probably hoping to capture the success of the "Blade," "Underworld," and "Resident Evil" franchises.
But don't fault Liu, who somehow manages to give her all in the role of Sarah Blake, an intrepid journalist investigating a series of bizarre murders. Suddenly finding herself the target of a vampire cult, she's brutally attacked and killed herself, but somehow wakes up the next morning in the morgue, now an undead creature of the night. In shock, she's befriended by a kindly vampire named Arturo (Julio Oscar Mechoso), who teaches her to become a lethal fighter so she can set out to get revenge on the men who murdered her.
Liu brings a bit of gravitas to this groan-worthy action-horror film, and the rest of the cast does serviceable jobs. But the film simply can't escape its own silliness no matter how hard it tries to elevate its goofy premise. 
Best: Cypher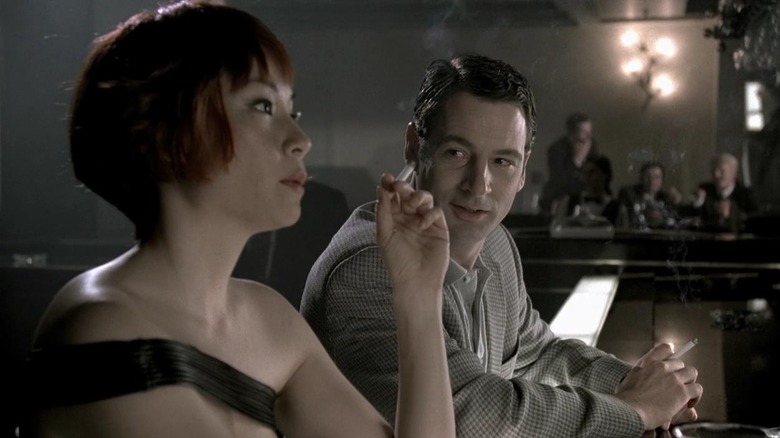 Miramax
Director Vincenzo Natali hit Hollywood by storm with his debut effort, "Cube," a sci-fi horror mystery that became a surprise cult hit with a mostly unknown cast. He waited five years to follow it up, but came back with "Cypher," another sci-fi thriller with a bigger budget and bigger stars, including Lucy Liu and Jeremy Northam. Natali, who would go on to helm episodes for shows like "Hannibal," "Orphan Black," and "Westworld," proved he was no one-hit wonder with this stylish story of corporate espionage.
Star Jeremy Northam is Morgan Sullivan, an accountant who finds a new career as a corporate spy. With a new identity, Sullivan proceeds to infiltrate various corporate conferences where he clandestinely records presentations given by his client's biggest rivals. But then he meets Rita Forster (Liu), a fellow agent who suggests that not all is as it seems. After providing him with new information and drugs that counteract apparent brainwashing, Sullivan realizes that Rita is right, and he begins to question his very existence and identity. 
A complex, mind-bending thriller, "Cypher" was praised by critics for its deft direction, compelling story, and its mix of psychological intrigue and science fiction. While it didn't receive much attention at the time, it's become a well-regarded cult favorite, with the BBC's review lauding it as a modern update to "The Manchurian Candidate." 
Worst - Code Name: The Cleaner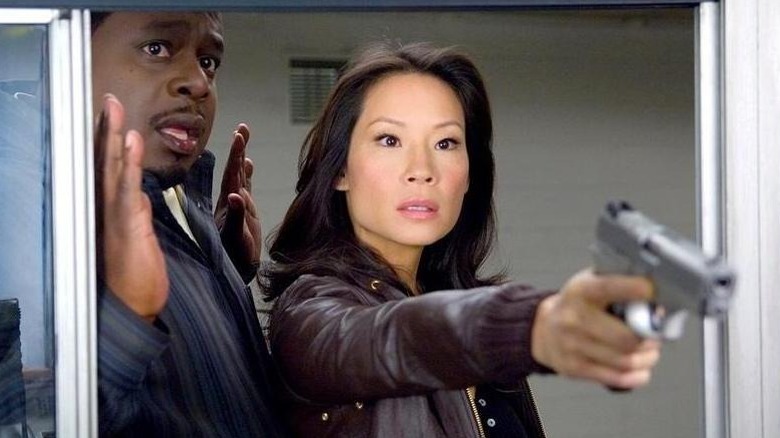 New Line Cinema
Straight out of the bad ideas pile comes the 2007 flop "Code Name: The Cleaner," which we suspect may have been an attempt to inject a bit more laughs into Lucy Liu's successful action career. Alas, even with a quality comedian beside her in Cedric the Entertainer, it wasn't enough to make this one watchable. It stands today as one of the star's worst films.
The movie is all about a mystery man named Jake Rodgers (Cedric the Entertainer), a seemingly ordinary man with an extraordinary problem: he has no idea who he is. Waking up in a hotel room with a dead CIA agent in his bed and a bad case of amnesia, he's informed by his apparent wife (Nicole Sheridan) that he's a secret agent on a mission. But when he meets a waitress named Gina (Liu) who claims to be his girlfriend, he starts to wonder which story is the truth. 
A slapstick action-comedy with an unnecessarily complicated plot, the film's dismal rating on Rotten Tomatoes might have you thinking this one should be dead last in Liu's filmography. With a horrifically blundered and ill-conceived story — and few laughs — it probably would be, if not for one final, notoriously awful film in Liu's career. If you're at all familiar with her body of work, you already know what movie we're talking about.
Best - Detachment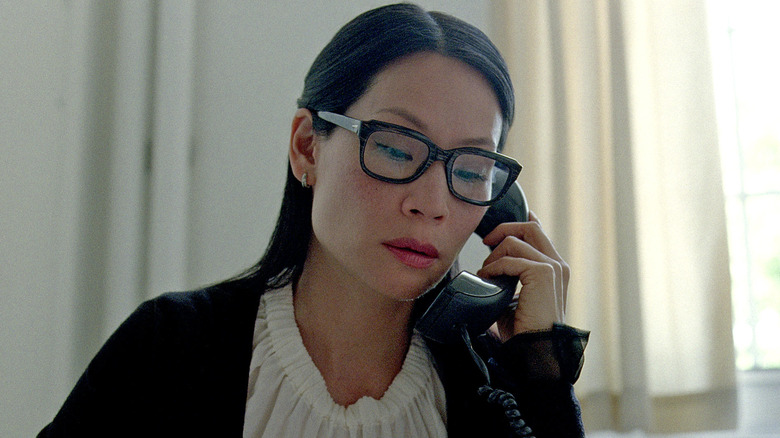 Tribeca Films
Before we get to Lucy Liu's worst, we need to talk about one of her best, and right behind her finest film is the 2011 drama "Detachment." Directed by Tony Kaye, who burst onto the scene in the '90s with the controversial drama "American History X," this is the only feature he's completed since then. Another all-star cast surrounds Liu, including Adrien Brody, Bryan Cranston, Christina Hendricks, Marcia Gay Harden, William Petersen, Tim Blake Nelson, and James Caan. 
With that broadly talented cast it should be no surprise to learn that the film is a slice-of-life ensemble drama about the lives of students, teachers, and faculty at a small-town high school. Brody's substitute teacher, Henry Barthes, gets the biggest story and becomes a window into that world, while his encounters with a fellow teacher (Hendricks) and a struggling student (Betty Kaye) force him to confront the ghosts of his past. Liu plays school counselor Doris Parker, who is facing her own struggles.
The tender "Detachment" is a soulful character drama with heart, and like many in Liu's career, audiences responded far more strongly than critics (via Rotten Tomatoes). Among the film's fans in the press was the Daily Express, which called it "a sprawling, fiercely intelligent cry from the heart."
Worst - Ballistic: Ecks vs Sever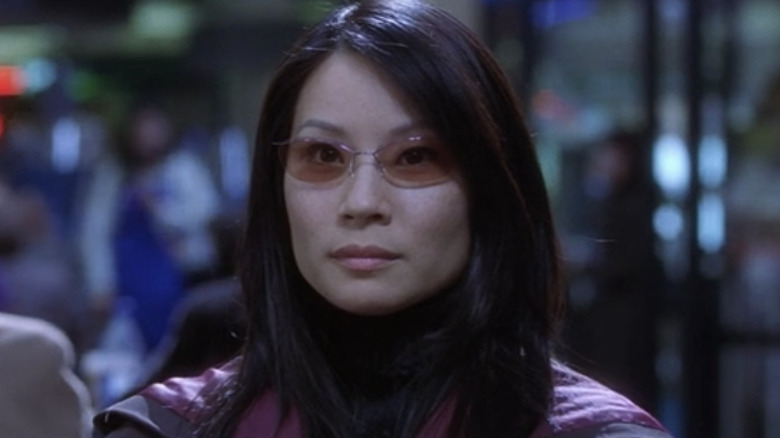 Warner Bros.
Fresh off her success on "Charlie's Angels," newly-minted action star Lucy Liu signed up for a big-budget action movie opposite Antonio Banderas. The result, however, was not quite what either of them were hoping for, as "Ballistic: Ecks vs Sever" became one of the most notoriously bad movies of the early 2000s. With 119 recorded critical reviews — all negative — it remains, 20 years later, the worst-reviewed film in Rotten Tomatoes history.
With a film this jaw-droppingly awful, there's little point in getting too deep into the plot. But in short, Banderas is a retired FBI agent still reeling from the death of his wife, who's called back into service to hunt down Liu's character, a former government agent who's since turned into a mercenary assassin. 
Despite its whopping $70 million budget and the big names attached, "Ballistic: Ecks vs. Sever" is a shockingly amateurish film, so badly made that critics were downright baffled. Given half a star by Roger Ebert, the noted film critic pulled no punches, declaring the film "a chaotic mess, overloaded with special effects and explosions, light on continuity, sanity and coherence." Whether you're looking for popcorn action, a compelling story, or fun characters, you'll find none of it here, in Lucy Liu's worst film by a wide margin.
Best - Kill Bill: Volume 1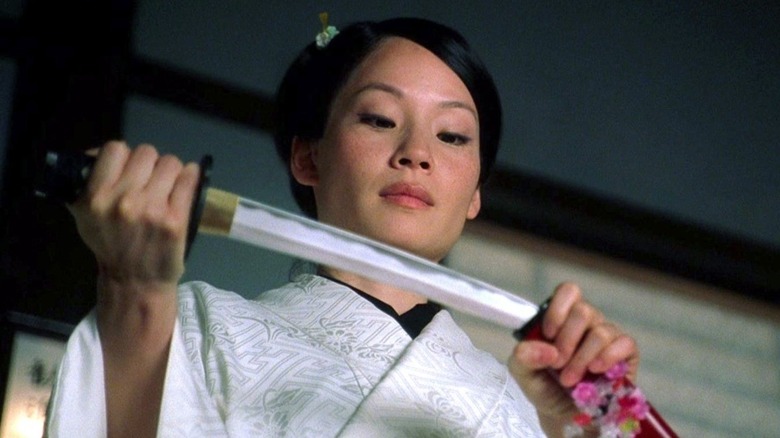 Miramax
If you're even vaguely familiar with Lucy Liu's career it should come as no surprise to see Quentin Tarantino's classic "Kill Bill" topping a list of her best movies. Fresh off her role as butt-kicking, jumpsuit-clad private investigator Alex Monday in the campy "Charlie's Angels" series, Liu slipped into a kimono and tied up her hair to become lethal assassin O-Ren Ishii in Tarantino's blood-drenched, sprawling, samurai revenge story, told across not one but two lavishly produced feature films. Liu's biggest showing came in "Volume 1" and cemented her legacy as a brutal, uncompromising femme fatale.
Uma Thurman is The Bride, whose lover and former mentor leaves her for dead on the altar. But after miraculously recovering, she sets out on an ultra-violent mission of revenge against the group of former assassins she once belonged to. O-Ren Ishii is one of them, now the leader of the Japanese criminal underworld organization known as the Yakuza. A respected leader, the only thing she won't tolerate is someone who questions her American-Chinese roots ... and she'll take your head off if you do.
As Ishii, Liu is sizzling, sinister, and seriously cold-blooded, as well as the first target in The Bride's quest. Her showdown with The Bride is one of the most spine-chilling duels in the film and confirms this as Liu's finest cinematic hour.