American Horror Story: NYC Episodes 1-2 Recap - The City's Monstrous Underbelly
"American Horror Story: New York City" debuted its most unconventional season yet with a 1980s crime drama centering on a leather-clad serial killer and an emerging epidemic. In the ominous premiere titled "Something's Coming," the series depicts elements of realism over the supernatural, which creates an even more unnerving installment. We open with two parallel scenes where innocent beings are snuffed out gruesomely: the killer's first on-screen victim and a viral infected deer on the isolated Fire Island.
The infection storyline, especially in the densely populated city, is even more unsettling after our recent worldwide events. It echoes the warning in the premiere's title and scientist Hannah's (Billie Lourd) chilling discovery. If left unchecked, the quickly mutating and highly communicable virus could wipe out the entire population. 
If that weren't enough, the LGBTQ+ community is currently being stalked by a deranged serial killer who is exclusively butchering and desecrating queer men. In the forced shadows of parks and bathhouses, "Big Daddy" stalks his prey as an overly-muscular predator dripping in erotic leather. These details tier "American Horror Story: NYC" up for a truly unforgettable season that's already off to a unique and exciting start.
Three American Horror Story legends return in NYC
As "American Horror Story" returns to its signature blend of social commentary with gritty horror, it also recruits more than a few fan favorites for Season 11. Notably, Patti LuPone lends her legendary singing talents to the communal bathhouse as Kathy while the investigation on "Big Daddy" heats up over drinks. Aiding that case is Henry, played by "AHS" veteran Denis O'Hare, who smartly leaves his name out of a journalistic report to avoid becoming the next target. As the cops continue to neglect the sexual nature of the case, it's up to the citizens of New York City to solve the mystery.
Last but certainly not least is the long-awaited return of Zachary Quinto, who played the terrifying and disturbing Bloody Face in Season 2. It's hard not to already suspect Quinto as the villainous "Big Daddy," given his vicious past on the series. Additionally, Quinto's Sam is exclusively clad in black, like the merciless slaughterer, and he's even suspiciously elusive when asked what happened to the "Big Daddy" photo model from the past. He quickly says he died, putting his boyfriend Theo (Isaac Powell) at ease. However, "American Horror Story" fans are seemingly far less trusting of this hasty statement, as a number of Redditors on this thread have brought up Quinto's ability to effectively play creepy characters on the show.
The grimy streets of NYC come alive at night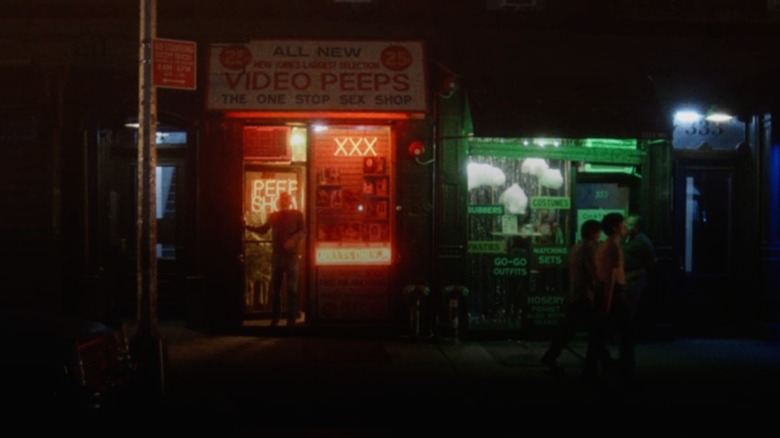 FX
After introducing a menacing line of new characters, Episode 2 "Thank You For Your Service" draws on another one of Ryan Murphy's hit series evoking the infamous serial killer Jeffrey Dahmer. Following the cliffhanger in Episode 1, we open with journalist Gino Barelli (Joe Mantello) and his horrifying encounter with a deranged tormentor. Though he's viewed through a drug-induced haze, we're led to believe it's the sinister Sam played by Zachary Quinto, with brief glimpses of his face and similar-sounding voice. 
However, in the following scene in the waiting room, we're introduced to the unnerving Mr. Whitely (Jeff Hiller) whose muscular build even matches the murderous "Big Daddy." While it's possible they're not the same person, this connotation associates Whitely with the elusive evil stalking the city that is frighteningly aware of the NYPD's willful negligence. Near the end of the episode, we see "Big Daddy" and Sam both at his extravagant artistic apartment, tying the two even closer together in suspicious and exciting ways.
The premiere episode featured more realistic elements feeling almost like a season of Murphy's anthological "American Crime Story" rather than another horror installment. Episode 2 fully embraced "American Horror Story's" signature bloody style with a refreshing new opening title sequence and an unflinching torture scene between Gino and his attacker. This continues with another jaw-dropping cliffhanger when the killer leaves a chain of victims' hands strung together in a sickening banner.
Lies are already dividing these fragile relationships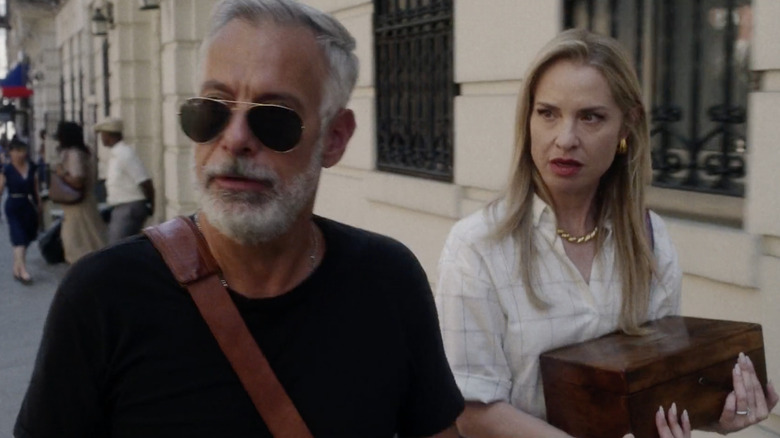 FX
Some seemingly genuine characters are already portraying a mistrustful turn, especially the closeted NYPD officer Patrick Read (Russell Tovey). His ex-wife Barbara ("AHS" alumnus Leslie Grossman) apprehensively approaches Gino with a startling discovery: she's found Patrick's box of colored handkerchiefs, signaling his use of the 1980's queer code to find a partner when cruising at night. Gino tries to hide his discomfort but the audience knows he recently explained this unique system to Patrick in the last episode where he pretended to have no prior knowledge of it. Patrick's dark deception adds a surprising suspect in the hunt for "Big Daddy" with his proclivity for lying on full display to Gino and Barbara. 
He's not the only one with skeletons in his closet as we dive further into the disturbing depths of Sam's psyche. He's reveling in pleasure while holding an innocent man prisoner in a metal cage as "Big Daddy" waits outside. His boyfriend Theo is assumingly unaware of this as he adventures in the clubs of the city. His bliss also derives from Sam's assurance that the model who posed for the leather-clad "Big Daddy" photo is dead and gone — which we know to be false. With Sam's clear ties to the concealed executioner revealed, it's possible Patrick's secret may have unexpected ties to the serial killer ravaging New York City's LGBTQ+ community.
When do the next episodes of American Horror Story: NYC air?
"American Horror Story" fans are in for a spooky treat this fall with a double batch of new episodes every week. Episodes 3 ("Smoke Signals") and 4 ("Black Out") will premiere on October 26 at 10 p.m. EST on FX. New episodes will also be streaming the next day on Hulu with the rest of "American Horror Story" and even the spin-off "American Horror Stories." 
While "Smoke Signals" is more mysterious, we can take a reasonable stab at assuming an infamous New York City power outage will rock the series' 4th episode. The 3rd episode could be referencing the burned corpses of the infected deer on Fire Island as Hannah attempts to stop the spread of disease. It could also be another unhinged act from "Big Daddy" as he continues his sick trend. Luckily, with the accelerated release schedule, we won't have to wait too long to find out.