Mehcad Brooks Compares Law & Order's Crossover Event To Fast & Furious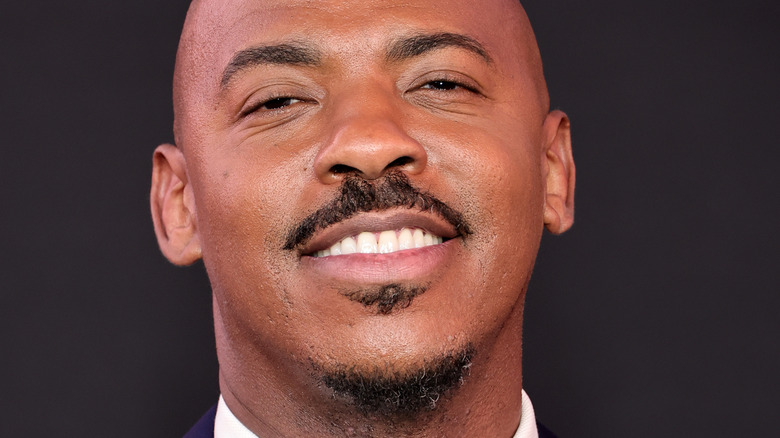 Jamie Mccarthy/Getty Images
Mehcad Brooks seems to be enjoying his new gig. The former "Supergirl" actor can now be seen on the perennial cop procedural "Law & Order." Though some viewers didn't realize "Law & Order" had gone away, the current version is actually a revival that started up again with Season 21 in February 2022 — after a 12-year hiatus, per Vulture. The series brought back a few of its original stars, including Anthony Anderson and the irreplaceable Sam Waterston, and introduced new faces such as Hugh Dancy and Camryn Manheim. With Anderson's departure after Season 21, Season 22 kicked off with a massive, three-hour crossover event called "Gimme Shelter," which involved the original, "Law & Order: SVU," and "Law & Order: Organized Crime." It also introduced Brooks as Anderson's replacement, Detective Jalen Shaw.
"Gimme Shelter" marked a historic first for the long-running franchise, as this was the first time in its history that these three different series came together in this way. The episodes, which the cast says are more like a three-hour movie according to Entertainment Tonight, are built around one case about a murdered girl that is much more complicated than it seems. Brooks is delighted to be on the franchise, especially starting with this event, telling ET, "It's a dream come true in so many ways," particularly because he grew up watching the show. Brooks also compared the crossover event to another long-running franchise: the "Fast & Furious" movie series.
Mehcad Brooks' character name isn't the only link to Fast & Furious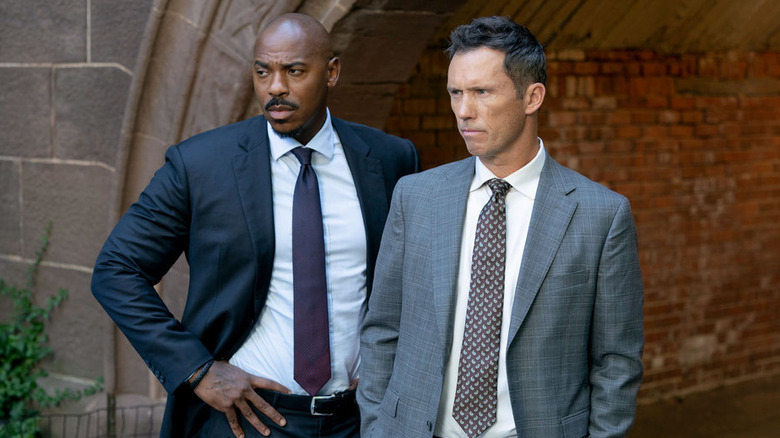 Ralph Bavaro/NBC
While discussing his big debut with the "Law & Order" franchise and its historic season premieres, Mehcad Brooks made a comparison with the movie franchise "The Fast & the Furious." And he wasn't talking about his character name. Brooks' Detective Jalen Shaw has nothing to do with Jason Statham's Deckard Shaw on "Fast & Furious." In fact, Brooks told Entertainment Tonight that his character is like a "calm wolf," because the name Jalen means calm or tranquil, while Shaw refers to Welsh football — perhaps relating to Bernard Shaw, who played for the Wolverhampton Wanderers football club, aka The Wolves. "He's a wolf that hunts for peace and when people get in the way of that, you see the wolf," Brooks said.
But no, the actual reason Brooks connects "Gimme Shelter" with "Fast & Furious" is because of its impressive and expansive shoot. "The production value is incredible. It felt like we were shooting 'Fast & Furious' in New York," he said. He also said the cast was "a lot of fun... Mariska [Hargitay] is incredible. [Christopher] Meloni's incredible. We had a great time. Ice-T was hilarious. He's great."
Showrunner Rick Eid confirmed the massive scale of the shoot. "Unlike other crossovers, this is structured and produced [on an epic scale]," Eid told TVLine, explaining that it's "one story that involves all the characters from the different shows." They didn't even include title sequences between episodes, making it feel more like a three-hour movie — and getting great ratings in the process.