Audiences Should Listen More Closely To Princess Helaena On House Of The Dragon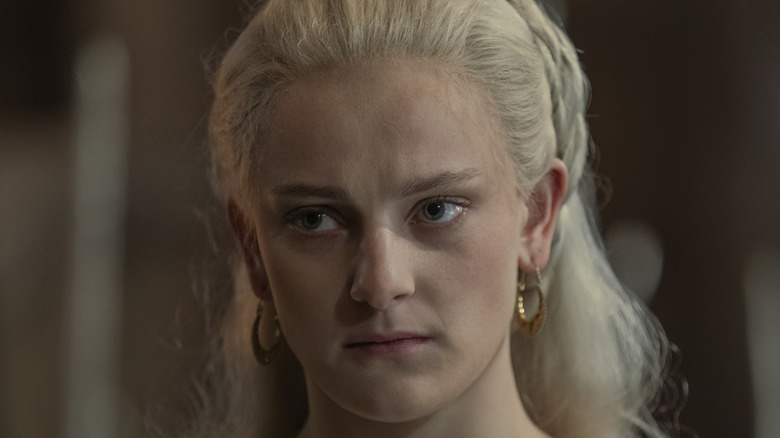 Ollie Upton/HBO
Spoilers for "The Green Council," the ninth episode of "House of the Dragon," lie ahead — beware!
There's a lot going on during "House of the Dragon," the massively successful prequel and spin-off of "Game of Thrones," during any given moment, so you could be forgiven for ignoring some characters in favor of others. With powerhouses like Rhaenyra Targaryen (Emma D'Arcy), Rhaenys Targaryen (Eve Best), Queen Alicent Hightower and her father Otto (Olivia Cooke and Rhys Ifans) gracing the screen, it can be easy to forget about others — especially when it comes to the massive brood of Targaryen and Velaryon children milling about.
Take a second look at those kids, though. After the ninth and penultimate episode of the series, "The Green Council," one thing became clear: don't count out Princess Helaena Targaryen (Phia Saban), daughter of Alicent and the now-deceased King Viserys I Targaryen (Paddy Considine). Helaena may seem a bit batty and off-key, usually muttering to herself or announcing that marriage isn't so bad because your husband (hers happens to be her brother) mostly ignores you. Audiences might want to focus a little more on Helaena, however; she's proving to be much more important than anyone anticipated.
Helaena keeps making prophecies, and nobody's paying attention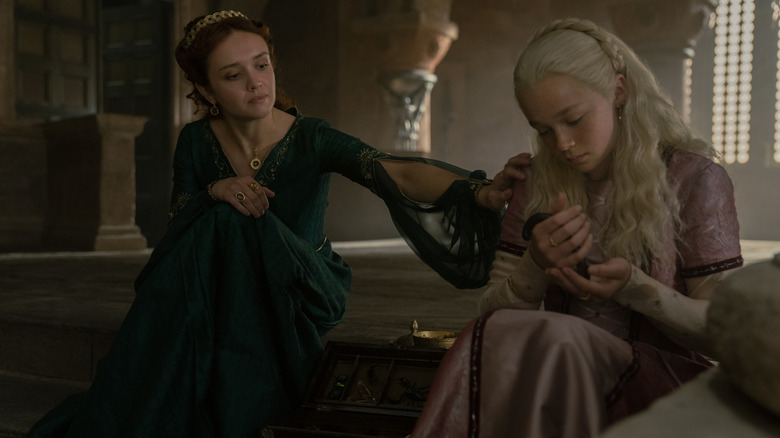 Ollie Upton/HBO
As Helaena has grown up — she was played by Evie Allen as a child — she's said some pretty weird stuff, and pretty much all of it has come to fruition in one way or another.
In the show's sixth episode, "The Princess and the Queen," Helaena (played by Allen) mumbles a cryptic comment about her brother Aemond (played then by Leo Ashton), saying "he'll have to close an eye." In the following episode, Aemond gains a dragon — the legendary beast Vhagar — but does, in fact, lose an eye. Then, in "The Green Council," when Alicent tries to tell Helaena that her father Viserys is dead, Helaena (Saban again) blurts out, "there is a beast beneath the boards." There sure is! During the coronation of Helaena's brother-husband Aegon II Targaryen (Tom Glynn-Carney), a vengeful Princess Rhaenys brings her dragon Meleys for an eventful visit, coming up... right through the floorboards.
Beyond that, Helaena has also offhandedly said something that could be huge about the colors "green" and "black" — in the Dance of the Dragons, the Targaryen civil war, Alicent's side wears green and Rhaenyra's wears black. During a funeral (read the room, girl), Helaena says, in a quiet singsong voice, "Hand turns loom, spool of green, spool of black, dragons of flesh weaving dragons of thread." What this specifically means remains to be seen, but since there's definitely a war coming involving green, black, and dragons, it's gotta be something.
You can rewatch Helaena's maybe-prophecies on HBO Max now, where the first nine episodes of "House of the Dragon" are streaming; the season 1 finale airs on Sunday, October 23 at 9 PM EST on HBO and HBO Max.