Dwayne Johnson Explains Why He Isn't Looking To 'Take A Bite Out Of Marvel' With Black Adam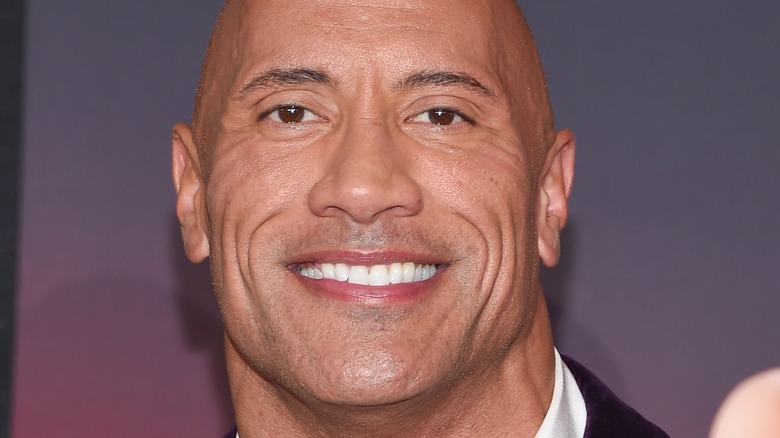 DFree/Shutterstock
Marvel definitely had some hiccups before officially becoming what we now know as the Marvel Cinematic Universe. Early films based on Marvel characters such as "Howard the Duck" were deemed failures by most, but everything changed with 1998's "Blade." "A character nobody had heard of at all, had only appeared in a few issues of Tomb of Dracula or something, turned into a big franchise," Marvel Studios president Kevin Feige told JoBlo in 2017. "That was always a great lesson for me, where you go, 'It doesn't matter how well known the character is, it matters how cool the movie is.'"
"Blade" led to "Iron Man," and the MCU took off, grossing more than $22 billion worldwide by 2020, and that figure is ever-increasing (via CBS News). While the DC Extended Universe has found success with films like "Wonder Woman," "Shazam!" and "Aquaman," fans have been vocal about frustrations with inconsistencies in the quality of many of the films, with people from all corners suggesting ways to fix the DCEU. Now with word that Henry Cavill is returning to his role as Superman, and with early reactions to "Black Adam" being largely positive, fans are feeling good about the DCEU's future. Recent comments by Dwayne Johnson just gave them even more to be hopeful about.
Johnson thinks the DCEU are trailblazers
Eight years after announcing on Twitter that he was going to play the DC Comics anti-hero Black Adam, Dwayne Johnson has been busy promoting the (finally) completed, upcoming film of the same name, and when the questions circle back to Marvel, Johnson has a lot to say. When asked by the Associated Press if he thinks "Black Adam" will take a bite out of Marvel, he said, "That answer is unequivocally 'No.' Because, to me, as we build out the DC Universe, this era, ushering in a new era of the DC Universe — that to me is not my lead foot, it's not our goal to take a bite out of Marvel."
Johnson was careful with his words in the interview, going on to praise Marvel and Kevin Feige and crediting them for the public's interest in superhero films for the past two decades. He also affirmed on his own Twitter page that "There's only one #BlackAdam and only one #Superman and we don't chase anybody. I respect the game, but to me – we're trailblazers & disrupters." It's clear that Johnson sees "Black Adam" as a game-changing film for the future of the DCEU, and DCEU fans are hoping it is, too.