Robbie Coltrane Loved Harry Potter Before He Was Ever A Part Of It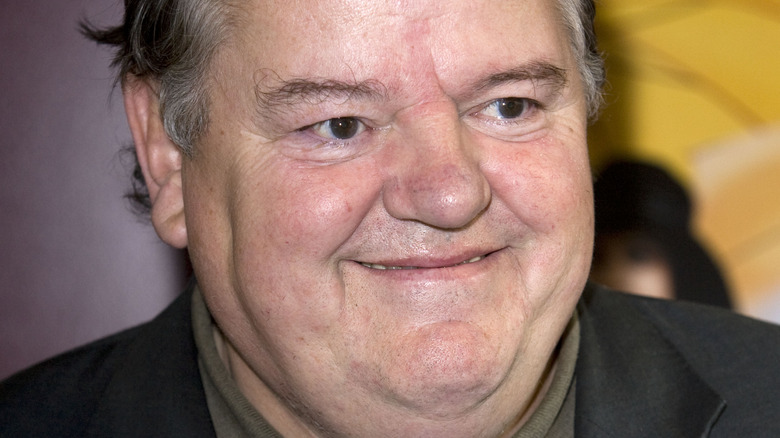 Antony Jones/Getty Images
The whole of the Wizarding World is no doubt holding a wand to the sky today as they mourn the loss of "Harry Potter" star Robbie Coltrane. The beloved Scottish actor and comedian died today of causes yet to be announced. He was 72 years old. Coltrane, of course, enjoyed a wildly successful career both before and after joining the illustrious cast of the "Harry Potter" film franchise. He even shares a Guinness World Record with his "Harry Potter" cast mate Michael Gambon for winning three consecutive BAFTA awards as best actor, which he did for his role in the hit U.K. crime series "Cracker." 
Still, Coltrane is undoubtedly best known to the movie-loving masses for portraying Rubeus Hagrid, the half-giant keeper of keys and grounds, and occasional beast wrangler at Hogwarts School of Witchcraft and Wizardry in all eight proper "Harry Potter" flicks. And if you've seen Coltrane at work in those films, you know he was sort of born to play the part of Hogwart's gentle giant, and that he did so with an infectious level of unadulterated glee. That last fact is no doubt due to the fact that Coltrane was apparently a big fan of the franchise's source material before he ever dreamed of actually playing Hagrid. 
Word of mouth put a Harry Potter book in Coltrane's hands
In a candid 2001 interview, Robbie Coltrane admitted he was indeed a big fan of the Wizarding World of "Harry Potter" long before he scored his most iconic role. In the course of the conversation, Coltrane was asked how he came to know about the beloved book series that inspired the big-screen franchise. It seems the books ended up on Coltrane's radar in less than magical fashion, however, with the actor answering simply, "Word of mouth. It's the usual way isn't it?" Coltrane continued, "Somebody said, 'Have you read 'Harry Potter' books to your children?' I said 'No I haven't seen any yet.'"
Coltrane apparently rectified the oversight with some haste and confirmed he was pretty blown away by what he read, claiming, "Then I got one and read it, and I thought, 'This is just dynamite. It's wonderful.'" On landing a key role in one of the biggest film franchises in history a few years later, Coltrane simply quipped, "Who knew?" The actor went on to bask in the knowledge that he was now part of something that kids and their parents are likely to enjoy for generations to come, a notion he wistfully revisited during the recent HBO reunion special. And it's safe to say each and every one of those generations will be taken in by RColtrane's spirited work as Hogwart's biggest defender, and Harry Potter's (Daniel Radcliffe) most devoted ally.