Devon Sawa Explains The Practical Effects That Make Filming SyFy's Chucky So Complex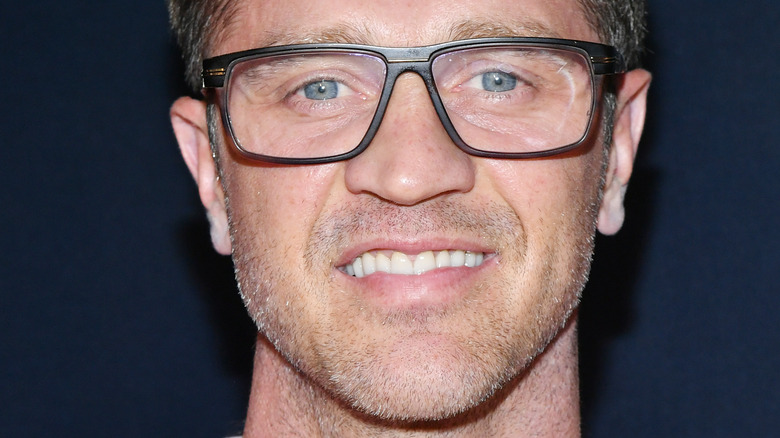 Amy Sussman/Getty Images
Now well into his third decade as a working actor, Devon Sawa has had one of the more eclectic careers in Hollywood. The actor got his first big break back in 1995, portraying the human form of the titular ghost in "Casper." In the years since, he's been a regular presence on screens big and small, appearing in projects of all shapes, sizes, and genres. As far as genres go, Sawa has arguably had better luck than most in the horror game and even fronted a pair of cult classics in 1999's "Idle Hands" and 2000's "Final Destination" early in his career (per Entertainment Weekly).
These days Sawa is back in full genre mode with a key role in the SYFY and USA Network slasher hit "Chucky." A sort of continuation of the "Child's Play" franchise, "Chucky" finds the infamous killer doll — still inhabited by the spirit of notorious murderer Charles Lee Ray (Brad Dourif) — shedding blood in a small New Jersey town with a few too many secrets to hide. It also finds Sawa portraying Logan Wheeler, the father and uncle to Jake (Zachary Arthur) and Junior Wheeler (Teo Briones), respectively.
As "Chucky" fans know, the Wheeler's dealings with the demonic doll don't turn out very well for Logan. And it seems Sawa's experiences shooting scenes with the titular doll proved more complex than he initially anticipated.  
Sawa says it can be a real challenge working with so many different Chucky dolls
With the way things played out for Logan Wheeler in Season 1 of "Chucky," there were understandably questions regarding whether Devon Sawa would be back for Season 2. Indeed he will, though Sawa is stepping into a dramatically different role for the new season. According to the actor's recent comments to E! News, the new role will see him sharing the screen more frequently with the pint-sized killing machine. 
While Sawa insists those experiences were "a lot of fun," he goes on to note shooting scenes with Chucky can sometimes be challenging. The reason? The character is brought to life onscreen mostly using practical effects, and acting opposite the various iterations of the puppet can be difficult. "What you don't know — or what I didn't know — is that you have to do each bit and there's a different Chucky for everything," Sawa noted, adding, "There's Chucky with legs, there's Chucky with arms, there's mad Chucky, happy Chucky."
Sawa goes on to say, "It's a little bit different than working with a regular actor," even claiming he had to adjust his style of acting to make it work. "It was frustrating at first," the actor said. "Then you get used to it. You start learning the process ... This is how I have to prepare; this is how we have to do it." Given Sawa's limited interactions with "Chucky" in Season 1, Season 2 likely served as a bit of a crash course for the actor. If you want to see how he handled it all, the new season of "Chucky" is now airing Wednesday nights at 9 pm EST on both SyFy and USA Network.