John Carpenter Teases Horror Fans With The Idea Of A Dead Space Adaptation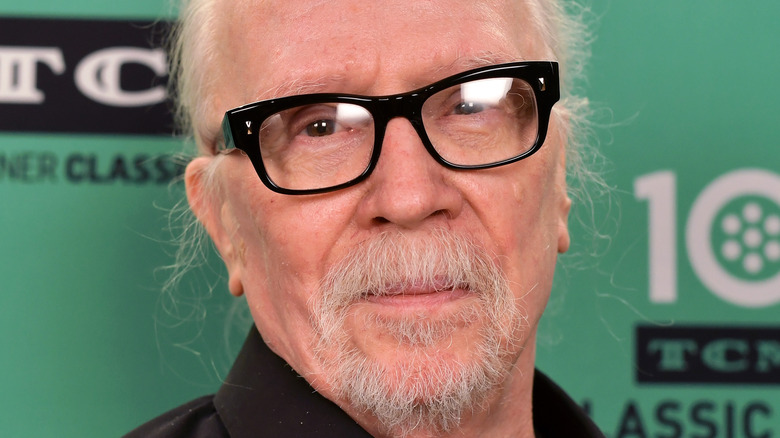 Emma McIntyre/Getty Images for TCM
John Carpenter hasn't directed a feature film since 2010's "The Ward," which can be a bit shocking for fans when they consider how prolific the filmmaker was in his early career. Not only is Carpenter behind the original "Halloween" that kicked off a franchise that continues to this day, but the '80s alone included classics like "The Fog," "Escape From New York," "The Thing," "Christine," "Starman," "Big Trouble in Little China," "Prince of Darkness," and "They Live." 
These days, Carpenter is still putting out creative works, writing comics, putting together music, and composing for horror flicks like "Firestarter" and David Gordon Green's "Halloween" franchise, which acts as a direct sequel to Carpenter's 1978 original. The director is also a noted fan of video games, openly expressing his love for kicking back and grabbing a controller in plenty of interviews.
While promoting the end of Green's trilogy, "Halloween Ends," which Carpenter executive produced and helped compose the music for, Carpenter let his video game geek flag fly high once more. He expressed his excitement for an upcoming video game adaptation as a fan and revealed his openness to adapting one famous video game himself.
John Carpenter would like to adapt Dead Space
In an interview with the AV Club, John Carpenter revealed he is excited about Craig Mazin's adaptation of "The Last of Us" video game. He was then asked if there was a game he thinks he could adapt — and one immediately came to mind. 
"The only one I can think of, and I've mentioned it before, is 'Dead Space.' That would make a real great movie. I could do that," Carpenter sad. When asked which one of the installments of the horror game franchise he'd be interested in adapting, Carpenter said he approved of all of them, but is perhaps most interested in the last addition to the franchise. 
The science fiction horror video game franchise is wildly popular, with six video games and two animated films. There is also a remake of the original game set to release in 2023, per IGN. Indeed, Carpenter has wanted to adapt "Dead Space" for some time now.
"I would love to make 'Dead Space' [into a movie], I'll tell you that right now. That one is ready-made," he said in 2013, via Bloody Disgusting.