Why Broadway's Mame Was The First Role To Resemble Angela Lansbury In Real Life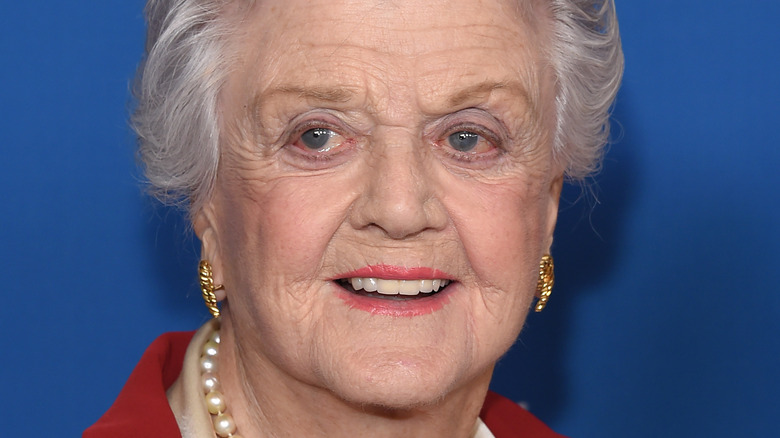 DFree/Shutterstock
Few figures in acting could be plausibly and justifiably called a giant in their craft, but Angela Lansbury, who recently passed away, was undoubtedly one of them. Her most recognizable role was that of the crime-solving author and amateur detective Jessica Fletcher, who she played for 12 years on CBS' "Murder She Wrote," as well as the four television films that followed the series finale.
That role is practically synonymous with the legendary Hollywood star. But her career, before and after her time playing Ms. Fletcher, was far more diverse and accomplished than just that role. And how could it not be? Her career spanned just short of eight decades, during which she appeared in close to 150 films, television shows, and stage plays (via IMDb). She was nominated for 18 Emmy Awards, three Oscars (eventually awarded an honorary Academy Award in 2013), and won a bevy of Tonys, Drama Desk Awards, Golden Globes, BAFTAs, Screen Actors Guild Awards, and more.
During the '60s, Lansbury was viewed as one of the leading ladies of musical theater (via The Guardian). Four of her six Tonys were for roles played in Broadway musicals. First among these was her portrayal of the lively, rich bohemian Mame Dennis in 1966's "Mame." Though she had already been acting for more than 20 years by the time it premiered and earned an impressive amount of acclaim and nominations, Mame still went on to become one of her signature roles.
Angela Lansbury's early career was as a character actor
In a 2018 interview with Parade magazine, Angela Lansbury told Walter Scott that Mame was the first role she truly identified with. This was in contrast to her relatively illustrious career up until that moment, in which she had played some excellent roles, but parts that seemed far-flung who she actually was.
"I regret terribly the years that I wasted playing a bunch of women who weren't me at all," she said. "It wasn't until I went to Broadway and became Mame that I became a woman who was about as close to myself as I could be." Lansbury elaborated that she would be expected to inhabit roles very different from her and often even much older than her, particularly during her time at MGM.
Ultimately, she thought that her reputation as a character actor was what pigeonholed her in those roles for so long. "You can act something, but it doesn't mean that you personally become that," she said. "No, I didn't enjoy that, but being what they call in the business a character actress, in other words, an actress who never really plays herself, I never played myself." Until director Gene Saks needed someone as outrageous and fiercely independent as Mame herself.
Even so, Lansbury remained philosophical about the journey of her career. In fact, it would seem that without those years in ill-fitting roles, Lansbury might not have gotten to her most iconic. "The closest I came to playing myself, as I said earlier, was really as Jessica Fletcher," she told Scott. "Obviously, if I had been able to do that earlier in my career, I would have had a different career really." In other words, no Mame, no Jessica Fletcher.