George Clooney And Julia Roberts Poke Fun At Awkward Yet Hilarious Kissing Scene In Ticket To Paradise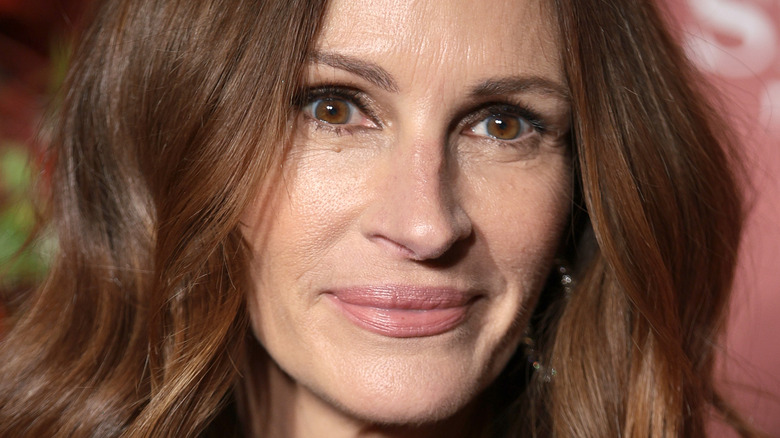 Dimitrios Kambouris/Getty Images
In October, audiences can embark on a heartwarming adventure with "Ticket to Paradise," reuniting old friends and Academy Award winners Julia Roberts and George Clooney. The two notably starred together in the "Oceans" heist series and teamed up in the thrilling crime drama "Money Monster" in 2016. Their enduring friendship often leads to unforgettable moments of on-screen chemistry, drawing viewers to their collaborations in frequent droves. 
The two Hollywood A-listers' ability to attract guests to theaters boast a lucrative duo for the film industry, especially as cinemas attempt to recover from their devastating Covid-19 losses. In fact, according to Variety, the rom-com has already been an international hit overseas, drumming up $60 million at the global box office. This starkly contrasts other recent debuts like the star-studded David O. Russell film "Amsterdam" and the queer romantic comedy "Bros," which both drastically fell short of studio expectations. 
"Ticket to Paradise" marks Julia Robert's first return to the genre in twenty years following 2001's "America's Sweethearts." This will undoubtedly send Roberts' fans to the theaters to celebrate the "Pretty Woman" icon's triumphant homecoming with her old pal Clooney. "Ticket to Paradise" releases October 21, and Roberts and Clooney have been sharing secrets and lively moments from their time on set together, including one particularly awkward scene.
Ticket to Paradise reunites the longtime friends in a hilarious way
In a cringe-worthy moment for the long-time friends, the two share a kiss as former husband and wife in "Ticket to Paradise." With Today, the pair said not only did they frequently break out into laughter during filming together, but they actually had a couple of unexpected visitors, making the moment even more awkward. Clooney reveals his wife and kids stopped by to see him and on their first day of visiting, they were scheduled to film the scene. He jokes they weren't there when it was actually being filmed because the scene would obviously be weird for his family to witness live. 
Clooney and Roberts continue together discussing how the actual kiss felt between the two close friends. "It's kinda ridiculous. It is like kissing your best friend," Roberts begins, to which Clooney quips back, "Well, thanks for that. You know I was a two-time 'Sexiest Man Alive?'" This exchange lovingly depicts their friendship and compatibility, which is alive and apparent both on- and off-screen.
"Ticket to Paradise" is an exciting expedition where Clooney and Roberts play a divorced couple who travel to Bali to intervene in their daughter's hasty marriage plans. If the trailer is an indication, this trip promises to be jam-packed with chaos and humor that's fun for adults both young and old. The reunion between the two dear friends also features a small "Booksmart" reunion with Kaitlyn Dever and Billie Lourd playing youthful friends.