Why Uncle Fester From Netflix's Wednesday Looks So Familiar
The Addams Family is back in a brand new TV series on Netflix, and every member of the creepy clan is here to share their unusual lifestyle. "Wednesday" is taking a unique approach to The Addams Family franchise by making the eldest daughter, Wednesday (played by Jenna Ortega), the main character. But that doesn't mean that the rest of the family will simply be background characters — Gomez, Morticia, and even Uncle Fester are all set to return.
And during NYCC 2022, the official trailer for "Wednesday" dropped and revealed Uncle Fester for the first time. About halfway through the trailer, Wednesday is armed with a sword in the woods when a man drops from the trees and reveals himself as Uncle Fester, much to Wednesday's surprise and excitement. The pale-skinned, bald uncle looks different than the stiff portrayal that Christopher Llyod gave in the 1991 classic, "The Addams Family," but once again, they found a unique actor to play the role.
He might not have been the most obvious choice for Uncle Fester, but he is definitely no stranger to Hollywood.
From sketch comedy to sketchy uncle, Fred Armisen is Fester on Wednesday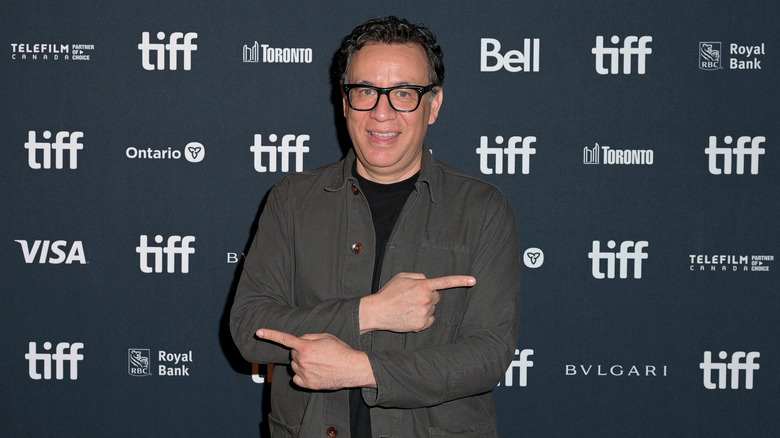 Darren Eagles/Getty Images
Fred Armisen will be playing the role of the bald-headed Uncle Fester on Netflix's "Wednesday". The actor is best known for his time on "Saturday Night Live" and his many roles in the show "Portlandia", a sketch comedy show that takes place in the city of Portland and sees Armisen playing several different characters. "Portlandia" ran from 2011 until 2018 and managed to be nominated for 22 Emmys, winning four before ending its eight-season run.
Armisen boasts over 180 credits on his IMDB page, with a lot of those coming from just his voice. The well-known voice actor has credits from voicing characters on "Big Mouth," "Robot Chicken," "Mike Tyson Mysteries," and "Archer" — just to name a few. He also has done voices for many kids' shows and was even the voice of Speedy Gonzalez on "The Looney Tunes Show."
And if you don't recognize Armisen from "Saturday Night Live," "Portlandia," or his voice acting, he has also had appearances on many popular shows like "Parks and Recreation," "Modern Family," "Curb Your Enthusiasm," and "Brooklyn Nine-Nine."
Armisen is an interesting choice for Uncle Fester, but his experience should mean that he has a good chance of nailing this character.