CSI: Vegas' Paula Newsome Takes Us Behind The Scenes Of Season 2 - Exclusive Interview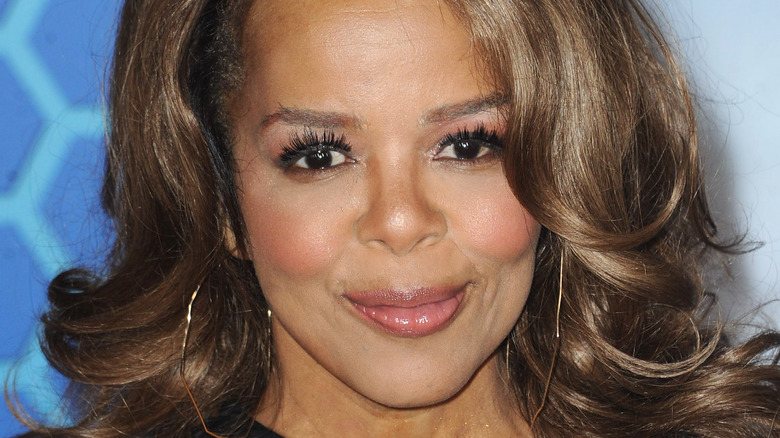 Albert L. Ortega/Getty Images
Before joining "CSI: Vegas," Paula Newsome was no stranger to television crime dramas, having previously made appearances on "NCIS" and "Women's Murder Club," among other shows. But as Maxine Roby, she has really hit her stride playing the head of the fictional Las Vegas Crime Lab.
Airing Thursdays on CBS, "CSI: Vegas" follows a gifted team of forensic investigators who use state-of-the-art techniques to do what they do best — follow the evidence and capture criminals. As a sequel to the long-running series "CSI: Crime Scene Investigation," which ran for 15 seasons until ending in 2015, "CSI: Vegas" debuted in 2021, bringing back original stars Jorja Fox and William Petersen alongside new faces like Newsome. When Season 2 rolled around, those two actors had exited the show, and fellow original Marg Helgenberger entered the fray. Meanwhile, Newsome remains the bedrock of the series.
During an exclusive interview with Looper, Newsome opened up about what it's been like working with the original "CSI" cast, what to expect from Season 2, and what her role in "Spider-Man: No Way Home" taught her.
Joining CSI: Vegas was like meeting 'Santa Claus'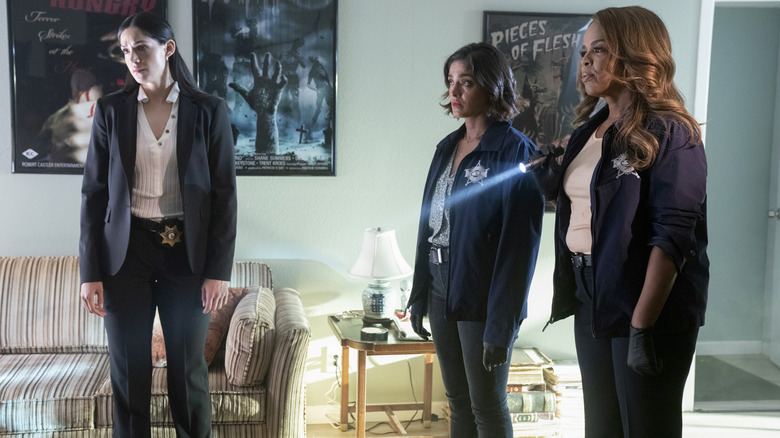 Erik Voake/CBS
You have one 10-episode season of "CSI: Vegas" under your belt. What was it like joining such an iconic franchise?
It was a lot. It was exciting as heck, truly, and it's weird. The only thing I can think of right now is when you see Santa Claus. You're walking around, and you see him, and it's like, "Oh, you're real." That's the truth of it. It's amazing. It's amazing being in a community and on a show that you have heard about and dreamed about and that is so iconic.
Did it feel like stepping onto a long-running series, or did it feel more like joining a brand-new show?
A little bit of both. The show itself is the subject matter and how it goes about it, the stuff that it's about ... [That's when you know] you're stepping onto something that's been there for a long time. But the fact that we've got a bunch of new people and a new showrunner [Jason Tracey] with Jerry Bruckheimer Television has brought it into [2022]. So it's a little bit of both, and now I get to play with Marg [Helgenberger], who was part of that long-running experience.
The Season 1 cast included returning actors Jorja Fox and William Petersen. What did you learn from them about the ways of "CSI"?
I can tell you one thing Billy would always say: "Just focus on that. Their attention goes where your eyes go. They love when you focus." He was really into the gaze of the scientist on a piece of some science or a science process. Jorja was really good about helping. She gave me these pastilles, these homeopathic things that help you stay relaxed, because we have a lot of stuff to say, like "single nucleotide polymorphisms." It's like hieroglyphics, but the pastilles help you to stay relaxed and learn a bunch of words.
Marg Helgenberger will 'help you in a pinch'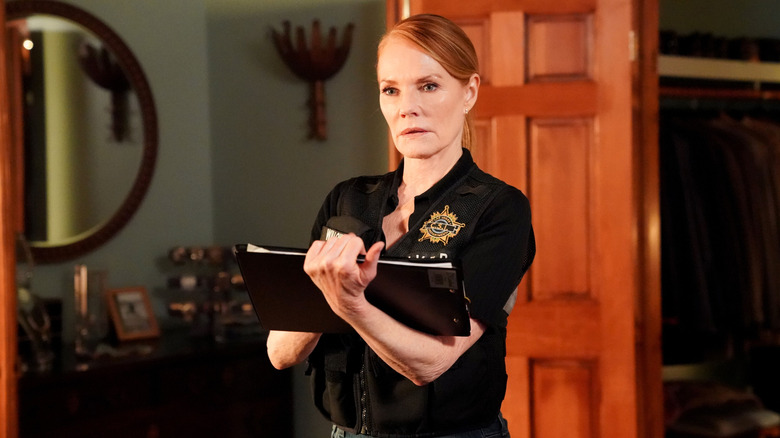 Bill Inoshita/CBS
Jorja Fox and William Petersen have exited the show now, and in the Season 2 premiere, Marg Helgenberger rejoins the team. What kind of new energy does she bring, both on screen and off?
Marg is so wonderful. She has a way of doing what she does that makes it so realistic. She's in her body in a way that's very cool to me. I really like it. She's a wonderful actress. Then off camera, she's a good person. When she announced on Twitter that she was going to be doing this, I sent her a big old "Yay!" She was like, "I'm so glad to be able to work with you! We should meet." I was like, "I'm hungry ... right now!" We made plans and had a meal together. We went and ate some pasta. It was nice.
Are there any funny or memorable behind-the-scenes stories with Marg you can share from the season premiere or beyond?
I won't give a spoiler, but I will tell you one thing ... it isn't in the premiere, but I love it. There's this one scene that me and Marg had done a bunch of [times] that day, and Marg was a pro, but this one got tired. We were waiting off stage on our starting marks, and she was supposed to go one way and I was going another way, and Marg bumped into my body. It was like a Border Collie that was making me go the right way. It was so funny. We never even talked about it. But she'll help you in a pinch.
What's it like working with executive producer Jerry Bruckheimer? Do you have a favorite film of his that made you even more excited to work with him?
I just met Jerry this past weekend. He's a lovely guy. He's very quiet and unassuming. It's hard to believe that he's such a mogul.
I can't think of one of my favorite films of his. He has so many. It's like picking your favorite child — I can't do that. But his body of work is more than impressive. It's hard to believe that all of that came from one person.
Season 2 will show Max's 'vulnerabilities'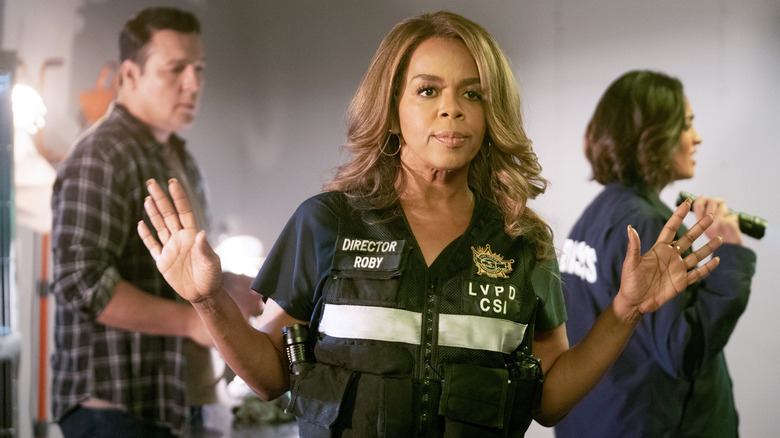 Erik Voake/CBS
What can we expect from Season 2, both in terms of overall storylines and your character's storyline in particular?
I can tell you about Max in particular. It is beautiful to be able to play such a badass. Now, we get to see her vulnerabilities, which is beautiful too. We get to see her with her family. As for the overarching stories over the season, I don't want to give away too much, but it's amazing what Jason Tracey has come up with for this season. How do I say this without giving it away? There's a surprise — I'll say that.
Do you have a dream storyline that you'd like to tackle?
There's a storyline coming up toward the end of this season that I can tease a little bit. ["CSI" franchise creator] Anthony E. Zuiker is coming back, and he will be writing one of the last episodes of the season, and that is a dream. He has a way of writing that's magical, and his passion for it is not to be believed. It'll be an episode that's Max-focused. I look forward to that.
What's the biggest thing you have in common with Max in real life?
Our sense of humor — and going from strength to that sense of humor. We share that in common. I love that. That makes me very happy.
Joining the MCU means being 'surprised all the time' by fans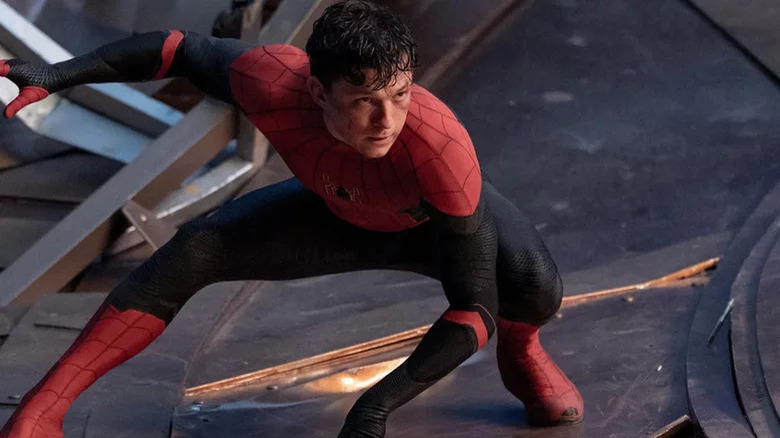 Sony Pictures
2021 was a big year for you. "CSI: Vegas" premiered, and you also appeared in "Spider-Man: No Way Home." We've been talking about the former, but now I'd like to know what it was like becoming part of the Marvel Cinematic Universe via "Spider-Man."
I hadn't seen [all the films]. I saw the Tobey Maguire "Spider-Man" back in the day, but I wasn't current. When I was offered the job, I had to do some research, and that's when I discovered what an amazing invitation it was. Gosh, everyone's so gifted — such a gifted director [Jon Watts], such gifted actors. It's amazing. It's like you're walking into a dream. It was really fun.
You're surprised all the time by the people that you find out are Marvel geeks, like a 60-year-old man. Here's an amazing story for you — I was in a restaurant, and I bumped into Deborah Roberts, who's a news correspondent for another network, and she's married to this man who comes up to me, and it was Al Roker. He was like, "Hey, how about that Marvel universe?" I'm like, "Al Roker?!" That was exciting. There are people that you never imagine meeting and talking about the fact that you're in the Marvel universe.
Did you get to bring home any cool keepsakes or souvenirs from the film?
I never talked about that before, but there was this pillow that I would always cuddle up with in my trailer and in my car to and from the set, and I nicked it. That's how the Brits say they took something they shouldn't have taken — they nicked it. I nicked my little pillow. It's a little red neck pillow that I cuddle up with that reminds me of [the movie]. But it's not from the set, it's from a trailer.
Newsome was in 'awe' of Oliver Platt on the set of Chicago Med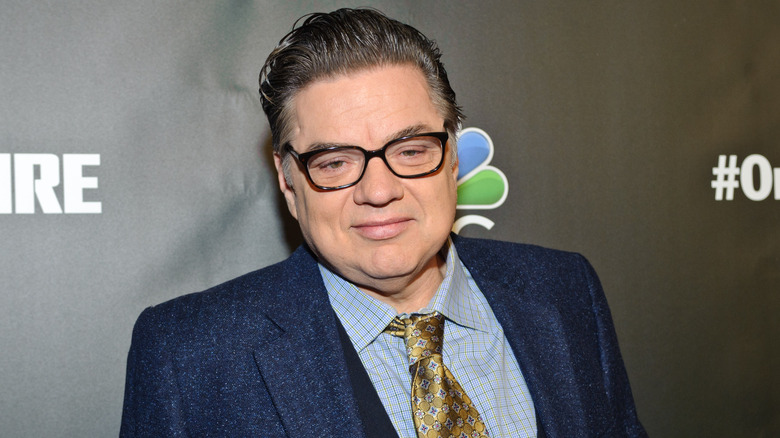 Timothy Hiatt/Getty Images
I have one last question about another role in your past. You played Dr. Charles' ex-wife on "Chicago Med." Do you have any good Oliver Platt stories?
Oliver Platt is an amazing actor. I can't tell you specifically about him, just what a gifted actor he is and how smart he is. I was a big fan of his because he did this film a long time ago, and I talked to him about that.
I was in awe of who he is as an actor. He's an amazing actor, and it was a pleasure working with him. Plus, it's an amazing show. I'm from Chicago, so it was amazing being able to do that show in my hometown.
Season 2 of "CSI: Vegas" airs Thursdays at 10 p.m. ET/PT on CBS.
This interview was edited for clarity.