Andor's Denise Gough Describes How Power Is A 'Dangerous Force' For Her Villainous Character - Exclusive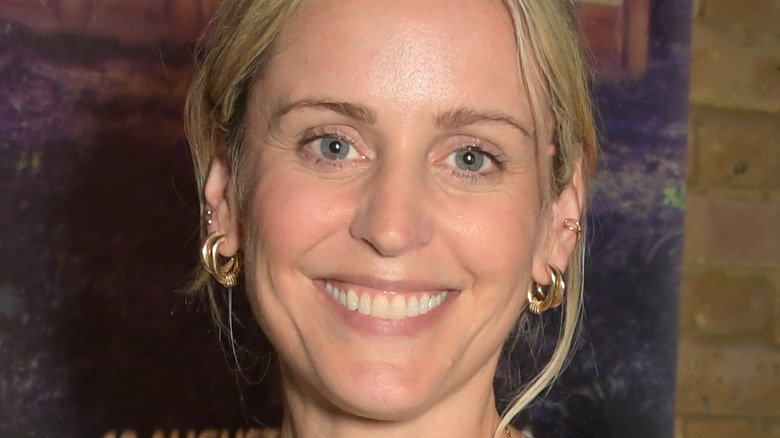 David M. Benett/Getty Images
For Denise Gough, there was nothing better than getting an empowering female role in the new "Star Wars" series "Andor" — that is, until she realized who the character was using the power for. Gough's character, Imperial Security Supervisor Dedra Meero, was introduced in Episode 4 of "Andor," where she faces the pitfalls of being in the vast minority as a female in the male-dominated structure in the Imperial Security Bureau. That isn't stopping Dedra, though, from speaking her mind to her superiors, and as a result, they're impressed by her keen sense of how Rebels are becoming an increasing threat to the Galactic Empire.
A prequel series set five years before the events of the 2016 blockbuster "Rogue One: A Star Wars Story," "Andor" is named for soldier-turned-spy Cassian Andor (Diego Luna). Cassian is one of the Rebel heroes in "Rogue One" who sacrificed his life while securing the plans for the Death Star that were delivered to Princess Leia, which showed a weakness in the Empire's ultimate weapon.
"Andor" not only examines the spark of the Rebellion with Cassian, Mon Mothma (Genevieve O'Reilly), Luthen Rael (Stellan Skarsgård), and Bix Caleen (Adria Arjona) — it also focuses on the deadly resolve of the Empire as it pursues its complete stranglehold of the galaxy. As such, fans are introduced to a number of new villains, including Meero and another Imperial officer, Deputy Inspector Syril Karn (Kyle Soller).
There's a difference between the two characters, however: Syril is conflicted and seems to have diminishing faith in the Empire. Meanwhile, Dedra, Gough told Looper in an exclusive interview, is "quite dark" and "divorced from empathy and compassion," and it's all rooted in her hunger for power.
Dedra's storyline shows that 'power and ambition has the same effect'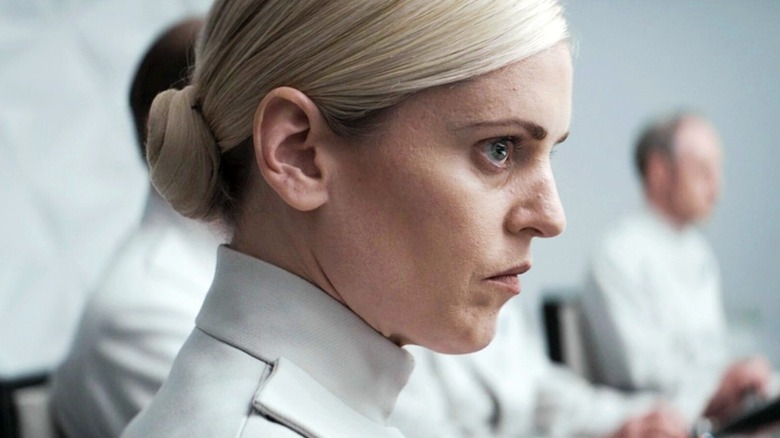 Lucasfilm/Disney+
While Dedra Meero is a woman rising in the ranks in a male-dominated hierarchy, Denise Gough is careful to point out that she's not really a person you should be rooting for in "Andor" since that hierarchy is evil. They are the Galactic Empire, after all.
"She's a woman in a man's world, and you sort of get behind her; you want her to succeed. But then you're faced with the reality that you're hoping that a woman will rise up in the ranks of a fascist organization," Gough told Looper. "What I love is that we're showing that the effect of power and ambition has the same effect, whether you're a man or a woman — and if you're coming from anything like what Dedra is coming from, which is a sense of lack and her need for control, then you can be a very dangerous force if you're given power."
As such, Gough said, she's really enjoying the character dynamic Dedra is presenting to her as an actor. "We're going to get to see a woman in that position so that we show that it's not a gender thing, it's a power thing. The pursuit of power from a place of lack is a dangerous venture for anyone. It can have super dangerous results," Gough observed. "Certainly, when I started reading the beginning, I was like, 'I want her to do well. Oh, no, actually I don't. She's bad. Is she bad?' But everyone has light and shade ... What you want to bring to a villain character is a sense of humanity, but for the grace of whatever [direction] you believe in going."
"Andor" is streaming exclusively on Disney+, with new episodes premiering every Wednesday through November 23.