Andor's Adria Arjona Recalls The Mind-Blowing Experience Of Joining The Star Wars Universe - Exclusive Interview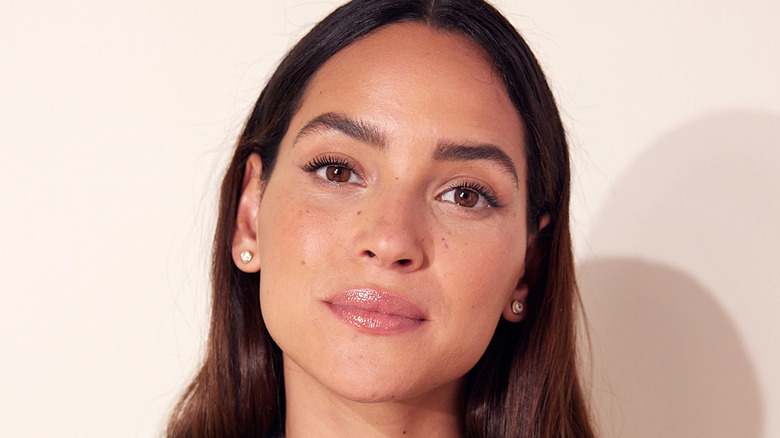 Corey Nickols/Getty Images
With such notable films as "Pacific Rim: Uprising" and "6 Underground" and TV series including "True Detective" and "Emerald City" already to her credit, actor Adria Arjona has taken her career to a whole new level in 2022. To start the year, Arjona starred opposite Jared Leto in the Marvel supervillain thriller "Morbius," which was followed by the HBO Max original film "Father of the Bride" with Andy Garcia and Gloria Estefan, as well as the streamer's series "Irma Vep" opposite Alicia Vikander.
Now, to top off the year, audiences will get to see Arjona in one of her biggest roles yet in "Andor," the latest series set in the "Star Wars" universe. Debuting on Disney+ on Wednesday, September 21, "Andor" is the prequel series to the 2016 worldwide blockbuster "Rogue One: A Star Wars Story." In the series, Diego Luna reprises his role as Cassian Andor, the soldier destined to join a group of rebels who sacrifice their lives to secure for Princess Leia a plan to blow up the Death Star. Among the characters new to the "Star Wars" universe in "Andor" is Bix Caleen (Arjona), a salvage mechanic who shares a cloudy past with Cassian, but also a clear disdain for the Empire.
In an exclusive interview with Looper, Arjona discussed her work with writer-director Tony Gilroy, her longtime affinity for "Star Wars," and how Luna was key in helping her settle into her surroundings set "a long time ago in a galaxy far, far away."
Arjona says Gilroy had a decidedly different audition process for a Star Wars project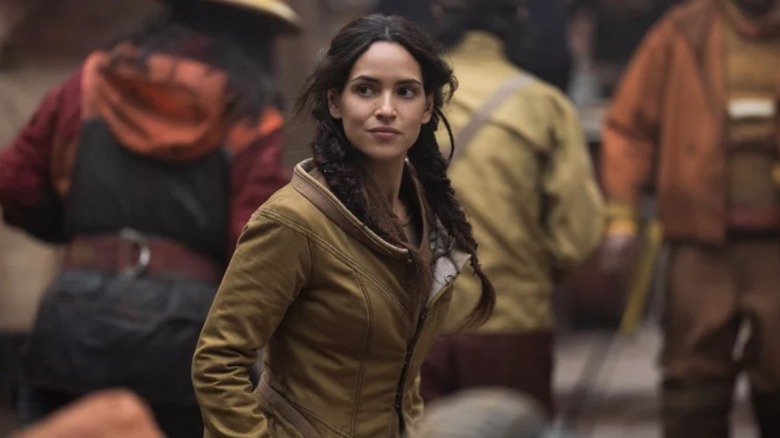 Lucasfilm/Disney+
When did it become apparent to you that you were auditioning for a "Star Wars" project and specifically Bix for "Andor"? With these high-profile projects, whether it be "Star Wars" or in the Marvel Cinematic Universe, sometimes actors don't know exactly what project they're auditioning for.
Tony Gilroy does things a little bit different, not only with the audition process but the show itself. You'll watch the show and be like, "Yeah. He does things different." He told me everything that my character was going to go through [in] the majority of the season, and he explained the scenes to me. I sent a self-tape knowing that it was "Star Wars" because it's evident and obvious to me, but by the time I met him, he was like, "Information is power. I want you to succeed," and that's amazing. 
He gave me that and gave me the information that I needed. I did [a scene] once and we finished the take, and he sends Diego [Luna] off and then looks at me and goes, "Well, welcome to 'Star Wars.'" My whole brain exploded. I was like, "This is 'Star Wars!'" [Normally, there are a larger] amount of protocols that goes into being cast. You get tested. The studio has to approve. Producers have to approve, and Tony was like, "No" — it wasn't a testament of my performance. It's more a testament to him. He's like, "I know that works. I want her," and I got it [after] about 5 minutes.
Was there a "Star Wars" fan inside of you who was jumping for joy after that?
I've been wanting to be a part of this universe forever. It's one of my biggest dreams of all time. Getting it was ... My whole body [was shaking] and I couldn't comprehend it. I was like, "Okay, now what do I do? Now I actually have to be in it!" and all the nerves started coming. I respect the universe so much. The second that you are in a "Star Wars" [project], you're part of cinematic history, and that takes a lot of respect.
Arjona and Luna were in the same 'state of exploration' with Andor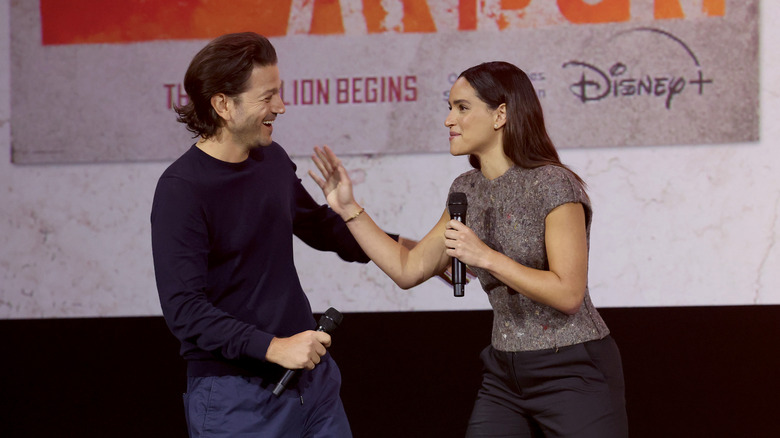 Jesse Grant/Getty Images
With "Andor" being the prequel series to "Rogue One: A Star Wars Story," how instrumental was Diego Luna coming from the film in helping you ground your character in this part of the "Star Wars" galaxy?
What was helpful about Diego was he already played Cassian before, [and with the series] he was exploring where he came from. He was working backwards. We were both in a state of exploration. I was starting to explore Bix and who she was, and trying to figure that out and puzzle that in my brain, while he was also trying to figure out the beginning or where Cassian was in that specific moment in history.
He was incredibly open, and he had been in my shoes before. He understood the nerves that I had, the pressure that I felt, so he was a really great guide. Even more than that, he was so Cassian. It helped with Bix being annoyed at the fact that he's coming back [in an early scene in "Andor"], and I was like, "Oh, not you again!" It was so him. 
There's an energy that shifts within Diego, and you can tell when you talk to him. He's so kind and sweet and gentle, and then with Cassian, he still has those elements, but it's so much more. He created this super complex character that he becomes. It's almost a transformation with what he does, and you're like, "That's Cassian." [Then once Tony yells 'Cut,' you go], "Oh, that's Diego." It's mind-blowing.
Also starring Stellan Skarsgård, Genevieve O'Reilly, Forest Whitaker, Kyle Soller, Denise Gough, and Fiona Shaw, "Andor" debuts with a three-episode premiere on Disney+ on September 21, with new episodes premiering every Wednesday through November 23.
This interview was edited for clarity.