Andor's Genevieve O'Reilly Reflects On Mon Mothma Past And Present - Exclusive Interview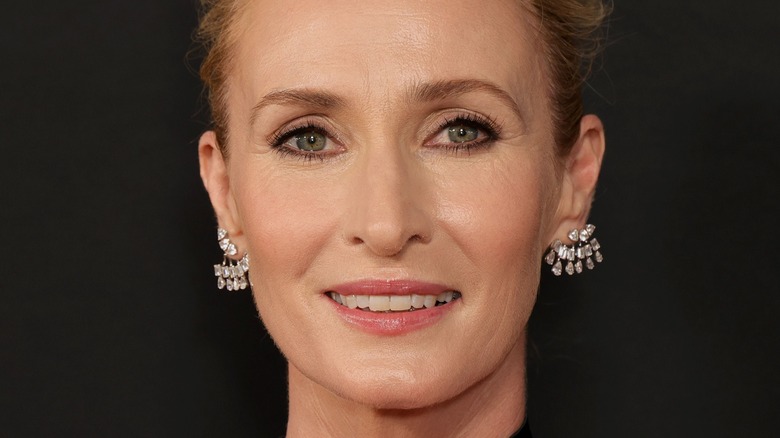 Momodu Mansaray/Getty Images
"Andor" star Genevieve O'Reilly has one of the most interesting histories in the "Star Wars" universe among series co-stars, considering she first played her character, the charismatic Rebel leader Mon Mothma, in "Star Wars: Episode III — Revenge of the Sith" in 2005. On top of that, O'Reilly has reprised Mon Mothma twice in live-action — first in "Rogue One: A Star Wars Story" in 2016 and now in its prequel series "Andor" — as well voiced the character in the 2016 animated miniseries "Star Wars: Go Rogue" and the animated series "Star Wars: Rebels" a year later.
The legendary role of the Imperial senator-turned-Rebellion leader was originated by Caroline Blakiston in "Star Wars: Episode VI — Return of the Jedi" before O'Reilly took up the mantle as the younger version of Mon 22 years later. Since that point, O'Reilly has had the rare opportunity to add more layers to the pivotal character, and with "Andor," she's been given her greatest opportunity yet to add more depth and complexity to Mon Mothma than fans have seen before.
O'Reilly is no stranger to the sci-fi genre, having kicked off her film career in 2003 with roles in "The Matrix" sequels "The Matrix Reloaded" and "The Matrix Revolutions." Since then, O'Reilly has appeared in nearly 40 screen projects in several different genres, including the BBC crime drama "MI-5," the Showtime comedy "Episodes," and the role of the titular character's mother in the Alexander Skarsgård adventure film "The Legend of Tarzan."
In "Andor," O'Reilly now stars opposite Alexander Skarsgård's father, Stellan Skarsgård, who plays Luthen Rael, a figure prominent in the formation of the Rebellion. In an exclusive interview with Looper, O'Reilly shared her thoughts about playing Mon Mothma once again, the character's trajectory in "Andor," and how "Star Wars" has been a part of her life since childhood.
Respecting the past while creating the future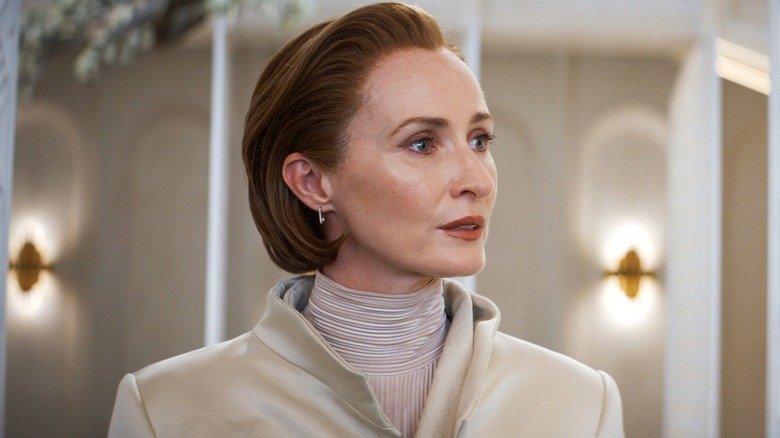 Lucasfilm/Disney+
Mon Mothma is such a revered character in the "Star Wars" universe, played by Caroline Blakiston in "Return of the Jedi." Now that you've had the opportunity to play her quite a few times, do you feel like you can properly take ownership of this role? Or do you feel like it's a shared responsibility for you and for Caroline?
I will always respect the work that was done by Caroline Blakiston and George Lucas to originate her. They created her back in 1983 in "Return of the Jedi." They wrote her and created her as a female leader of a Rebel Alliance — I think that is to be respected. I always am grateful for the opportunity to continue to explore her. I do feel like I know her now, and I'm grateful to flesh her out in a way that feels that the character is deserving of that. I'm thrilled that I get the opportunity to do that.
With "Andor," Mon Mothma is more prominent of a character in the "Star Wars" universe than ever before. Given the broadening of the character's story in the series, has your approach to playing her changed from the way you portrayed her in the films to now?
What "Andor" offers us is an opportunity to look at her in a completely different moment of her life than we've ever witnessed before. We have seen Mon Mothma previously surrounded by Rebels, often in a bunker, sending someone off on a mission. In "Rogue One," there is the Rebel fleet behind them, so there is an organized rebellion.
At this moment when we meet Mon Mothma, she is neck-deep in the Empire. She is working as a senator within the Imperial Senate. She is still trying to be a voice for democracy working within the system of government. When we meet her in "Andor," she's come to the end of the hope that there can be change. She's facing the wall of Palpatine's autocracy and realizes that she is a lonely oppositional voice, and so she must step outside that. She must risk everything that she has worked her life for, her career for, to stand up for what she really believes in.
Carrie Fisher made a huge impression on O'Reilly growing up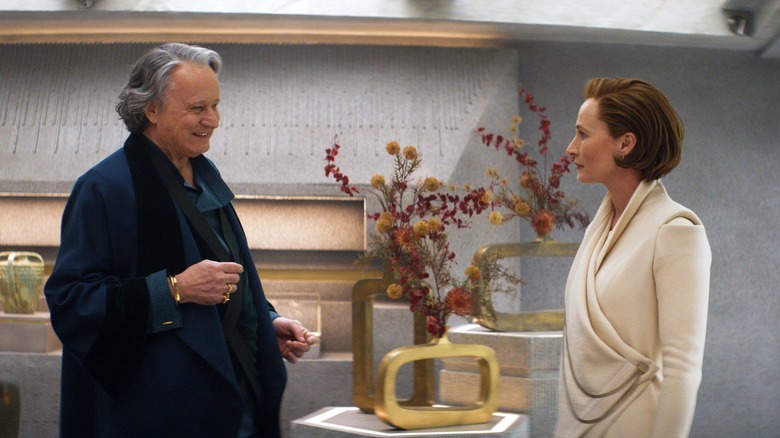 Lucasfilm/Disney+
Were you a "Star Wars" fan before all of this?
I was a child of the 1980s, so "Star Wars" is part of my pop-cultural references for everything. It's part of my childhood. I'm always nervous about calling myself a fan because the "Star Wars" fans really know "Star Wars." I appreciated it and I have a great appreciation for it as a story, as epic storytelling. But I would be nervous to call myself a fan because I don't know the minutiae of it all, and I know that George Lucas in tandem with a lot of other creators and writers have created intricate worlds and histories for these "Star Wars" characters.
But yes, it was a big part of my upbringing. The first "Star Wars" film I saw was "Return of the Jedi," and I remember Carrie Fisher as Princess Leia with the gun on her hip in those cargo pants, fighting. She was an extraordinary role model for me as a kid growing up. It was wonderful to see a woman like that ... It's part of my storytelling history as much as anyone who has grown up since George Lucas created "Star Wars."
Created by Tony Gilroy and also starring Diego Luna, Adria Arjona, Forest Whitaker, Denise Gough, Kyle Soller, and Fiona Shaw, "Andor" is streaming exclusively on Disney+.
This interview was edited for clarity.