Andy Reid Joins Patrick Mahomes In Hilarious New State Farm Commercial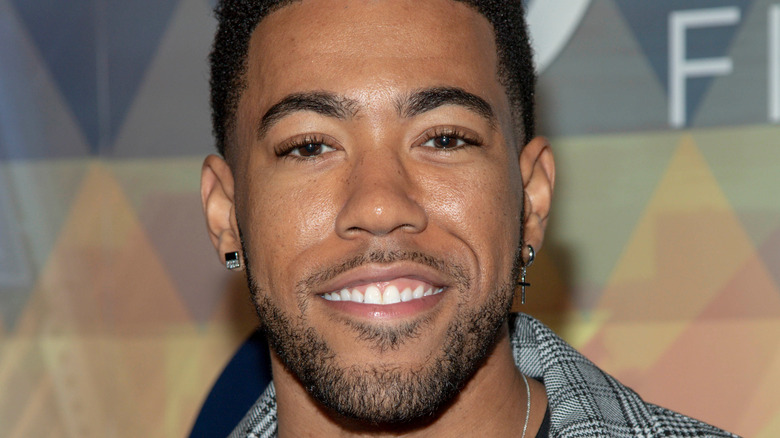 Eugene Powers/Shutterstock
Commercials from State Farm have been popular for quite some time now. The insurance company owes this, of course, in part to the "Jake from State Farm" original ad that they aired back in 2011. Since that time, actor Kevin Miles has taken over as Jake from Jake Stone, the actual State Farm agent that responded to a casting call to land the role and his iconic line about wearing khakis (via The Pantagraph). Naturally, State Farm took the idea of the character Jake being their spokesperson for the company and ran with it, although they wanted a professional actor to lead them in the right direction — which is where Miles came in. He told Forbes in 2021 that he was actually sleeping in his car and "obsessively" applying for acting gigs in features, television, and commercials before getting a callback as Jake.
Fortunately, Miles landed the gig and has been Jake from State Farm since 2020, appearing in many commercials alongside some of the most famous music artists, actors, and athletes in the world. Miles has appeared in ads alongside Drake, Paul Rudd, Green Bay Packers quarterback Aaron Rodgers, and Kansas City Chiefs quarterback Patrick Mahomes. He and Mahomes worked together recently on "Bath Bomb," a 30-second ad promoting the insurance company's Personal Price Plan while Mahomes reveals that he hilariously takes ice baths with multiple bath bombs and a saxophonist.
However, Mahomes and Miles are back again for a new State Farm advertisement promoting the Personal Price Plan, now with Kansas City Chiefs head coach, Andy Reid.
Andy Reid appears alongside Patrick Mahomes drawing mustaches in State Farm advertisement
Although State Farm hasn't officially dropped its new advertisement on its YouTube channel yet, it has been airing on television for a little while now. Courtesy of u/PaulHBK on Twitter, viewers can watch it over and over again, and any fans of NFL football may be able to recognize Kansas City Chiefs head coach Andy Reid as the star of the ad. In the commercial, Reid appears alongside Jake (Kevin Miles) on their team plane. Reid tells Jake that he wants the Personal Price Plan from State Farm, and in order to prove that he's personal with his team, he shows Jake that he draws mustaches on his players while they sleep. Jake replies that he doesn't need to get that personal to qualify, and quarterback Patrick Mahomes walks up at the same moment, revealing his curly Sharpie mustache.
Mahomes doesn't know that it's Reid who's doing it, informing him that it happened again, and Reid hilariously tosses the Sharpie away, explaining that he'll get to the bottom of it. Given that the NFL season is completely underway, it's likely that fans might get more State Farm advertisements featuring Mahomes, Reid, and other NFL players and coaches this fall.