The Ending Of Reservation Dogs Season 2 Explained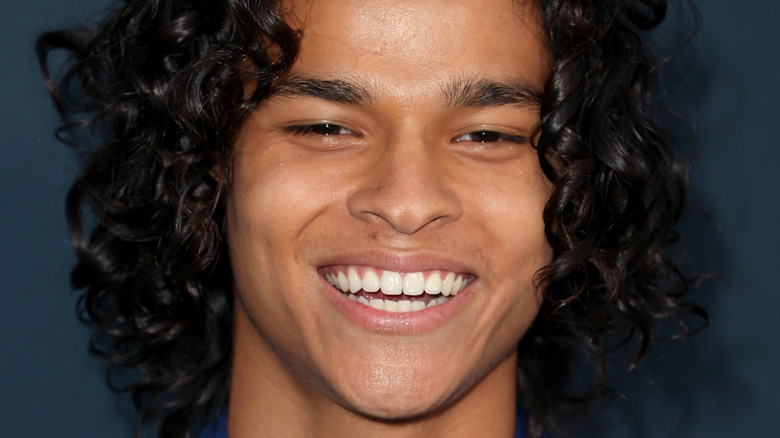 Kevin Winter/Getty Images
The second season of groundbreaking FX-Hulu series "Reservation Dogs" concluded to rave reviews, receiving a rare 100% from critics on Rotten Tomatoes. Created by an almost entirely indigenous cast and crew, the show is the first of its kind to weave Native American humor into the fabric of modern reservation life, delivering a uniquely powerful comedy-drama. Indigenous populations are certainly under-represented in the film and television industries. However, Taika Waititi, a filmmaker with a respectable track record when it comes to representation, is partially responsible. His co-creator is new filmmaker Sterlin Harjo, and together they made a beautiful second season of television. The finale, titled "I Still Believe," contains a poignancy and a sense of closure that wouldn't feel out of place in a series finale; however, as "Reservation Dogs" has already been greenlit for a Season 3, the onscreen adventures of Oklahoma's Rez Dogs are continuing for the foreseeable future.  
The ending of "Reservation Dogs" Season 2 is filled with powerful subtext and symbolism communicating themes of grief, community, and letting go of a painful past to move forward. It successfully communicates a message needed in communities across the U.S. and world — some grief never goes away, but when we participate in healing as a community, we find meaning in ourselves and experiences.
Spoilers ahead for both seasons of "Reservation Dogs." 
Elora gains independence through community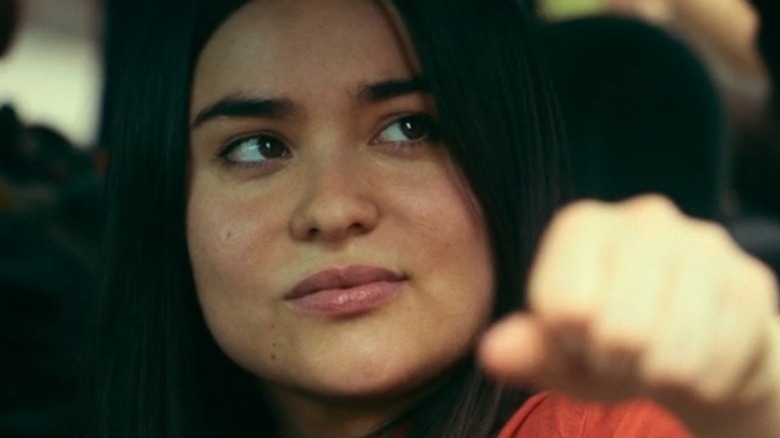 FX/Hulu
At the beginning of Season 2, Elora (Kawennáhere Devery Jacobs) longs for independence, desperate to escape the stasis of reservation life by fleeing to California. Until this point, Elora's identity relies on others: her friends, family, and heritage. She's afraid to trust anyone and rejects the safety of familiar ties. She steals from her closest friends and family on the way out, only to return home with a new identity — that of a person who is no longer trustworthy.
Elora's arc is all about balancing accountability to others with accountability to herself; her reasons for leaving were not all selfish, and her distrust of the Rez Dogs' maturity (or lack thereof) is valid. She longs for adulthood and sees the way reservation life can stunt development. Elora's trying to grow up and take responsibility for herself without harming those around her in the process, and she redeems herself by the end of Season 2. The Rez Dogs repair their ruptures and Elora gets a second chance to do things right. She and Jackie steal another car, this time with the help of the group. Elora gains her independence by working with those closest to her instead of doing everything herself. 
Elora redeems herself at a believable and patient pace, shifting her motivations from individual gain to collective good. She comes to accept each person in her life for their unique strengths and experiences, and the power of those individuals forming a whole.
Bear grows up and lets go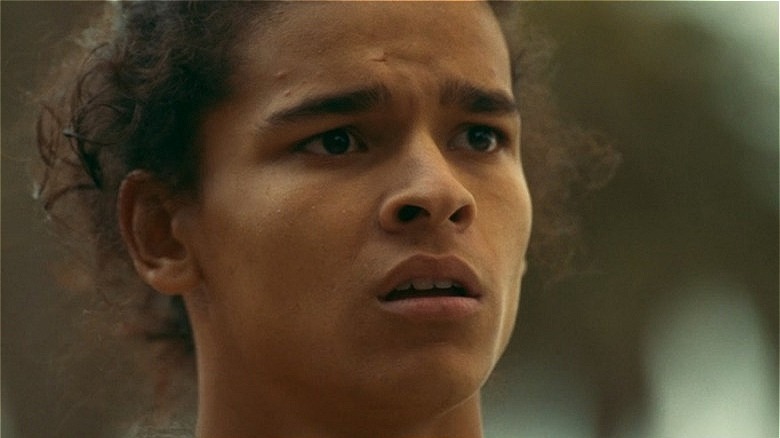 FX/Hulu
At the beginning of Season 2, Bear (D'Pharaoh Woon-A-Tai) is reeling from the sting of Elora's abandonment. He's angry and determined to prove he's an adult, seeking identity in his budding manhood via a roofing job. He quickly finds that it's hard to be one of the guys without instruction and that's not his fault — it's his dad's fault for being an absentee jerk. The roofers take him under their wing, attempting to fill the void where Bear's father figure should be by teaching him masculinity and vulnerability are interconnected. Bear learns to grow past his resentments by gaining compassion for the suffering others go through.
By the end of Season 2, he's leading the charge on letting go and moving into the unknown. He advocates for going to California and suggests releasing Daniel's letter into the ocean. Even though every obstacle stands in his way, Bear forges ahead. He doesn't get to release the letter as hoped, but he releases something more significant — his anger at those who left him behind, and the pain he's carried ever since. He says he wants to stay in LA, fully confident in his abilities to learn along the way.
Willie Jack goes from spite to spirits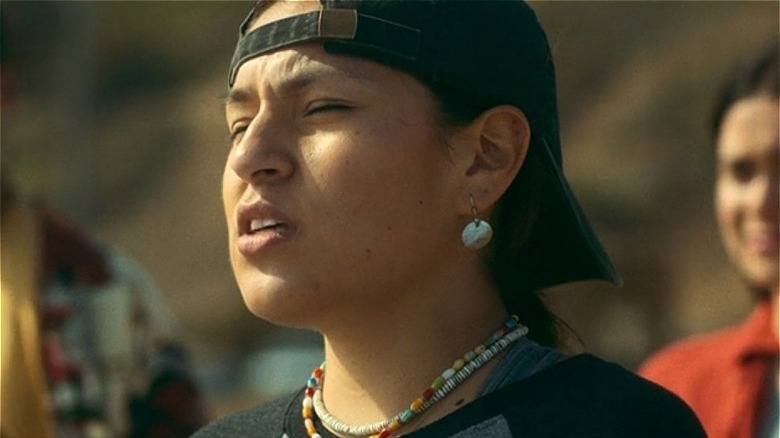 FX/Hulu
Willie Jack (Paulina Alexis) begins Season 2 resentful toward Elora and Jackie (Elva Guerra). Family is important to Willie Jack, and when her connections are severed, she shuts down. Willie Jack can be a closed book, curtly expressing emotion in short, to-the-point insights. Her character arc is learning that gaining control of her overprotective nature allows her to tap into her intuition, and she is not solely responsible for protecting those she loves.
Willie Jack's arc carries her through spite and anger to facilitating peace. In the process, she comes into her own identity as a spiritual being, guided by the love and voices of her ancestors. She sees a bigger picture than the rest of the group, and she uses that vision to guide her as she brings the Rez Dogs together to heal. She knows her strength is a gift to be shared, and by the end of Season 2, she is solidly connected to her friends, family, self, and ancestors.
On the beach, Willie Jack sings a few lines of a personalized version of Tom Petty's "Free Fallin'" for Daniel, in her own way channeling the hymn he might have wanted. She's willing to guide Elora through her fear of stepping into the ocean and metaphorically letting go of Daniel. Willie Jack has a calm, patient, grounding energy by the end of Season 2 and it radiates to those around her.
Cheese speaks for the Reservation Dogs' hearts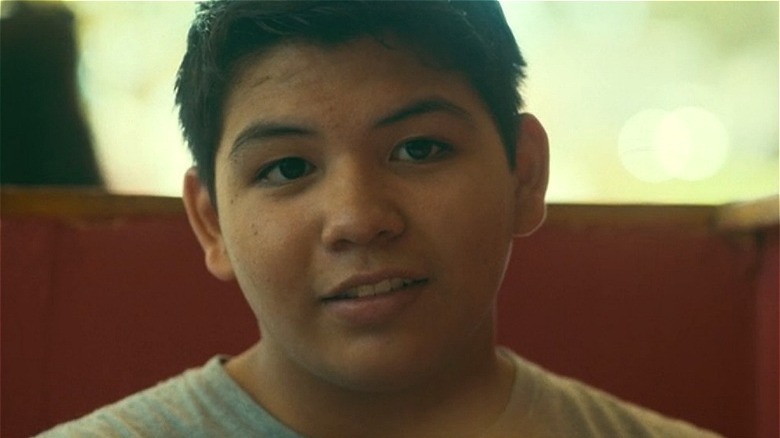 FX/Hulu
Cheese seeks a sense of belonging throughout Season 2. He's abandoned by Elora and isolated from Bear and Willie Jack in his lack of anger and resentment, fending for himself. Cheese is deeply empathic to those around him, especially people society forgets about, such as the elderly woman he befriends at the clinic who eventually becomes his grandmother. His empathy stems from being the odd one out in most situations on the reservation. Cheese has no parents, but he gets along with adults, and is sharp as a tack, intellectually and emotionally.
Cheese is the heart of the group. He works hard to offer love and acceptance to others through his thoughtful language and casual vulnerability, persistently paving the way to discuss pronouns and identity in his conversations despite how unaccepting others may be at first. When he spends time in a nightmarish juvie home, he risks his own safety to show love and acceptance to his fellow inmates — or "housemates" — altering toxic dynamics most people would accept as unchangeable for the better. His openness and consideration impact the people he meets deeply.
By the end of "Reservation Dogs" Season 2, Cheese uses his strengths in a charmingly nerdy, gender-neutral prayer, voicing the emotional experiences of Elora, Bear and Willie Jack as they grieved Daniel. The qualities that isolated Cheese from his peers for so long are the very qualities that endear him to the group: his huge heart and insightful empathy. Cheese learns belonging is not defined by those who stick around; it's defined by those he chooses to be with.
Kenny Boy becomes an unlikely ally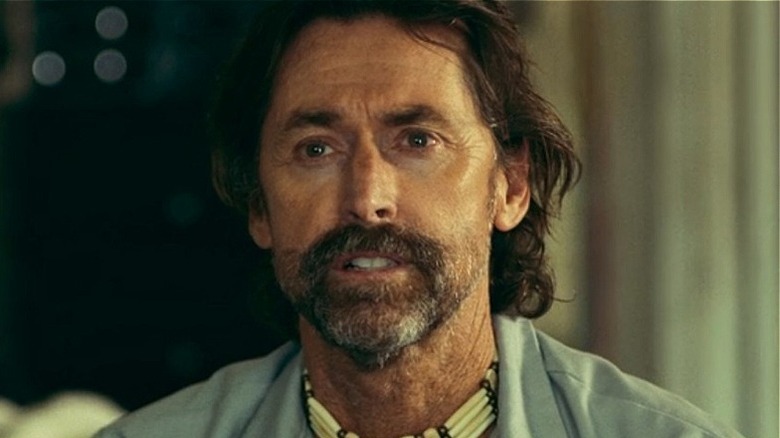 FX/Hulu
Arguably the most surprising character arc of Season 2 is that of Kenny Boy (Kirk Fox). His willingness to give the Rez Dogs a car at the end of Season 2 stems from his unlikely partnership with Officer Big (Zahn McClarnon) earlier in the season.
In Episode 8, "This is Where the Plot Thickens," the show hits gold by combining these characters, some psychedelics, and a scary white person cult that does unspeakable things to catfish in the woods. Both characters live in extremes and learn to meet on middle ground. Officer Big overcomes his uptight nature by releasing his guilt over Cookie's death. Kenny Boy learns how to genuinely support and respect the indigenous culture he admires, finding joy in contributing to the greater good and connecting with his own sense of integrity. The moral compasses of Big and Kenny Boy are surprisingly aligned, and we hope to see more of them together in Season 3.
Grief is not linear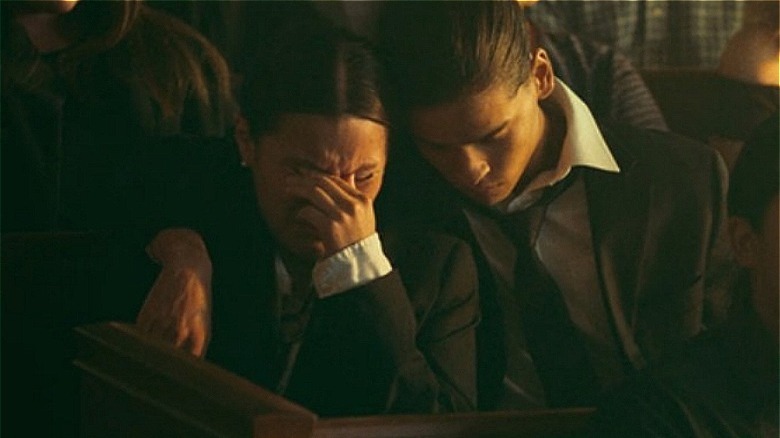 FX/Hulu
"Reservation Dogs" artfully explores the devastating community fallout that can occur when someone takes their own life. Suicide is a difficult subject to broach — it can be triggering, and many shows fail to approach heavy content with the tact needed to respect lived experiences of viewers and the trauma they may carry. However, "Reservation Dogs" handles the subject with deft, care, and endless compassion.
The odds that viewers are affected by grief and suicide are higher than ever; according to the National Institute of Mental Health, suicide was the 12th leading cause of death overall in the United States in 2020. The risk is even higher for the Rez Dogs; according to the National Alliance on Mental Illness, suicide is the second leading cause of death among American Indian and Alaska Native youth ages 8 to 24, and American Indian and Alaska Native youth aged 10 to 24 have the highest rate of suicide of all demographic groups.
"Reservation Dogs" Season 2 carefully outlines the many ways different people cope and move forward after loss, giving viewers a huge array of ways to understand themselves and one another. The show takes great care to respect every angle of the situation, never disparaging Daniel or the living for their struggle to accept his death. It also goes much farther than most stories about suicide, allowing each character's arc to depict another side of grief: the love, joy, humor, and connections that lead to healing. 
If you or anyone you know is having suicidal thoughts, please call the National Suicide Prevention Lifeline​ by dialing 988 or by calling 1-800-273-TALK (8255)​.
Letting go and moving on together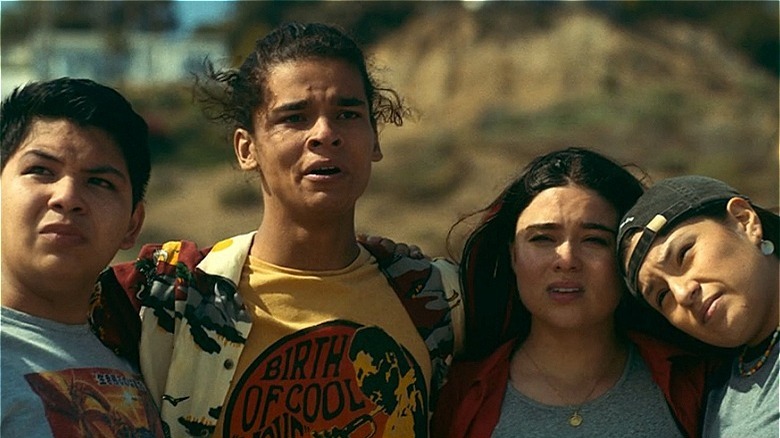 FX/Hulu
Season 2 of "Reservation Dogs" moves beyond the first season's direct exploration of trauma and anger at the past, instead finding ways to highlight the challenges of acceptance and moving on in the present. It depicts the complicated truth of post-traumatic growth with kindness and care as each character learns to understand how their suffering fits into their lives now and in the future. Post-traumatic growth is a complicated subject; the theory that people can grow stronger from trauma comes with its own baggage, and it's easily used to reinforce that "what doesn't kill you makes you stronger" tough-love-without-empathy rhetoric that drives many folks to hopelessness in the first place.
This season does an incredible job depicting the process of rejoining the world after an unspeakable loss. Grief is not a linear experience; it seems to stop time and the world from turning, and it's hard to grasp that life just keeps going on anyway. At first, the world is filled with painful reminders of those we've lost. Acceptance feels like a betrayal, and the love for that person feels stagnant and toxic with nowhere to go.
However, the end of Season 2 symbolizes that acceptance and letting go doesn't mean the loved one disappears — as the Rez Dogs stand in the ocean, Daniel (Dalton Cramer) is there. It's the only time we see Daniel outside of a flashback, meaning the pain of his memory no longer blocks the Rez Dogs from accepting him as he was. By letting go and accepting Daniel's death, they're free to funnel all the love Daniel brings them into their present realities and one another.
The power of community and acceptance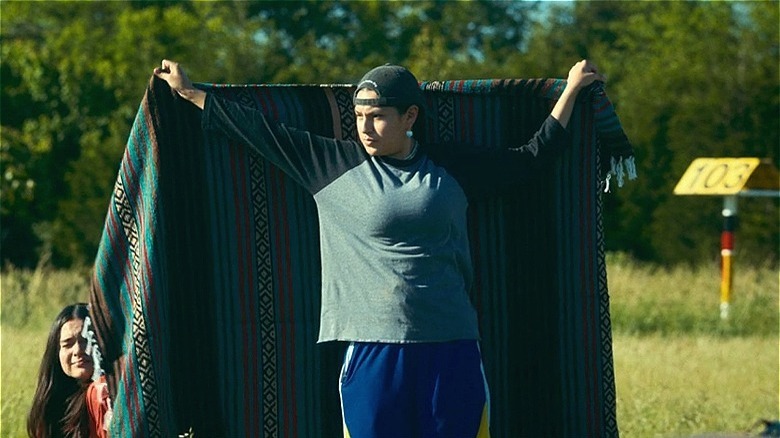 FX/Hulu
Season 2's ending sends a clear message — community is the way forward. When we're close to those we love, we're close to those we've lost. When the Rez Dogs finally step into the ocean, Daniel is there with them. The love they share means Daniel is alive within them, and the moment is gorgeous, cathartic, and certainly in the running for the most memorable television scene of 2022. Bear, Elora, Willie Jack, Cheese, and Daniel huddle into a hug in the ocean spray, smiling and laughing in a way that hits deep — we've never seen them this happy. The group savors the moment with their friend's spirit before it's just the four of them, all changed. The group, newly filled with peace, quietly look out into the unknown. The ending gives a sense that each character has a newfound equilibrium unlike anything since Daniel's death.  
The ocean and the beach are thresholds of change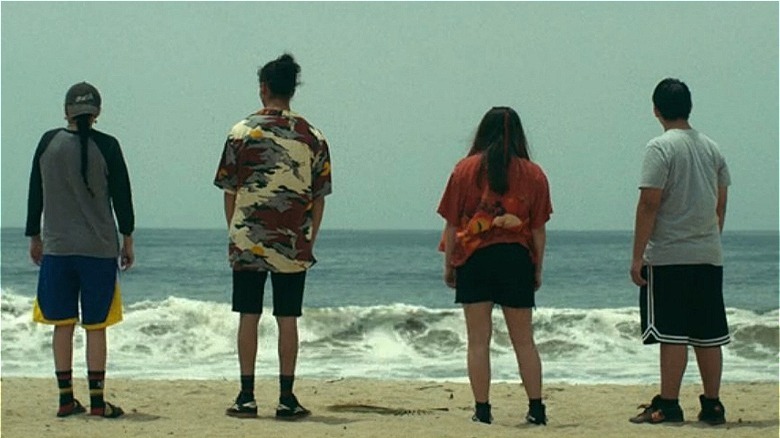 FX/Hulu
The ocean is a recurring theme in "Reservation Dogs," representing the unfamiliar, unknown world outside the reservation. The Rez Dogs spend the entire show unsuccessfully attempting to go to California, and finally succeed when they band together as stronger, more mature people.
Bear is ready to welcome the unknown, saying, "Let's get all the way in." Elora is frozen to the beach. She says, "I'm scared of what's in there." Willie Jack is ready to move forward, and lovingly offers a hand to Elora with a characteristically blunt, "F*** man, me too bro. I won't let you drown."
The last shot of the Rez Dogs in Season 2 shows them running together along the beach, splashing through shallow waves as they reach the shore. The ocean represents the unknown, while the beach represents the familiar. The scene represents that the Rez Dogs are together on the border of the land they know so well, and the promising and vast world outside their experience.
It's a cruel colonized world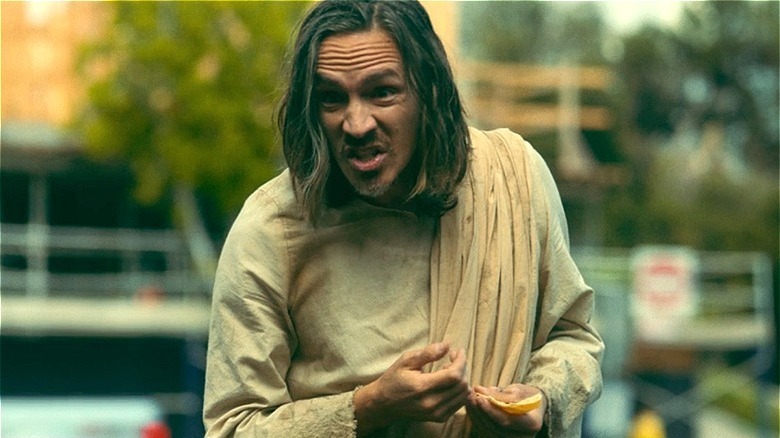 FX/Hulu
Season 2 of "Reservation Dogs" uses disarming yet pointed humor to express the devastating impacts of colonization on the lives of indigenous people. No matter how hard the Rez Dogs work to put together resources to leave, they end up back at square one, broke as ever. Their money is stolen multiple times, and their car and money are stolen the second they let their guard down at the end of Season 2. The world is unsafe, inhospitable, and constantly takes without giving back. All they really have is each other.
Yet people can be kind when it's least expected. Take Kenny Boy — Jackie and Elora assume they have to steal a car from him to get to California, only to have him willingly let them borrow one as a means of reparations. Kenny Boy's arc from centering himself to centering his community represents the real potential for grappling with the United States' dark past. Growth, reconciliation, and equity are possible when people understand and respect each other's unique experiences and culture.
White Jesus (Incubus lead singer Brandon Boyd) is an absolutely delightful metaphor of a character at the end of Season 2, displaying the same bait-and-switch tactics employed by colonizers throughout history: overconfidence, misguidance, and betrayal (intended or not). Lost and hopeless after their car is stolen, the Rez Dogs choose to follow White Jesus to the beach. White Jesus seems benevolent yet leads them into danger, only to disappear when needed the most. The difference between intent and impact is clear; maybe White Jesus means well, but that won't stop the LAPD from abusing folks. The group is far from shocked, and Cheese sums it up with one killer line: "He'll forever live on in our hearts."
Reservation Dogs is unique on and off camera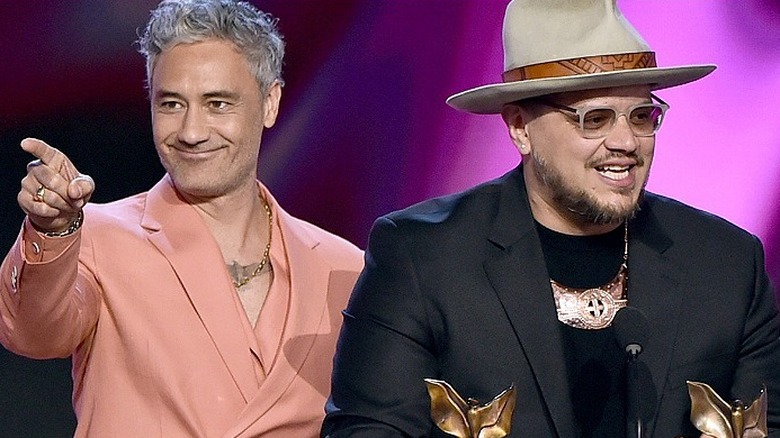 Alberto E. Rodriguez/Getty & undefined
"Reservation Dogs" is exceptional on and off screen, not only capturing authentic indigenous life but also supporting it through hiring an all-indigenous cast and crew. As it happens, the writing team added K. Devery Jacobs to their ranks for Season 2. In a Deadline interview, co-creators Sterlin Harjo and Taika Waititi shared how they created this fresh take on Native American life. 
"I couldn't be more proud of this show that I created with my friend Taika Waititi," Harjo said in a Bustle interview. "It was born out of a conversation in Taika's kitchen, and has now made its way into the lives of people across the world. The love for Season 2 has been outstanding."
Harjo and Waititi met in 2005 at Sundance Labs and immediately hit it off. Both were indigenous artists (Harjo is a Seminole-Muscogee Creek filmmaker from Holdenville, Oklahoma and Waititi is a Māori and indigenous filmmaker from New Zealand) and both were working on projects about their experiences that rectify false cultural perceptions of indigenous life.
"That's really an important thing for both of us, to get rid of the stereotypes that threaten to keep us stuck in time," Waititi said. "We just want to show people that our cultures are alive and thriving. We are still here. We're not just relegated to these images that you see in other movies and Westerns, where people assume Native Americans wear traditional clothes and ride horses and fight cowboys. That's just one tiny part of a people's history. It's way richer than that."
When can we expect Reservation Dogs Season 3?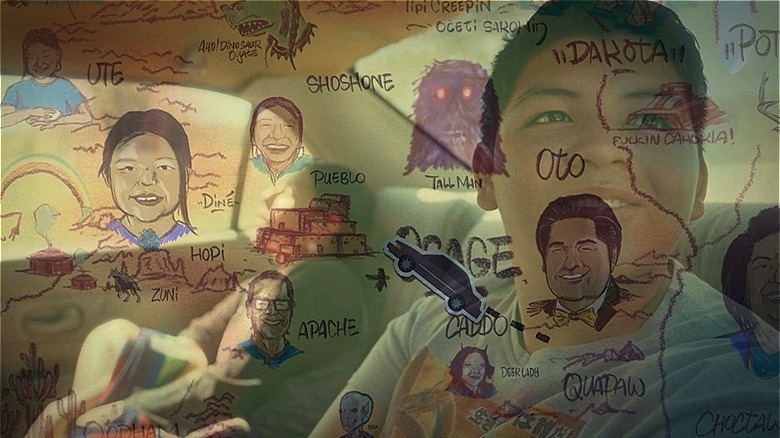 FX/Hulu
There's no official airdate for Season 3 of "Reservation Dogs" yet, but Season 1 and 2 premiered in August of 2021 and 2022, respectively, so it's possible Season 3 will follow the same pattern. But what can we expect in Season 3 from a show that subverts our every expectation? It's hard to say — the show surprised us in Season 2 with character-specific episodes that held our rapt attention just as much as Season 1's ensemble formula. Every side character could have their own spinoff, and one show doesn't feel nearly big enough to contain all the potential storylines. Perhaps Elora hunts down Kenny Boy's stolen car in LA, Cheese and his adopted grandma build their life together, Bear reconnects with his dad and grows in LA, and Willie Jack dives into the world of spiritual connection (hopefully crossing paths with Bear's guiding spirit). 
No matter where the plot goes, Season 3 of "Reservation Dogs" is likely to offer new perspectives into the authentic lived experiences of America's indigenous people.
"I think portraying Indigenous communities in this way is very new," Waititi said. "What we tend to get portrayed as is someone running their hands through the wheat grass and getting their answers from the wind. I've never done that. I don't know any ghosts, and I don't talk to trees."