Taika Waititi Explains His Vision For Representation In Thor: Love And Thunder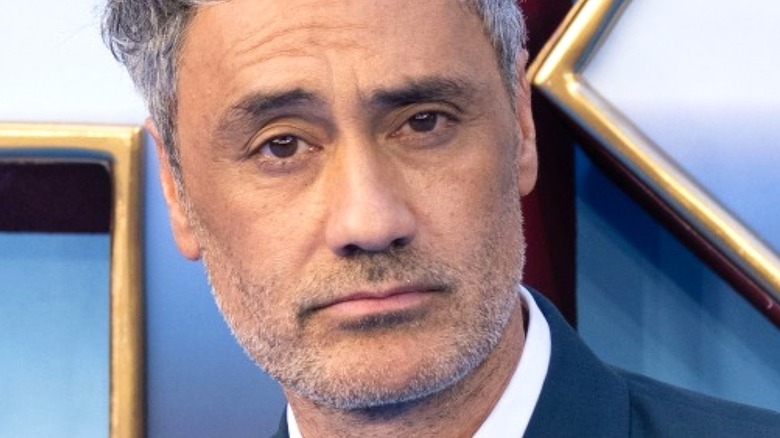 Jeff Spicer/Getty
One of the big watchwords for film and television these days is "representation," and Disney has been trying to improve the diversity of the Marvel Cinematic Universe for a while now. Superheroes who don't fit the demographic model for such characters that was established back in the 1930s and '40s only make sense for today, and fans have been watching these projects closely to determine and discuss whether Disney's efforts to shake up the status quo have been successful.
As it turns out, Taika Waititi, the filmmaker behind MCU installments "Thor: Ragnarok" and "Thor: Love and Thunder," has his own vision for what representation should look like in these movies. He recently elaborated on his ideas in an interview to promote "Love and Thunder." While giving his thoughts, he also revealed that his approach towards traditionally marginalized characters in that film extends to his work outside of the MCU as well — including the HBO Max pirate comedy "Our Flag Means Death," which he executive produces and co-stars in. 
Waititi says he wants to normalize queer characters in mainstream entertainment
From a representation standpoint, one of the highlights of the God of Thunder's (Chris Hemsworth) latest adventure is the characterization of Valkyrie (Tessa Thompson), who is canonically bisexual in the comics. Before the film's release, Taika Waititi stated his support for exploring Valkyrie's sexuality in "Thor: Love and Thunder." 
In a more recent sitdown with IndieWire, Waititi talked about his efforts to introduce queer characters and relationships into projects like "Our Flag Means Death" and his latest MCU outing. "What I love about [Our Flag Means Death] is that it's so normalized. No character ever says, 'I can't believe they're gay,'" said Waititi, adding that he was interested in the portrayal of the concept that "it's just a given that there's queerness on the high seas."
Similarly, he wanted the sexuality of characters like Valkyrie and Korg (Waititi) in "Love and Thunder" to be seen as no big deal within the narrative of the film. "It's the idea that these things just are, in a Marvel film, in a mainstream film that young, queer people will see," shared Waititi. "No one bats an eyelid and there's no monologue about it. Nobody ever stands up and says 'This is OK!' It just is OK. I think that's very important."
Now, it's up to the fans to discuss whether the latest "Thor" adventure lives up to Waititi's stated vision of representation in movies and TV.