Every Frasier Season Ranked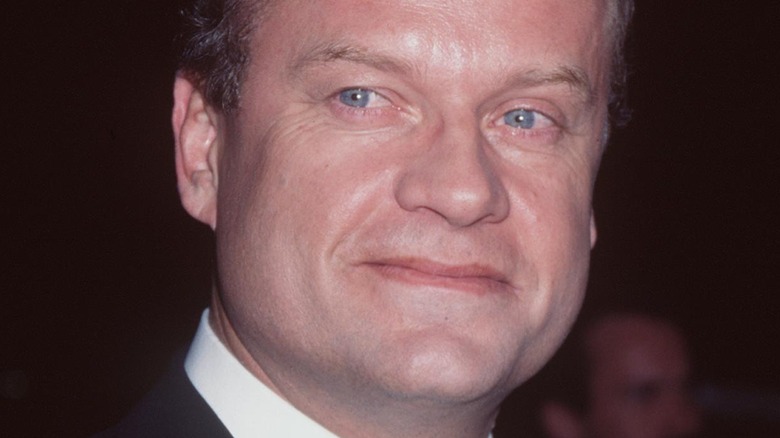 Brenda Chase/Getty Images
"Frasier" ran for 11 seasons on NBC from 1993 to 2004 while racking up an enormous amount of award nominations (including 107 Emmy nominations and 37 wins) during its time on the air. This spinoff of "Cheers" follows psychiatrist Frasier Crane (Kelsey Grammer) as he moves from Boston to his hometown of Seattle after his divorce from Lilith (Bebe Neuwirth) to start a new job as a radio show host. Once in Seattle, he reconnects with his neurotic brother Niles (David Hyde Pierce), a fellow psychiatrist, and reluctantly agrees to have his retired cop father, Martin (John Mahoney), move in with him. Recently injured on the job, Martin requires a physical therapist, which leads Daphne Moon (Jane Leeves), a quirky Brit, to move into the apartment as well. Rounding out the main cast is confident single woman Roz Doyle (Peri Gilpin), Frasier's radio show producer.
As mentioned above, the show ran for 11 seasons and produced a whopping 264 episodes — which is a lot of content for fans to watch and, likely, rewatch. Many will agree that "Frasier" proves to have consistently sharp and hilarious writing throughout, but some seasons are bound to be better than others. So, looking back at the 11 seasons of "Frasier," which one outranks all of the others — and which ones don't quite hold up to the rest?
Here's our ranking of every season of "Frasier" from worst to best.
11. Season 9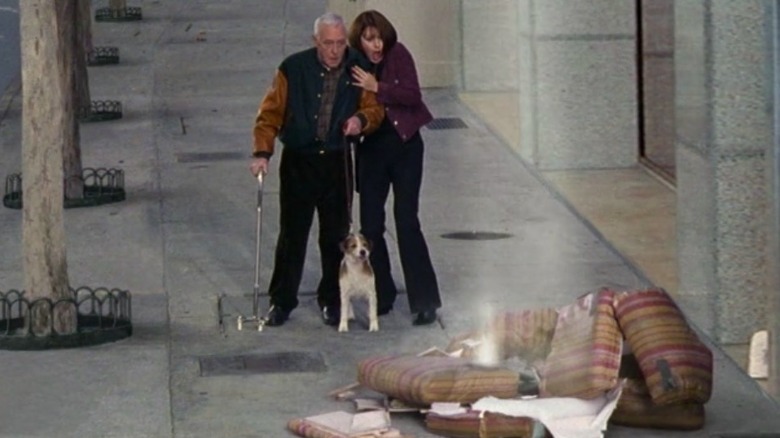 NBC
The most ardent "Frasier" fans likely know which season classic episodes such as "The Ski Lodge" or "The Two Mrs. Cranes" fall into (Seasons 5 and 4, respectively), but it may be harder to name one from Season 9. Only one episode from Season 9 pops up on IMDb's 50 top-rated episodes of the series — and it's all the way at number 46. That is Episode 4, "The Return of Martin Crane," which sees Martin having flashbacks to the day that he got shot on the job before returning to work as a security guard. The episode gives Mahoney a chance to show off his acting chops, which may be the reason it ended up on the list.
Aside from "The Return of Martin Crane," notable episodes of Season 9 include "The Two Hundredth" (which is not only the show's 200th episode but chronicles Frasier's 2,000th episode of his radio show), as well as "Mother Load: Part 1" and "Mother Load: Part 2" (which see the return of Daphne's mother Gertrude, played by Millicent Martin).
However, the funniest episode of the season is easily Episode 7, "Bla-Z-Boy." After discovering that Martin has officially been living with him for eight years, Frasier begins to act out against his father because of his insecurities involving his lack of a love life when Daphne and Niles joke that he and Martin are like a married couple. This culminates in Frasier accidentally knocking Martin's prized chair off the balcony, destroying it. Luckily, the two make up when Frasier pays an exorbitant amount of money to have it remade from scratch.
10. Season 8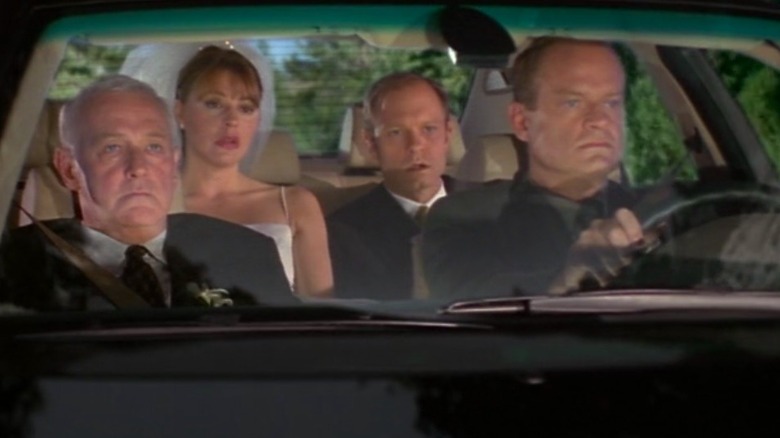 NBC
Season 8 marks the first season in which the show's will-they-won't-they couple Niles and Daphne finally get together, following the end of Season 7 in which Daphne called off her wedding to Donny (Saul Rubinek). The couple faces multiple hurdles — including Daphne's unexpected and significant weight gain. After going to a weight spa, she reveals that her therapist speculated that the weight gain had to do with living up to Niles' expectations.
In reality, Levees became pregnant and the writers opted to cover it up with a weight gain rather than write a pregnancy into the plot (the timing certainly didn't make sense for Daphne to be pregnant). This decision led to mixed reactions — CheatSheet labeled it "cringeworthy," for example. On Reddit, fans were divided over the storyline, with some calling the jokes about her weight offensive and others praising the writers for avoiding a pregnancy storyline that wouldn't have made sense. Ultimately, the fact that the weight plot has such mixed reviews hangs over the season.
Season 8 is not without its triumphs, however. We get to see the hilarious camping trip that Frasier drags Frederick (Trevor Einhorn) and Martin on in "Cranes Unplugged." Beyond that, there is the episode in which Niles shockingly makes a shot at a Seattle Supersonics game after his seat number is drawn for a half-time moment in "Hooping Cranes." Plus, this season boasts the iconic moment when Frasier yells, "I am wounded!" 
9. Season 10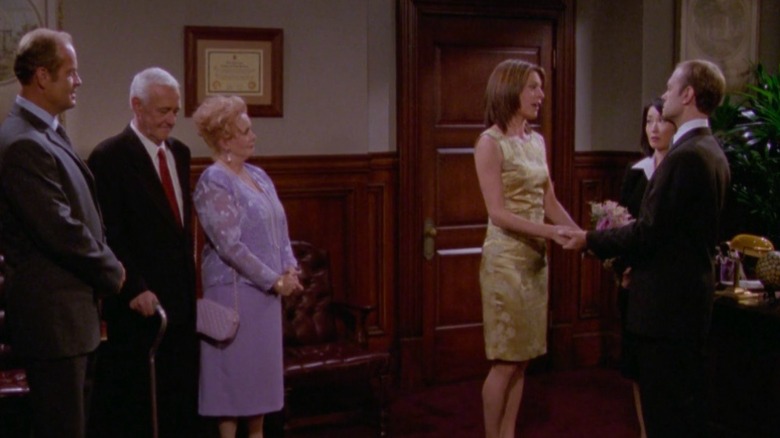 NBC
Season 10 certainly gets off to a great start. "The Ring Cycle" sees Daphne and Niles eloping after deciding they want to be married as soon as possible — only to hilariously pretend to get married for the first time twice more to appease various family members. The second episode, "Enemy at the Gate," has Frasier take a stand in a parking lot when he protests having to pay the minimum fee when all he did was enter and then turn around — much to the chagrin of Niles and the many drivers who find themselves backed up behind them.
Highlights of the season include "Star Mitzvah," in which Frasier gives a speech at Frederick's bar mitzvah in Klingon, thinking it's Hebrew, and "Daphne Does Dinner," where Daphne's attempt to host a dinner party fails miserably. There's also the rare episode with a more serious tone, "Rooms with a View," in which Frasier, Daphne, Martin, and Roz await anxiously in the hospital while Niles undergoes heart surgery.
There are also some more forgettable episodes in this season, such as the one where Zooey Deschanel shows up as Roz's party girl cousin Jen in "Kissing Cousin" or the one where Dr. Phil shows up in one of the less fitting celebrity cameos in "The Devil and Dr. Phil." Season 10 is also the season that introduces Julia (Felicity Huffman) into the mix — who many fans on Reddit agree is their least favorite love interest of Frasier.
8. Season 2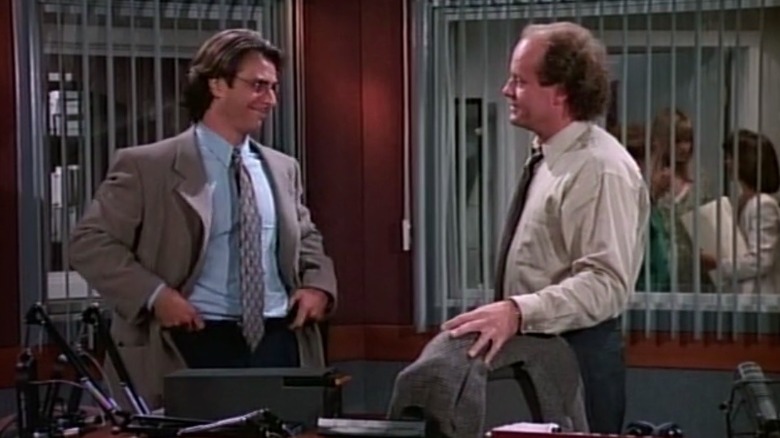 NBC
Season 2 gets off to an uncomfortable start in "Slow Tango in South Seattle." Frasier finds out that a former acquaintance has written a novel based on an experience of his — when he, as a teen, had a sexual relationship with his middle-aged piano teacher — without thanking Frasier in the acknowledgments. Much of the episode focuses on the fact that Frasier left for college without saying goodbye to his piano teacher and completely ignores the problematic power dynamics that were at play in the relationship.
Despite a shaky start, Season 2 has plenty of winning episodes, such as "The Matchmaker," which sees Frasier trying to set Daphne up with the new station manager, Tom (Eric Lutes) — unaware that Tom is gay and thinks he is going on a date with Frasier. "The Matchmaker" is then swiftly followed by another highlight, "Flour Child," in which Niles contemplates whether or not he wants a child by carrying around a sack of flour to practice, taking the experiment extremely seriously to laugh-out-loud results.
Other stand-out episodes include "Adventures in Paradise," where Frasier finds himself with a date on the same vacation as Lilith and her new boyfriend, and "Daphne's Room," in which Frasier finds himself snooping through Daphne's room, prompting her to threaten to move out. Plus, in "The Innkeepers," Frasier and Niles buy a restaurant together and the disastrous result turns out to be one of the funniest moments of the entire series.
7. Season 3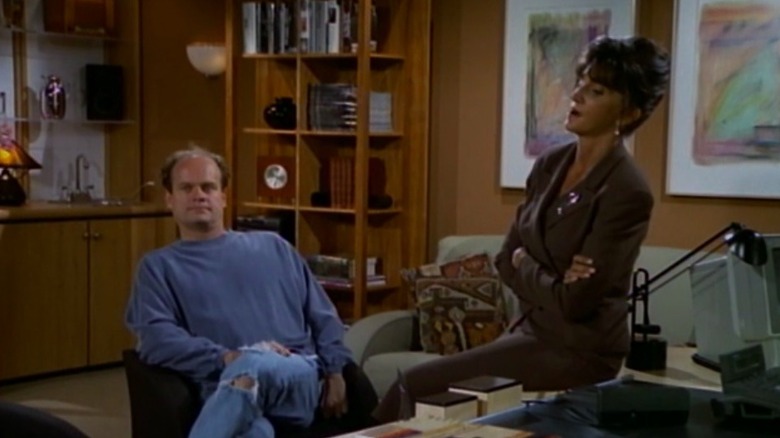 NBC
We're definitely getting to the part of this list where the seasons are completely solid, just not quite as good as the top seasons of the list. Season 3 gives viewers one of Frasier's most notable romances with the new station manager Kate Costas (Mercedes Ruehl). Kate is extremely smart, capable, and witty — in other words, she can keep up with Frasier, which explains why Frasier finds her so insufferable at first. All in all, Kate's first episode, "She's the Boss," the one in which they hook up, "Sleeping with the Enemy," and the one in which they realize they're better off friends, "It's Hard to Say Goodbye If You Won't Leave," are all highlights of the season.
Season 3 also brings us "Moon Dance," which sees Daphne teaching Niles how to dance in preparation for an upcoming date he has at a society event. When his date pulls out, Daphne ends up accompanying Niles — which leads to a passionate tango between the two of them, leaving the other attendees (and the audience) in awe. In another memorable moment, Niles dramatically falls in Café Nervosa in an elaborately hilarious stunt to set up a countersuit in this season's "High Crane Drifter."
Other highlights include "Chess Pains," where Frasier becomes obsessed with beating Martin at chess, and "Shrink Rap," in which Frasier and Niles speak with a couples' therapist to settle a feud between the two of them.
6. Season 1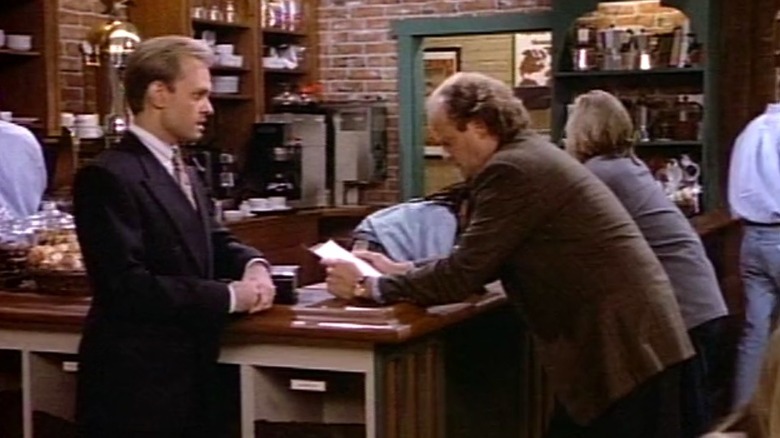 NBC
The show's first season contains many episodes that show up in IMDb's list of the 50 best-rated episodes, demonstrating that the writers did a phenomenal job at providing an introduction to the show that would hold up over time and set the stage for years of great television. Right off the bat, pilot episode "The Good Son" perfectly sets up the dynamics of the show and gives viewers a peek into what's to come.
Further, the season includes Lilith's first guest appearance in the series in "The Show Where Lilith Comes Back." All the Lilith episodes always hit the mark due to Neuwirth's natural chemistry with the rest of the cast plus the hilarious tension between Lilith and Frasier's family, and this Season 1 episode is no different. The season also brings us the first hint that there may be something between Niles and Daphne beyond Niles' crush in "A Mid-Winter Night's Dream," in which the two of them share a moment while trapped in Niles' house during a storm while Maris is away. 
Plus, the last four episodes of the season prove to be back-to-back hits. "Travels with Martin" sees Frasier, Niles, and Daphne on a road trip with Martin in a Winnebago, while "Author, Author" documents Frasier and Niles' attempt to write a book together to disastrous results. Then, in "Frasier Crane's Day Off," Niles takes over Frasier's radio show while he's sick, leading to a feverish Frasier becoming insanely jealous and plotting against him. Finally, in "My Coffee with Niles" — which takes place entirely in Nervosa — Frasier contemplates whether or not he's happy.
5. Season 6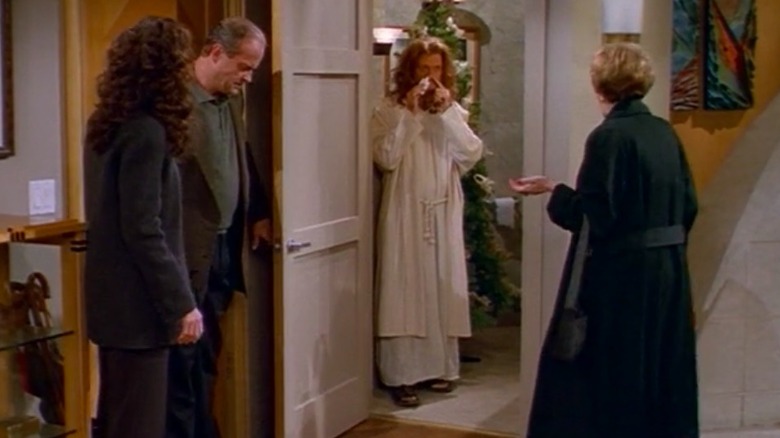 NBC
Season 6 is brimming with fantastic episodes — which makes sense considering that we've now officially made it to the better half of the show. For instance, in "Hot Ticket," Frasier and Niles go through great — and ridiculous — lengths to be seen at (rather than to see) the hottest play in town. In "Secret Admirer," Frasier receives a note from a secret admirer, causing him to reach out to old flames to find out who it is, jeopardizing his current romantic prospect. However, it turns out that the note was meant for Niles, and it's from his estranged wife, Maris.
Then, in one of the show's best Christmas episodes, "Merry Christmas, Mrs. Moskowitz," Frasier and his family must pretend to be Jewish for Frasier to continue dating Faye (Amy Brenneman) without upsetting her mother, Helen (Carole Shelley). The whole mixup results in a surprised Faye and Helen opening up the bathroom door to see Niles dressed as Jesus for a holiday performance in the building that Daphne is organizing. Another series highlight occurs in "Three Valentines," in which the opening scene presents Niles getting ready for a date — only for him to end up setting Frasier's couch on fire after a series of mishaps.
The season also introduces the character of Donny, Niles' divorce lawyer who begins dating Daphne, which sets up the trajectory for Niles and Daphne to finally get together at the end of Season 7.
4. Season 11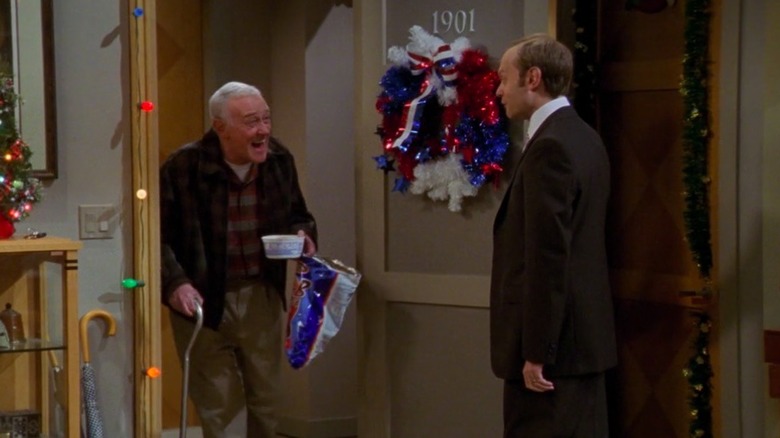 NBC
The writers certainly did well with the final season of "Frasier." Not only did they nail the finale, but they gave fans tons of hysterical episodes leading up to the ending. Patrick Stewart plays opera director Alistair Burke in "The Doctor is Out," who mistakenly thinks Frasier is gay and begins pursuing him. Frasier, eager to be part of a power couple, lets him. In the show's other best Christmas episode, "High Holidays," Niles rebels by eating a pot brownie, only for Martin to mistakenly eat it instead. In the hilarious aftermath, Niles thinks he's high when he isn't, while a very high Martin has no idea that he ate a pot brownie.
The season also introduces two key love interests. First, we meet Ronee Lawrence (Wendie Malick), a former babysitter of Frasier and Niles, who begins dating Martin after a brief awkward situation in which Frasier and Martin both try to pursue her. It soon becomes clear that Ronee and Martin are a perfect match, making it completely satisfying when the two marry in the finale. The second love interest is Charlotte (Laura Linney), a matchmaker Frasier hires to set him up before falling in love with her himself. Much to Frasier's disappointment Charlotte moves back to Chicago despite returning his feelings. However, in the last moments of the series, it's revealed that, instead of traveling to San Francisco for his new radio job, Frasier has gotten on a plane to Chicago, likely to try to make it work with Charlotte.
As for Niles and Daphne, the fan-favorite couple also has the perfect ending: they remain happily married and Daphne gives birth to their son in the final episode.
3. Season 7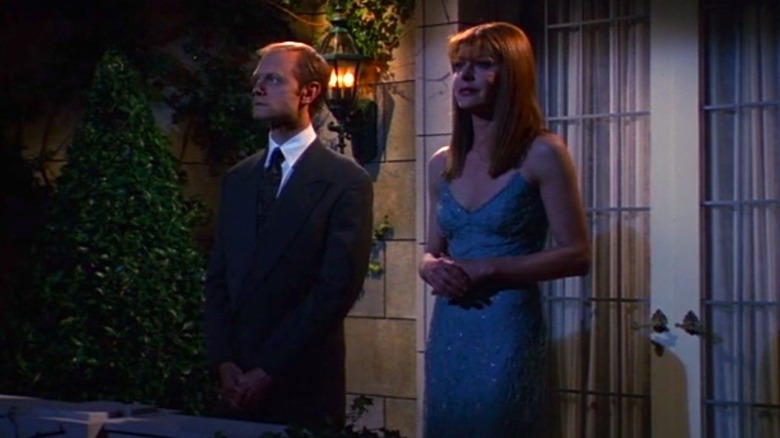 NBC
Season 7 marks the season where Daphne and Niles finally get together, and the lead-up offers a multitude of memorable episodes. To begin with, the episode where Daphne finally finds out about Niles' feelings for her, "Back Talk," stands out as one of the best in the series. There, Frasier is loopy from pain medication when he lets Daphne in on the secret in a hilariously nonchalant manner. "Back Talk" sets the stage for the rest of the season, which sees the tables turning. Daphne is now pining after Niles, while Niles begins finding contentment in his new relationship with Mel (Jane Adams). Finally, the truth comes out at Daphne's wedding in the two-part finale "Something Borrowed, Someone Blue" and the will-they-won't-they pair finally kiss, followed by Daphne deciding to leave Donny to be with Niles.
The season is also full of fantastic episodes outside the Daphne and Niles storyline. In "A Tsar is Born," Niles and Frasier begin to think they come from Russian royalty. In "The Apparent Trap," Frasier and Lilith think Frederick is trying to get them back together when, in actuality, Frederick wants them to think that so that they'll buy him a gift out of guilt for not rekindling, but Frasier and Lilith catch on to the meta plan anyway. In "Big Crane on Campus," Jean Smart guest stars as Frasier's high school crush, and dating her turns out to be a bit different than what Frasier expected.
2. Season 5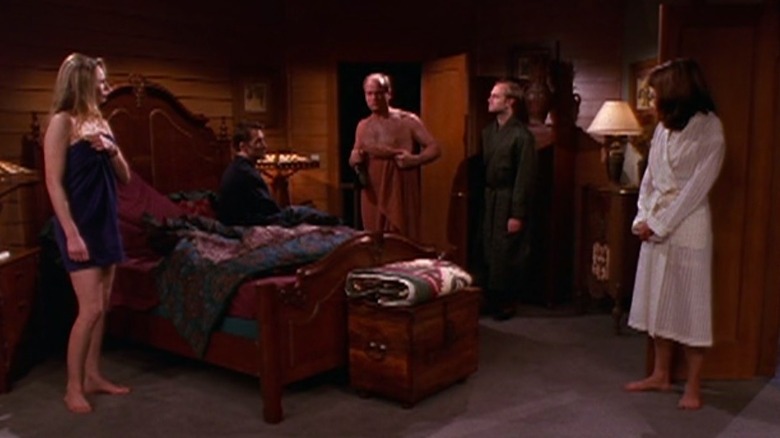 NBC
Season 5 contains what is widely considered to be the best "Frasier" episode overall — "The Ski Lodge." In the laugh-out-loud comedy of manners episode, Frasier, Niles, Martin, Daphne, and Daphne's friend Annie (Cynthia LaMontagne) travel to a ski lodge for the weekend where they meet their ski instructor Guy (James Patrick Stuart). With romance on everyone's mind, each individual quickly sets their sights on someone else. Frasier wants Annie, Annie wants Niles, Niles wants Daphne, Daphne wants Guy, and Guy wants — Niles. Many "Frasier" fans would argue that this episode alone earns Season 2 a high spot on this list.
However, "The Ski Lodge" is far from the only Season 5 episode that is among the best the show has to offer. "Halloween," for instance, is chock full of laughs. Set mostly at a Halloween party, the news of Roz's recently discovered pregnancy leads a very drunk Niles to mistakenly think that Daphne is the one who's pregnant and that Frasier is the father. In "Voyage of the Damned," Frasier, Roz, Niles, and Martin board a cruise ship only for Niles to find out that Maris is also on board per Frasier's meddling to try to help the estranged couple. 
Later, in "Room Service" — which directly follows "The Ski Lodge" — Frasier asks Niles to help him avoid sleeping with a very vulnerable Lilith, who has just been left by her husband. The plan works and Frasier doesn't sleep with Lilith — but Niles does. In "Roz and the Schnoz," Frasier and Roz host the parents of her baby's father, the Garretts (Jordan Baker and Kevin Kilner), at Frasier's place and must spend the entire visit pretending that they're not distracted by the Garretts' huge noses.
1. Season 4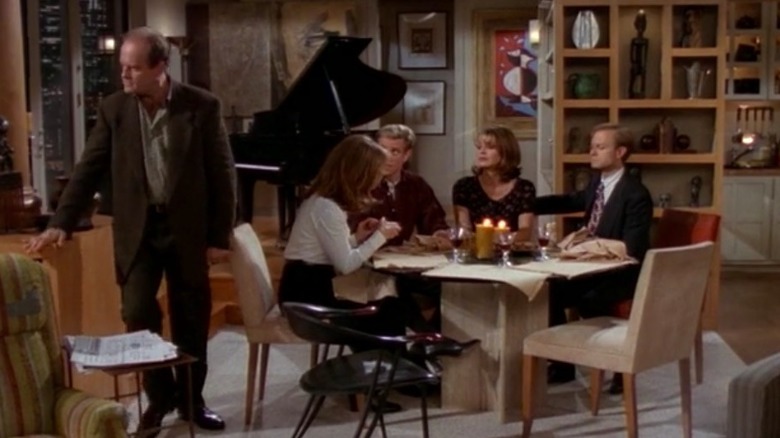 NBC
Finally, we've made it to the best "Frasier" season: Season 4. The season kicks off on a high note with "The Two Mrs. Cranes." In this episode, Daphne wants to ward off her unambitious former fiancé, Clive (Scott Atkinson), who she suspects is visiting Seattle to try to rekindle their relationship, so she spontaneously decides to pretend Niles is her husband — much to Niles' delight. This leads to Roz pretending to be Frasier's wife — "Maris" — and, after Daphne discovers Clive has become motivated with his life, Daphne and Roz vie for Clive's attention, despite the fact that they're both "married."
The rest of the season is full of more hilarious episodes. In "Mixed Doubles," Frasier persuades Niles not to ask Daphne out, only for Daphne to immediately meet and start dating Rodney (Kevin Farrell), a man who is eerily similar to Niles. In "A Lilith Thanksgiving," Frasier and Lilith go to ridiculous lengths to get Frederick into a snooty prep school. Later, in "Ham Radio," a controlling Frasier directs his colleagues in a radio drama for KACL, only for the whole production to go hilariously awry.
The season also sees the introduction of Sherry (Marsha Mason), one of Martin's most prominent love interests. The brash and gregarious Sherry doesn't mesh well with Frasier, Niles, or Daphne, which leads to plenty of funny predicaments throughout the season, beginning with her introductory episode "Dad Loves Sherry, the Boys Just Whine."