30 Best Frasier Episodes Ranked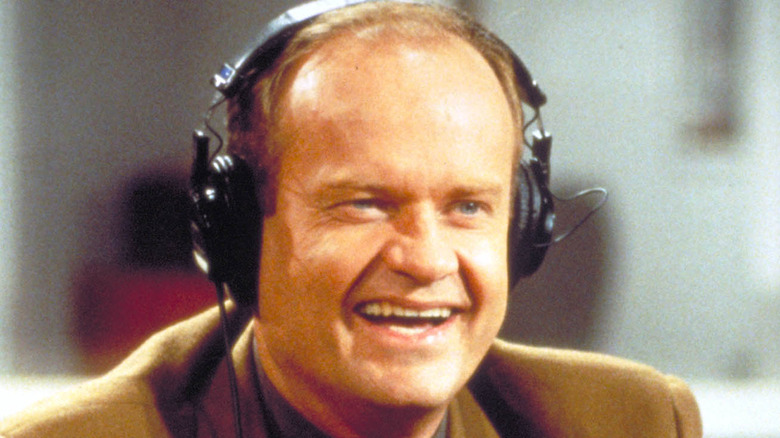 Getty Images/Getty Images
Bring out the tossed salads and scrambled eggs: the blues are calling again. The multi-Emmy winning sitcom "Frasier" is getting a reboot on Paramount+. Kelsey Grammer will reprise his role as Dr. Frasier Crane, the pompous radio psychiatrist constantly thwarted in his attempts to climb the societal ladder.
Grammer originated the character on "Cheers," beginning as a guest star before becoming a permanent cast member. The spinoff relocated Dr. Crane from the Boston pub to his hometown of Seattle, where he frequently got into antics with his persnickety brother Niles (David Hyde Pierce), his blue collar father Martin (John Mahoney), his brash producer Roz (Peri Gilpin), and Martin's English caregiver Daphne (Jane Leeves), who catches Niles' eye. Oh, also Martin's dog, Eddie.
In anticipation of the reboot, here's a look back at the 30 best episodes of "Frasier," ranked worst to best.
30. High Holidays (Season 11, Episode 11)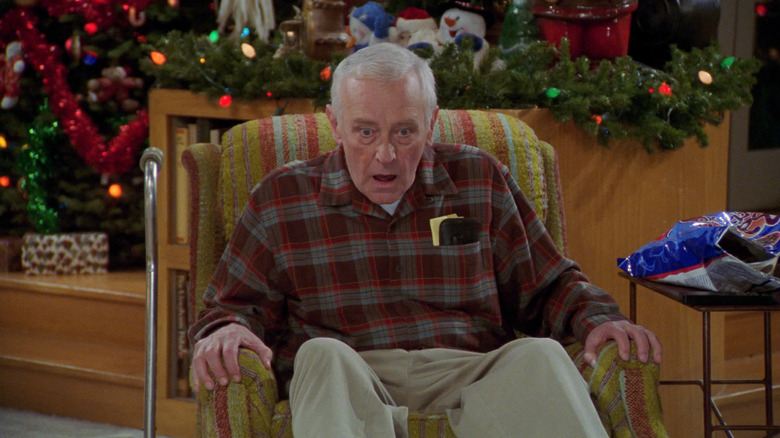 Paramount Network Television/NBC
In the show's final Christmas-themed episode, Frasier's excitement over the arrival of his son Frederick (Trevor Einhorn) is dampened when the boy arrives in full Goth attire, complete with a new Goth girlfriend (Marisa Guterman). 
Niles chalks it up to just a rebellious phase, something Martin claims the youngest Crane son never went through. Desperate to prove he can rebel, Niles buys a pot brownie from Roz, only to have it swapped out for a regular one when his dad accidentally eats it and gets high. Meanwhile, Eddie outshines Frasier in a new ad for the Seattle Tourism Board.
29. Fathers and Sons (Season 10, Episode 22)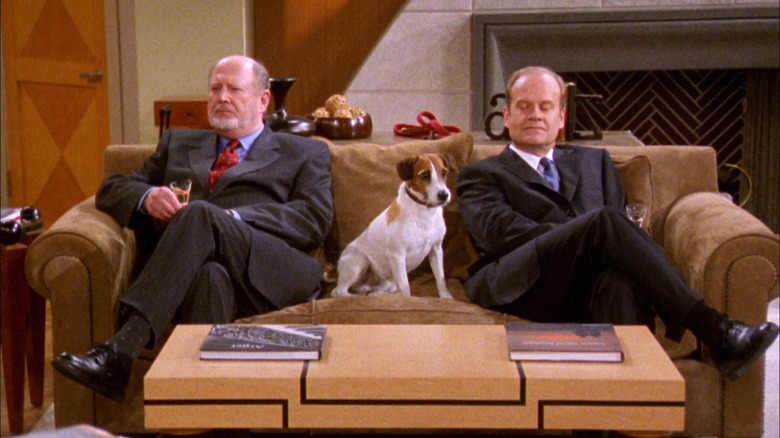 Paramount Network Television/NBC
Anyone who has ever wondered how the culturally cultivated Frasier and Niles could be the descendants of retired cop Martin Crane have their suspicions raised by the arrival of Leland Barton (David Ogden Stiers), the former research assistant of their mother, Hester Crane. 
The boys are so similar to Leland — from their love of wine to their shared allergies — that Martin begins to question his own parentage, until he learns something about Leland's personal life that puts his mind at ease. Meanwhile, Niles and Daphne argue over what to name their soon-to-be firstborn son.
28. Perspectives on Christmas (Season 5, Episode 9)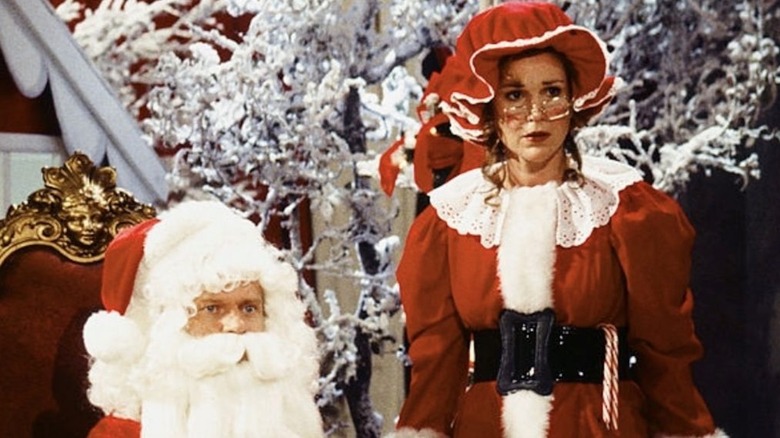 Paramount Network Television/NBC
"Perspectives on Christmas" was one of the many times "Frasier" experimented with sitcom storytelling, this time using a fractured timeline and multiple perspectives to create a humorous rumination on holiday mayhem. 
Martin doesn't want Daphne to know that he and Eddie have been cast in the church's Christmas special, so Frasier and Niles help him rehearse in secret. Daphne, meanwhile, thinks Martin is going to church so often because he's dying. Niles gets trapped in an elevator with a giant Christmas tree, while Roz finds out Frasier told her mom about her pregnancy while they're playing Santa and Mrs. Claus at the mall.
27. Dial M for Martin (Season 6, Episode 3)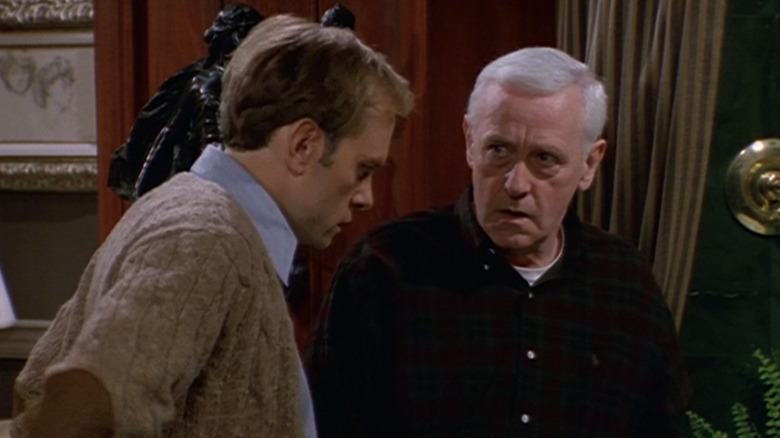 Paramount Network Television/NBC
Tensions between Frasier and Martin hit a breaking point, prompting Martin to temporarily move in with Niles. 
At first, the younger Crane is excited to have his father stay at his place, thinking it's an opportunity for him and Daphne to finally be under the same roof, but Daphne thinks Martin's hip might be healed enough for her to seek other employment. When Martin falls down the stairs, Frasier begins to suspect Nile's subconscious is causing him to hurt their father, in the hopes of getting Daphne to come back and take care of him again.
26. Frasier's Imaginary Friend (Season 5, Episode 1)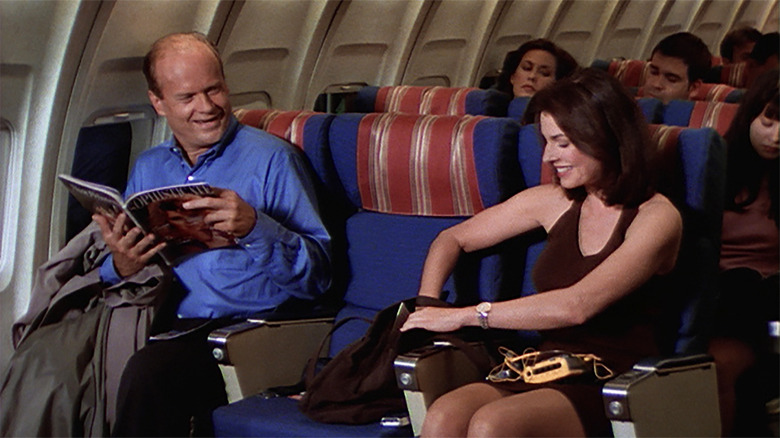 Paramount Network Television/NBC
Frasier's ongoing romantic troubles offered a constant source of comedy for the series, not to mention a steady stream of guest stars. 
In "Frasier's Imaginary Friend," he takes a spur-of-the-moment trip to Acapulco to meet up with one woman (Lisa Coles) only to become romantically involved with a supermodel (Sela Ward). She asks Frasier to keep their relationship a secret for the time being, but he can't help but tell Niles, Martin, and Daphne, all of whom think the whole thing is a delusion. He desperately tries to prove the relationship is real, with comically tragic results.
25. A Mid-Winter Night's Dream (Season 1, Episode 17)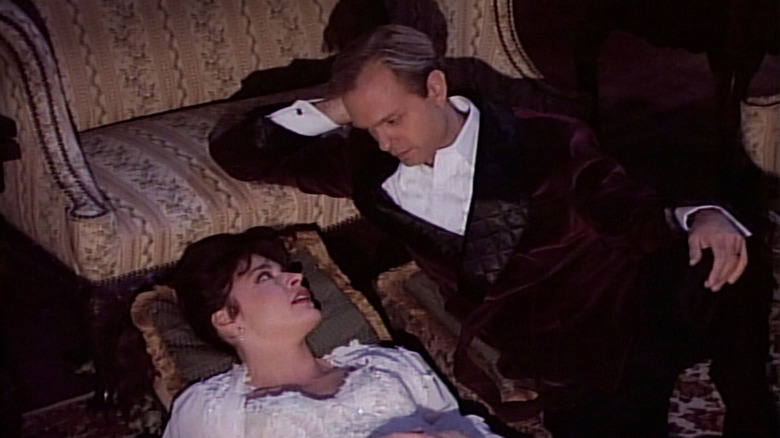 Paramount Network Television/NBC
Niles' romantic yearnings for Daphne kick into high gear in "A Mid-Winter Night's Dream." When Frasier questions his brother's infatuation with their father's caretaker, Niles admits to some marital troubles with his wife, Maris. When his attempt to spice things up with some roleplaying goes awry, Daphne offers to help out by cooking a meal for them at Niles' home. But the weather turns stormy, stranding Daphne and Niles with Maris unable to travel back from a spa trip. It's up to Frasier and Martin to brave the elements and keep them from succumbing to temptation.
24. Merry Christmas, Mrs. Moskowitz (Season 6, Episode 10)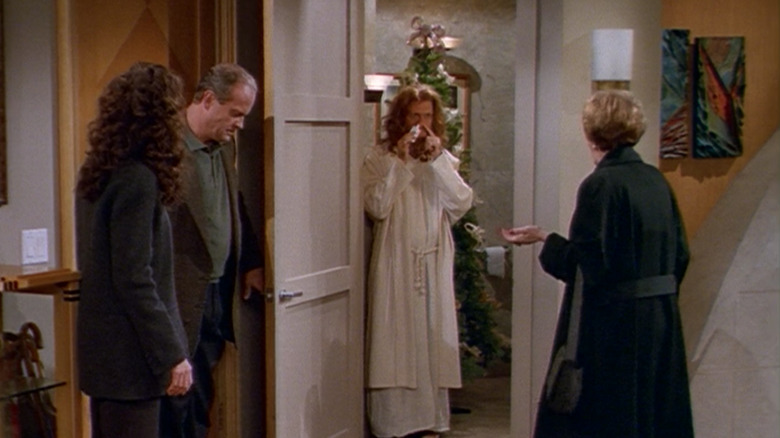 Paramount Network Television/NBC
"Frasier" is at its core a drawing room comedy, and many of its best episodes revolved around farcical misunderstandings, such as this classic.
In "Merry Christmas, Mrs. Moskowitz," Frasier is set up on a blind date with the daughter of Helen Moskowitz (Carole Shelley), a kindly Jewish woman he meets at the mall. When things go well with Faye Moskowitz (Amy Brenneman), and Helen stops by on Christmas Eve,  Frasier and his family have to pretend they are Jewish — which becomes quite difficult, particularly when Niles shows up (coming from a holiday revue) dressed as Jesus.
23. Goodnight, Seattle: Part I (Season 11, Episode 23)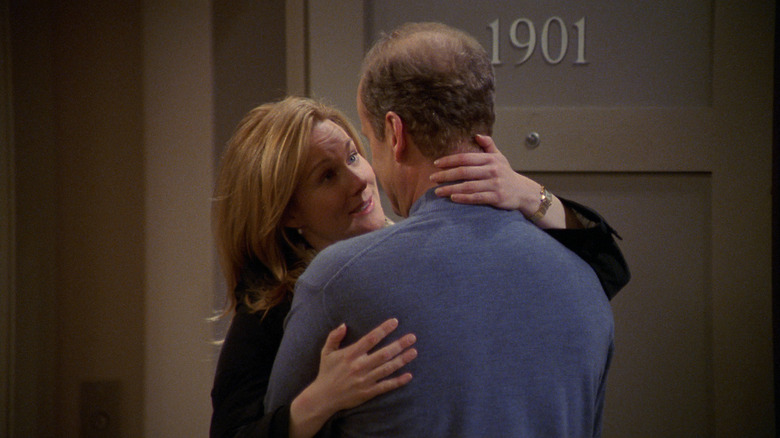 Paramount Network Television/NBC
In the first part of the show's series finale, Frasier bids farewell to his girlfriend Charlotte (Laura Linney), who's moving to Chicago. Daphne's rowdy brothers Simon (Anthony LaPaglia), Michael (Robbie Coltrane), and Stephen (Richard E. Grant) show up unexpectedly to welcome the birth of her first child with Niles, while Martin is planning his wedding to Ronee (Wendy Malick). Chaos ensues when Martin accidentally books a venue a month early, leading Frasier and Niles to step in as wedding planners. In the midst of everything, Frasier is offered a new radio hosting gig in San Francisco.
22. First Date (Season 5, Episode 20)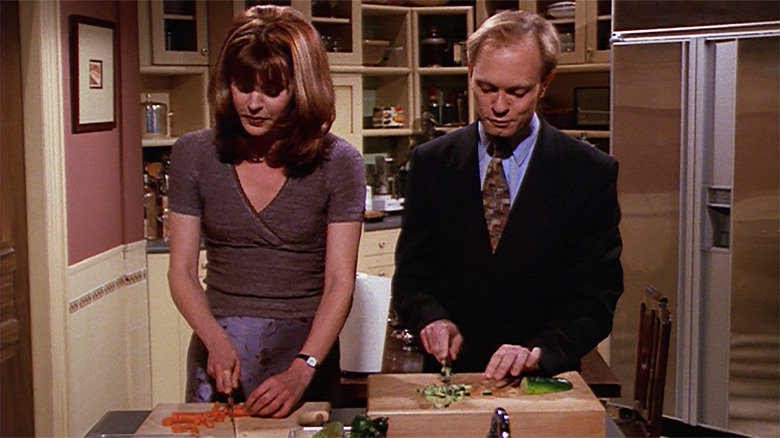 Paramount Network Television/NBC
Niles's ongoing infatuation with Daphne provided "Frasier" with endless amounts of comedy and pathos. In "First Date," newly single Niles decides to finally act upon his romantic yearnings by asking Daphne out on a date. But he chickens out at the last minute and tells her he has a date with his downstairs neighbor, Phyllis. Daphne offers to help him prepare a romantic dinner for two, which becomes further complicated by the arrival of the real Phyllis (Caroline Aaron), who has some of Niles' mail. Meanwhile, Frasier becomes obsessed with a trashy soap opera, which he attempts to keep a secret.
21. My Coffee with Niles (Season 1, Episode 24)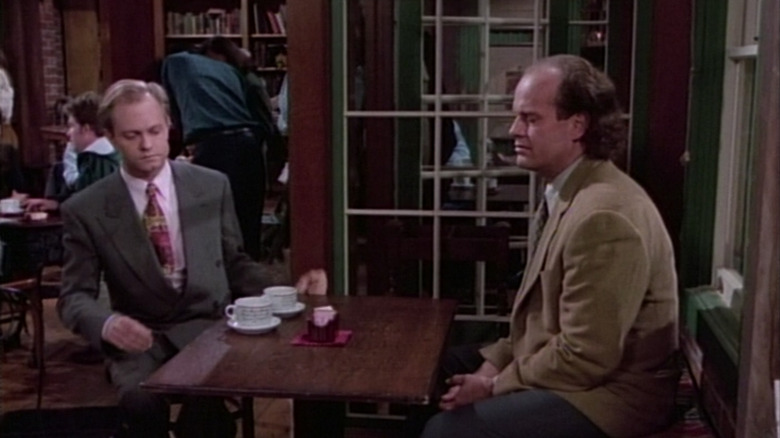 Paramount Network Television/NBC
"Frasier" often experimented with the confines of sitcom storytelling, including this Season 1 finale. 
A riff on the 1981 Wallace Shawn/Andre Gregory classic "My Dinner with Andre," "My Coffee with Niles" finds Frasier meeting up with Niles at their favorite coffee shop, Cafe Nervosa, for a friendly cup of joe. While struggling to get a table, Niles poses a simple question to his brother: "Are you happy?" His attempts to answer this are interrupted by the arrival of Roz and her date, then by Daphne and Martin — who is upset that everyone has forgotten his birthday.
20. Something Borrowed, Something Blue: Part I (Season 7, Episode 23)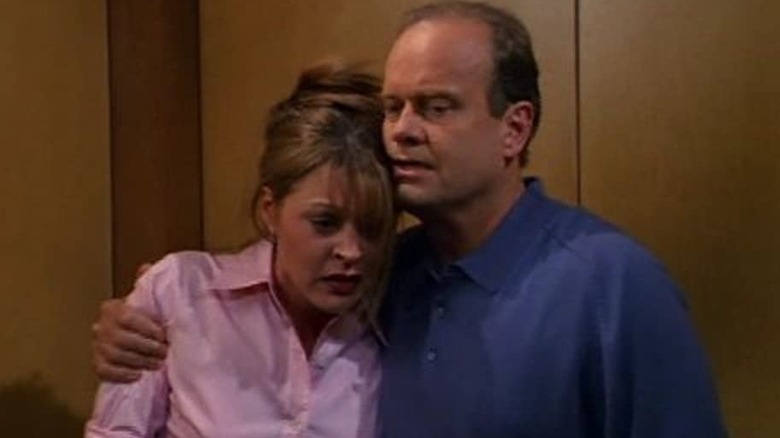 Paramount Network Television/NBC
The will they/won't they conflict between Niles and Daphne comes to a conclusion in "Something Borrowed, Something Blue," a two-parter that ended the show's seventh season. 
In the first half, Daphne is set to wed Donny (Saul Rubinek), but realizes she's in love with Niles. She confides her true feelings to Frasier, who encourages her to confess them to Niles, but he's already eloped with Mel (Jane Adams). Meanwhile, Daphne's vulgar brother Simon (Anthony LaPaglia) gets on everyone's nerves, and Roz searches for a wedding date when she learns an ex-boyfriend will be there.
19. To Kill a Talking Bird (Season 4, Episode 14)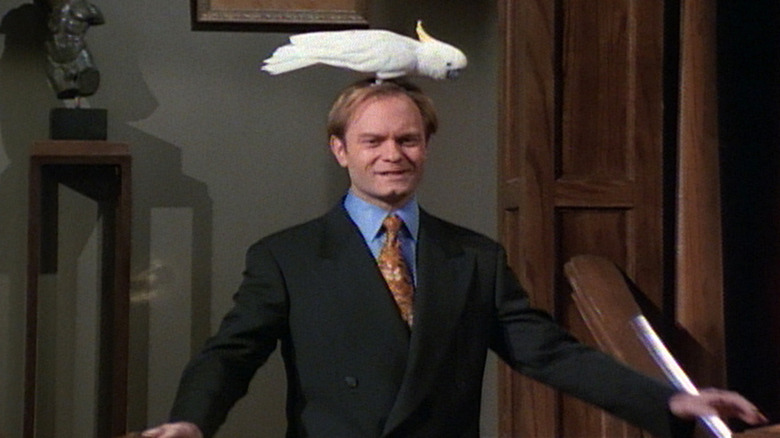 Paramount Network Television/NBC
Frequently, "Frasier" was at its best when engaged in pure drawing room farce, with the Crane brothers desperately trying to avert a disaster that would threaten their social stature. In "To Kill a Talking Bird," for instance, Niles is moving into a swanky new apartment building and decides to throw a dinner party for his neighbors. Frasier agrees to help out, eager to dine with Niles' attractive neighbor, Stephanie (Patricia Wettig). But things go haywire when Niles' talking pet bird Baby attaches itself to his head after getting frightened, and starts chatting with the dinner guests.
18. Back Talk (Season 7, Episode 10)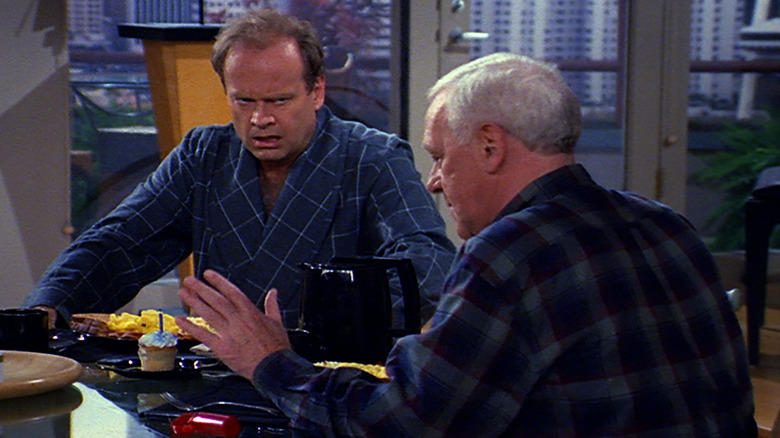 Paramount Network Television/NBC
Frasier's birthday is ruined when he hurts his back blowing out a candle on his cupcake. Roz believes it might be stress-related, and suggests he try talking about his problems out loud. Frasier's unable to find a remedy for his pain until he sits in Martin's chair, and while alone he starts unloading his problems on Eddie. He opines that his lackluster love life is the root of his problems, and admits he's sad that Daphne will soon be leaving after her wedding. Daphne returns home as he's saying this and thinks he's proclaiming his love for her.
17. Daphne's Room (Season 2, Episode 17)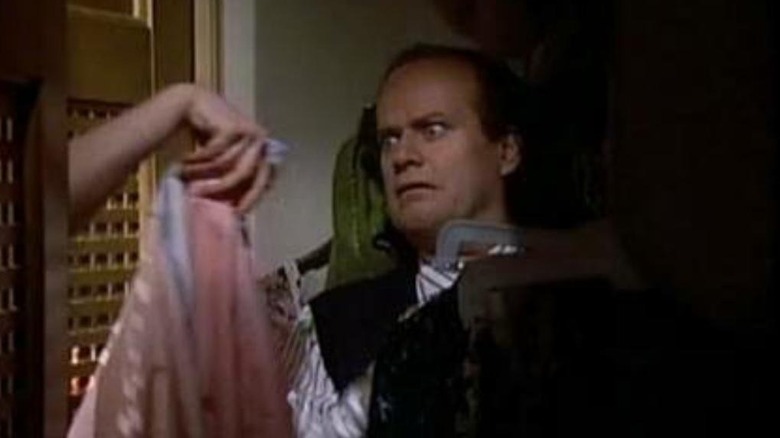 Paramount Network Television/NBC
"Frasier" was nothing if not filled with hijinks, as the dignified radio psychiatrist often put himself in the most uncomfortable of situations. In this second season installment, he goes poking around in Daphne's bedroom to find a book she borrowed, only to be reprimanded when she catches him examining a pill bottle he found. He vows never to go into her room again, only to immediately break that promise in order to return the pill bottle he accidentally took with him. He decides to do this while Daphne is helping Martin with his physical therapy, but that backfires when they unexpectedly return early.
16. Travels with Martin (Season 1, Episode 21)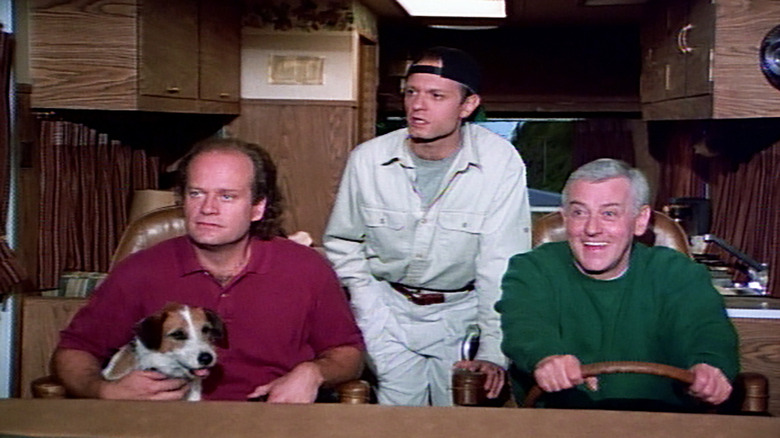 Paramount Network Television/NBC
Frasier's ongoing quest to bond with his polar-opposite father supplied the series with some of its biggest laughs. In "Travels with Martin," he's encouraged to take a vacation with the old man, who wants to travel the country in a Winnebago. Niles and Daphne agree to join as a buffer between the two. Martin wants to visit Mount Rushmore, but Frasier opts to travel wherever the wind takes them. This leads them over the border into Canada, where Daphne reveals she doesn't have her green card yet. Can they smuggle her back into America without her English accent giving her away?
15. Mixed Doubles (Season 4, Episode 6)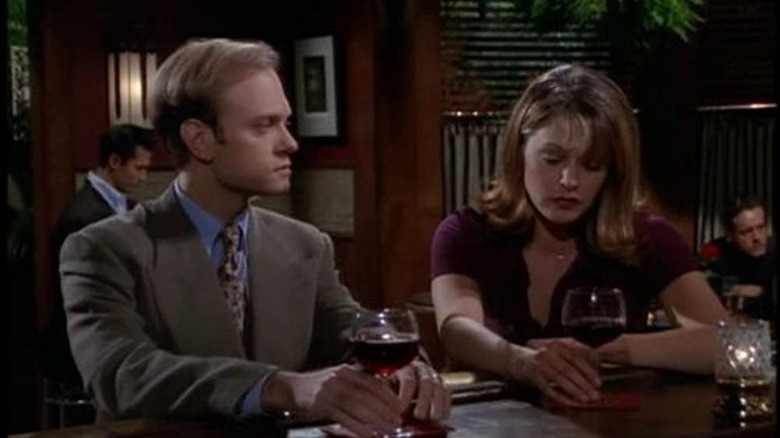 Paramount Network Television/NBC
When Daphne ends her relationship with Joe, Niles sees an opportunity to finally make his move. Frasier encourages him to give her a day to get over her ex, which Niles agrees to do. Unfortunately, that gives Roz enough time to take Daphne to a singles bar, where she meets Rodney Banks (Kevin Farrell), a dead ringer in every way for the younger Crane. Devastated that his inaction gave Daphne enough time to meet a new guy, Niles urges Roz to take him to the same singles bar, where he hits it off with Adelle Childs (Allison Mackie).
14. An Affair to Forget (Season 2, Episode 21)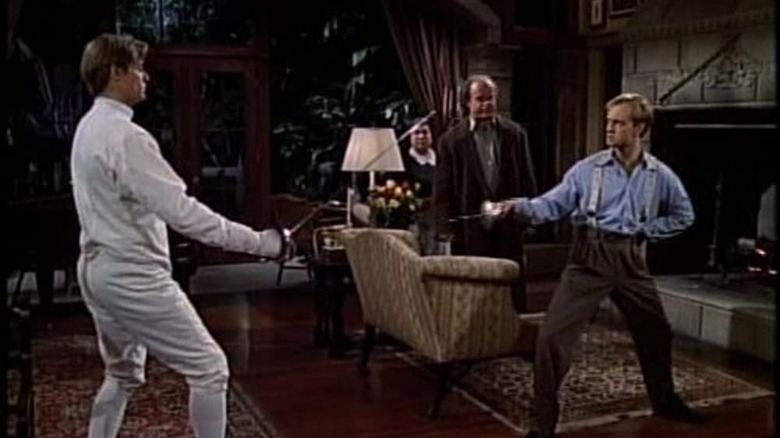 Paramount Network Television/NBC
"Frasier" mined a lot of laughs with various patients who would call in to Dr. Crane's radio program, often voiced by celebrity guest stars. In "An Affair to Forget," one such caller kicks the episode's drama into high gear. 
Frasier counsels a woman (voiced by Glenne Headley) who suspects her husband, German fencing instructor Gunnar (Brian Cousins), is having an affair with one of her students. Coincidentally, Maris is taking fencing classes, and Frasier suspects she's cheating on Niles. He accidentally spills the beans to his brother while he's in a sensory deprivation tank, leading Niles to challenge Gunnar to a duel.
13. Room Service (Season 5, Episode 15)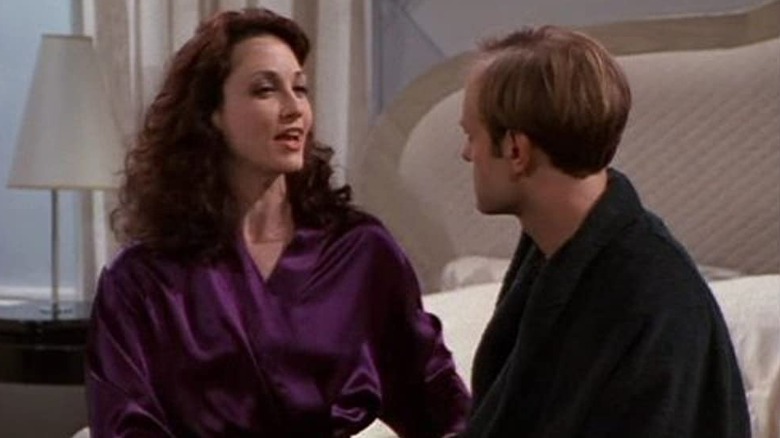 Paramount Network Television/NBC
As "Cheers" fans know, before he was a Seattle radio psychiatrist, Frasier was living in Boston and married to fellow psychiatrist Lilith Sternin (Bebe Neuwirth). Towards the end of that series, Lilith left Frasier after having an affair with another man. 
She made regular appearances on "Frasier," however, stirring up romantic longings for her ex-husband. In "Room Service," she's reeling from the breakup of her latest marriage, and in her vulnerable state she ends up going to bed with Niles. Unfortunately for them both, Frasier shows up at Lilith's hotel room hoping to rekindle their romance ... with Niles still there.
12. Three Valentines (Season 6, Episode 14)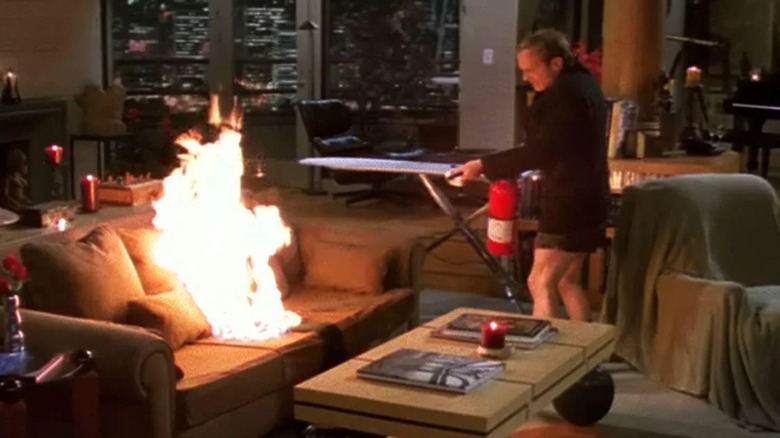 Paramount Network Television/NBC
Another in a long line of "Frasier" anthology episodes, "Three Valentines" tells a trio of stories centering around the year's most romantic holiday. 
In the first one, Niles is preparing a romantic dinner for two, which turns chaotic when he tries to iron out a crease in his pants. In the second, Frasier is meeting with the station's new manager, Cassandra Stone (Virginia Madsen), but he can't tell if it's romantic or strictly business. And in the third, dateless Martin and Daphne decide to spend the evening together, reflecting on what it's like to be single on Valentine's Day.
11. The Innkeepers (Season 2, Episode 23)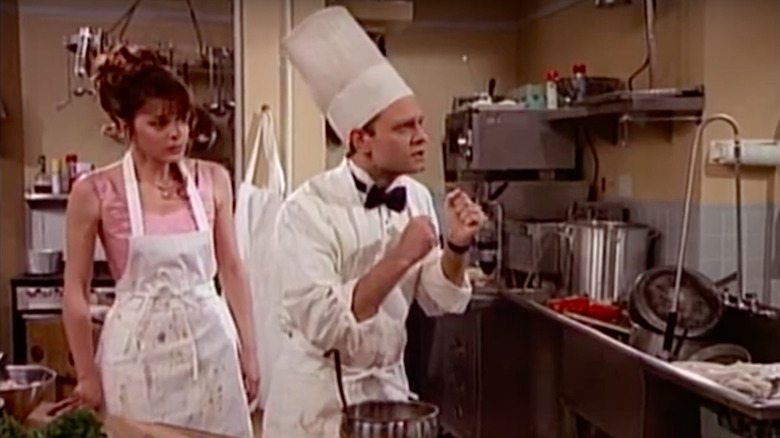 Paramount Network Television/NBC
Many of the standout "Frasier" episodes revolved around the Crane brothers trying to pull off an impossible task, from joining an exclusive club to fixing a toilet. In "The Innkeepers," they decide to put their food expertise to good use by buying a struggling restaurant and renaming it Les Freres Heureux (The Happy Brothers). Of course, whatever could go wrong does go wrong, and on opening night, no less. Soon enough Martin is serving drinks, Niles and Daphne are cooking, and Roz is acting as waitress. Things go from bad to worse when "Restaurant Beat" host Gil Chesterton (Edward Hibbert) shows up with Seattle's top restaurant critics.
10. Out with Dad (Season 7, Episode 15)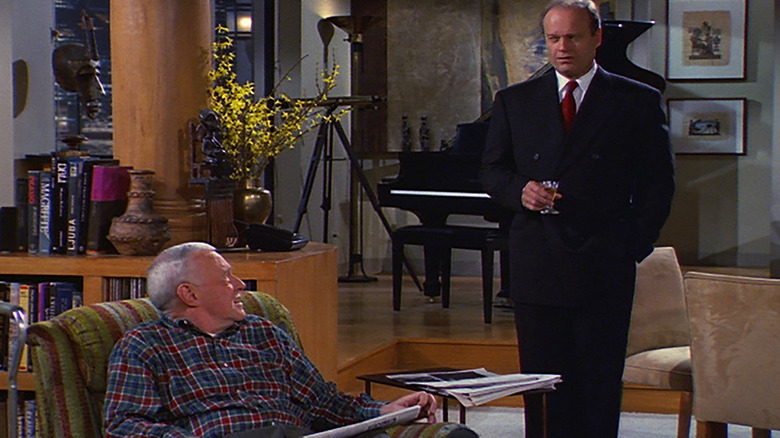 Paramount Network Television/NBC
As with many of "Frasier's" best episodes, "Out with Dad" revolves around a mistaken piece of information that turns into a farcical deception. When Niles can't accompany Frasier to the opera, he decides to take Martin as his plus-one. Frasier, meanwhile, is hoping to meet up with the attractive Emily (Marg Helgenberger), who's there with her mother Helen (Mary Louise Wilson). Helen takes a liking to Martin, but he's not interested, so he tells her he's gay to avoid going out with her. When Emily hears this, she decides to set him up with her uncle Edward (Brian Bedford), who accompanies her to Frasier's apartment.
9. Halloween (Season 5, Episode 3)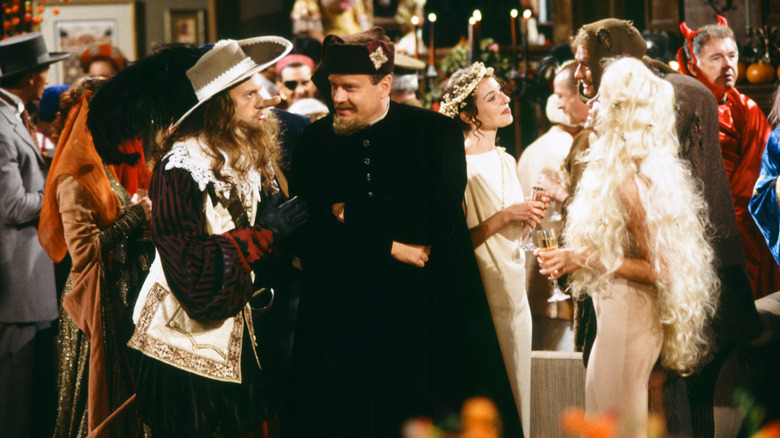 Chris Haston/NBC/NBCU Photo Bank via Getty Images
If there's one thing Frasier is particularly bad at, it's keeping a secret, so it's not exactly wise for Roz to let her boss know she might be pregnant. He invites her to Niles' Halloween party, where everyone is supposed to come dressed as a famous literary character. 
Frasier and Daphne come dressed as Geoffrey Chaucer and the Wife of Bath from "The Canterbury Tales;" Martin plays Sherlock Holmes; Niles dresses as Cyrano de Bergerac; and Roz goes as O from "The Story of O." A series of misinformation leads a drunken Niles to believe Daphne is pregnant ... and Frasier is the father.
8. Something Borrowed, Something Blue: Part II (Season 7, Episode 24)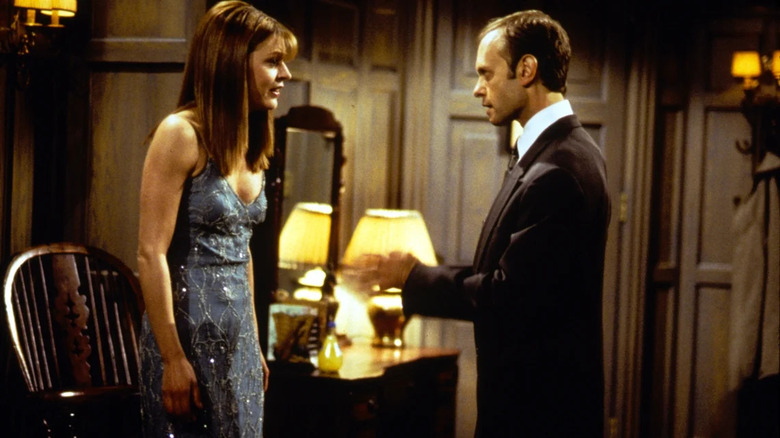 Paramount Network Television/NBC
"Frasier" fans who rooted for Niles and Daphne to get together were on the edge of their seats during "Something Borrowed, Something Blue." 
With everyone gathered for Daphne's wedding to Donny (Saul Rubinek), at the rehearsal dinner, Frasier tells Niles that the bride-to-be knows about his feelings for her, and may feel the same way. Niles finally proclaims his love to Daphne, who tells him she can't break off the engagement and that he can't leave his new wife Mel (Jane Adams). But on the wedding day, Daphne finds Niles alone in a Winnebago and asks him out on a date.
7. The Two Mrs. Cranes (Season 4, Episode 1)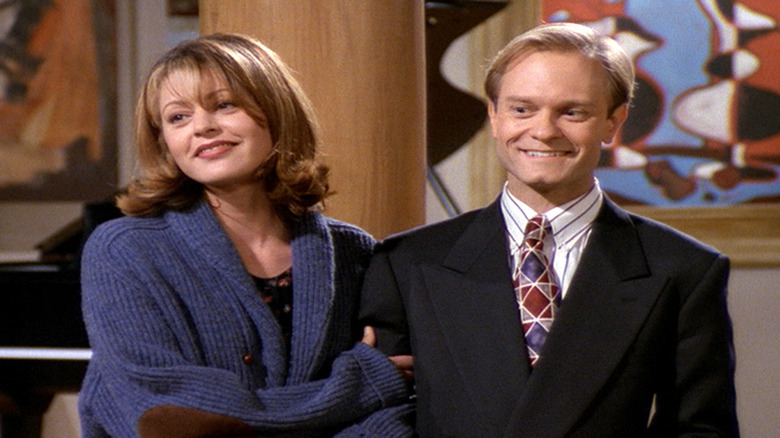 Paramount Network Television/NBC
In one of the show's greatest high wire acts, Daphne gets word that her ex-fiancee Clive (Scott Atkinson) is visiting Seattle and wants to see her. Afraid he'll want to rekindle their romance, she tells him she's married ... to Niles. This comes as a surprise to Frasier, who in this ruse is divorced from Maris, who is played by Roz. Roz (aka Maris) takes an instant liking to Clive, who reveals he's finally gotten his life together, making him suddenly attractive to Daphne. Martin plays along too, claiming to be a former astronaut. Eddie, meanwhile, remains Eddie.
6. Moon Dance (Season 3, Episode 13)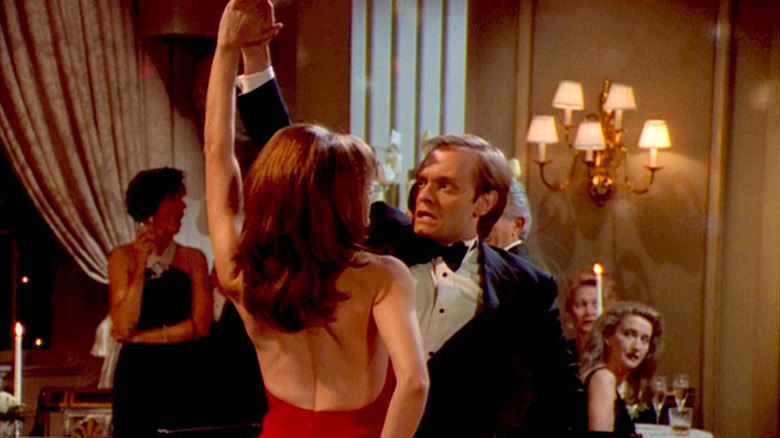 Paramount Network Television/NBC
"Moon Dance" was perhaps the first indication that Niles' secret infatuation with Daphne would one day blossom into love. When Niles sees a photo of Maris with another man in the society pages, Martin encourages him to start dating again. He asks Fruit-At-The-Bottom yogurt heiress Marjorie Nash to the Snow Ball, despite the fact that he can't really dance. Daphne volunteers to teach him how to tango, to which he (of course) agrees. But when Marjorie cancels their date, Niles takes Daphne to the ball instead, and the two share a dance that hints at what's to come.
5. Goodnight, Seattle: Part II (Season 11, Episode 24)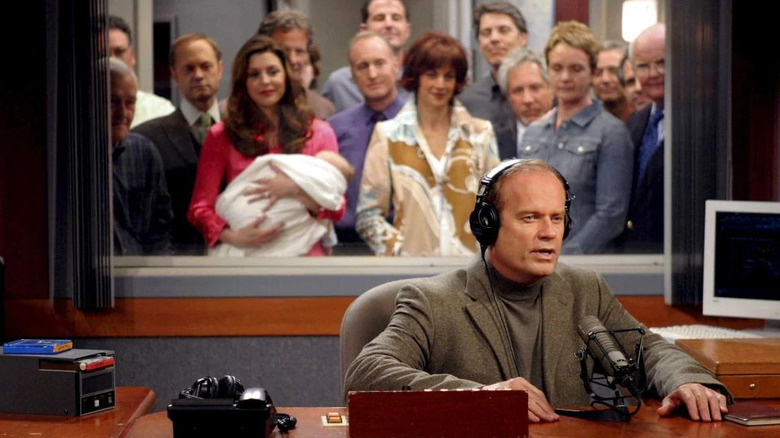 Paramount Network Television/NBC
A good finale is hard to pull off, but "Frasier" produced an all-timer. With his girlfriend Charlotte (Laura Linney) moving to Chicago, Martin set to marry Ronee (Wendie Malick), and Niles and Daphne expecting their first child, Frasier has found himself at a crossroads. He decides to take a new job at a radio station in San Francisco, and gathers his family to bid farewell. After a series of misunderstandings lead them to believe he's dying, Frasier tells them he just wants to take a chance on happiness. When we last see Dr. Crane, he's on an airplane that has landed ... in Chicago.
4. The Matchmaker (Season 2, Episode 3)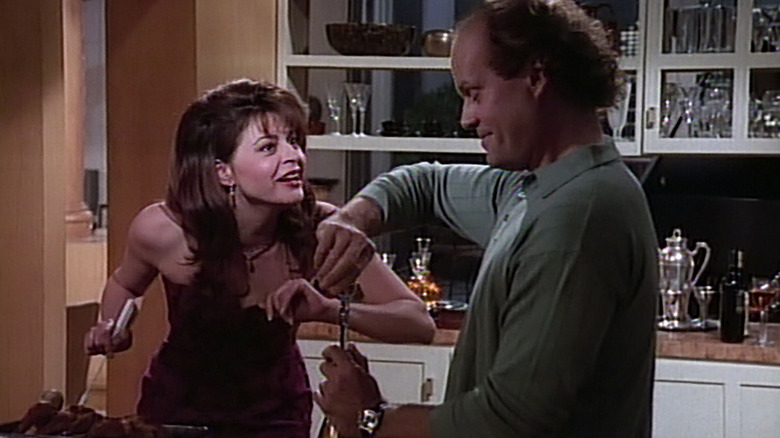 Paramount Network Television/NBC
As was the case for many of "Frasier's" best episodes, the entire plot of "The Matchmaker" revolves around a simple misunderstanding that morphs into a chaotic comedy of manners. After setting off the smoke alarm by lighting a cigarette in her room, Daphne tells Frasier she's upset about her lackluster love life. He decides to set her up with Tom Duran (Eric Lutes), the handsome new station manager who has a love for everything British. Frasier invites him to dinner at his place, not realizing Tom is gay and thinks this is a date between the two of them.
3. The Doctor Is Out (Season 11, Episode 3)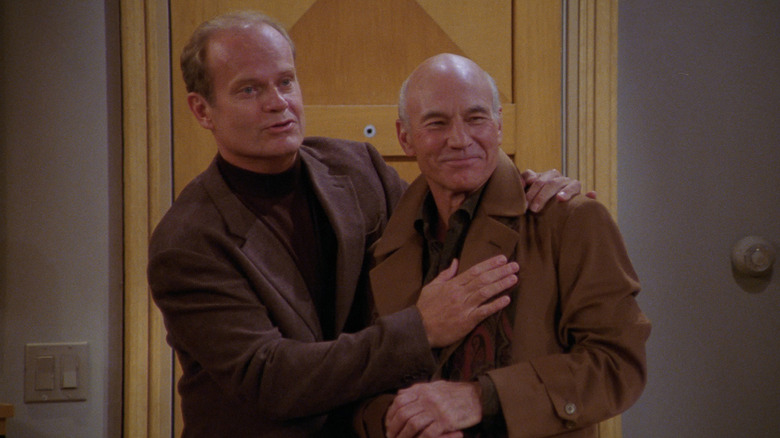 Paramount Network Television/NBC
Considering it aired all the way back in 2003, "The Doctor Is Out" takes a surprisingly nuanced approach to its potentially offensive subject matter. 
A classically "Frasier"-esque series of misunderstandings leads Dr. Crane to be outed by a caller on his radio program, despite the fact that he isn't gay. He finds solace in the friendship of Alistair Burke (Patrick Stewart), the charming, cultured director of the Seattle Opera Guild. Alistair escorts Frasier around town, including backstage at his new stage show, and it soon becomes apparent he has more in mind than just friendship.
2. Ham Radio (season 4, Episode 18)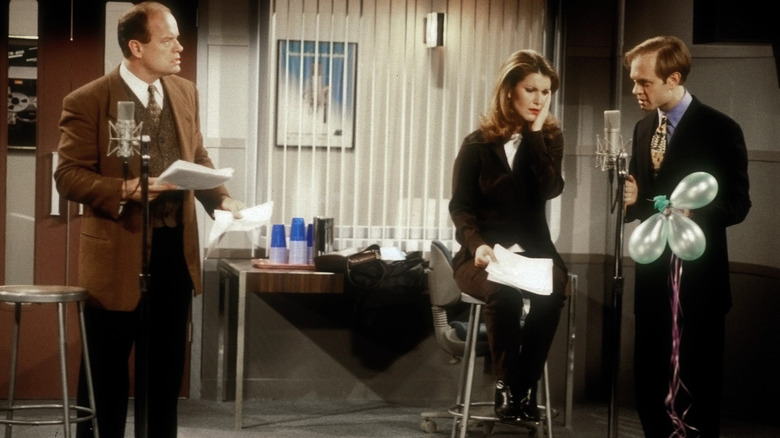 Paramount Network Television/NBC
Of all the grandiose ambitions Frasier tried to fulfill, none was as uproarious as his attempt to recapture the magic of live radio in this memorable episode.
As KACL's 50th anniversary approaches, Frasier decides to celebrate by recreating the station's classic radio play "Nightmare Inn." He fills the roles with people from the station, leaving the lead for himself and bringing in professional actor Mel White (Richard Easton) to fill several roles. His dictatorial approach, however, alienates everyone, causing Mel to quit. Frasier brings in Niles to replace him, and things go haywire when he tries to give his brother notes during the live broadcast.
1. The Ski Lodge (Season 5, Episode 14)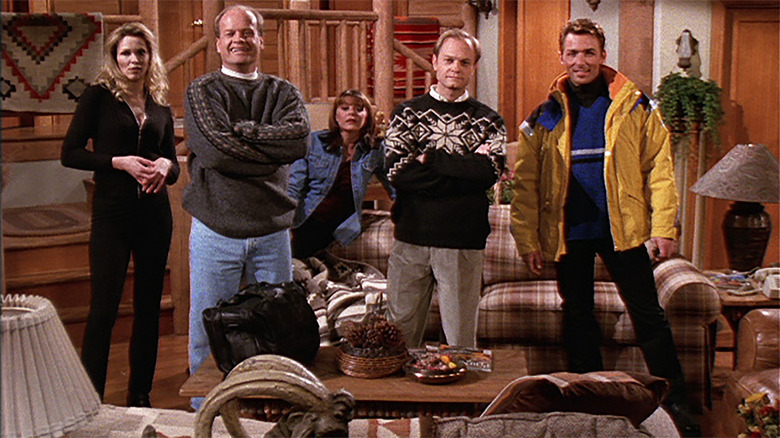 Paramount Network Television/NBC
Above all else, "Frasier" was a precisely tuned comedy of manners, and "The Ski Lodge" is perhaps its most nimbly constructed example of this precision. When Roz can't use her free ski trip because of her pregnancy, she gifts the tickets to Frasier, who decides to bring the family along. Daphne invites her friend Annie (Cynthia Lamontagne), a swimsuit model Frasier has his eye on. Once there they meet Guy (James Patrick Stewart), a handsome ski instructor who Daphne immediately falls for ... despite him having a thing for Niles. Martin, meanwhile, keeps misunderstanding everyone since his ears are clogged.