The One-Time Frasier Character Who Wowed Audiences With His Incredible Acting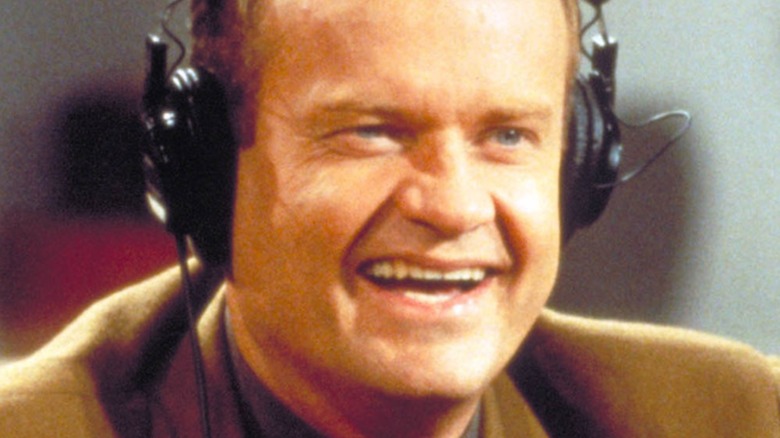 NBC
"Frasier," the spin-off sitcom that ran from 1993 to 2004, follows psychiatrist Dr. Frasier Crane (Kelsey Grammer) — originally a character on "Cheers" — as he moves from Boston to his hometown of Seattle to begin a new job as a radio psychologist, following his divorce from Lilith (Bebe Neuwirth).
As fans of the show very well know, Frasier is far from the only compelling character on "Frasier," as the rest of the main cast contribute just as much to the series as its titular character does. The rest of the main characters include Frasier's brother, the neurotic fellow psychiatrist Niles (David Hyde Pierce); their former cop father Martin (John Mahoney); Martin's healthcare worker, the eccentric Brit Daphne Moon (Jane Leeves); and Frasier's radio producer, the confident and snarky Roz Doyle (Peri Gilpin).
Throughout the eleven seasons, the main cast is joined by various guest actors in smaller arcs — many of whom play some of the most memorable characters of the show, such as Jean Smart's Lana Gardner, Patrick Stewart's Alistair Burke, and Brian Stokes Mitchell's Cam Winston. While Smart and Mitchell both had multiple-episode runs, Stewart appeared in just one episode. However, there is another one-episode guest actor that "Frasier" fans have deemed their favorite.
Fans love Guy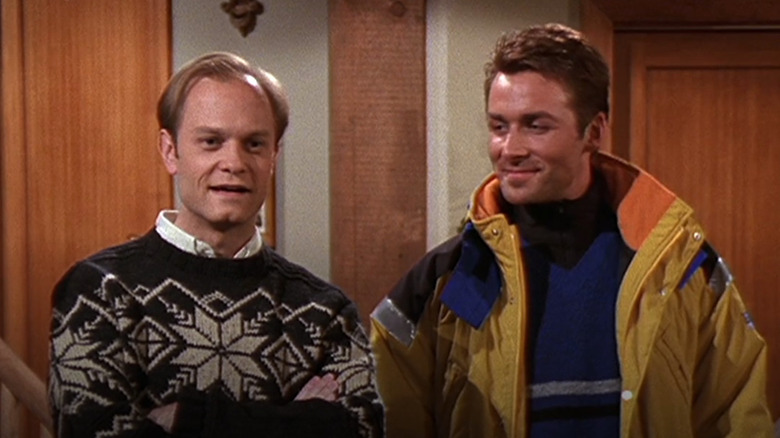 NBC
0In Season 5's "Ski Lodge" — which is often considered the all-time best episode of "Frasier" — Frasier, Niles, Martin, Daphne, and Daphne's friend Annie (Cynthia LaMontagne) head to a ski lodge for the weekend. There, they meet Guy (James Patrick Stuart), the French ski instructor who has a crush on Niles (who, in the episode, is determined to make a move on Daphne). In the hilarious fan-favorite episode, Niles pursues Daphne, while Daphne pursues Guy, while Guy pursues Niles. Further, Frasier pursues Annie, while Annie pursues Niles. 
In a post to the r/Frasier subreddit, u/geddup_noise wrote an appreciation post for Stuart's performance of Guy. In the post, this "Frasier" fan called Guy their "favorite one-time character on the series." Responses to the post are complete with some of Guy's most notable lines, such as when he slyly says to Niles, "Really?"
Immediately, fans took to discussing how much they love the delivery of the "Really?" line. For example, u/dirt-flirt wrote, "This video doesn't even need sound. I can hear it." From there, most of the comments consist of fans quoting their favorite lines from the episode, many of them Guy's. For instance, one user quoted, "Please, acknowledge your true nature! Stop chasing these lesbians!" while u/Time-to-Dine quoted, "Can Niles and I PLEASE have some privacy?!" Further, u/bumpy4skin claimed that one of Guy's lines — "There are few things" — is quoted on a daily basis in their household.
Meanwhile, u/Fizzy__1 complimented the creative team on the episode, writing, "It really says a lot about both the acting and writing when a character appearing in a single episode can be so iconic and memorable. He's a good dude, he openly communicates (well, he did his best. . .), and wants people to be true to themselves."
The writer and director were nervous about casting Guy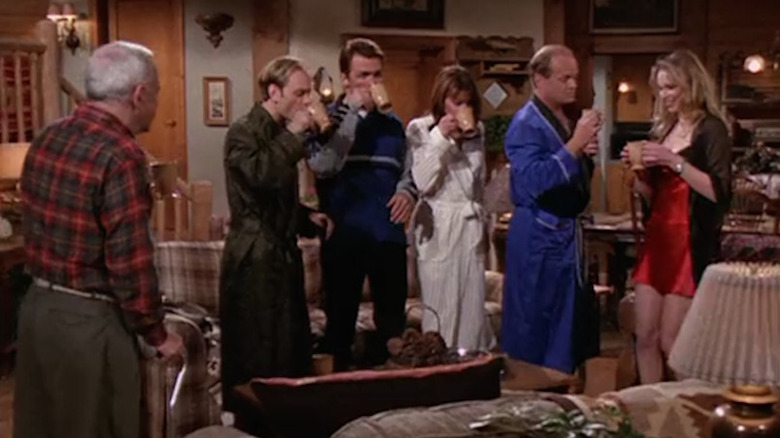 NBC
In 2016, several members of the "Frasier" cast and crew spoke with Yahoo to provide an in-depth oral history of "The Ski Lodge." Joe Keenan, who penned the episode, noted that it can be scary to write an episode that needs a guest actor who can keep up with the main cast. Keenan added, "Looking back, it was a kind of impossibly risky role to write in that you need somebody who's very attractive, that Daphne takes one look at and instantly wants him sexually. You cast the wrong person, and the audience is saying, 'Huh? I don't get it. Why is she suddenly so hot for this guy?'"
Luckily, James Patrick Stuart was able to fill all of the attributes they were looking for and more. "Frasier" co-creator and "The Ski Lodge" director David Lee said, "James came in, and besides being attractive and extremely charming, he had a great French accent and he played it for real." On his end, Stuart reported having a fantastic time playing Guy on "Frasier." He explained that guest starring on a beloved sitcom — and one that has such fantastic writing — was a unique experience because he was confident that all of his lines would get laughs. 
Recalling the moment he was waiting to make his entrance, Stuart said, "I remember looking down at my feet and thinking, 'I'm gonna remember this moment for the rest of my life,' because I can tell what is about to happen. When you're that confident, the audience picks up on that and you can take your time with jokes and you can let them land."
As Guy might say... "Absolument."