Diego Luna Confirms What We Suspected All Along About Rogue One's Rumored Alternate Endings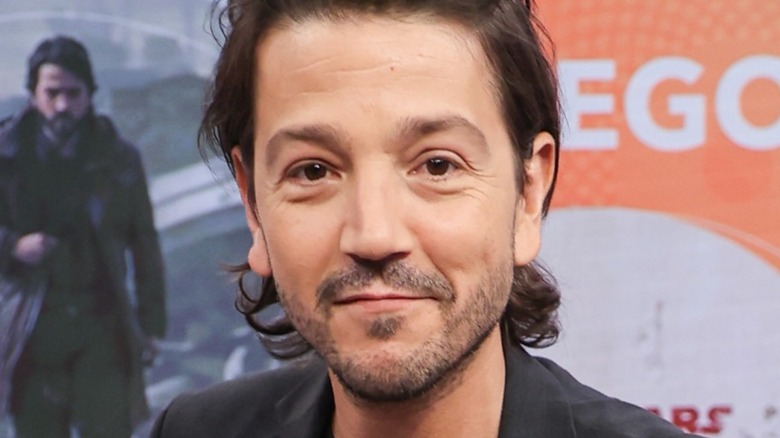 John Parra/Getty Images
For years now, it's been speculated that "Rogue One" possibly had some Death Star-sized changes made to its script and iconic ending sequence, which saw Diego Luna's Cassian Andor and Felicity Jones' Jyn Erso both biting the dust just moments before an epic lightsaber onslaught from everyone's favorite Sith Lord. We already know that Darth Vader's final scene was a last-minute reshoot, and scrapped backstories for Cassian and Jyn have also been confirmed to exist by chief creative officer and senior visual effects supervisor John Knoll (via iO9). One alleged ending for "Rogue One" even gave Cassian an insane new identity where he was a double agent.
"He was a spy planted by the Empire into the Rebellion," Knoll told iO9 in a March 2017 interview. "And over the course of the mission, he becomes aware that the Death Star actually is a real thing and it's not just propaganda. The Empire really built it, intends to use it and its only purpose is a genocide weapon. He realizes a lot of what he's been told is a lie and that he's been on the wrong side. So he switches sides to the Rebellion and he realizes he can let everyone live." 
When it comes to Cassian and Jyn's deadly fates in "Rogue One," many have speculated about there being alternate endings where the characters both live somehow. In the ending that Knoll said was weighed, the pair supposedly blew themselves up while being chased by Vader. But what do the actors say was supposed to really happen? Well, Luna actually sat down for an interview recently and chose to finally clear the "Rogue One" air. 
Diego Luna says there was always just one tragic ending for Rogue One, which is why he signed up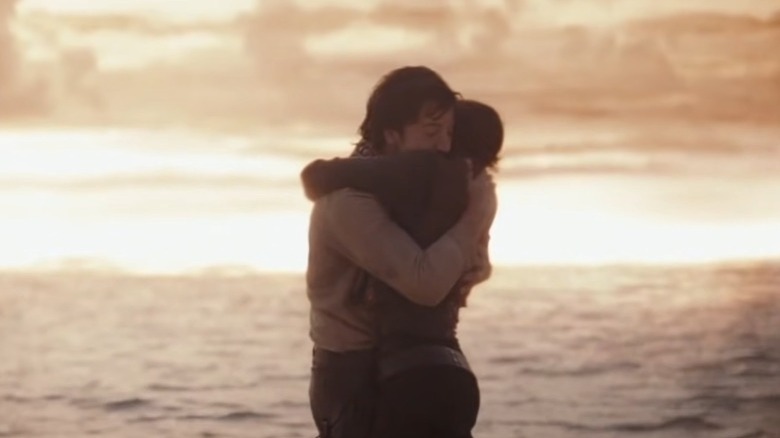 Walt Disney Studios Motion Pictures/Lucasfilm/YouTube
Speaking to Vanity Fair for their rewatch series on YouTube, Diego Luna appeared to put those "Rogue One" rumors to rest for good — saying that Cassian Andor's death and the demise of the other main characters were planned from the beginning, which is exactly why he signed up to do the "Star Wars" flick. 
"This is basically the reason why I was so happy to play this role and so excited about the idea of being part of this universe, because I thought it was so bold, so interesting, and so unique to have an ending like this," Luna explained. "And I remember people say we shot different endings and, just to be clear, the day I was offered this role, I knew this was it. It was one film and I knew what the end was going to be. And it's one of the things that excited me the most, you know, that Star Wars was going to do that, was going to show what sacrifice means, and was going to go for it."
For Luna, personally, the idea of exploring the more mature corners of the galaxy far, far away in "Rogue One" was something he thought wasn't just a bold decision by Disney, it was ingenious. "I thought it was a very smart move," he told Vanity Fair. "There was a big chunk of the audience that has [grown] since the beginning of Star Wars and this was a very mature, dark, interesting approach ... that I thought was needed as a fan."
Luna says he never expected to return to the Cassian Andor character but look at him now — with an entire season of "Andor" under his belt and at least one more to come. The plan is to put out 12 episodes for Season 1, which will cover one full year of Cassian's life, followed by another dozen episodes for Season 2, with those covering a span of four years. The events of the second season will reportedly lead into the beginning of "Rogue One" (via Empire).