The Ghostbusters Character Only Hardcore Fans Know Tara Strong Played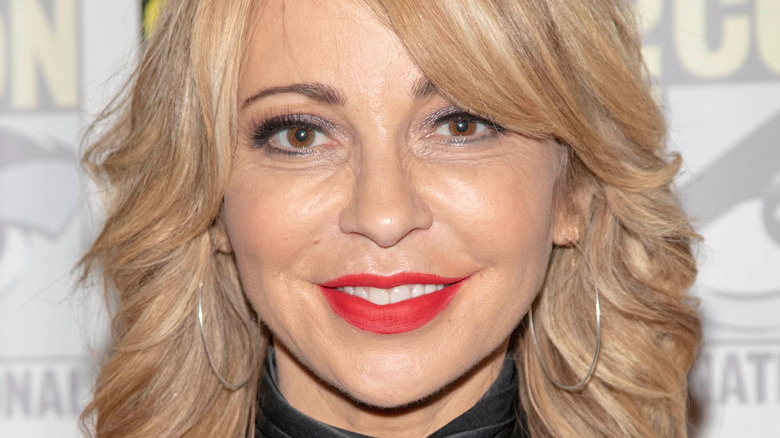 Eugene Powers/Shutterstock
The beloved "Ghostbusters" franchise has a legion of adoring fans. Beyond the four movies, the franchise has expanded into animated shows, video games, comic books, and more. Many famous actors have appeared in the various properties under the "Ghostbusters" umbrella. One prolific voice actor, Tara Strong, voiced a character that "Extreme" fans may recognize.
Strong has lent her voice to hundreds of characters throughout her storied career. She has brought to life Bubbles from "The Powerpuff Girls," Raven in "Teen Titans Go," and Dil Pickles in "Rugrats," among a slew of others (via IMDb). Strong is also a rare actress who has worked on projects voicing a character for DC as well a mischievous one in the MCU. While the actor's voice is known by many fans of popular cartoons from the '90s and 2000s, the performer also voiced a notable character in the "Ghostbusters" universe that only the franchise's biggest fans may recognize.
Tara Strong plays Kylie Griffin
Tara Strong voices the character of Kylie Griffin in the 1997 animated series "Extreme Ghostbusters." The show lasted only 40 episodes over the course of one season, but fans of the show felt it deserved more. A continuation of "The Real Ghostbusters," the previous animated series, "Extreme Ghostbusters" follows Egon Spengler (voiced by Maurice LaMarche), who recruits students from the paranormal class he teaches to help fight off ghosts that have suddenly reappeared after years of inactivity. The character of Kylie Griffin is one of the students, the secondary leader of the new Ghostbusting team, and the only member with prior paranormal experience.
Around that time, and in addition to her work on "Extreme Ghostbusters," Strong was busy voicing other beloved characters. In an interview with Authority Magazine, she said, "I was playing, like, five different tragic teenage females at the time. I was doing Batgirl, Kylie in 'Extreme Ghostbusters,' Sharina Wickett in 'Detention,' and Ingrid Third in 'Fillmore!' I was doing all these dark teens and I was very conscientious about making each voice sound distinct because each of those characters has her own identity, world, friendships, relationships, emotions."
"Extreme Ghostbusters" is considered one of the best animated versions of a live-action property. The 2021 film, "Ghostbusters: Afterlife," even features an easter egg for fans of the animated series, and that is no small part thanks to Tara Strong, the voice responsible for some of the most beloved animated characters.