The Untold Truth Of Echoes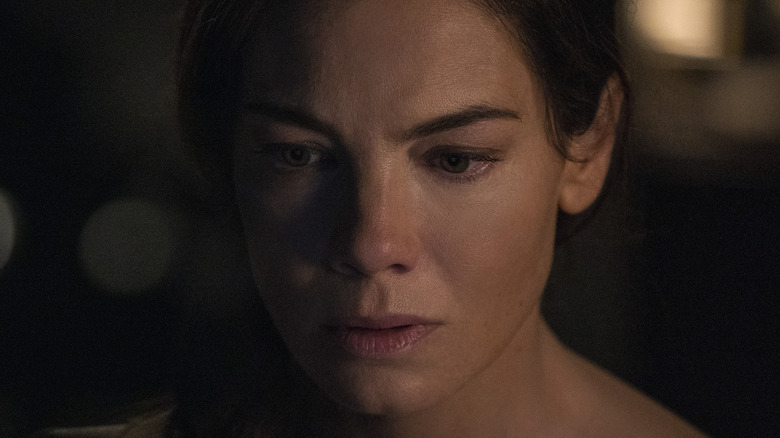 Netflix
Spoilers ahead for "Echoes" Season 1. 
In case you've missed it, Netflix's newest thriller series "Echoes" is filled to the brim with twists and turns around every corner. The limited series follows twin sisters Leni and Gina who both have seemingly picture-perfect lives. Gina lives in LA with her therapist husband as a successful novelist. She's incredibly close with her twin who lives in a small town with her husband and daughter. The story begins when Gina discovers that her sister has gone missing. She rushes home to help the town try and find her, but it's quickly revealed that there's more to these sisters than meets the eye.
"Echoes" builds up the tension as audiences discover that the sisters have been switching lives every year on their birthday. Because of this, it's unclear which twin is "good" and which is "evil" until the very end. Each episode ups the stakes and questions the meaning of happiness for the twins. The ambiguous ending allows audiences to question whether or not either twin finds happiness, as their lives have never truly been their own. This is due to the fact that the sisters share everything, right down to Mattie, the daughter of Leni. And it turns out that Gina has had enough and wants to leave her sister for her own life.
Due to the intriguing nature of the show, it stands to reason that by the final episode, audiences have more questions than ever. Luckily, we've compiled a list of some untold truths about the production of "Echoes." These will answer any lingering questions the show has brought up and will also shed some light on the production behind this original series.
Echoes had small beginnings before Netflix got involved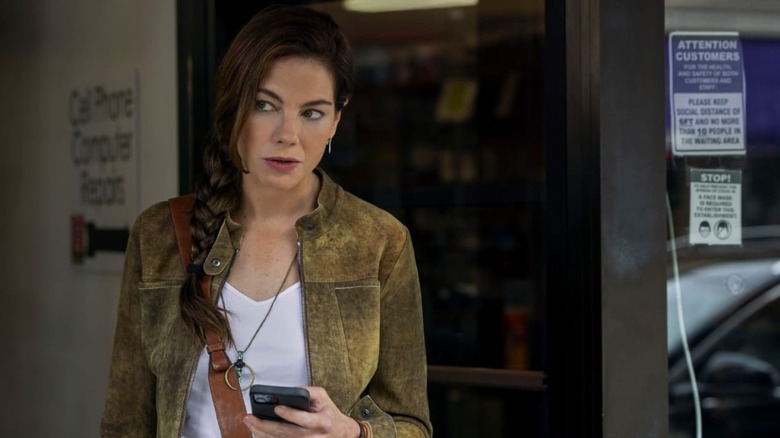 Netflix
"Echoes" is created by Vanessa Gazy, the creator and writer behind the series "Eden." The story of how "Echoes" went from a small project in Australia to a major streaming show on Netflix is an interesting one. Like many well-thought-out concepts, "Echoes" was years in the making. According to If, Gazy initially had the idea for the show back in 2014 while she attended film school. She spoke to the magazine about the wild ride she went on in order to complete the project, suggesting that "It's been beautiful at times and slightly harrowing at others."
In 2017, Gazy finished her concept for "Echoes" and submitted it to a pair of Australian writing contests. This submission opened doors for her, as she was able to workshop her concept with a few producers, which ultimately led her to pitch Netflix. In 2020, Brian Yorkey was brought on as a co-showrunner, and production for "Echoes" began. Yorkey is no stranger to working with Netflix, as he was an executive producer and writer on "13 Reasons Why."
How actress Michelle Monaghan built her twin characters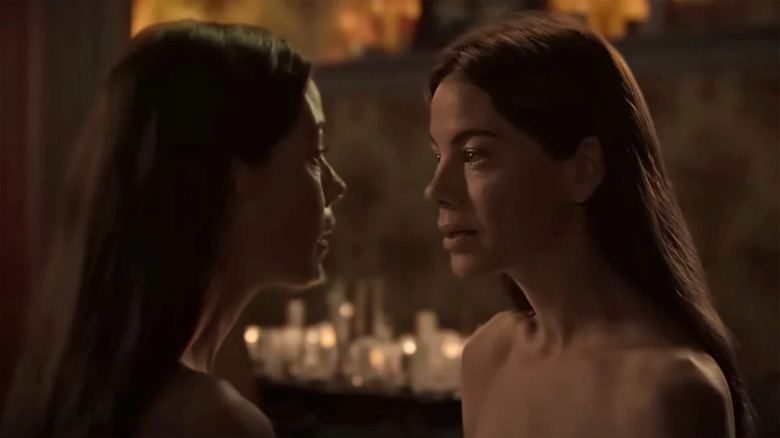 Netflix
Michelle Monaghan had the difficult position of portraying twins Leni and Gina in "Echoes." You may recognize the actress from her roles in "Mission: Impossible — Fallout," "Eagle Eye," and "True Detective." However, this role came with very specific difficulties. Monaghan had to portray two separate people who can convincingly pretend to be each other in a way that also allows the audience know which character is actually playing which twin. It's hard to imagine what that's like. Luckily, we don't have to imagine, as Monaghan shared her process with Netflix.
"This is the greatest, biggest, most ambitious endeavor I could take on," said Monaghan. "I started to develop them really from the womb, Leni being [born] first and then Gina second. Then [I] really used the baseline of that foundational trauma of them losing their mom, their very different memories of it, and how that memory informed each of them emotionally, physically, and energetically. I built Leni from top to bottom, then I built Gina from there."
Michelle Monaghan assigned each twin a color in the script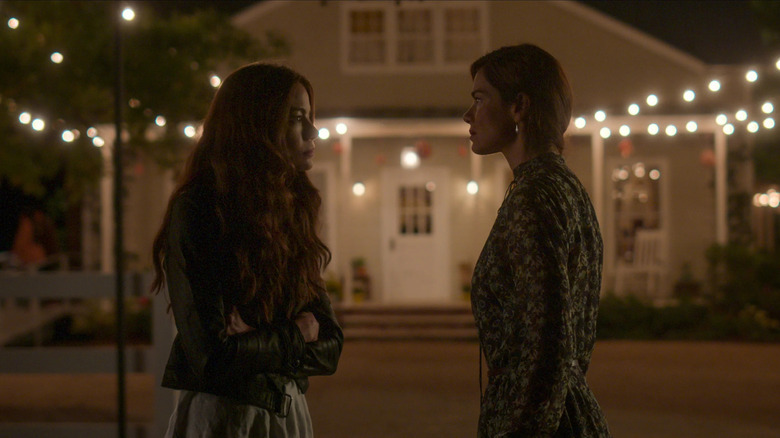 Netflix
In order to keep both Gina and Leni separate in her mind, Monaghan had an interesting way of separating the twins while prepping for her role. Monaghan spoke with Forbes to detail the somewhat complex process she and production went through in order to bring the twins to life.
Due to the intricate way the twins' story unfolds, Monaghan joked that she had to go to Staples for office supplies. She detailed how she bought paper clips, highlighters, and Post-it Notes so that she could make sense of the script. "The paper clips helped with the scenes because the story is not told linear, and we were shooting out of chronological order." Monaghan detailed to Forbes, "The level of difficulty got greater and greater."
And that's not all, Monaghan explained how she color-coded her script by each sister. She assigned Leni blue, while Gina's got both pink and orange. According to Forbes, doing this helped save Monaghan, who described it as her "lifeline" as she carried her script with her around set at all times. Luckily, production understood her process and tried to utilize her color distinctions on set to help keep things organized.
Switching between Gina and Leni took hours behind the scenes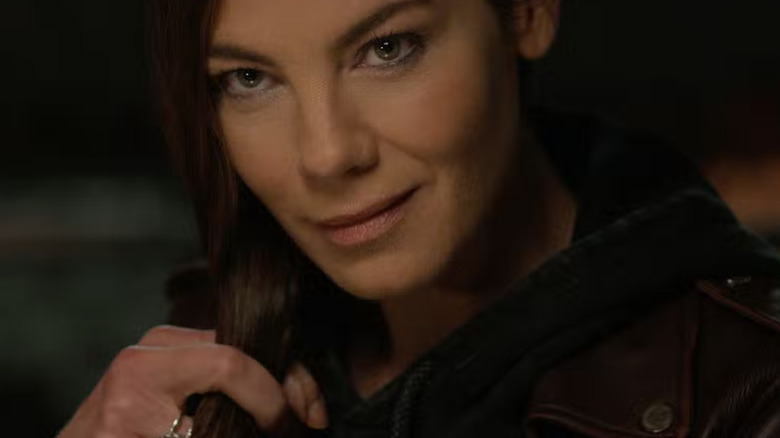 Netflix
Behind the scenes, the production had its own complex way of separating the twin characters, and it was way more involved than you would think. It took hours in order to switch actress Michelle Monaghan back and forth between the sisters. First, Monaghan would read her lines as Leni across from a stand-in actress, then she would have to go to hair and makeup for hours in order to transform into Gina. Once the transformation was complete, Monaghan read her lines as Gina in the same scene she just worked on. Once again, she worked with the stand-in actress who switched to portraying Leni. According to Monaghan, "There were many nights at 3:00 a.m. where [they'd be] doing my hair, applying my makeup, putting in the earrings, the whole thing" (via Netflix).
As if this process wasn't complicated enough, there is a scene in the limited series where Leni and Gina are fighting as a fire begins to break out and burn down their home. As you might expect, this scene took days to get through.
Luckily, Monaghan shared that the cast and crew were helpful in allowing her to get into the mind space of the characters, detailing that "Each co-star, each character treated Gina or Leni differently." Every little bit helps, it seems.
Which twin was Michelle Monaghan's favorite to play?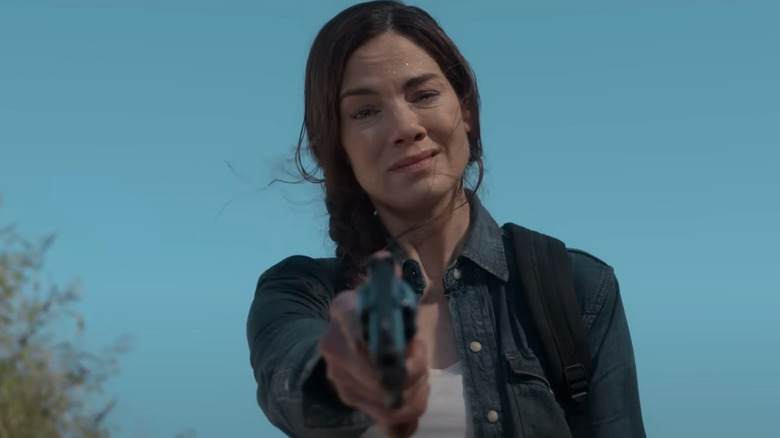 Netflix
Sometimes actors get attached to their characters. Obviously, spending a certain amount of time pretending to be an imaginary person fosters a sense of emotional connection with that character. This is likely why Michelle Monaghan struggled to answer when asked by Forbes which character was her favorite to portray — the devious Leni or the angry Gina.
"It's like picking a favorite child...it's almost impossible," began Monaghan. After some consideration, she shared that she likes "playing Leni because I enjoyed leaning into her Southern charm. As far as her arc, we see her devolve as she learns things about her past she never knew, and that was challenging to play." However, don't discount Gina just yet, because Monaghan has some fond memories of portraying the sister who feels trapped in the life that her twin has made for both of them. Monaghan said, "As for Gina, I loved the hair, makeup, and clothes."
It seems like while Monaghan prefers to portray Leni, she's happy to have the opportunity to play both sisters as, in her words, "Each had beautiful and very different lives, and it makes sense that they'd want to switch every year on their birthdays."
The actresses who played teenage Leni and Gina are real twins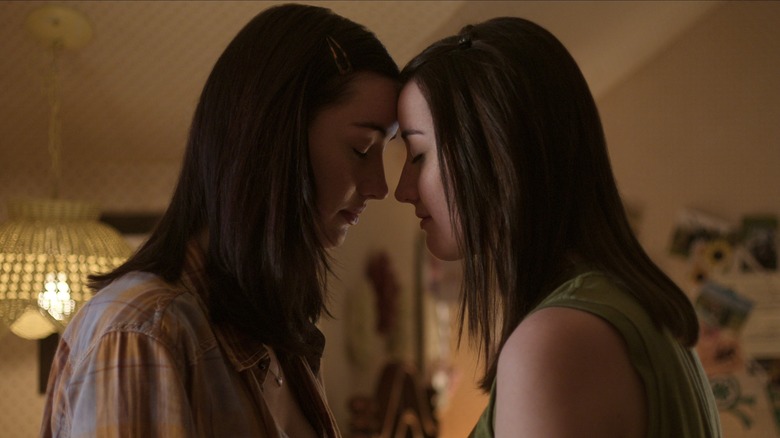 Netflix
"Echoes" includes various flashbacks that take place during the teen years of Leni and Gina. While Michelle Monaghan portrays the adult version of the twins, you may be surprised to learn that the teenage versions of the girls are portrayed by real-life twins – Madison and Victoria Abbott play Leni and Gina, respectively.
Aside from their work in "Echoes," the sisters appeared in the 2021 short film "Geisting" as characters named Gracie and Gretta. Though we haven't seen "Geisting" and can't say for sure, it sounds plausible that they play sisters in that project as well. While Victoria doesn't have any official screen credits outside of "Geisting" and "Echoes," Madison has also played small parts in "American Crime Story," "Dream Team," and in a short called "About Last Summer..." We hope to see these two in more things, as they did excellent jobs in bringing the teen versions of Leni and Gina to life.
Which twin appears at the end, Leni or Gina?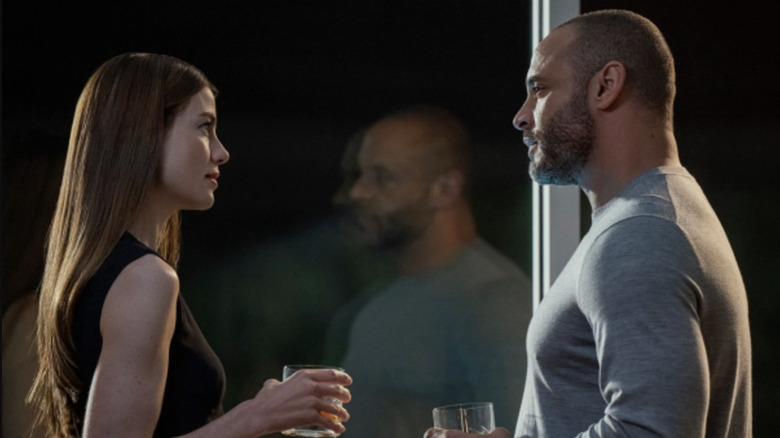 Netflix
"Echoes" has many twists and turns, however nothing can beat the ending scene when Gina's husband is confronted with one of the twins. The question is, which one is it?
The limited series ends with Gina jumping over a waterfall in order to get away from her sister. Leni makes it clear that her entire existence is about Gina, so once she believes that Gina is dead, she leaves, as she can no longer deal with the chaos left behind. After some time passes, audiences see Gina's husband Charlie (Daniel Sunjata) giving a reading from his latest book — an account of his life and marriage with the sisters. One of the twins appears and asks if a body was ever found. Later that evening, he finds the other twin in his house, and they share a drink. When he asks her which twin she is, she responds by asking whether that matters. This suggests that they were functionally one person, rather than two separate individuals. Leni has echoed this idea throughout the entire series.
Luckily, you don't have to rack your brain figuring out who was who, as co-showrunner Brian Yorkey broke it down for The Wrap. Gina is at the book tour, and Leni's at Charlie's house. Reddit fans have interesting theories as to why this is the case, arguing that Leni always coveted Gina's life and was happy to hear that Charlie loved them both. So, it makes sense that she would return to him, while Gina just wanted to be free and was checking in to make sure no one was looking for her (via Reddit).
Matt Bomer's experience with thriller shows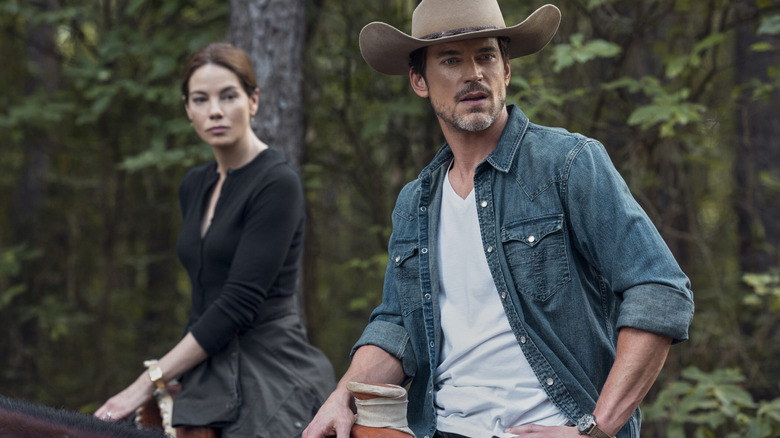 Netflix
Matt Bomer portrayed Leni's husband Jack, a hard-working husband and father who enjoys a peaceful life. However, once Gina switches places with Leni, she's revisited by her ex-boyfriend Dylan (Jonathan Tucker) a man she deeply loved when she was a teenager. She learns a terrible truth about her sister, resulting in her ruining the double life the twins have been living. As she plans to run away with Dylan, Jack discovers the truth about what she and Leni have been doing to him and his daughter, making him understandably less than happy. He tells Leni that she has destroyed his life and reputation, and says she'll never see her daughter again.
When you think of Matt Bomer, most associate the actor with his role as Neal Caffrey in "White Collar" or Ken in "Magic Mike." There's also his portrayal of McCoy Whitman in "Will & Grace" and Larry Trainor in "Doom Patrol." However, it might surprise you to learn that "Echoes" is not the first time Bomer has dipped his toes in a thriller series. In fact, he's been in quite a few before landing the role of Jack. In 2021, Boomer portrayed Michael Winslow in "American Horror Story." His character is one of the victims of the Murder House that haunts the residents following his death. He also appeared in Season 3 of the thriller series "The Sinner" in 2020. 
Will Echoes get a Season 2?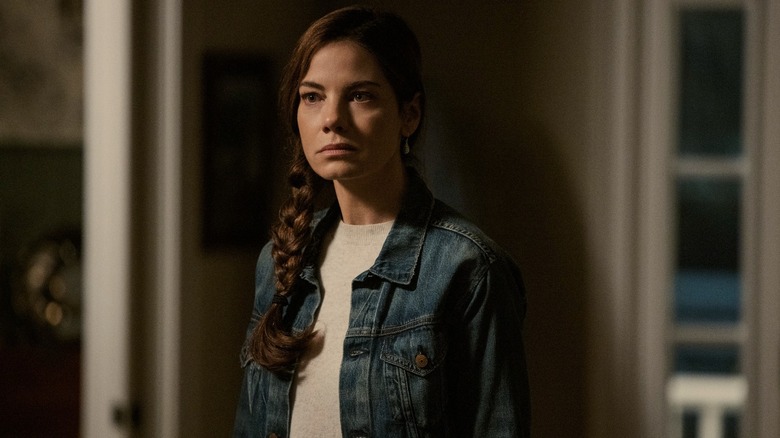 Netflix
After the success of "Echoes," many have questioned if the show will get another season. The series ends with various questions unanswered and many characters' fates left up in the air. There's certainly room to tell more.
According to Forbes, "Echoes" managed to hit the top of Netflix's TV rankings, however, this might not be enough, as the show is marketed as a limited series. Typically, this means that it's a one-and-done kind of formula, with the entire story only getting a single season. For example, think "Watchmen" or "Sharp Objects."
But with such a strong following, there's always a chance that Netflix will give "Echoes" the green light. It certainly wouldn't be the first time that a limited series has gone longer than just one season. We're looking at you "Big Little Lies." Initially marketed as a limited series, the show was given a second season in 2019 due to its overwhelming popularity among fans. With that information, while Netflix has yet to announce a second season for "Echoes," there's still a chance that it could happen.
Here's what Season 2 could look like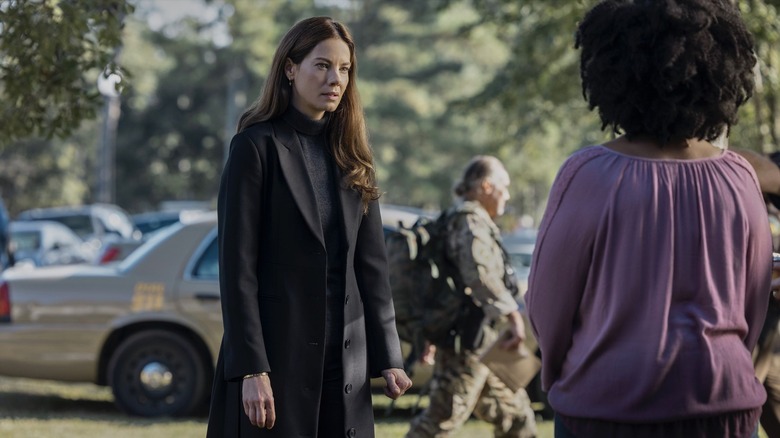 Netflix
While the jury is still out on if "Echoes" will get a Season 2, co-showrunner Brian Yorkey has some thoughts on the matter. According to Newsweek, Yorkey is incredibly proud of the work done in "Echoes." And while he would be happy with just one season, he's already pitched some ideas for what Season 2 could cover.
According to him, he began pitching before the limited series wrapped, as he felt the characters of Leni and Gina needed more exploration. He argued that "these women are fascinating, and this situation is super tangled." For Yorkey, he specifically wants to explore how Leni and Gina navigate life without the connection they have with their daughter Mattie (Gable Swanlund). While she's technically Leni's biological daughter, both she and Gina have been raising her by switching off every year throughout Mattie's entire life.
Yorkey also said he believes that the character Sheriff Louise Floss (Karen Robinson) doesn't seem like someone who will just let the twins go, suggesting that a manhunt for Gina and Leni would be a central plot for the next season.
Should "Echoes" continue? Or was one season enough to capture the complex story of Leni and Gina McCleary?