Why Sheriff Louise Floss From Echoes Looks So Familiar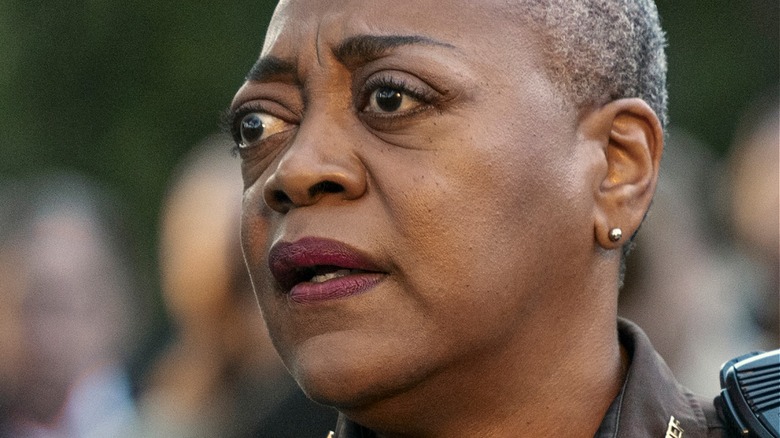 Jackson Lee Davis/Netflix
If there's one thing "Echoes" isn't lacking, it's recognizable faces. The new Netflix series made its premiere in late August but quickly rose to the top of the platform's charts in the days after its premiere. Following its debut, "Echoes" even managed to dethrone "The Sandman" as the streaming service's No. 1 TV show in the United States. Its success, notably, came in spite of the fact that it received largely negative reviews from critics. In fact, as of this writing, "Echoes" currently holds only a 25% Tomatometer score on Rotten Tomatoes.
Created by Vanessa Gazy, the series focuses on a pair of identical twins, Leni and Gina, who have secretly swapped lives ever since they were children. Both of their lives are thrown into chaos, however, when one of them goes missing. "True Detective" star Michelle Monaghan leads "Echoes" as its two central identical twins, but she isn't the only well-known actor who appears in the series. The show's impressive ensemble cast also includes reliable actors like Matt Bomer, Daniel Sunjata, Michael O'Neill, Jonathan Tucker, and Ali Stroker.
Odds are, viewers will likely recognize the actor who plays Sheriff Louise Floss in "Echoes" as well, though, they may not know why. With that in mind, here are some of the shows that TV viewers may have seen actor Karen Robinson in before.
Karen Robinson made waves as Ronnie Lee on Schitt's Creek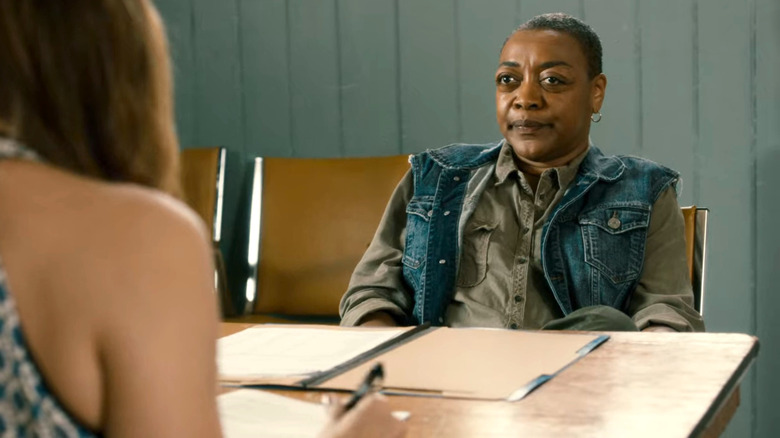 Pop TV
Karen Robinson has a major role in "Echoes" as Sheriff Louise Floss, the determined investigator who begins looking into some of the show's biggest mysteries. To her credit, Robinson gives an undeniably strong performance in the Netflix miniseries, too. However, Robinson is likely still best known for her recurring turn as Ronnie Lee in the award-winning comedy series, "Schitt's Creek."
Robinson made her debut as Lee in the third episode of "Schitt's Creek" Season 1, but she continued to appear as the character throughout the entirety of the series' six seasons (via IMDb). Over the course of her time on the show, Robinson's Ronnie even changes and grows in some surprising ways. Indeed, despite her relationship with the series' central family, the Roses, getting off to a bit of a bad start, Ronnie eventually becomes one of their biggest supporters and friends. That said, it is worth noting that "Schitt's Creek" doesn't end with Ronnie completely letting go of some of her personal grudges.
In other words, while the cast of "Schitt's Creek" includes a number of memorable supporting players, it's not hard to see why Robinson's Ronnie has become such a fan-favorite member of the series' quirky ensemble.
Robinson played a Trillian leader on Star Trek: Discovery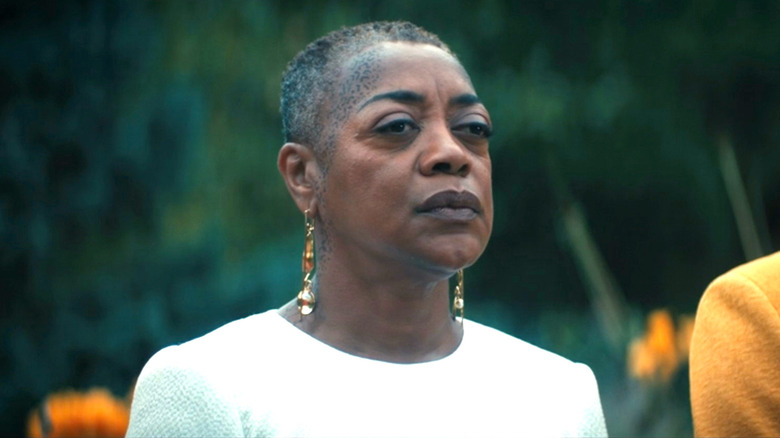 CBS All Access
"Schitt's Creek" and "Echoes" aren't the only major TV shows that Karen Robinson has appeared in throughout her career. In fact, in late 2020 and early 2021, Robinson made two guest star appearances on "Star Trek: Discovery." The "Echoes" star played Pav, the leader of the Trillian government, in the sci-fi series' third season. Like many of Robinson's most notable screen roles, Pav is given more to do in "Star Trek: Discovery" than Robinson's guest star status would likely suggest as well. 
After initially ordering that Adira Tal (Blu del Barrio) be escorted from the Trillians' planet, Robinson's Pav eventually manages to come around and apologize to Adira for her rudeness. In the same episode, Pav even goes on to express interest in communicating further in the future with both Adira and Michael Burnham (Sonequa Martin-Green).
All of this is to say that, while her appearances as the character have been limited up to this point, Robinson's Pav has nonetheless managed to leave a lasting impression on some "Star Trek: Discovery" viewers.
Karen Robinson made a memorable impact on A Million Little Things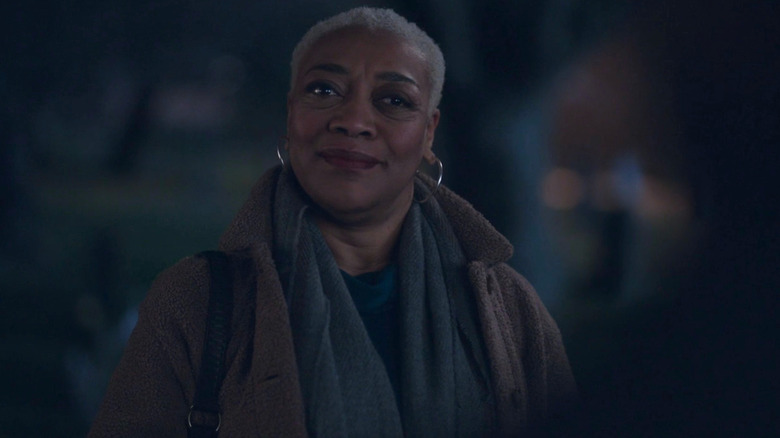 ABC
In the same year that Karen Robinson showed up for the second time as Pav on "Star Trek: Discovery," the actor also made her first appearance as Florence Davis on the ABC drama series, "A Million Little Things." Notably, Robinson's Florence makes quite the debut on the ABC series as well, initially appearing only as a mysterious woman that Rome Howard (Romany Malco) unexpectedly crosses paths with while visiting his mother's grave one night.
Eventually, it's revealed that Florence has secretly been seeing Walter Howard (Lou Beatty Jr.), Rome's father. Understandably, it takes Rome some time to get used to Florence and Walter's relationship, but Florence's personality and sense of humor help him to quickly get over his own reservations about her. Unfortunately, Robinson has not appeared as Florence since Episode 14 of "A Million Little Things" Season 3.
Nonetheless, in each of the five episodes of "A Million Little Things" that she has appeared in to date, Robinson brings a kind of warm and charming energy that has made her character difficult to forget.
Robinson also played Margarita Vee on Titans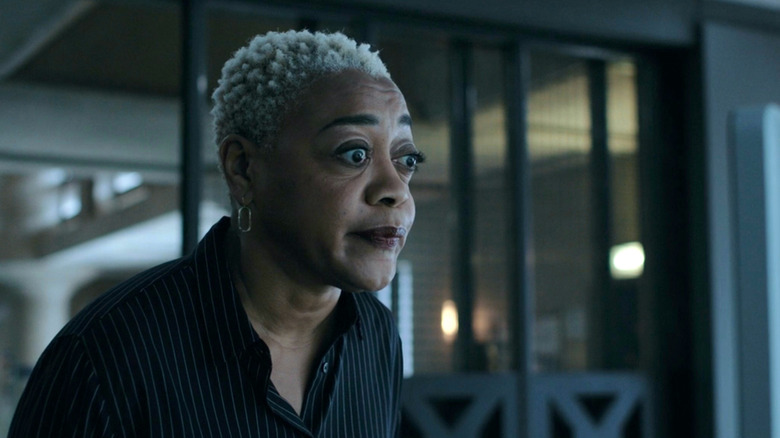 HBO Max
In addition to her parts in beloved shows like "Schitt's Creek" and "Star Trek: Discovery," Karen Robinson also had a recurring guest role in Season 3 of HBO Max's superhero TV series, "Titans." 
The actor made her debut as Margarita Vee, a Gotham City police offer, in the third episode of "Titans" Season 3, titled "Hank & Dove." Although it might not seem like it at first either, as one of Barbara Gordon's (Savannah Welch) go-to friends at the Gotham City Police Department, Robinson's Margarita ultimately plays a small but invaluable role throughout the series' third season.
Indeed, while Margarita doesn't ever get the chance to become one of the series' primary characters, she does steadily emerge over the course of "Titans" Season 3 as one of its best supporting players. In the Season 3 finale of "Titans," Robinson's Margarita even reveals that she doesn't actually work for the GCPD, but for an entirely different organization known as A.R.G.U.S.
Now, thanks to "Echoes," viewers have been given the chance to see Robinson flex her acting muscles in a much larger role than the ones she was given in "Titans," "A Million Little Things," and "Star Trek: Discovery."