Michelle Monaghan Revealed The Most Exhausting Part Of Playing Twins On Echoes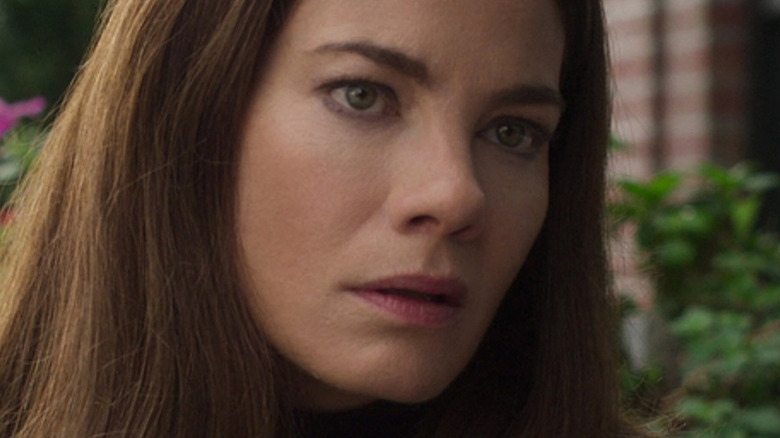 Courtesy of Netflix © 2022
Upon realizing that she'd landed the roles of identical twin sisters on the Netflix miniseries "Echoes," actress Michelle Monaghan apparently had two distinct reactions. As she explained during this In Creative Company YouTube clip, "I really was excited at the prospect of being able to play dual roles," she said, but then added, "And also the second I said yes, I went 'Oh my god now I really have to do this.'"
As it turns out, Monaghan was indeed stepping into one of the most challenging parts in a career that includes major roles in "Gone Baby Gone" and the "Mission: Impossible" franchise. Because Gina and Leni aren't just your average twins. These twins actually trade lives every year on their birthday. They secretly trade one twin's big-city high life for the other twin's low-key country life, also swapping husbands and then keeping their double lives carefully concealed. But then, one of the twins mysteriously vanishes, causing their meticulously planned annual masquerade to spin wildly, dangerously out of control. Of course, playing even one starring role in a major miniseries can be taxing for most actors. But as Monaghan says, there's something about playing twins on a production that is more tiring than usual.
Michelle Monaghan says this element of playing twins on Echoes wears her out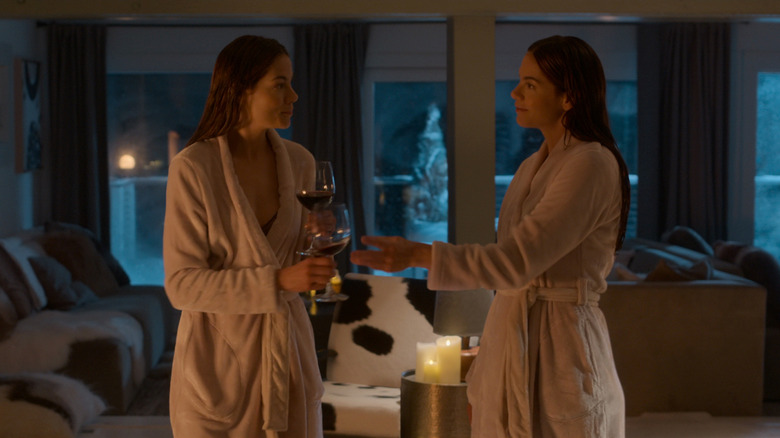 Courtesy of Netflix © 2022
As noted above, the twin sisters at the center of the action in "Echoes" move in decidedly different lifestyle circles. Gina is a bestselling writer living large in Los Angeles, while Leni lives a more down-to-earth existence with her wrangler husband on a rural Virginia horse ranch. So even the most basic elements of the two characters' very different lives will be at odds for an actor tasked with inhabiting them fully, from clothing to vocabulary to body language.
And, as Monaghan told Netflix Tudum about playing the twins, "This is the greatest, biggest, most ambitious endeavor I could take on." But she then added that while it took a lot out of her, she had the time of her life doing it. Still, inhabiting two characters does have its downside, as the actress revealed in this YouTube interview with Bonnie Laufer. Saying that while she was very comfortable with her characterizations for both twins, the physical challenges of alternating between the two personas is what ends up being the most draining. "Working with the various cameras and the special effects and switching in and out of them, just makeup and hair multiple times a day, it was exhausting."