George Eads' Favorite Guest Star On CSI Might Surprise You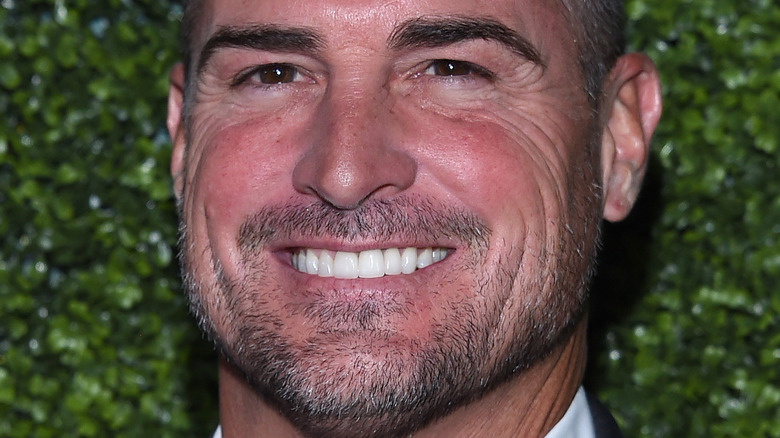 DFree/Shutterstock
It's impossible to bring up the procedural crime genre and not immediately think about "CSI." The hit show, which centers on forensic crime analysts, is defined by many fans as a game changer, and rightfully so. After all, it's not every day that a TV show comes along and manages to influence its genre and how some real-life investigations are handled. "CSI" arguably set the standard for any other show that would dare to focus on its cast breaking down cases with the help of crime scene investigators in a lab. But besides having an intriguing premise, another factor that kept fans returning was the rich cast of actors.
For much of "CSI," George Eads was one of the show's most consistent and beloved stars among many fans. What helped was the actor's portrayal of the empathetic Nick Stokes, whose caring attitude toward many of the victims and suspects arguably made him the heart of the "CSI" team. Besides a brief break from the show following some behind-the-scenes drama, Eads acted on "CSI" for all 15 seasons. That means the actor often starred alongside one of the show's many celebrity guest stars. "CSI" has featured many surprising names, from Jeremy Renner to Blink 182 drummer Travis Barker. Still, Ead's favorite guest star on "CSI" is a person that might surprise you.
Eads enjoyed Justin Bieber's guest role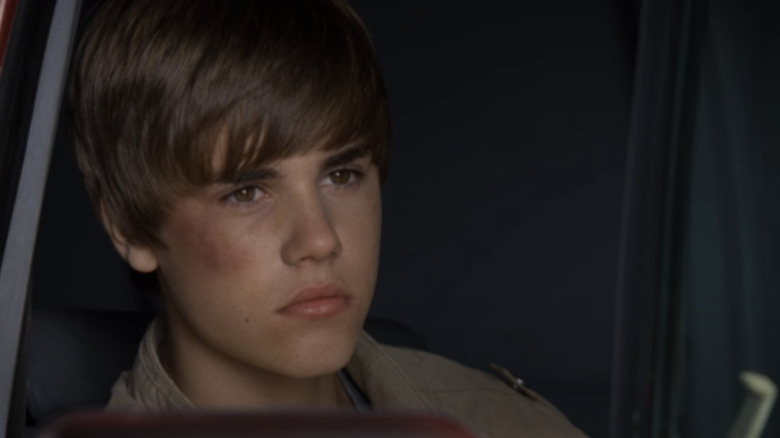 CBS/Hulu
Eads may not have defined himself as a Belieber, but during a question segment from CBS, the actor did note that Justin Bieber was his favorite "CSI" guest role. The Canadian singer famously appears during Season 11 as deranged killer Justin McCann who targets police officers with homemade bombs. In the CBS segment, Eads describes Bieber as a lot of fun despite ultimately having to kill his character during the episode. The episode is titled "Targets of Obsession," a fitting name considering what goes down.
Stokes unleashes a barrage of bullets that cause McCann to comedically flail before finally falling to the ground. Despite the oozing gun wound and signs of zero movement, one officer checks for the pulse of a character whose only shot at having survived at this point is if "CSI" had decided to become "The Walking Dead." In retrospect, the scene might have aged poorly, considering its ridiculous meme-worthy status. But it certainly is unforgettable. In the CBS video, Eads also closed his memory of the conclusive scene with a bit of dark humor, saying, "I had to figure out what that cure for Bieber fever was, and it was five blanks."
Eads was always grateful to work with musician guest stars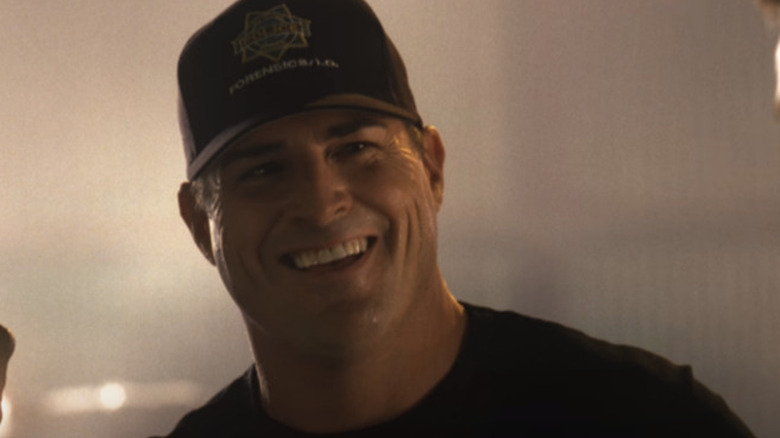 CBS/Hulu
Featuring many celebrity guest stars is a strategic example of entertainment synergy. For instance, John Mayer's discrete musical appearance on "CSI" helped introduce him to a new section of fans. His scene primarily exists to promote his then-newly released album. Eads appears during Mayer's "CSI" performance as his character, Stokes, is kicking back in the club. Yet Eads has done more than dance in the background while a guest act takes center stage in "CSI." In "Seeing Red," Eads is in some significant scenes with singer Jesse McCartney, who plays the character Wes Clyborn. And we've already mentioned his grisly moment with Bieber.
It's difficult not to notice a trend with Eads and celebrity guests, especially after an interview with CSI Files, which brought up his penchant for acting alongside these particular stars. When asked about him working with so many musician guests on the show, Eads expressed gratitude at the opportunity, as it introduced the actor to new impressive talent. "Again, with no disrespect to stunt casting, there's a big community here in LA that need jobs, Eads said to CSI Files. "I kind of like getting to watch people you've never seen before on TV shows. We're only as good as our guest stars." Clearly, Eads' appreciated some of his guest stars getting the chance to show that their skills go beyond just the field of music.