John Mayer's Discreet CSI Appearance A Lot Of Fans Likely Missed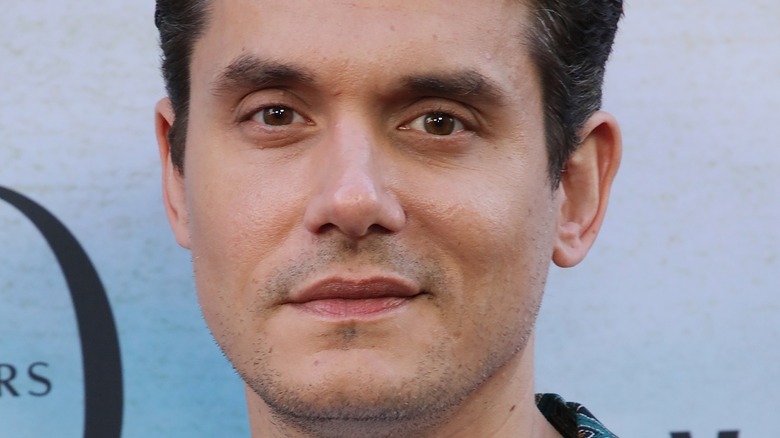 Robin L Marshall/Getty Images
In the world of music, John Mayer is quite the familiar name for many fans. The songwriter and guitarist made his proper studio album debut in 2000 with the release of "Room For Squares." Since that release, Mayer catapulted into a musical career that has spanned at a couple of decades and counting. Along the way, the artist earned several Grammys and consistently raced up the Billboard charts with many a song. But some of Mayer's most hardcore fans might not know that the musician also has noteworthy cameos and appearances in TV and film.
Mayer had famously appeared as himself in a memorable scene from "Chappelle's Show" and could also be seen in the Will Ferrell and Kevin Hart comedy "Get Hard." And in 2022, the artist added yet another film credit, playing a fictionalized version of himself in the opening moments of the dark comedy "Vengeance." It's probably safe to assume that Mayer prefers comedic scenes, but that doesn't mean he hasn't ever ventured into the gruesome world of procedural crime dramas. In 2006, Mayer had a discreet appearance on "CSI" that a lot of fans might have initially missed.
Mayer performs in a Vegas bar for the Season 7 premiere of CSI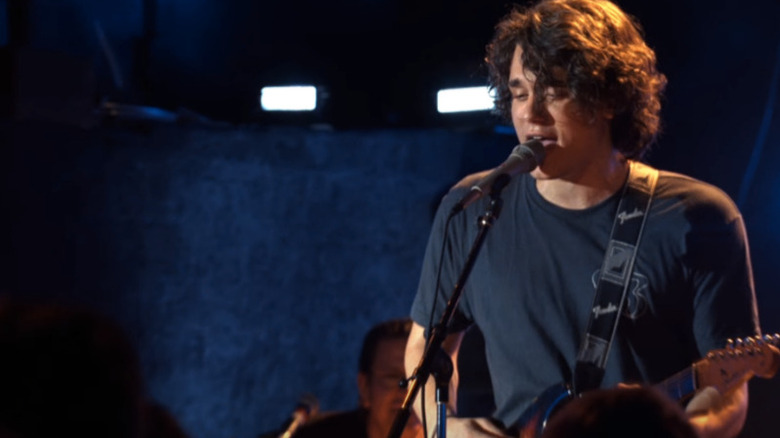 CBS
Season 7's "Built to Kill: Part 1" is the type of Vegas-centric thriller episode only CSI could deliver. For example, one of the episode's cases involves a flower delivery woman somehow crushed to death during a Cirque du Soleil performance. Honestly, it's the usual vision of Sin City seen through the twisted imagination of CSI. And we'd initially think that with such a direct link to the entertainment business in the episode, the case somehow involves Mayer as perhaps a suspect or a witness who happened to be at the wrong place at the right time. None of that occurs for the artist, as he only appears as himself playing in a Vegas bar where CSI members Catherine Willows (Marg Helgenberger) and Nick Stokes (George Eads) happen to be blowing off some steam.
The two characters share a dance while Mayer plays "Waiting on the World to Change." Mayer also follows up that song with a deep-cut performance of "Slow Dancing in a Burning Room." Both tracks appear on Mayer's third album, "Continuum," which was released the same month and year "Built to Kill" aired. That timing might explain Mayer's discreet appearance. As some fans on YouTube reminisced, the scene served as an excellent introduction for "CSI" fans to Mayer's music. 
With "CSI" as a ratings juggernaut for CBS during the early aughts, having your music played in the show was a clever use of some entertainment cross-promotion. Also, let's factor in that "Built to Kill" was the Season 7 premiere episode, which was guaranteed to have many fans watching. We're already starting to see where some of the sales of "Continuum" might have come from.
CSI had a trend of pulling in numerous musical artists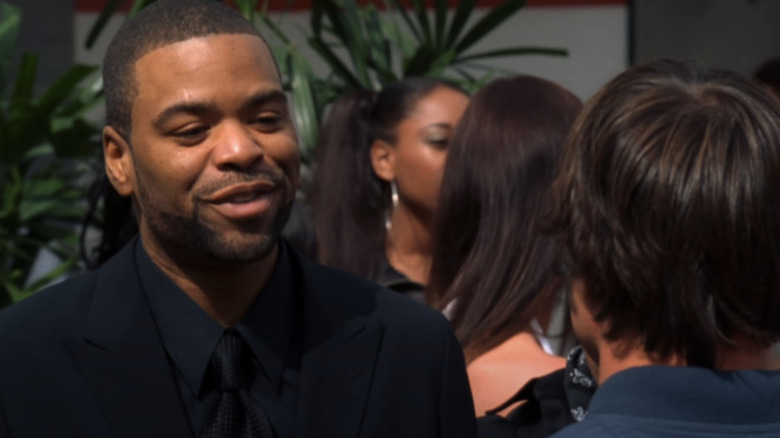 CBS
Mayer is just one of numerous musical artists that have made an appearance on "CSI." Given the occurrence, music entertainers constantly venturing over to the show looked like some rite of passage. In the previous "CSI" season before Mayer's appearance, the show featured multiple artists in the episode "Poppin' Tags." Admittedly, the title is probably a dead giveaway that the episode centers on the pop culture bubble of hip-hop. Still, the list of guests is pretty surprising. Per CSI Fandom, Akon and Obie Trice appeared as themselves, but Blink-182 drummer Travis Barker and rapper Method Man got to play fictional characters on the show. Barker played a rapper named Hi-Def, while Method Man got to play the recurring character Drops.
Speaking of artists that appeared in "CSI" multiple episodes, perhaps one of the series' most significant guest stars in that regard is Justin Bieber. Bieber appeared as a teen killer named Jason McCann during Season 11. In a "CSI" scene that might have aged poorly in retrospect, his character meets a violent and bloody end during a shoot-out with police. Many pop artists might not have gone that route for a guest spot, but to his credit, at the time, Bieber seemed impressed with his character's ending and the whole production process, which involved a lot of fake blood, per The Hamilton Spectator.