Law & Order: Organized Crime's Danielle Moné Truitt On Christopher Meloni, Season 3, And More – Exclusive Interview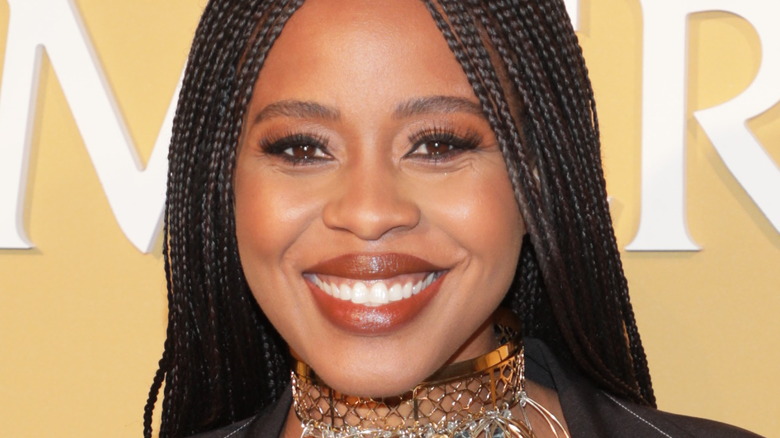 Rob Kim/Getty Images
For fans of the "Law & Order" franchise, having Christopher Meloni return after a 10-year hiatus was a dream come true. Even though he may have moved from the long-running "Special Victims Unit" to the latest spin-off "Organized Crime," which premiered in 2021, he's still playing the same character of Elliot Stabler that fans know and love.
Already heading into its third season, which premieres tonight on NBC with an epic crossover event, "Law & Order: Organized Crime" focuses on New York's Organized Crime Task Force that's led by Sergeant Ayanna Bell, who's played by Danielle Moné Truitt. After focusing on finding the person who murdered Stabler's wife in the first two seasons, the latest season is somewhat of a clean slate in terms of bad guys and single-arc storylines.
To fill in the blanks, Looper exclusively spoke with Truitt about what to expect from Season 3, what it was like to be compared to Meloni's former "SVU" co-star Mariska Hargitay, and where she hopes her character's story goes.
There's 'still a lot of conflict' in Season 3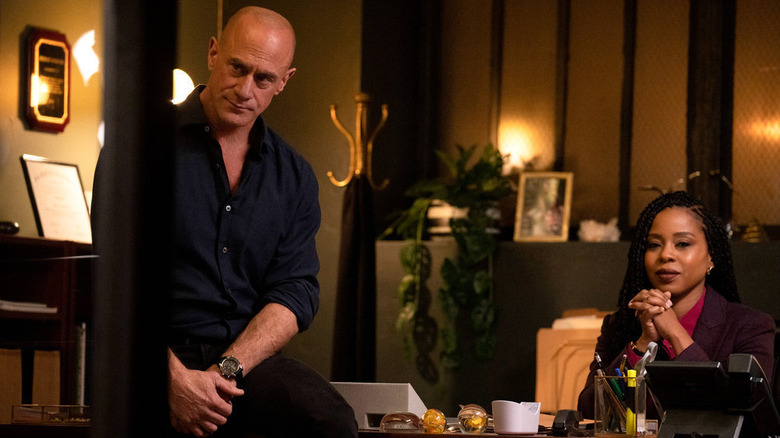 Virginia Sherwood/NBC
At the end of last season, your character was in a state of conflict. What can you tell us about where her storyline goes in Season 3?
Unfortunately, there's still a lot of conflict in Season 3 as well. Her wife left her and took the baby. When we pick up in Season 3, she's dealing with divorce and what that entails and how her life has changed because she doesn't have Denise and Jack at home. She's now preparing to be a single mom while also having to lead a task force.
They got two new members to the task force, and there's always a bit of a recalibration when you get new members. Bell is trying to strive for stability in her life and face the fact that it takes two in a marriage and it's not just one person that causes a marriage to fail. Bell has to do some looking at herself to see how she was responsible for the marriage failing.
On the show, you play a queer black woman in a position of power in law enforcement, which is a very underrepresented faction of society, to say the least. What's the most challenging part of bringing Sergeant Bell to life?
I don't find it challenging. When I'm telling stories, I don't look at the characters based on their profession or what they do. I look at them based on who they are. Whether I was an actor or a teacher or whatever, the essence of who Danielle is would still be the same. There are added stressors to Bell's life because of what she does for a living, because of her being a black queer woman, and having to climb the ranks and be underrepresented in her line of work.
I can relate to that because I'm not queer, but I am a black woman, and in my field of work, I've also had to struggle a lot. I've missed out on opportunities. I haven't been taken seriously because of my skin color. Women are paid less, period. It doesn't matter what industry it is. Her being queer, me not being queer, it doesn't create any challenges for me to bring her to life because I understand who Bell is. Whether she's queer or straight or whatever, the essence of who she is remains the same.
What's the biggest thing you have in common her in real life?
I'm a very compassionate person with a big heart, and Bell is definitely compassionate. She cares about those that she works with. She cares about her family, She cares about the public and the people that she's been put in this position to serve. She takes that really seriously. I'm definitely like that in a lot of ways. 
When I feel like I've been called to a position or my purpose is attached to relationships that I have or a job that I'm doing, I give it my all. We definitely relate in regard to that. [There's] also being women who are resilient, who have had to endure and go through a lot of things. There's still a part of us that's loving and soft and compassionate and wants to love and wants to be loved. We have that in common as well.
Filming the premiere was like 'Thanksgiving dinner' with family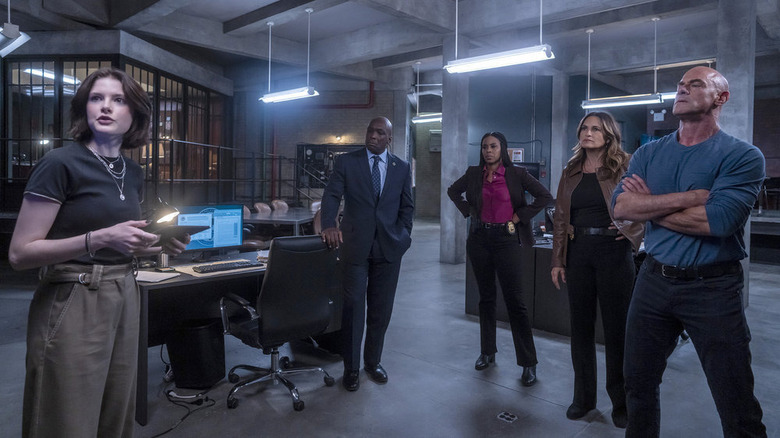 Zach Dilgard/NBC
You work very closely with Christopher Meloni. What's it like being compared to Mariska Hargitay and her "SVU" character in terms of your onscreen relationship with Elliot Stabler?
I don't think Bell [can be] compared to Mariska's character, Benson. To me, they're completely different. As far as the relationship between Bell and Stabler, there's no love connection, not even a spark of that. It's more of a brother and sister type of relationship.
When the show first started, I know people were used to seeing him with Benson. If anything, that's been the funniest part for people, to realize that he has a new partner and that he has his own show. There's a whole life on "OC" that is different from "SVU." That's been funny. As the seasons have gone on, people really respect Bell. They love her. They see that she cares for Elliot, but she also isn't going to take any crap from him. They really enjoy our dynamic. In this third season, I'm really excited to see how our bond is going to deepen.
I asked because it seems like some fans are still thinking that there's going to be something there, like Benson and Stabler...
One funny thing is there will be pictures of me and Chris and people will be like, "Where's Mariska?" or "where's Benson?" It's always so funny. She wasn't shooting on this episode so she's not going to be in a picture. One time, I posted a picture of me and Chris holding hands walking down the street and I was like, "Haters gonna hate." People were like, "He shouldn't be holding anybody's hand but Benson's hand!"
I can only imagine how that sent people into a tizzy.
I did it on purpose to see what was going to happen. There were full-on arguments about Benson, and I was like, "Actually, this was Chris and Danielle holding hands." It wasn't our characters. It was Chris and Danielle having a heart-to-heart walking down the street.
Speaking of Christopher and Mariska, the Season 3 premiere is an epic crossover event that reunites the two together. What was that energy like on set?
It's always super fun, all of us shooting together. We don't get to play with people on the other shows all the time. It was cool. One scene had all the "SVU" people at the "OC" task force and it's like a family reunion or Thanksgiving dinner when all the family comes over and has a meal together and gets to hang out. 
It was my first time meeting Camryn [Manheim], and it was a love fest. We all admire one another and are really happy to be a part of the "Law & Order" universe and Dick Wolf family. It's fun, lots of jokes. The show is so serious, but we were literally laughing and joking up until they said "rolling" and then we got in character and got serious again.
Don't expect Dylan McDermott to return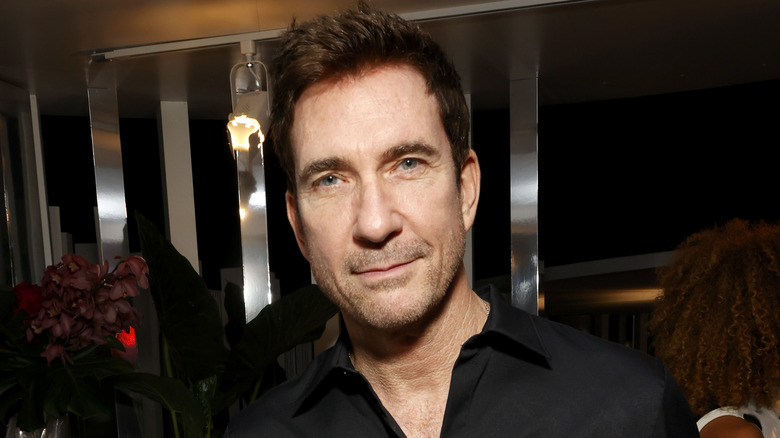 Frazer Harrison/Getty Images
Piggybacking on that last answer ... In general, any good Chris Meloni stories you can share from the "Law & Order: Organized Crime" set?
There's a couple. One time, [co-star] Ainsley [Seiger] bought some Chris Meloni earrings and wore them. We timed how long it would take him to notice that she had little baby Chris Melonis on her ears. It took about 30 minutes, so we teased him, like, "You're such a dude, you don't notice anything."
When I first started the show, I was like, "Oh my God, I can't even believe I'm here." Chris can be a little intimidating. He has those eyes. He stares into your soul. You have to get used to him, but now, all I do is crack on him all the time. We crack on each other all the time.
The other day, I had to give him a lesson on black women's hair because he called my braids dreads. I said, "Sir, these are not dreads, these are braids. I'm going to print out some flashcards of black female hairstyles so you can know which ones are correct." We  cracked up laughing. We have a really good rapport, and we give each other crap. It's fun.
Dylan McDermott was a large presence on the first two seasons, but now he's gone. However, there's a fan theory that his character, Richard Wheatley, is still alive and could return. What are your thoughts on that?
I don't think he's coming back! Burst everybody's bubble. I don't think that's happening. We don't know what happened to Wheatley, but with the way this season is going, I definitely can't see [him returning] this season. Who knows in seasons to come?
I would love for him to come back and play with us, because I love Dylan. He's a joy to work with, so funny and so cool. I would love to be able to act with him again for sure. As far as the storyline for this season, I can't see how he would be coming back ... but in the future, who knows, he might creep back.
Can you give us any insight into who the Big Bad is this coming season?
There's several, and that's what's going to make this season a little more compelling. There's an overarching storyline about a new casino that's going to be built in New York, so you have all your players, from politicians to socialites to the mob, all those types of people who want this casino built for their own personal reasons. There's going to be several bad guys throughout the season, and it's going to be a lot of fun.
Watching Bell 'fail' makes her a stronger character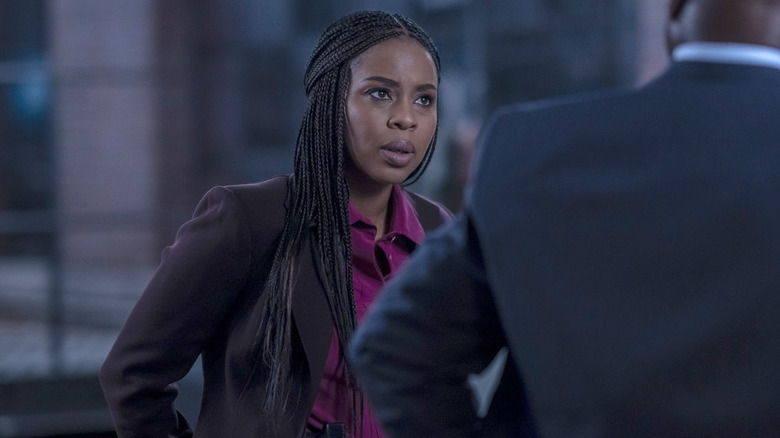 Zach Dilgard/NBC
In 2020, you appeared on an episode of "Chicago Med," which is [another] Dick Wolf production. Did that have anything to do with you getting the role on "Organized Crime"?
It absolutely did. I was so happy when I got that part. It was during the pandemic, so I was grateful that I booked some work during the time when a lot of actors were out of work and productions were shut down. I liked that character too — Dr. Angela Douglas. It was fun, and I got to act like I was pregnant. I had a great time. I shot one episode, but I was supposed to do two or three.
From shooting that episode, Jonathan Strauss, who's the casting director for the Dick Wolf shows, threw me into the mix and told them that I would be a good pick when he found out they were looking for someone to play Sergeant Bell. I had already played law enforcement in the past on a couple different shows, so they looked at my work on "Chicago Med," they looked at my work on "Rebel" and "Deputy," and they offered me the part. If I hadn't done "Chicago Med," I wouldn't have been on their radar like I was. I'm very grateful.
What would be your dream scenario on "Organized Crime"? Where do you hope to see your character go in terms of storyline?
I want my character to experience all of the different facets of life and relationships, whether it's lovers or my kid or other family members. [I want to see] more of Bell's world being introduced and being immersed in what makes her tick, whatever storylines they can come up with that are interesting, that show her as a hero, but also show where she might struggle internally with certain decisions that she has to make and certain things that she has to do. The messier the storylines are, the more fun I have as an actor.
Sometimes, it's fun playing a hero, but a lot of times, the bad guys really get to have more fun. What our show does well is it shows us as flawed people. As time goes on, I want to see her grow, I want to see her fail, I want to see her fall and have to pick herself up again with dignity and pride and go through things that we go through as humans that make us the awesome people that we end up becoming.
"Law & Order: Organized Crime" premieres tonight, with a special three-hour crossover event starting at 8 p.m. ET/PT on NBC and streaming the next day on Peacock.
This interview has been edited for clarity.