12 Best Recurring Lawyers In The Law & Order Franchise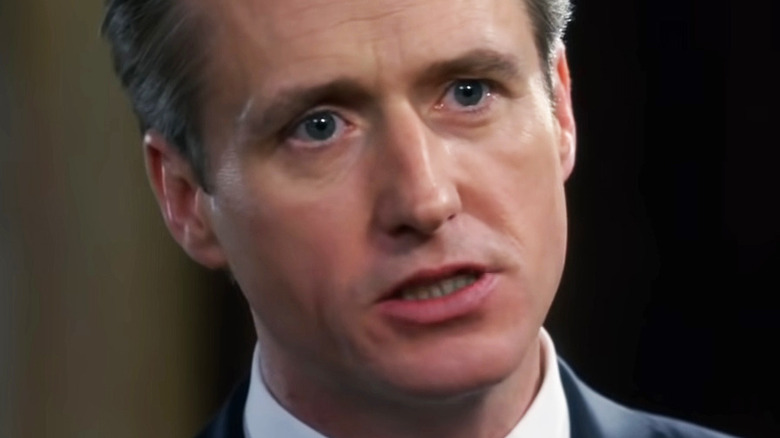 NBC/YouTube
The "Law & Order" franchise is among television's best offerings, and so are the many fictional lawyers who populate its hundreds of episodes. Exactly how big is the "Law & Order" machine? Well, the flagship show began in 1990. "Law & Order: Special Victims Unit" hit the airwaves in 1999, and has since become television's longest-running primetime live-action series, according to Deadline. And that's not even getting into lesser-known spin-offs like "Law & Order: Criminal Intent," "Law & Order: Trial by Jury," or "Law & Order: LA." That much criminal justice-related TV requires a massive amount of fictional lawyers. 
Luckily for fans, these attorneys are a varied bunch, played by a wide variety of actors. Some are venal villains, driven by greed, cruelty, and prejudice. Some are heroic crusaders who want to use their skills to make the world a better place. Many lie somewhere between these two moral poles. All of them inhabit storylines that reflect current (or once-current) societal issues. One thing is clear: In the fictional criminal justice system, recurring lawyers can become incredibly significant. These are the stories of the best the "Law & Order" franchise has to offer.
Sally Bell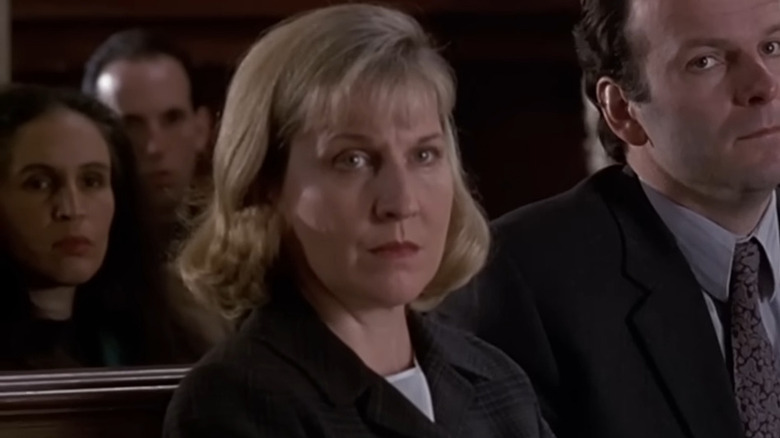 NBC/YouTube
Edie Falco portrays Sally Bell on four episodes on "Law & Order." Best known for playing Tony Soprano's long-suffering wife Carmela on "The Sopranos" and the titular character on the award-winning Showtime series "Nurse Jackie," Falco appeared on "Law & Order" long before she stepped into either characters' shoes. Bell, a curly-haired Legal Aid attorney, is introduced in the Season 3 episode "Mother Love." A particularly strong-willed lawyer, she was once in a romantic relationship with Jack McCoy (Sam Waterston), whom she was serving under. This scandalous bond between boss and underling is revealed during Falco's second appearance as Bell in the Season 5 episode "Scoundrels."
Sally Bell stands out, thanks to her layered history within the show's universe. She isn't just a random, one-dimensional defense attorney — she's at the center of a rare scandal involving Jack McCoy. Sadly, after Bell's last "Law & Order" appearance in Season 8's "Grief," her storyline abruptly ends. However, Falco revisited the franchise in the 2017 offering "Law & Order True Crime." This one-season series explores the real-life case of the Menendez brothers, with Falco appearing as famous defense attorney Leslie Abramson.
Sanford Remz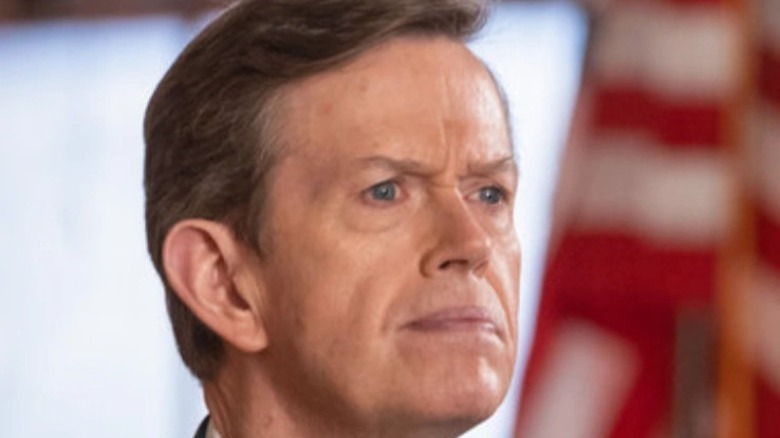 NBC
Character actor Dylan Baker has delivered a plethora of nuanced and impressive performances throughout his career. He's especially convincing as a sleazy villain, and his role on "Law & Order" proves no exception. Here, Baker portrays defense attorney Sanford "Sandy" Remz, who appears in four episodes spanning Season 14 to Season 21. 
Remz argues all of his cases well, and although his clients don't always walk free, he never fails to put up a formidable fight. He's particularly adept at getting guilty clients acquitted, and seems to genuinely believe in the twisted logic he uses to ensure their freedom. In the character's introductory episode, Season 14's "Darwinian," he seeks to acquit his high-profile client, a major publicist, for the hit-and-run accident she caused, which resulted in a homeless man's death. According to him, the guilt lies with another homeless man who fought the victim at an earlier point. In his last appearance, which comes in the Season 21 episode "Free Speech," Remz defends a far-right conspiracy theorist whose words incited another man to murder. 
Though Remz stands out as Baker's most intriguing "Law & Order" creation, he's not the only character in the franchise portrayed by the celebrated performer. Baker also appears as Dr. Henry Muller, a forensics expert, on "Law & Order: Criminal Intent."
Rodney Fallon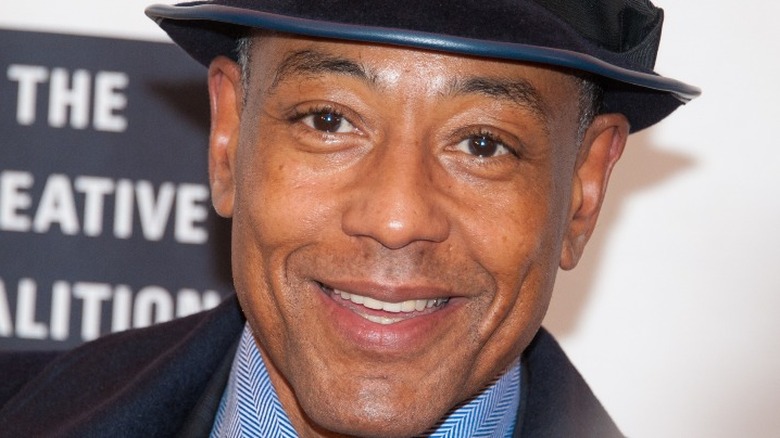 Rena Schild/Shutterstock
Giancarlo Esposito is probably best known for his portrayal of drug kingpin Gus Fring on the hit AMC crime saga "Breaking Bad." It's definitely not his only major role, however. Esposito has also earned acclaim for his performances as Vought International CEO Stan Edgar on "The Boys," Moff Gideon on "Star Wars" series "The Mandalorian," and Federal Agent Mike Giardello on "Homicide: Life on the Street," among other small screen series. He also has a prolific silver screen resume, and is especially well known for his work in celebrated director Spike Lee's films.
It's no wonder, then, that Esposito makes such a major mark in the "Law & Order" franchise. He portrays defense attorney Rodney Fallon, who works for a nonprofit organization called the New York Exoneration Project. Fallon is fiercely loyal to his clients. His battles on their behalf are arduous, but he never stops believing the fight is worthwhile. Esposito plays the part with such conviction and passion, viewers can't help but be moved. Fallon's final appearance comes in the Season 15 episode "Locomotion," in which his client, Davey Buckley, fires him halfway through the trial.
Abbie Carmichael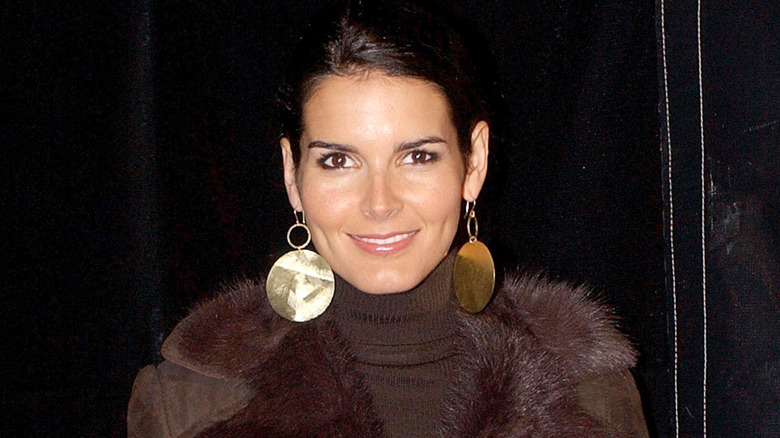 Everett Collection/Shutterstock
Angie Harmon portrays assistant district attorney Abbie Carmichael in over 70 episodes of "Law & Order" and six episodes of "Law & Order: Special Victims Unit." She first appears in Season 9 of the former series as a replacement for Jack McCoy's departing assistant, Jamie Ross. She quickly makes a name for herself. Carmichael espouses conservative views, and takes a notably dim view of rehabilitation programs. Yet she also exudes compassion for certain victims and is even able to allow empathy to drive her. Notably, in the Season 9 episode "Punk," she reveals her personal experiences with sexual assault to Jack McCoy. This drives her to advocate for victims of such crimes.
Abbie Carmichael's departure from the franchise is explained as the result of her decision to take a position with the U.S. Attorney's office. This might not be the end for her, however. As Harmon told ET, she had an excellent time portraying the assistant district attorney, and would definitely consider playing her once again." I would love it," the actress stated. "I was like, 'Look, guys. I mean, I would love to maybe do an arc or something.'"
If you or anyone you know has been a victim of sexual assault, help is available. Visit the Rape, Abuse & Incest National Network website or contact RAINN's National Helpline at 1-800-656-HOPE (4673).
Sonya Paxton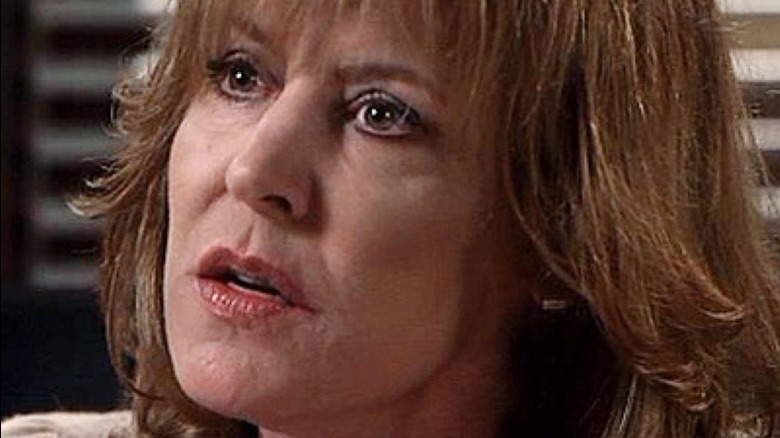 NBC
Christine Lahti plays executive assistant district attorney Sonya Paxton in seven episodes of "Law & Order: Special Victims Unit." This character constantly butts heads with beloved SVU mainstay Elliot Stabler (Christopher Meloni), outright drawing his ire on more than one occasion. Paxton struggles with alcoholism, which ultimately has huge repercussions on her life and career. In Season 11's "Hammered," she royally screws up a court case and turns to the bottle to cope. The next day, she shows up to court drunk, and is ultimately ordered to attend a rehabilitation program. Stabler is largely unsympathetic to her struggles, to the point that some of the show's fans on Reddit are more incensed over the comments he makes about Paxton than Paxton's own missteps.
Lahti's performance as the flawed lawyer is truly excellent. This is evident in the reaction she prompts among "Law & Order" viewers. Paxton is so polarizing, Entertainment Weekly describes her as one of the show's most fervently disliked characters. Not every actor can prompt that sort of intense feeling — but Lahti isn't just any actor. Whether you love or hate Sonya Paxton, she certainly leaves a lasting impression. Alas, there's no chance of a role reprisal, as Paxton is murdered by a serial killer in the Season 12 episode "Pursuit."
If you or anyone you know is struggling with addiction issues, help is available. Visit the Substance Abuse and Mental Health Services Administration website or contact SAMHSA's National Helpline at 1-800-662-HELP (4357).
Jo Marlowe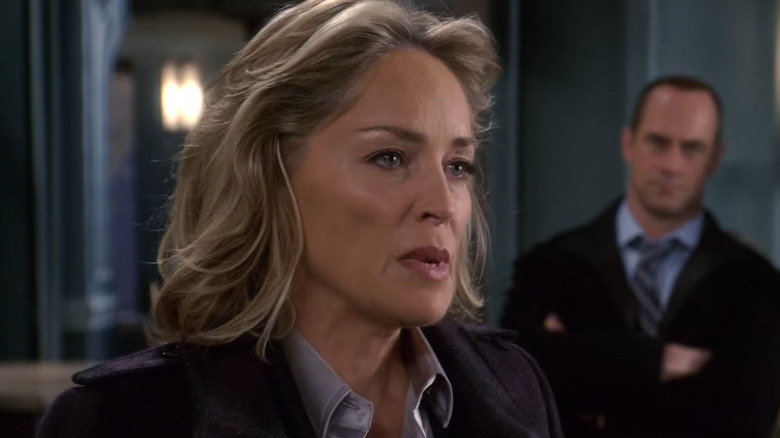 NBC/YouTube
As Assistant District Attorney Jo Marlowe on "Law & Order: Special Victims Unit," Sharon Stone's depth and talent are on full display. The early 1990s saw the actress rise to meteoric fame in movies like "Basic Instinct," "Casino," and "The Quick and the Dead." This renders Marlowe a comparatively tiny role, especially since she appears in only four episodes of Season 11. But Stone's skill never takes a break, whether the project is a blockbuster film or a long-running TV series.
Marlowe was once Elliot Stabler's police partner, a fact that brings tension to Stabler's relationship with his current partner, Olivia Benson (Mariska Hargitay). She's not some one-dimensional pot-stirrer, however. Marlowe, we learn, went through some difficult times following her retirement from the NYPD. Most traumatically, she was diagnosed with breast cancer, which ultimately resulted in a tough break-up between her and her significant other. By the time she pops up on "Law & Order: SVU," she's moved on, but she's definitely no longer the person Stabler worked with. Stone makes this intense journey apparent in every scene, bringing Marlowe to vivid life.
Michael Cutter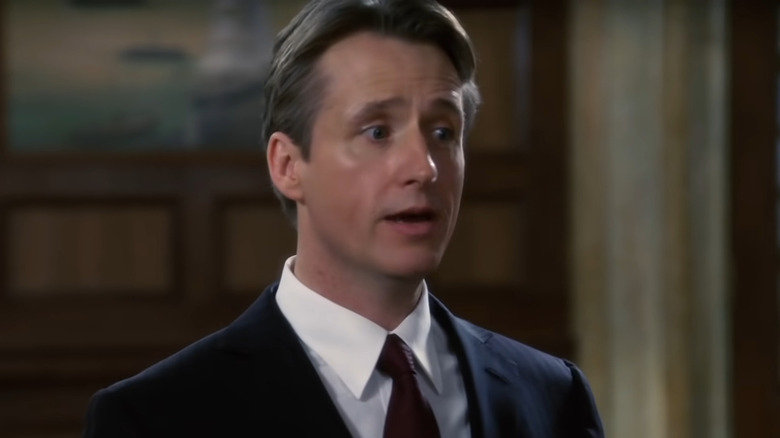 NBC/YouTube
Executive Assistant District Attorney Michael Cutter begins his time on "Law & Order" as a lawyer working under Jack McCoy. Seasoned British actor Linus Roache plays him with marvelous skill: Though Cutter breaks rules in the name of justice — a fact the detectives in his unit don't care for — he's still easy to cheer on, because Roache makes him just that compelling. 
It's no surprise, then, that the character became a long-running staple of the series; Cutter appears in over 60 episodes of "Law & Order." In Season 19 of the flagship series, he gets attacked by a murder suspect in a courthouse bathroom, which almost results in his death. Thankfully, he lives to see another day, eventually landing a short stint on Season 13 of "Law & Order: Special Victims Unit." But his work as bureau chief ADA of the Special Victims Unit doesn't last long, especially when compared to his time on the foundational series. Cutter only appears in four episodes of "Law & Order: SVU" Season 13 before he hands over the reins to Vanessa Hadid (Zuleikha Robinson).
David Haden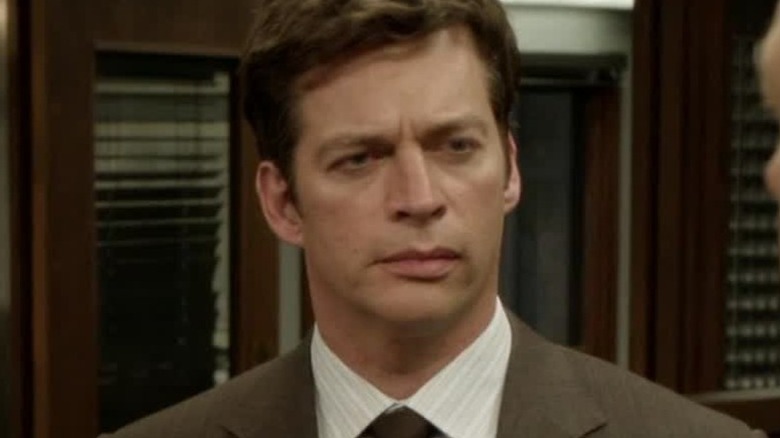 NBC
Over the course of Season 13 of "Law & Order: Special Victims Unit," David Haden appears in four episodes. He's a temporary Executive ADA replacement for Michael Cutter. Interestingly, Haden has some traces of Harry Connick Jr., the actor who portrays him. The character's father is also a lawyer, and a former district attorney. According to Nola.com, Connick's father was New Orleans' district attorney from 1973 to 2003. Funnily enough, this profession has actually been intertwined with Connick's own career in show business from its earliest days. In an interview with Variety, Connick recalled his debut performance, which occurred when he was only 5 years old at a campaign event for his dad. He loved the experience so much, he became the celebrated actor he is today.
Connick's portrayal of David Haden makes it clear that his innate love of performing hasn't gone anywhere: He's a vibrant, fascinating character, even within the confines of a mere four episodes. Notably, Haden woos Olivia Benson, and they enjoy a brief romance. For a moment, he looks like a character who may stick around. Sadly, Haden resigns from the district attorney's office after a widespread law enforcement scandal sends shockwaves throughout the state. When it looks like it might have implications for his future, he takes his leave. But neither Benson, nor the fans, will ever forget him.
Paula Foster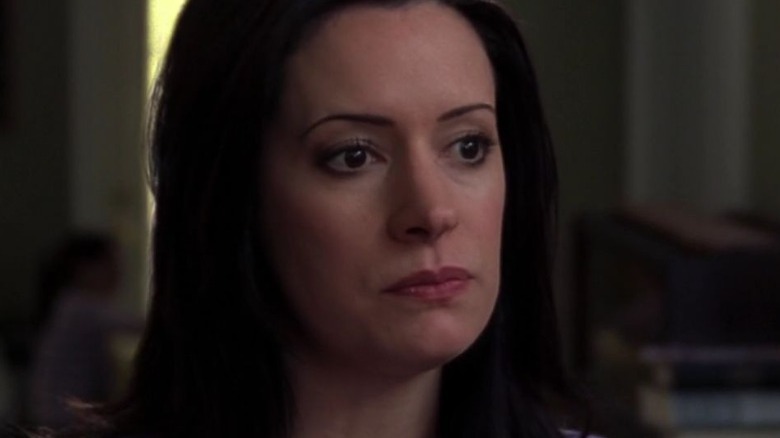 NBC
Paula Foster is a temporary executive ADA with a short career. She struggles to care for her chronically ill foster child Sarah, especially after her husband cuts and runs. This ultimately leads Foster to take bribes while in office. Specifically, Foster accepts a bribe to frame SVU Captain Donald Cragen (Dann Florek) for murder. It's a testament to actress Paget Brewster's performance that she still manages to portray Foster as a sympathetic character, even after the attorney egregiously breaks the law and transgresses against a far more well-established character.
Brewster was taking a break from playing Emily Prentiss on "Criminal Minds" when she accepted the role of Paula Foster on "Law & Order: Special Victims Unit." As the actress told The Hollywood Reporter, "You just don't say no to 'SVU.' Who would? It's pretty much the only cop show that I would do." Brewster went on to describe her stint on the beloved series as an exciting challenge she is enormously grateful for. The revelation of Paula Foster's corruption is indeed a major moment that adds compelling aspects to her character arc and was doubtlessly invigorating to portray. Some villains are obvious, but Foster absolutely isn't. After playing the just and true Emily Prentiss for so long, stepping into her shoes and going to the other extreme of the legal world was likely great fun for Brewster, just as it is for viewers.
Bayard Ellis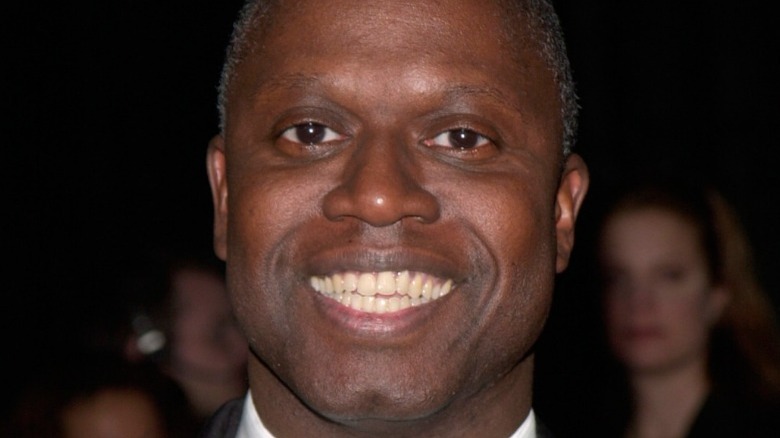 Featureflash Photo Agency/Shutterstock
Defense attorney Bayard Ellis is one of the most fascinating recurring lawyers to ever appear on "Law & Order: Special Victims Unit." After representing drug dealers and kingpins for many years, Ellis turned his attention to the broken aspects of the legal world and founded the New York Center for Civil Liberties. In the seasoned and talented hands of Andre Braugher, Ellis' sympathetic advocacy and desire to transform the criminal justice system feels utterly genuine. 
The impassioned lawyer appears in six episodes of "Law & Order: SVU" that span Season 13, Season 14, and Season 16. He frequently interacts with the titular unit, and maintains an excellent professional relationship with its detectives. In Season 16's "Perverted Justice," he enlists the team's help with a sensitive case involving a woman who wants to recant the accusations that sent her father to prison. In Season 13's "Child's Welfare," Ellis represents Olivia Benson's brother, Simon Marsden (Michael Weston). The bond between Ellis and the SVU is real, in large part because Braugher is a phenomenally talented actor. And, as any fan of "Brooklyn Nine-Nine" or "Homicide: Life on the Street" can tell you, he's no stranger to police procedural shows.
Kenneth O'Dwyer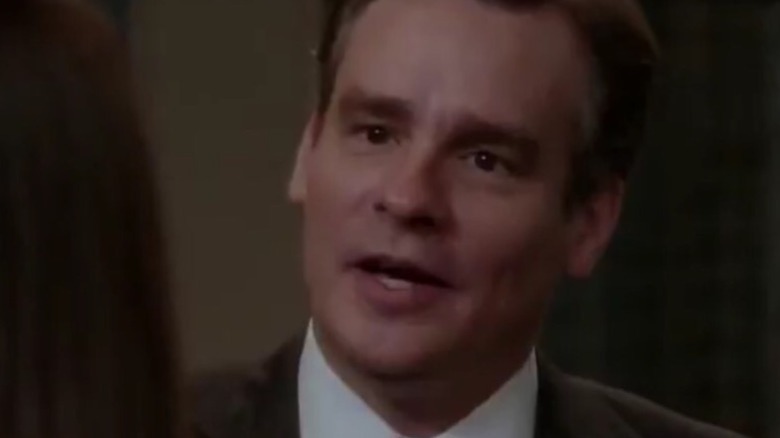 NBC
Attorney Kenneth O'Dwyer only appears in three episodes of "Law & Order: Special Victims Unit," sprinkled throughout Season 16 and Season 17. But he works closely with the Special Victims Unit during his time on the show, and makes a major impression in the process. O'Dwyer faces off with Bayard Ellis in court, where he proves to be a hard-nosed attorney who stands by his cases, even when he faces skepticism from the SVU detectives. In Season 17's "Transgender Bridge," O'Dwyer decides to take a trio of juvenile offenders from the family court and attempts to charge at least one perpetrator as an adult. The SVU disagrees with this decision. 
O'Dwyer stirred passionate hate among some Twitter-using fans, but this isn't a bad thing — he's the sort of character viewers love to hate. This is all thanks to his actor, Robert Sean Leonard. Best known as Neil Perry in "Dead Poets Society" and James Wilson, best friend and voice of reason to Dr. Gregory House (Hugh Laurie) on "House," Leonard is a skilled actor who brings impressive depth to every role.
Donna Emmett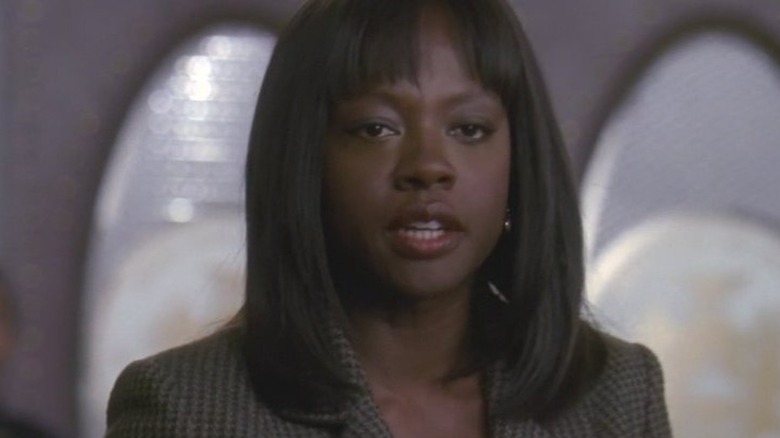 NBC
Superstar Viola Davis plays defense attorney Donna Emmett in seven episodes of "Law & Order: Special Victims Unit" over the course of five seasons. Her tenacity and legal expertise make her a worthy adversary to the district attorney's office. Emmett faces off against ADA Casey Novak (Diane Neal) on multiple occasions. Even when she doesn't win the case, she antagonizes Novak with aplomb, and always offers some mic drop moments. In the Season 9 episode "Cold," for example, Emmett accuses Novak of planting evidence and framing her client. Even more impressively, she gets away with her bold assertion. Emmett's last appearance on "Law & Order: SVU" comes in Season 10's "Retro," in which she defends a doctor who doesn't believe HIV leads to AIDS. 
Davis went on to play rule-bending law professor Annalise Keating on "How to Get Away With Murder." This role stands as one of Davis' best on-screen performances to date – no wonder it earned her a Primetime Emmy Award. And that's only one of her many accolades: Davis is one of the most dazzling movie stars of her generation, and has the Oscar gold to prove it. She's a force to be reckoned with off set as well. According to The Los Angeles Times, she used her voice to compel real-world lawyers to protect American voting rights in the run-up to the 2020 presidential election.