We Finally Know What To Expect Of Bensler In The Epic Law & Order Three-Hour Crossover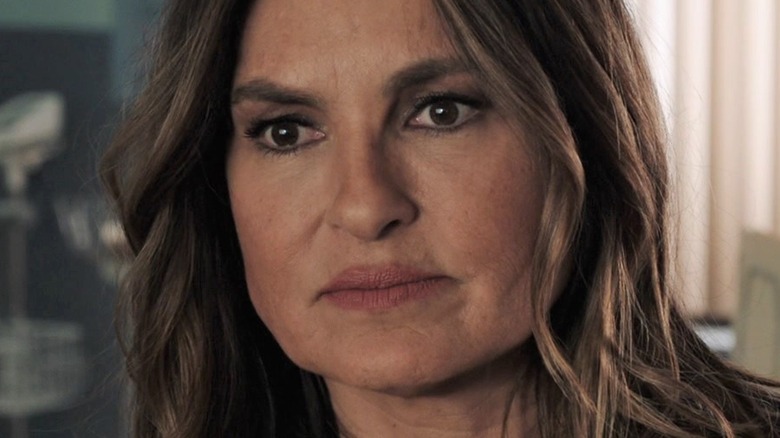 NBC
Dick Wolf hive rise up: a crossover event over three decades in the making is on its way. For the first time ever, all three "Law & Order" series will come together for a mammoth three-hour episode to kick start "Law & Order" Season 22, "Law & Order: SVU" Season 24, and "Law & Order: Organized Crime" Season 3.
The "Law & Order" universe has dabbled in crossovers before, as showrunner Rick Eid teases "Law & Order" and "One Chicago" unions often. In fact, he explained to TV Line that the upcoming mega-episode will be more cinematic in scope than your garden variety crossover. "Unlike other crossovers, this is structured and produced more like a movie," Eid said. "It's not a handoff from one show to the next. It's really one story that involves all the characters from the different shows."
While the upcoming premiere promises to bring some familiar faces together, perhaps no reunion is more enticing to fans than that of Olivia Benson (Mariska Hargitay) and Elliot Stabler (Christopher Meloni). Here's what fans can expect from the long-awaited return of Bensler.
The crossover will be a satisfying–and probably platonic–reunion for Benson and Stabler
In an interview with Today, "Law & Order: Special Victims Unit" executive producer Julie Martin said that the crossover event will be a satisfying homecoming for Bensler. "I think what you will certainly see in the movie ... is them having a great, great working relationship and falling into that easy partnership ... kind of knowing what the other person is thinking," said Martin. "It's fun to see them in that capacity again."
At the end of Season 23, Benson's therapist and Amanda Rollins (Kelli Giddish) both encouraged her to pursue a romantic relationship with Stabler. According to Martin, fans will have to hold out a little longer to see if Benson takes their advice to heart. "Everybody knows the storytelling of will they or won't they — we like to keep that question going as long as possible. So to answer, either way, is to sort of kill that anticipation." Martin then confirmed that Benson is unlikely to act on any impulses in the first episode.
"SVU" showrunner David Graziano also mentioned the delicate balance between good writing and production logistics. "Some of the considerations about Benson and Stabler have nothing to do with narrative, and they're about just logistics of these two actors' (Hargitay and Meloni) busy schedules." But Graziano, who is new to his showrunner post as of June, also brings a fan perspective to the series. "We have a responsibility to Benson as a character, too."