The Good Place Star You Likely Didn't Know Appeared On The Price Is Right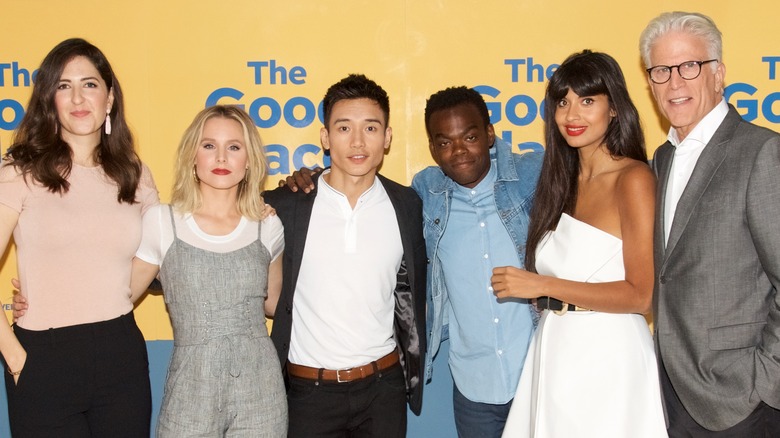 Earl Gibson Iii/Getty Images
"The Price is Right" has been airing on the CBS daytime schedule for exactly five decades now, and doesn't show signs of slowing down. The game show is not just consistent and entertaining, but it also knows how to spice things up for viewers.
According to the official website's FAQ, contestants on the show are typically selected at random from the pool of audience members. But "The Price is Right" is well-known for hosting Celebrity Week, where actors, musicians, and famous personalities help contestants with the games while earning cash prizes for charity. Sometimes celebrities have entered the show as guest hosts for the episode, or to help promote their new movie or show. Either way, it's a fun infusion to ensure "The Price is Right" doesn't feel stale or too routine.
You may have seen too many installments of this legendary game show to count, but did you know about the episode where one of the stars of "The Good Place" appeared as a guest host?
Kristen Bell was a celebrity host on The Price is Right
On the "Price is Right" episode which aired on CBS on October 30, 2017 (per IMDb), Kristen Bell, Kathryn Hahn, and Mila Kunis, officially "took over" the show for a day to promote their film "A Bad Moms Christmas." The three actresses arrived on set in the back of an open-top vehicle and appeared to be having a truly good time.
Hahn first declared to the show host, Drew Carey, "We don't mean to be rude, Drew, but it's time for you to move out of the way!" From there, each of them helped model some luxury products, with Kunis awkwardly climbing a scooter, while Hahn showed off her high heels presenting a washer and dryer. Bell meanwhile switched microphones with a very game Carey before saying, "See, that feels so much better."
All three actresses eventually interacted with contestants too and played the classic rounds of the show, including Plinko and the Grocery Game. Bell described it as "a crazy fever dream type of experience" in an interview with "The Late Late Show with James Corden," and thought the Grocery Game especially was impossible to play and figure out. More than anything, the actress was shocked that she was expected to add up the contestant's totals. She deadpanned, "What if I hadn't been an expert mathematician?"