What You Probably Didn't Know About The Plinko Chips On The Price Is Right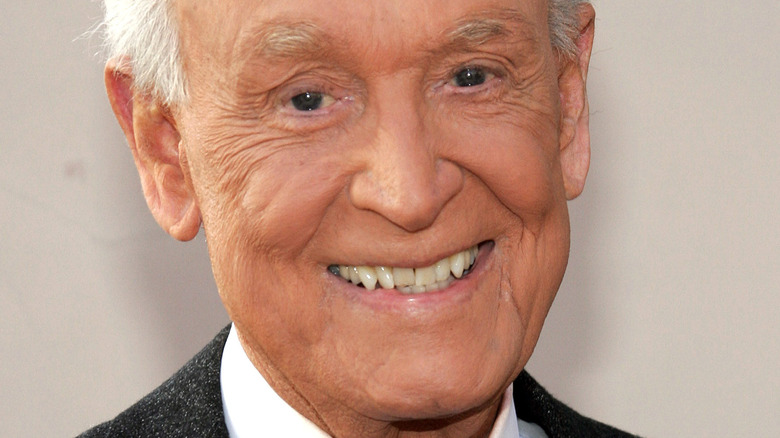 Tinseltown/Shutterstock
On January 3, 1983, history was made on "The Price Is Right" when host Bob Barker informed the audience, "I have the goodest news." This episode saw the introduction of Plinko, which quickly became the most-desired game to play on the show.
When it debuted, contestants could win up to $25,000 by earning chips, dropping them down the massive Plinko board, and trying to land them in slots with the highest monetary value. Judy, the first-ever Plinko player, won an impressive $6,500 in four turns. After her success, Barker (who still had his dark hair at the time) asked for her thoughts on the game, to which she replied, "Oh, it's terrific."
Over the years, Plinko has gained something of a cult following. Nearly every contestant goes into their "Price Is Right" experience hoping they'll have the chance to play it. For a select few, such as New Jersey's Mike Stouber, those coveted white discs change their lives forever. He won a whopping $200,000 in Plinko during a special evening "Big Money Week" edition of the game show in 2019, all while sporting a "Plinko is my cardio" T-shirt. Though he told the New York Post that he hoped to buy a Ferrari with his winnings, a large chunk would go to home improvements. 
The concept has even found its way into other areas of pop culture. For example, Eleven (Millie Bobby Brown) utilizes a miniature version of the game to hone her powers in the fourth season of "Stranger Things." Given its popularity, not to mention the ever-increasing grand prize total that currently stands at $50,000, precautions are taken to ensure Plinko isn't tampered with in between episodes.
The limited number of Plinko chips are heavily guarded
According to CBS, there isn't a massive box of Plinko chips stashed away backstage. Rather, there are only 10 official game pieces in existence, all of which are secured in a locked box when they're not being used. The single other exclusive chip is buried in a time capsule, located at CBS Television City. Of course, Plinko is largely a game of luck. Therefore, in order for it to be fair for each contestant, the same chips must be used every time. If any of the chips are swapped out and happen to be slightly heavier or lighter, that could influence how and where they fall.
CBS also revealed that the show's crew is required to follow strict directions while setting up Plinko. After bringing the massive, colorful game on stage, the equipment is plugged in, its sensors are tested, and a final inspection is completed before it's played. Another lesser-known tidbit about Plinko chips is that, on occasion, they actually get stuck midway through their descent down the board. In an effort to quickly handle these rare occurrences, Barker started keeping a long stick handy to retrieve the chip and let the player get a retry. Currently, his successor Drew Carey continues this crafty tradition. 
Carey may have admitted to CBS 8 San Diego that he doesn't understand the hype surrounding Plinko "because people don't win a lot of money," but after nearly 40 years on the air, the buzz surrounding the game doesn't seem likely to diminish anytime soon. As for the stringent behind-the-scenes protocols, this only adds to the appeal.