Deathstroke Is Apparently Off-Limits To Arrow Again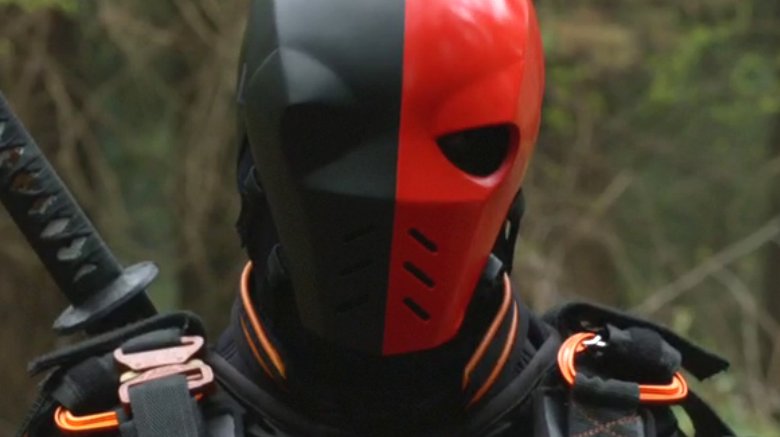 We probably shouldn't expect to see Deathstroke on Arrow for the foreseeable future, but it's only because DC has bigger plans for the character.
Manu Bennett plays Slade Wilson on Arrow and although the character used to be a big part of the show, the masked mercenary was taken out of the picture while DC considered introducing the character into the DCEU. Bennett returned to play Deathstroke in the season 5 finale and had a brief arc in season 6, but that could be the last we see of him in the Arrowverse.
Arrow co-showrunner Marc Guggenheim recently revealed to Discussing Film at ACE Comic Con that Deathstroke is again off the table while DC moves forward with Joe Manganiello as the character on the big screen. 
"These are DC's characters, we're just renting them," Guggenheim said. "We use the characters that they tell us we can use when we can use them, and we work around whatever limitations that places us... For a time they were saying, 'You can't use Deathstroke,' and that changed and we were able to have Slade Wilson back on the show, and now we're back to 'you can't use him.' They're working on the feature film version."
However, there are apparently no hard feelings between Bennett and Manganiello. "Manu's been very encouraging of his work and, you know, there's these intervals, and we try and take advantage of our opportunities when we have them," Guggenheim said.
DC had originally planned to have Manganiello play Deathstroke in the upcoming standalone Batman movie, but everything changed when Ben Affleck stepped down as director. Matt Reeves (War for the Planet of the Apes) took over and scrapped Affleck's script. A few months ago, it was reported that DC will now give Deathstroke his own solo movie. 
Of course, everything with the DCEU is in flux after the underwhelming response to Justice League. Warner Bros. is reportedly restructuring the operations of DC Films, and that could mean more changes to the plan.