NCIS Fans Are All Saying The Same Thing About The Season 20 Premiere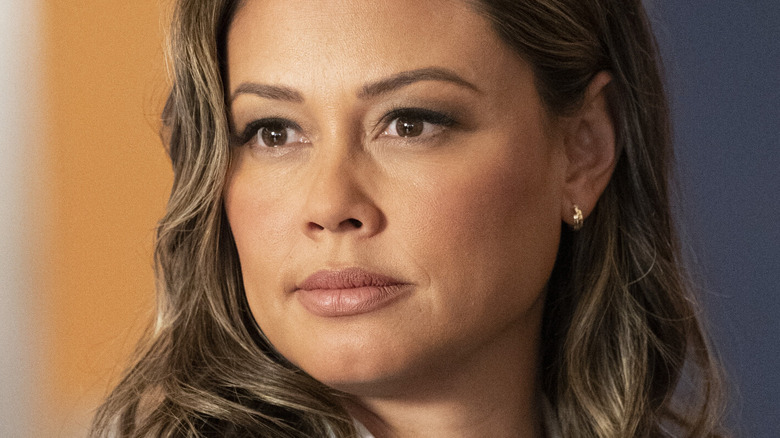 Robert Voets/CBS
Contains spoilers for "NCIS" Season 20, Episode 1 — "A Family Matter" 

Season 20 of "NCIS" is here. The season premiere, titled "A Family Matter," aired on September 19 on CBS for fans waiting on the edge of their seats. Episode 1 picked up right where the Season 19 finale left off, as Alden Parker (Gary Cole) is still on the run from the FBI due to being framed for the murder of his old partner by The Raven. The episode also features a focus on the new romance between Jessica Knight (Katrina Law) and Jimmy Palmer (Brian Dietzen). While speaking with Looper, Dietzen revealed that there would be developments in their relationship and that he thinks that will bring a positive quality to "NCIS" as a whole. We also got to see a few sparks between Nick Torres (Wilmer Valderrama) and "NCIS: Hawai'i" team leader, Jane Tennant (Vanessa Lachey).
Tennant and Ernie Malik (Jason Antoon) appear in the episode to help organize a protection detail for the Navy RIMPAC event, but get caught up in helping the "NCIS" team as their "extended family." Family is a big theme in the episode, as both teams are loyal to and will do anything to defend their own. This is why McGee (Sean Murray), Jessica, Nick, Jimmy, Kasie (Diona Reasonover), and even Director Vance (Rocky Carroll) bend the law and mislead FBI Agent Wayne Sweeney (Erik Passoja) off of Parker's trail early on.
The episode provides a massive reveal and cliffhanger moving into "NCIS: Hawai'i" Season 2, Episode 1. This has left fans all saying the same thing about the "NCIS" Season 20 premiere.
NCIS fans love the Season 20 premiere and crossover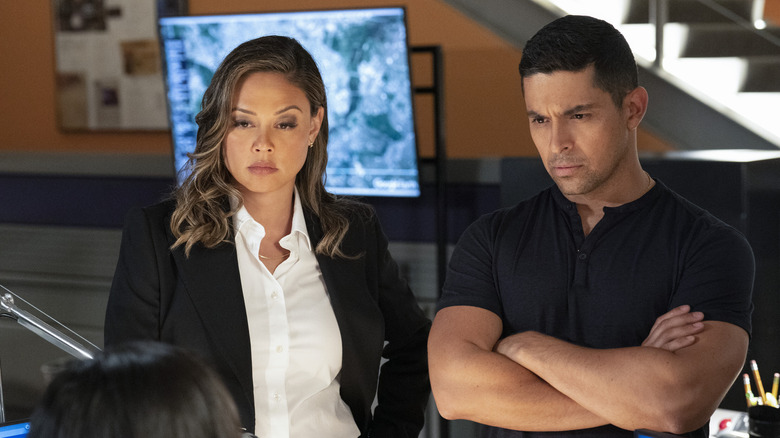 Robert Voets/CBS
A recent Twitter post from the official "NCIS" account thanked viewers for watching the crossover from the "NCIS" Season 20 premiere to the "NCIS: Hawai'i" Season 2 premiere. The comments quickly became flooded with fan replies and thoughts on the episodes all saying the same thing: they loved it. Multiple fans, including user ES_TP_love, professed their approval for the premieres. "The crossover was perfect," they wrote. Another fan named NcisKnight said, "Was so much fun!!" Viewers like BostonsBossWWE expressed that they can't wait to see what's in store for Episode 2 and the rest of the season for both "NCIS" and "NCIS: Hawai'i." 
Overall, most of the comments from fans are positive thus far. It was likely satisfying to be able to watch the "NCIS" season premiere and then be able to continue the story right into the "NCIS: Hawai'i" premiere after. It could be possible that more crossovers between the two shows will happen in the future, especially given the relationships that have developed between the two teams. Many fans are also wondering if old team members like Anthony 'Tony' DiNozzo (Michael Weatherly) might return, although executive producer Steven D. Binder thinks Weatherly will take some time off before that has a possibility of happening (via Newsweek). Season 20, Episode 2 of "NCIS" titled "Daddy Issues" will air Monday, September 26 on CBS.