NCIS Hawai'i Season 2 Episode 1 Recap: A Dead Man's Vacation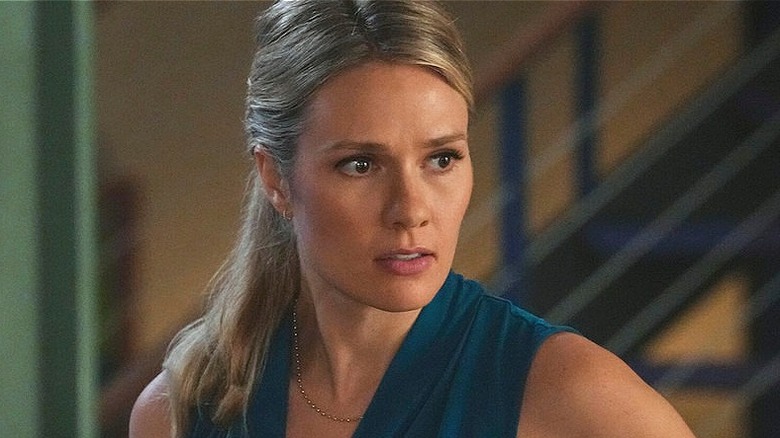 Karen Neal/CBS
It's safe to say that missing the first episode of Season 20 of "NCIS" will leave you questioning a lot during Season 2, Episode 1 of "NCIS: Hawai'i." In fact, "NCIS Hawai'i" Season 2, Episode 1, titled "Prisoner's Dilemma," has events that follow directly after "A Family Matter" from "NCIS." Jessica Knight (Katrina Law) and Nick Torres (Wilmer Valderrama) arrive in Hawaii on schedule after departing in a C-130 from Washington, D.C., to help out their "extended family" and find Herman Maxwell (Michael Weston). Of course, it has been revealed that Maxwell is in fact 'The Raven,' a terrorist that has framed Alden Parker (Gary Cole) and threatens to unleash biological weaponry in the world. They track Maxwell to Hawaii, although find his private jet littered with only dead bodies and an eerie video of him teasing an attack on the beach.
Ultimately, Nick and Jane Tennant (Vanessa Lachey) find Maxwell but get stuck in a hostage situation for most of the episode, as he holds a dead man's switch in his hand. The rest of the "NCIS" and "NCIS: Hawai'i" team search for answers at the same time, and they discover that Maxwell's real name is Jason Hearns. He was also a former student studying under Professor Woodrow Staggs (John Billingsley) in the areas of crowd psychology and human nature. They find Staggs on the island, and accidentally deliver him right to Maxwell, discovering that he intends to kill Staggs' son through a nearby nerve gas bomb at the Navy's RIMPAC event.
How the episode ends and the focus on the romance between Lucy and Kate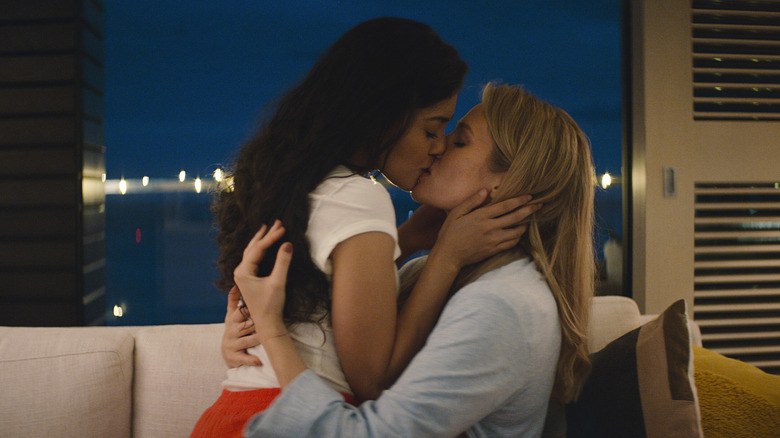 Gavin Stevens/CBS
Fortunately, Jessica, Kai Holman (Alex Tarrant), and Bam-Bam (Cher Alvarez) are able to locate and disarm a nearby signal booster for the bomb, successfully preventing Maxwell's attack. They are finally able to take him in, most especially to see Parker, as he has gone through the most with Maxwell framing him for murder. The episode ends on a positive note, with both teams meeting up for drinks, Nick and Jane sort of establishing their feelings for each other, and "NCIS: Hawai'i" agents Lucy Tara (Yasmine Al-Bustami) and Kate Whistler (Tori Anderson) continuing their romance that has been building throughout Season 1 of the series. In fact most of Season 2, Episode 1 features multiple moments of acknowledgment of that romance.
The beginning of the episode features a moment between Lucy and Kate in the morning after they spent the night together, and they make loving comments toward one another while Ernie Malik (Jason Antoon) searches for answers on Maxwell — although it was at his personal request for "white noise" to help him think. Unfortunately for Ernie, his adoration of Jessica doesn't go too well, as all of his attempts to even flirt a little are shut down during the episode. Jessica currently has an unofficial romantic relationship with Jimmy Palmer (Brian Dietzen) back at NCIS in Washington, D.C.
When does NCIS: Hawai'i Season 2, Episode 2 air?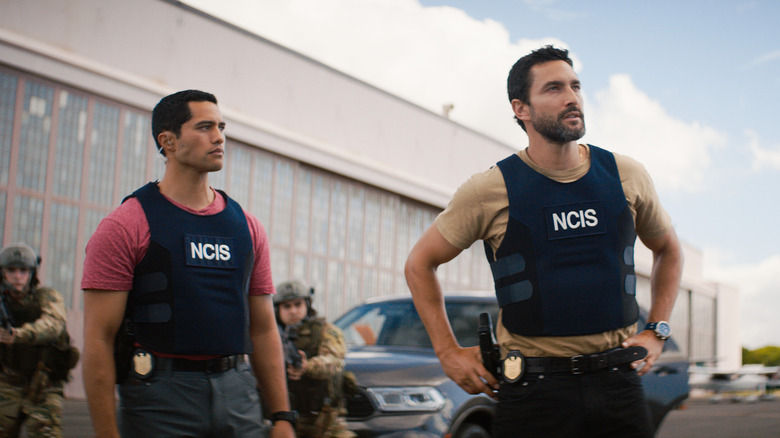 Gavin Stevens/CBS
With "NCIS: Hawai'i" Season 2, Episode 2 airing on September 26 at 10 p.m. Eastern according to the current schedule on CBS, it will be interesting to see what the future holds for the team. We could possibly see more subtle appearances from "NCIS" cast members, especially given the relationship between Nick and Jane. However, they will likely keep their distance for some time until a case calls for them to cross paths again. Additionally, Kate and Lucy's romance will likely come into the light more and more, maybe making for interesting case situations, as feelings for one another on the same squad can lead to dangerous situations.
However, Tori Anderson told TVLine that Kate and Lucy will have a calmer relationship throughout Season 2 as opposed to Season 1. "Well, I will say that with Kate and Lucy, you start seeing them more in a domestic light, which is really nice. It's a happy, healthy environment — not like the first season, which was rather tumultuous," she said. As for the rest of the team, it's only speculation. Kai may be simultaneously terrified and interested in Bam Bam after the events of Season 2, Episode 1, but only time will tell.
Either way, given that it's only the 2nd season of "NCIS: Hawai'i," future episodes will likely explore the dynamics of the team through challenging and even personal cases.